Relypsa: Company Releases Veltassa Launch Metrics for May (RLYP, $18.14, Buy)
Investment Thesis
Veltassa continues its slow but steady launch. The May results were in line with my projections and I think they were also generally in line with those of the Street. In the first year of a launch the new reality is that managed care sets up significant reimbursement hurdles. We are seeing this with almost all product launches. For example, Novartis has experienced the same slow uptake for Entresto even though it has clear clinical data showing that it reduces mortality in congestive heart failure when measured against current standard of care and recently guidelines for treating congestive heart failure have recommended Entresto as first line therapy.
So what is going on? I believe that managed care's actions are purely based on economics. It cannot predict when a new product will be introduced so that it cannot include an estimate of the cost of the drug into the premium structure for the launch year. In the second and following years of the launch the cost can be better estimated and built in. Because of this, I expect a much better reimbursement environment with lesser hurdles for Veltassa in 2017 and beyond that should lead to a sharp acceleration in sales.
I continue to recommend the stock. I know that many investors are worried about the very high burn rate which based on operating sales and expenses was $60 million in the first quarter and so am I. However, I believe that if a scenario developed in which cash became a problem that Veltassa would be a very attractive acquisition for a broad number of large pharmaceutical firms. I don't know if Relypsa would be valued at the same $2.7 billion that Astra Zeneca paid for ZS-Pharma which would be $62 per Relypsa share. However, I think that it would be a lot higher than the current market capitalization of $812 million and stock price of $18.
I do believe that if Relypsa can find a path to profitability with its own resources that investors would fare much better then in a near term takeout scenario. I think that for a product like Veltassa with a long patent life that investors would value sales at a multiple of 5 to 8 times. If so, the market capitalization on Relypsa based on US sales of $500 million would be $2.5 billion to $4.0 billion and based on $1 billion of sales would be $5.0 to $10.0 billion. Royalties from partners based on foreign sales could add further substantial value.
May Metrics Pertaining to the Veltassa Launch
In my last report, I explained the assumptions I am using to model the Veltassa launch. I am not going to repeat this explanation in this report so for those who want to see the basics of my sales model, I refer you to my report of May 17 which discussed April results called Relypsa: Analyzing April Results of the Veltassa Launch.
The actual May results were very close to the projections I was using in my model. It was projecting May revenues of $623,000 and the actual figure was $650,000. Based on the May run rate, Veltassa sales are now annualizing at $7.8 million. A comparison of May launch metrics to my projections is shown in the following table.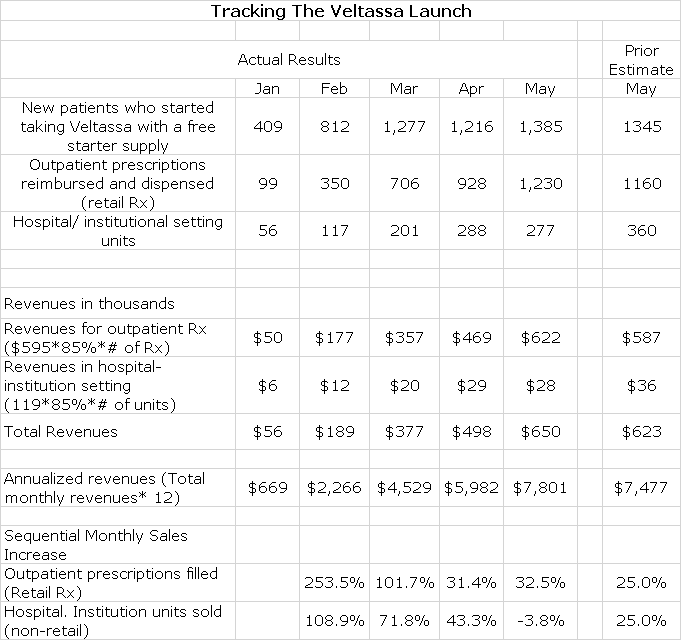 Projections for the Remainder of 2016
My model is keyed to projections of sequential monthly increases in (1) outpatient prescriptions reimbursed and dispensed and (2) units sold in the hospital/ Institutional setting. The following table shows my estimates for each of the remaining months of 2016.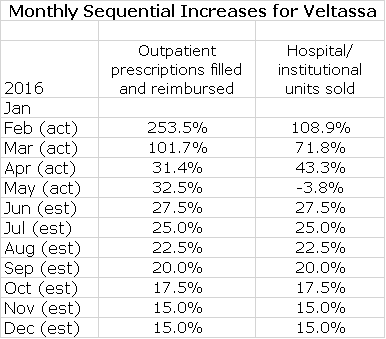 Based on these assumptions, I have estimated quarterly sales and also the annualized run rate of sales as of the end of each quarter. I am projecting full year sales of $12.6 million and that the annualized run rate at the end of the year will be $28.4 million.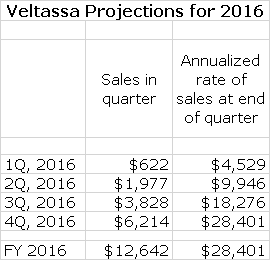 Tagged as Relypsa, RLYP, Veltassa + Categorized as Company Reports, LinkedIn, Smith On Stocks Blog