Repligen: Market Likes Spectrum Acquisition and So Do I  (RGEN, Buy, $43.20)
Investment Thesis
I view the acquisition of Spectrum, Inc. as a significant positive for Repligen as I will discuss shortly. I have recommended Repligen consistently since my initiation report of December 4, 2012 at a price of $6.13. My belief at the time and continues to be that this is one of the best healthcare business models that I have seen in my 35 years of being an analyst. There are several important factors driving this including:
The Company is focused on providing products used in the manufacturing of drugs and other products based on living cells or products made by living cells (called bioprocessing). These include monoclonal antibodies, vaccines and gene therapy which are the subject of intensive research and development efforts that are and will continue to be one of the major drivers of the world biopharma industry. This is a powerful macro-trend driving Repligen's business.
Once a company incorporates a Repligen product in its manufacturing process, it will almost certainly remain part of the process for the life of the product because any change in manufacturing (even small) can change the characteristics of that product. Hence, a manufacturer is highly unlikely to change a proven manufacturing process with the results that Repligen products generally have long secure life cycles that can begin in the clinical development stage and extend through the entire commercial life of the product.
The factory of the future in the opinion of Repligen (and me) is not going to be costly, dedicated steel manufacturing facilities that have been used in the past. Repligen is in the forefront of developing flexible manufacturing systems built around consumables that are multi-purposed and easier to run and maintain.
I have never thought about taking profits in the stock because I think that with this business model that Repligen can likely grow strongly for a decade or more (unless it is acquired). I intend to continue with a buy over much (all) of this period. There are going to be times when the stock may move up or down meaningfully due to some event that affects investor psyches.
My continual buy strategy can be questioned at times. For example, the stock traded at $41.27 on June 1, 2015 and then dropped to $22.15 on January 1, 2016 due to both broad market issues and a (temporary) slowing in its key protein A business. Anybody who bought the stock at $41.27 on my recommendation could be quite unhappy for a period of time. They would ask why I didn't recommend selling at $41.27 and then coming back in at $22.15. Believe me, if I could make a call like this I would, but I just don't have the ability to make such a trading call. Moreover, in the 35 years I have been analyzing stocks I have never met anyone else who could consistently make such calls (occasionally someone gets lucky) although I have listened to many, many pundits who claim they can. Jim Cramer comes to mind.
It is my experience that most investors who try to trade stocks get caught up in emotion and invariably sell low when people are pessimistic and buy high when investors are euphoric. Even if they make a successful trading call, they are likely not to get back in and forgo a long upward run in the stock. Think of companies like Amgen, Biogen and Celgene where for more than two decades the biggest mistake an investor could make was to sell the stock and not get back in. All of this is not to say that I am oblivious to the stock price movement. In timing new purchases of Repligen I would suggest that you try to follow the advice of Warrant Buffett who says "Be greedy when other people are fearful and fearful when other people are greedy". This timing of purchases is as close to trading as I get.
I am also impressed with the management team executing the business model that started under the entrepreneurial leader Walter Herlihy (one of my all-time favorite CEOs) and then transformed to the professional management team led by Tony Hunt. Their acquisition strategy has so far been flawless and resulted in the Company tripling its bioprocessing revenues from $41 million in 2012 to $141 million in 2016 (including Spectrum) and building a broad global footprint in bioprocessing. I see the acquisition of Spectrum as another in a line of great acquisitions.
There is both a reward and a danger in having acquisitions as part of a Company's growth plan as is clearly the case with Repligen. However, it is focused on making tuck-in acquisitions (Spectrum is a big tuck) whose business they well understand and can be folded into the commercial infrastructure. They aren't jumping into new businesses.
There is for me, however, a disturbing element to Repligen. When I first started covering the Company I could focus on a few products such as protein A and chromatography and have a good idea of what was driving the Company's business. It is now a much, much more difficult to project sales. There are many more important products and there are no ready metrics such as audits for tracking how sales are going in the US, let alone on a global basis. This means that I really can't project sales or earnings independently and I now am relying very heavily on management guidance for my estimates. I really don't like this and some have  suggested that maybe I should declare victory and walk away from the stock. Obviously, I have decided to continue my Buy recommendation because of the outstanding business model and my confidence in the management team.
Preliminary Analysis of the Impact on Sales and Earnings of the Spectrum Acquisition
Repligen announced that it will acquire privately-held Spectrum, Inc. for $120 million in cash plus 6.2 million shares of Repligen stock. At the current price of $43.20, this would amount to a purchase price of about $386 million. This would increase the share count to 40.5 million and Spectrum shareholders would own about 15% of Repligen. Repligen has $142 million of cash on hand, but has the option for a loan of $30 million from JP Morgan which could increase the firepower for a smaller tactical acquisition this year.
As I was writing this report, Repligen announced that it will raise about $115 million (assumes Green shoe exercise) in equity. This could increase the share count by 2.7 million shares to 43.2 million. The cash position would be about $127 million which would give the Company the ability to make promising acquisitions if they arise.
Spectrum had 2016 sales of $40.2 million and its gross margins are higher (no guidance) than Repligen's. Repligen has said that the acquisition would be neutral to EPS in 2017 and accretive in 2018.Spectrum is expected to add $17 to $18 million to Repligen revenue in 2017, based on 5 months of ownership, and adjusting for existing intercompany sales of Spectrum filters to Repligen. For the full year 2018, Spectrum is expected to grow double-digit and contribute $47 to $50 million in incremental revenue (also adjusted for intercompany sales).
I have done some preliminary analysis on how this acquisition would impact my 2017 and 2018 estimates and show these in the following table. I would caution that these numbers are preliminary and subject to change as we have only limited information on the cost structure of Spectrum and its sales growth potential. Consider following table as a rough start.
Repligen Projections  Before and after  Spectrum Acquisition

2016

2017

2018

Previous
New
Previous
New
Revenues ($millions)
104.5
123.0
141.0
147.0
195.0
GAAP Accounting
Net income ($millions)
11.7
12.5
13.5
15.4
19.5
EPS
$0.34
$0.36
$0.37
$0.44
$0.48
Shares (millions)
34.1
34.4
36.9
34.7
40.7
Non- GAAP Accounting
Net income ($millions)
15.1
20.0
21.1
24.7
32.1
EPS
$0.44
$0.58
$0.57
$0.71
$0.74
Shares (millions)
34.1
34.4
38.3
34.7
43.2
P/E ratio
100.5
76.0
77.3
62.1
59.5
Market capitalization/sales
14.4
12.4
12.0
10.4
9.8
Total synergies over three years are expected to be in the range of $20 to $25 million, comprised of revenue synergies of $15 to $20 million at gross margins above Repligen's corporate average and cost synergies of greater than $5 million. At the end of the three year period, this alone could increase base EPS by $0.26 to $0.33 per share by my estimates.
Spectrum's Product Line  
Since 1970, Spectrum has been a research driven manufacturer of innovative products for bio-separation and cell line management. It was in the forefront of development of dialysis membranes and accessories; disposable hollow fiber filtration modules; and systems and preparative low pressure liquid chromatography products.
Spectrum's initial focus was in the dialysis market but its products now are used for the filtration, isolation, purification and concentration of pharmaceuticals, diagnostics, food, beverages and industrial fluids. It provides both standard and customized solutions to bioprocessing customers and offers over 2,000 products ranging from small disposable membrane filter modules to high volume systems.
There are immediate synergies in the merger as Repligen currently purchases hollow fiber filters for use in its XCell™ ATF systems through OEM agreements, with Spectrum as its main supplier. Also, the XCell™ ATF filtration portfolio is focused on upstream and downstream monoclonal antibody production. Spectrum goes beyond monoclonal antibody manufacturing into vaccine, recombinant protein and gene therapy production. Its products also fill the consumable gap in Repligen's XCell™ ATF filtration portfolio and provide product development capabilities in this space.
The acquisition more than doubles Repligen's direct force to 30+ reps with strong experience in filtration and bioprocessing. Spectrum has invested significantly in building out its commercial team in the US, Europe and Asia, which will help Repligen to accelerate its market penetration in these regions. Spectrum has grown to become a global company with corporate headquarters in Rancho Dominguez, California and manufacturing facilities in Rancho Dominguez, CA; Houston, TX and Dallas, TX. European sales offices are located in Breda, Netherlands and Paris, France. Asian sales offices are located in Otsu-City, Shiga Japan and Shanghai, China. Spectrum also supplies products world-wide through a network of international distributors. Here is a snapshot of Spectrum with recent sales trends.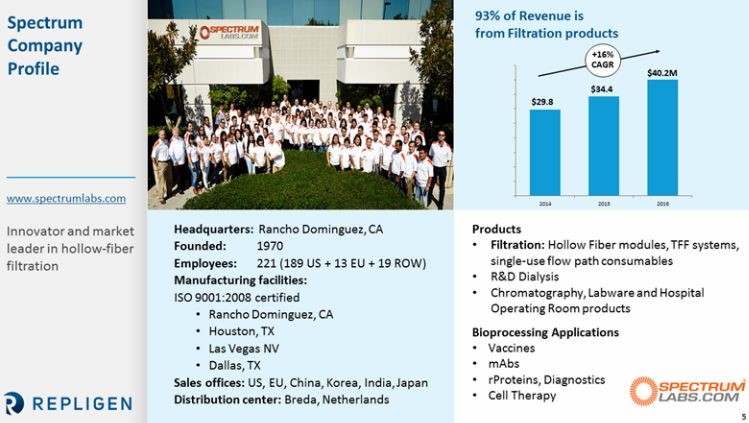 Please click to enlarge
Commercial Implications
The acquisition broadens the product line meaningfully as shown in the following table. This underlines what I was saying earlier on how difficult it is to project sales for Repligen.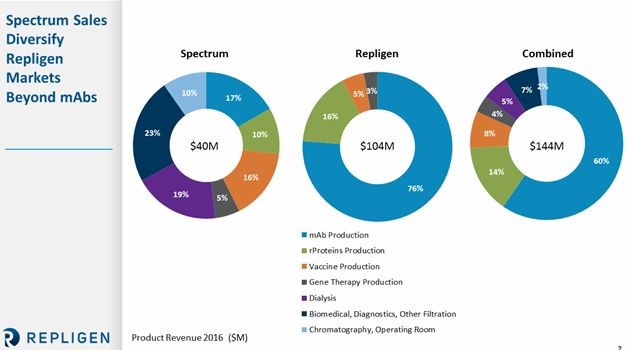 Please click to enlarge
Tagged as Repligen, Repligen acquires Spectrum, RGEN + Categorized as Company Reports, LinkedIn