Cryoport: Continuing to Pound the Table on this Unique Growth Story (CYRX, Buy $9.17)
Cryoport reported 4Q results pretty much in line with my expectations. In my last report on November 6, 2017, I projected 4Q biopharma revenues (obviously the critical business segment) of $2.673 million and the Company reported $2.516 million. I guess you might call this a 157,000 shortfall (6% below projection), but well within the error bars of forecasting. Reproductive revenues of $505,000 were better than my projection of $454,000 and animal health revenues of $353,000 were better than my projection of $283,000.
The stock traded off sharply by $1.40 in after- market trading following the conference call on March 6 suggesting that some traders or investors might have had higher expectations. If so, my best judgment is that they might have been looking for a surge in biopharma sales due to the approval and the launches of Yescarta and Kymriah and I was not. The analysts following Cryoport tend to be logistics or transportation analysts not familiar with launch dynamics of biopharmaceuticals. The launch of biopharmaceuticals is always slowed by the need to gain reimbursement approvals from insurers, so that sales in the first six to nine months are usually modest while this process is underway. Also, in the case of CAR-T products, the clinical sites must set up the intricate procedures involved in administering these complex therapies. However, the stock recovered significantly after the start of trading on March 7 and was only modestly off from the close of March 6 at the time this report was published.
This will be a year of sharp upward inflection of sales for Cryoport. The key thing to keep in mind is that annual revenues from supporting a phase 3 clinical trial for a new product can range from $200,000 to $1 million. When the product is commercialized, obviously usage expands enormously and annual revenues a few years into commercialization can expand to $2 to $20 million. The CAR-T products Yescarta and Kymriah represent the first two commercialized products supported by Cryoport. The following table shows my projections of how these products can substantially increase biopharma revenues in the period 2017 to 2020.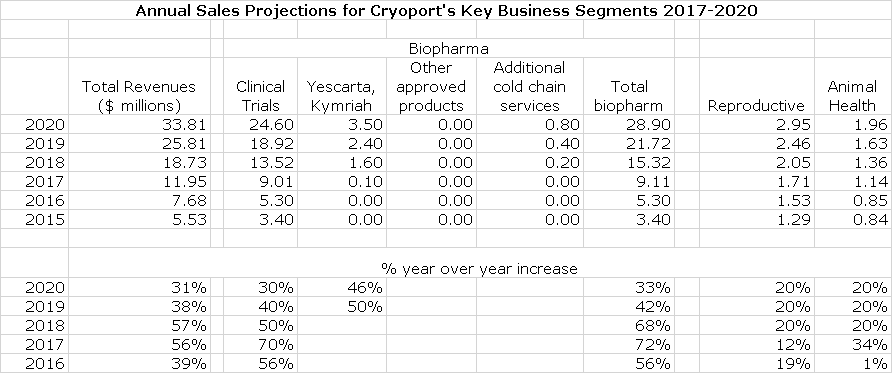 You will notice two things about the above table. The first is that I am not building in huge sales increases for Yescarta and Kymriah. Remember that the guidance of Cryoport is that a new commercial launch can range from $2 million to $20 million of annual sales as a product approaches peak sales. My projection for combined sales of $3.5 million for Yescarta and Kymriah in 2020 is potentially very, very low. This is an effort on my part to be conservative until we can see the track of the launches of these two products. I also included no projections for any other products that might be approved in 2018 or 2019 nor for new indications for Yescarta and Kymriah which could be quite significant. On another very positive note, Cryoport has just told us that it expects that its clients will file five to seven BLAs in 2018, up from previous guidance of two to four. This could add some upside to my model in 2019 and 2020, but augurs very well for growth beyond 2020.
Projecting revenues for clinical trials is extremely hard. However the number of clinical trials supported grew dramatically in 2017 to 234, up 81% from 129 in 2016. This suggests strong revenue growth. It is important to note that of these trials, 26 are in phase 3 development; some of these should progress to BLA filings and commercialization.
I think that Cryoport is like a coiled spring poised for dramatic growth. I have a price target of $20 for 2020. Please refer to my November 6, 2017 report as shown below.
Cryoport: This Unique Company is Poised for Explosive Sales Growth; Price Weakness is a Buying Opportunity (CYRX, Buy, $6.68)
On the conference call, Cryoport stated that it is establishing new logistic centers on the East Coast and in Europe. It is likely that one also will be added in Asia in the near term. This will provide proximity to all global biopharmaceutical companies and should enhance growth and pose a huge competitive barrier for any company trying to compete against Cryoport. I have little concern about completion in the next few years either from new companies or larger companies seeking to do this on their own. The revenue base is recurring and virtually unassailable. What a great story.
Tagged as Cryoport, Cryoport 4Q results + Categorized as Company Reports, LinkedIn