AMAG Pharmaceuticals: Strong Launch of Subcu Makena and Pending Sale of Cord Blood Registry is Encouraging (AMAG, $23.55, Buy)
Investment Thesis
My April 13, 2018 report AMAG: Upgrading to Buy Based on an In-Depth Analysis of the Outlook for Makena Over the 2018 to 2020 Period (AMAG, Buy, $21.10) was based primarily on the belief that Makena sales could dramatically beat Wall Street analysts' consensus expectations. Please refer to that report for my detailed analysis. Another potential positive, in my opinion, was a signal from management that they might consider divesting Cord Blood Registry; this is a good but slower growing business that no longer fit into the Company's strategy.
The early prescription trends for Makena have been very encouraging adding to my confidence that Makena will surprise on the upside. And today, AMAG announced that it was selling CBR to a private equity firm for $530 million in cash; the deal is expected to close in 3Q, 2018. This will transform the balance sheet from one that was debt laden-as of March 31, 2018, cash on the balance sheet was $317 million and long term debt was $816 million. By the end of 3Q, 2018 cash should surpass $900 million and debt reduced to $331 million. I think concern that the Company might have to raise cash through issuing equity is now taken away. It also gives the Company a lot of ammunition to go after acquisitions. I am awaiting some guidance from management before adjusting my EPS estimates for the loss of CBR, but this will not affect my investment view.
I am very encouraged by these two key events and continue to recommend buying the stock. I think that the chief risk in the stock would be an approval of a generic to the IM dosage form of Makena. I have no idea on when this could occur. It could be tomorrow, later this year or early next. I think this could cause a meaningful near term drop in the stock, but this would be a knee jerk reaction. Based on the early very encouraging results with the subcu Makena launch I am less concerned about the impact of a generic IM regardless of when it is approved.
Makena Update
In my report, I compared my more optimistic case for Makena sales in 2018, 2019 and 2020 to Wall Street analysts' consensus estimates as follows:

My optimistic case is looking more plausible and will likely prove conservative for sales in 2019 and 2020. The consensus estimate assumed a generic entry in mid-year 2018 and with that significant price erosion. It also reflected uncertainty on the uptake of the new subcu auto injector. The more time that AMAG has to change over prescribing from IM Makena to the subcu, the less will be the impact of the generic. Once physicians use and appreciate the marked advantages of the subcu, the less likely they are to switch back to a generic with the long, painful injections and the burden on office staff time required to administer the IM injection.
The majority of patient enrollments on Makena are done through Makena Care so that this gives AMAG an insight into the overall uptake of the subcu. The trend has been very encouraging as shown in the next chart. There has been a rapid uptake so that for the week ended April 22, enrollments on the subcu were 47% of the total. Remember that the launch only began on March 26, 2018.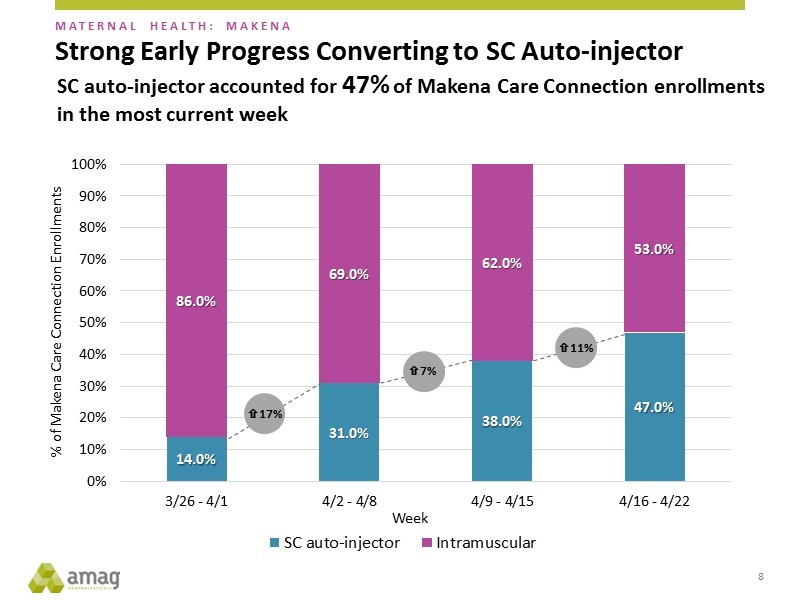 Click to enlarge
There has been no new information on the timing of a generic entrant.The generic approval could still come in mid-year as has been the suggestion of AMAG management, but given the slowness of generic approvals, it could be delayed for a meaningful period of time. If it comes late this year or early next, AMAG will likely have converted almost all patient enrollments to the subcu.
Makena management seems to be more confident that Makena subcu will dominate prescribing in the market for preventing preterm births in pregnant women who have previously delivered pre-term. Their sales guidance early in the year was very conservative giving credence to the thought that Makena franchise sales would be hurt by the generic.
Last year AMAG performed some market research intended to project the potential market share that the subcu might realize. This suggested that the subcu could account for 83% of the market, up from 67% in 1Q, 2017 and that the generic would only take 8% of the market. This was a very bullish view, but management tended to soft pedal the analysis in an effort to be conservative. In recent presentations, they have put more emphasis on this market research suggesting more confidence in this analysis. If the 83% market share projection proves to be correct-a strong possibility in my opinion- Makena sales can be substantially greater than 2017 levels when all sales were IM Makena. This could result in Makena sales surpassing my optimistic projections!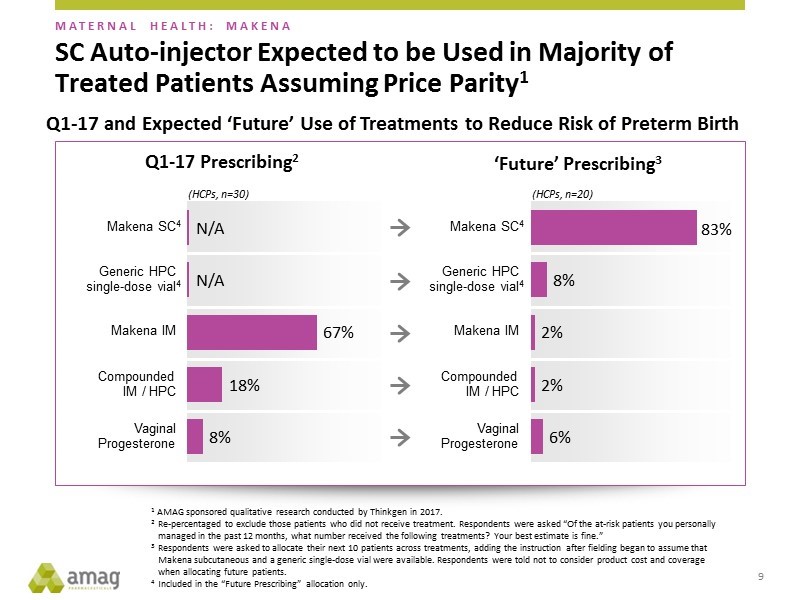 Click to enlarge
Tagged as AMAG, AMAG divests Cord Blood Registry, AMAG Pharmaceuticals, Makena subcu launch + Categorized as Company Reports, LinkedIn