Relypsa: New Buy Recommendation on Relypsa (RLYP, Buy, $14.98)
Investment Thinking in Brief
I am beginning coverage of Relypsa (RLYP) with a Buy recommendation. At this point in time, the stock is facing two major uncertainties. The launch of its first drug Veltassa (patiromer) began in December, 2015 so that the Company is fighting through all types of reimbursement and formulary access hurdles with managed care and Medicare. With very few exceptions, this has produced slow product launches throughout the industry for new drugs and resultant headwinds for stocks. Secondly, there are a considerable number of issues relating to potential competition for Veltassa from Astra Zeneca's new product ZS-9 which could be launched this summer.
Investors can expect numerous issues to arise whose impacts are difficult to predict that will likely lead to stock volatility. My positive opinion on Relypsa is driven by my view that the hyperkalemia market has great unmet medical need, has no effective products for chronic control of the condition and because it affects millions of patients represents a huge commercial opportunity (perhaps more than $12 billion in the US alone). I can come up with scenarios in which Veltassa has a larger market share than ZS-9 and vice versa. However, both Veltassa and ZS-9 based on results in their clinical trials appear to be safe and effective products. This is not a zero sums game and I believe that both drugs will be commercial winners and that each will ultimately register peak sales in the billions of dollars.
I would point out that nearly every commercial drug launch that I have been involved with in recent years has been disappointing relative to Wall Street expectations. Techniques developed by Medicare and private managed care to control drug costs also dramatically slow the uptake of new drugs, even unique drugs like Veltassa that meet a major unmet medical need. Perhaps this time will be different, but I just want to throw out the caution flag. Indeed, the stock traded down following a February 24, 2016 conference call that released some early and not particularly meaningful prescription results.
The composition of matter patent for Veltassa lasts until 2029 so this promises an extremely long period of patent protection. This promises a long commercial life with nearly 13 years of marketing exclusivity for Veltassa.
Relypsa will need to raise cash in 2016. As of December 31, 2015 Relypsa had $241 million in cash and cash equivalents. In early 2016, the Company used an at the market offering program to sell 2.5 million shares and raise $44 million so that on a proforma basis the beginning of the year cash balance was $285 million. Based on current budgeting the Company expects that "cash" operating expense in 2016 will be about $250 to $275 million. Current consensus sales forecasts call for Veltassa sales of $30 million which might generate $25 million of gross profits as an offset against the operating costs.
If I were the CFO, I would probably want to enter 2017 with about $200 million of cash on hand. If so, Relypsa might need to raise about $150 million in cash in 2017. If for the sake of example, Relypsa were to raise $150 million through stock sales at around the current price of $15.00, it would require the issuance of about 10.5 million shares. This would bring the share count to 55 million shares which at a price of $15 brings market capitalization to $825 million. However, the Company has said that it may not raise all of this cash through equity issuance.
I see these Veltassa and ZS-9 as potentially having combined US sales of $12 billion by 2025. If Veltassa were to get 25% of the US market, it would be a $4 billion product. Capitalizing these sales at a four multiple (this is low in comparison to peer companies) would result in $16 billion of market value for Relypsa. In stock price terms this would be $270 (assumes 60 million issued shares in 2025). This estimate also ignores royalties from European sales which would drive the price target well over $300.
Overview of this Report
This is a very long report and is structured in four parts.
Part I: This is the investment thesis and gives a summary of the thinking that led me to recommend the stock. For those who already have a firm understanding of the hyperkalemia market and the product characteristics of Veltassa and ZS-9 or those who just want to understand the key investment issues, this section may be sufficient.
Part II: A detailed comparison of the product attributes of Veltassa and Astra Zeneca's competitive drug ZS-9, which will come to market in mid-2016, about six months later than Veltassa. I can guarantee you that there will be a lot of volatility in the stock price of Relypsa as investors compare the characteristics of each drug and try to predict how market share will be divided.
Part III: A discussion of the role of potassium in the body and the need to control high levels. This also discusses the size of the hyperkalemia market and current treatment methods.
Part IV: A Review of the clinical studies submitted to the FDA that was the basis for regulatory approval of Veltassa. This is pretty heavy going.
Part I: Investment Thesis in Depth
The Potential for the Hyperkalemia Market is Huge
Veltassa and ZS-9 are the first new drugs for treating hyperkalemia in 50 years; there are no effective drugs for chronic treatment of this condition. The US patient population may be around 3 million patients. At the Veltassa list price of $595 per month, this represents an addressable market of $21 billion in the US and assuming about 50% penetration a commercial opportunity of about $12 billion. These products offer very significant morbidity and mortality advantages. Because of this, I think that at peak sales (perhaps five to eight years down the road) they may penetrate more than half of this addressable market and reach combined sales of $12 billion. There is the difficult to answer question as to whether one drug might dominate, but even a small market share translates into billion dollar sales potential.
Relypsa does not pay any royalties on Veltassa so that all of the economics accrue to Relypsa. The composition of matter patent lasts until 2029 so there is an extremely long period of patent protection.
In Europe, Relypsa has licensed Veltassa to Vifor Fresenius, which it characterizes as the most effective company in the cardio-renal space in Europe. The marketing application will be filed in 1H, 2016 and approval could come in 2017. This report focuses only on the US, but the opportunity in Europe is comparable to the US. The royalty rate in Europe increases with increasing sales levels and could ultimately reach the low 20s.
Veltassa and ZS-9 are Both Very Good Drugs; Veltassa has First Mover Advantage
Both Veltassa and ZS-9 showed significant therapeutic efficacy and safety in their phase 3 trials and Veltassa was approved on its PDUFA date of October 22, 2015 and was launched in late 2015. The PDUFA date for ZS-9 is May 2, 2016 and will probably be launched in June or July 2016 if it is approved on that date. Hence Veltassa has first mover advantage which is extremely important in drug marketing. Because Veltassa is an effective drug, the first impression of doctors who use it should be quite positive. It gives Relypsa the opportunity for a period of a half year to detail the attributes of Veltassa and point out the possible negative aspects of ZS-9. For that time, Relypsa reps and their co-marketing partner Sanofi, will be the only voices in the market.
Comparing Veltassa and ZS-9 on Drug to Drug Interactions and Other Issues
If Veltassa were the only drug in the market it would be hailed as a major breakthrough and widely embraced and prescribed by physicians. However, ZS-9 could have some competitive advantages and vice versa. Unexpectedly, with the approval of Veltassa the FDA required a black box warning in the label regarding drug to drug interactions and indicating to doctors that dosing of Veltassa should be six hours before or six hours after dosing of any other drug. Because the hyperkalemia patient population is usually taking numerous medications that are given once or twice per day (once in the morning and once in the evening), this creates potential compliance issues.
Relypsa has just completed some drug interaction studies that have the goal of removing the black box warning in the best case and even in the absence of that reducing the time interval for dosing before or after some or all drugs to three hours from six. These studies were encouraging (I will discuss them in more detail later) but it is unclear how the FDA will view them. The broad range of possibilities is from removal of the black box warning and reducing the dosing time interval from six to three hours to keeping the label unchanged and requiring additional studies.
Because ZS-9 is still under FDA review, we don't know if the FDA will have the same concern about drug to drug interactions with ZS-9. It may also be the case that the FDA will have other issues with ZS-9. The most likely would be the occurrence of higher levels of edema in its clinical trilas as compared to control. If the FDA believes this is linked to the drug, it could prove to be an issue as many hyperkalemic patients have hypertension or congestive heart failure which could be exacerbated by the edema. Astra Zeneca argues that the edema is the result of the underlying disease, but how the FDA will come down on this issue is uncertain. Because these drugs could potentially be used in millions of patients, the FDA is likely to over react on the edema issue as I believe was the case in the drug interaction issue with Relypsa.
Veltassa and ZS-9 have very different mechanisms of action (explained later) which could lead to competitive advantages. If the FDA felt there was no chance for drug to drug interactions and allowed the ZS-9 label to state that it could be administered at the same time as other drugs, this would be a major competitive advantage. My best guess is that the FDA will be cautious on ZS-9 and require that it be administered three to six hours after or before other drugs and strongly encourage Astra Zeneca to do more conclusive studies. However, this is just a guess. On the other hand, if the FDA is cautious on the possible link of ZS-9 to edema, it would be huge for Veltassa.
Both Veltassa and ZS-9 are once a day dosage forms that are suspended in water and then consumed. The average once a day oral suspension (not solution) of Veltassa requires the consumption of 35 grams (on average) of its active ingredient and excipients and three or more ounces of water. At this dose, the patient is consuming the equivalent of approximately 70% of the weight of a Snickers candy bar and 25% of a standard 12 ounce can of soda. ZS-9 requires the ingestion of 10 grams and about the same amount of water. Both have awkward dosage forms, but there could be a slight edge to ZS-9.
ZS-9 also has a faster onset of action and may bring potassium to normal levels in perhaps four hours as compared eight or more for Veltassa although this differs from patient to patient. This also may be a moderate advantage for ZS-9.
As previously touched on one potential marketing advantage for Veltassa is that its mode of action is to exchange calcium for potassium and then be excreted in the feces; the calcium is left behind in the body. ZS-9 exchanges sodium for potassium and sodium is left behind and this could explain the link of ZS-9 to edema in its clinical trials. Almost all patients who will be treated for hyperkalemia suffer from hypertension, congestive heart failure, chronic kidney disease and diabetes. All of these patients are urged to reduce sodium intake because it can exacerbate their underlying disease. Astra Zeneca did not consider this a major issue when they acquired ZS Pharma, the developer of ZS-9, for $2.9 billion. However, the FDA and physicians may view this sodium retention as a potential negative for some meaningful percentage of patients.
On a final note in comparing ZS-9 and Veltassa, I would point out that the FDA carefully reviewed the Veltassa data and came up with a surprise on the drug to drug interaction issue and the resultant black box warning. I think that the FDA erred on the side of caution in the Veltassa label because the agency sees that it can potentially be used in huge numbers of patients. This cautionary thinking might result in some kind of unexpected negative in the ZS-9 label in regard to sodium retention or some other issue. We should know if this is the case in May.
I would also point out that the comparatively small numbers of patients studied in the clinical trials for both drugs may not predict with great accuracy how these drugs will actually perform in a broad patient population of tens or hundreds of thousands or even millions of patients. It may be the case that in certain sub-populations, one drug will have an advantage and the other drug. History with other drug groups suggest that this could eventually be the case.
Predicting Market Share
I think that we have two very good drugs but based on the current (admittedly early and incomplete) information. When I recommended ZS Pharma in my report of April 25, 2015 Initiation Report on ZS Pharma (ZSPH, Buy, $40.97, Subscribers only),  I thought that ZS-9 had clear advantages in the marketplace. Now I am not so sure.
I don't see this as a winners take all market. If sodium retention with ZS-9 becomes an actual concern for the FDA and/or physicians, I think that Veltassa could capture much more than 50% of the market. However, in recommending the stock I am going forward on a more cautious view that sodium retention is not an issue for ZS-9 and that it is viewed as a somewhat better but not dramatically superior drug by the physician marketplace. I am guessing that this would translate into a 25% to 40% share of the market for Veltassa and for the purpose of this report I am assuming a 25% market share of the hyperkalemia drug market. It is comforting to recommend a stock based on the pessimistic projections rather than the most optimistic.
Long term Price Target Thinking
I see these Veltassa and ZS-9 as potentially having combined US sales of $12 billion by 2025. If Veltassa were to get 25% of the US market, it would be a $4 billion product. Capitalizing these sales at a four multiple (this is low in comparison to peer companies) would result in $16 billion of market value for Relypsa. In stock price terms this would be $270 (assumes 60 million issued shares in 2025). This estimate also ignores royalties from European sales which would drive the price target well over $300.
The Commercial Launch Will be the Near Term Driver of the Stock
I would point out that nearly every commercial drug launch that I have been involved with in recent years has been disappointing relative to Wall Street expectations. Techniques developed by Medicare and private managed care to control drug costs also act to slow the uptake of new drugs, even unique drugs like Veltassa that meet a major unmet medical need. Perhaps this time will be different, but I just want to throw out this caution flag. Indeed, the stock traded down sharply following a February 24, 2015 conference call that released some early prescription results.
Veltassa addresses is a large patient population but importantly only a small number of prescribers that is comprised of 7,500 cardiologists and nephrologists that will drive the majority of the business potential and about 700 institutions. This can be reached with a relatively small sales force comprised of 120 Relypsa sales reps and its co-marketing partner-the Sanofi renal sales force.
Relypsa provided a brief commercial update on a January 25th conference call. Management said that the first shipments to wholesalers were made during the week of December 21, 2016. This did not result in any revenues because accounting practices call for recognizing revenues only when a prescription is filled. Management said that the initial patient and physician response has been positive and described the boxed warning about drug to drug interactions and the 6 hour prescribing window as manageable. Management believes that Wall Street's focus on these issues is disproportionate to the commercial impact the label appears to be having in the marketplace.
The Company also said that it is making inroads on reimbursement with CMS for Medicare reimbursement and also major private payors. They expect about 60% of patients to be Medicare patients which is why meetings with CMS are so important. About 30% will be commercial pay and the remaining divided among Medicaid, VA and hospitals. One of the things that complicates any new launch particularly with a Medicare Part B product is the degree of uncertainty about reimbursement that exists in the first six to nine months of a drug launch. In the initial stages of a launch when a patient goes to a retail pharmacy to fill a prescription, they may see that the co-pay is much too high and they don't fill the prescription. Patients going to a retail pharmacy will not get a lot of service or help in understanding their co-pay and other reimbursement issues and are unlikely to get the drug the same day as most retail pharmacies do not stock specialty products, especially new ones.
Relypsa is using a system called Veltassa Connect. Whenever a physician writes a prescription, the patient is directed into this hub and their case is assigned to a case manager who will assist in anyway necessary to secure reimbursement. If that reimbursement can't be secured, the patient will be provided free drug by Relypsa. In all cases, the prescription is turned over to one of a small number of specialty mail order distributors to actually fill the prescription. Anytime a physician writes a prescription for Veltassa, it will come through the hub, patients will automatically be shipped drug for next day delivery regardless of the status of their reimbursement. This strikes me as a very thoughtful approach to solving issues which have been major problems in other new drug launches.
Relypsa intends to provide investors with monthly prescription numbers with the release of January numbers being at the time of the fourth quarter conference call. Monthly sales can be calculated by multiplying the number of prescriptions by $595 (the approximate price of each prescription) less potential discounts and co-pays. This sales trend will be the primary driver of the stock over the first half of 2016.
ZS-9 Has a May 2, 2016 PDUFA Date
There is a very important binary event coming with the May 2 PDUFA date for ZS-9. There could be some impactful information of drug interactions or sodium retention that could be potentially negative or positive for ZS-9, at least in investors' minds. This could strongly swing the pendulum of support in either direction for Veltassa.
Could Relypsa Be Acquired?
I would point out that ZS Pharma was acquired by Astra Zeneca for $2.9 billion and at the time that ZS Pharma acknowledged that there were several suitors. It is possible that Relypsa might also be acquired. It has a current market capitalization of $790 million. When Relypsa struck the deal with Sanofi, it was structured in such a way as to retain optionality for Relypsa to entertain a takeover bid. They pay Sanofi approximately $10 million per year in quarterly payments to make sales calls. There are no downstream payments and the arrangement can be terminated by with party at one year and the deal sunshines at two years. Their determination of number of reps to hire and territories to focus on was set independent of Sanofi. The Sanofi effort will be additive but this does not interfere with the potential for the Company to be acquired.
Hedge Fund Manipulation of Stock Price is a Risk
I have learned from hard experience that hedge funds acting as a cartel can often attack a Company using dark pools to hide their trading, high frequency trading to walk a stock up or down and illegal naked shorting  to issue counterfeit shares. These attacks can actually lead to hedge funds deciding at what price they want to see a stock trade. They have much more influence on small companies without approved products and strained cash positions, but they can also go after a Company like Relypsa.
This could result in pressure at some point if it was perceived that the launch was disappointing or if ZS-9 were perceived to have some major advantage versus Veltassa in ways that I have talked about at length and if it is perceived that Relypsa needs to raise cash. It is a sad comment on the state of our stock market that hedge fund manipulation of stock prices is a real investment risk, but this is the world we live in. I think that hedge fund aggressiveness on the short side could be tempered by the real possibility of a takeover by a larger pharma company. Taking this all into account, I accept this risk in my Buy recommendation.
Part II: Comparing Veltassa and ZS-9
Approval and Launch
Veltassa was approved on its PDUFA date of October 21, 2015 and commercial sales have begun.  Relypsa is adequately financed and can spend aggressively on its launch. In the US, 120 Relypsa sales reps will co-market Veltassa along with the sales force of Sanofi Renal. In Europe, Relypsa has licensed Veltassa to Vifor Fresenius, which it characterizes as the most effective company in the cardio-renal space in Europe. The marketing application will be filed in 2016 and approval could come in late 2016 or 2017. This report focuses only on the US, but the opportunity in Europe is comparable to the US.
ZS Pharma has a PDUFA date of May 2, 2016 and if approved, I would expect the commercial launch to begin in June or July. ZS Pharma can draw on the vast resources of Astra Zeneca for its launch. This gives Relypsa a six month plus "first mover" advantage.
Efficacy
Based on their clinical trial data, I think that there is little question that over long periods of time that both Veltassa and ZS-9 are highly effective in restoring elevated potassium levels to normal. These effects appear to be durable; phase 3 trials have demonstrated control of potassium within normal range for over a year in the case of both ZS-9 and patiromer. They both qualify as major medical advances in treating hyperkalemia and for which currently there is no effective chronic therapy. Their ability to allow higher dosing of RAASi drugs through control of potassium levels is enormously important and also will confer great medical benefit. Taken correctly, these drugs are both highly effective.
Dosage
Once a day dosing is extremely important for a drug that is intended to be used chronically as patient compliance is markedly higher for once a day. Phase 3 studies have firmly established that ZS-9 can be given with once a day dosing. In the approval of Veltassa, the FDA delivered an unexpected curve ball. The agency was concerned about the potential for drug to drug interactions and decided that it would recommend in the label that Veltassa be given six hours after administration of other drugs. It is uncertain whether ZS Pharma may have a similar label. This is a highly uncertain situation which I will discuss at length in the next section. If ZS Pharma has no such restrictions, it would be a major advantage for ZS-9.
Drug to Drug Interaction Issues as They Now Affect Veltassa
In its NDA filing, Relypsa included data from standard vitro (test tube) studies that are used as one measure to judge the potential for drug to drug interactions. These were intended to give an indication if Veltassa could interfere with the pharmacokinetics of drugs that are commonly used by the patient population that Veltassa will be used in. In its NDA filing, Relypsa included data that showed that there was vitro binding of Veltassa bound with 14 of the 28 oral medications tested. This led the FDA to include black box warning on the potential for drug to drug interactions and to indicate that Veltassa should be dosed at least six hours before or after any other drug.
Most people in thinking about drug to drug interactions think about systemically administered drugs that interfere with each other principally by competing for the same liver enzymes and therefore disrupt the metabolism of the other drug. Veltassa is very different because its 100 micron beads cannot be physically absorbed. The potential for interaction involves the direct interaction between patiromer and something else in stomach and gastrointestinal tract which is given at the same time. The in vitro assay does exactly that. It takes patiromer at its highest concentration and mixes it with the lowest concentration of the subject drug which is sometimes referred to as the victim drug. Veltassa is the perpetrator drug. You then measure how much of victim binds to perpetrator. This is in a test tube and we don't know how this correlates to the effect in humans.
Following approval, Relypsa undertook more from studies in healthy human volunteers to hopefully provide more meaningful data than in vitro (test tube) data that formed the basis for a boxed warning. With the help of the FDA, Relypsa conducted a Phase 1 open label, randomized, three-way crossover study in healthy human volunteers that tested the effect of the pharmacokinetics of 12 of the 14 drugs that bound in vitro. Veltassa was given at the same time as these drugs and later given in the same volunteers after three hours. Nine of these drugs showed no clinically meaningful reduction in absorption when administered at the same time as Veltassa, while three of the drugs showed potential changes that could be viewed as significant.  These three drugs were: ciprofloxacin (antibiotic), levothyroxine (thyroid hormone replacement), and metformin (antidiabetic). There was no effect when Veltassa was given three hours later.
These results are encouraging but not definitive and the FDA could take a number of actions. The agency could decide to
not change the label and require additional studies,
adds this drug-specific data to the drug's label,
agrees to narrow the dosing window from 6 hours to 3 hours,
remove the black box warning
Relypsa will meet with and discuss these issues with the FDA and may file a sNDA seeking label changes. This might be done in three months or so and the FDA would then have six months to review it.
Amount of Drug Consumed Daily
The label indicates that the recommended starting dose of Veltassa is 8.4 grams patiromer once daily. The label recommends monitoring serum potassium and adjusting the dose if the potassium level in not in the desired target range. The dose can next be titrated to 16.4 grams of patiromer after one week or more and then further titrated to maximum dose of 25.2 grams once daily. Veltassa is a powder for oral suspension that is packaged in single-use packets containing 8.4 grams, 16.8 grams or 25.2 grams of the polymer patiromer. The steps in preparing the dose according to the label are:
Step 1: Add about 1 ounce (30 milliliters) of water to an empty glass or cup.
Step 2: Empty the entire contents of the packet(s) into the glass or cup.
Step 3: Stir the mixture thoroughly.
Step 4: Add an additional 2 ounces (60 milliliters) of water to the glass or cup containing the mixture.
Step 5: Stir the mixture thoroughly; the powder will not dissolve and the mixture will look cloudy.
Step 6: Drink the mixture immediately. If some powder remains in the glass after drinking, add more water, stir and drink immediately. Repeat as needed to ensure the entire dose is administered.
The average amount of the ion exchange polymer (patiromer) in the clinical trials was 21.4 grams per day (note that no one actually received this exact dose). In addition to 21.4 grams of patiromer, this dose there also contained 4.0 grams of calcium, 10.0 grams of sorbitol and some amount of xanthan gum as excipients. This brings the total amount of material ingested to over 35 grams. To put this in perspective, a Snickers candy bar weighs 48 grams so this is like consuming 75% of a Snickers bar. As just described, Veltassa also requires mixing with 3 ounces (90 milliliters) or more of water. This is 25% or more of the 12 ounces that is contained in a normal can of soda.
ZS-9 is given in a packet that is dissolved in water and swallowed. About 80% of patients can be brought to normal potassium levels with a once a day 5 gram dosage and 90% can be brought to normal potassium levels with 10 grams once a day; there are no excipients in ZS-9. The 10 gram dose (21% of a Snickers bar) compares to 48 grams of drug and excipient in the 21.4 grams dosage of Veltassa. The ten grams of ZS-p can require up to 4 ounces (120 ml) of water which is about the same or slightly more than for Veltassa.
Compliance was not an issue in the clinical trials with either product. However, this is quite a bit of ingredients to be swallowing on a daily basis. Possibly, the lesser grams of material swallowed could be a modest advantage for ZS-9, it is difficult to say. Both dosage forms are awkward.
Onset of Action
In ZS Pharma's phase 3 trials, there was emphasis placed on onset of action, probably because the Company sees this as a point of differentiation for ZS-9 from Veltassa. In phase 3 studies, ZS-9 had a statistically significant reduction in serum potassium in many patients after one hour and the median time at which half the patients were brought into normal potassium level range was 2.2 hours. Very importantly, patients who had higher potassium levels to start with seemed to experience the most significant declines. I have not seen any data from Relypsa, but I think very few patients are brought into normal potassium levels by patiromer in two hours.
The mode of action of patiromer requires that it transit to the colon or lower part of the gastrointestinal tract before it can have a meaningful effect on potassium levels. The time for transit from ingestion to the lower colon is about 7 to 8 hours, which accounts for a slow onset of action. The mechanism of action of ZS-9 allows it to begin lowering potassium as it enters the small intestine in the upper part of the gastrointestinal tract. In the ZS004 phase 3 trial, 98% of patients were brought into a normal potassium level within 48 hours. In the phase 3 trial of patiromer, 20% of patients achieved normal potassium levels at 48 hours.
This might be an advantage for ZS-9 in those settings in which the physician wants a very quick effect. However, in the emergency room setting this is still not quick enough and patients will first be treated with insulin and glucose if doctors are unable to bring potassium to a level that they deem safe and acceptable, the patient will be dialyzed. In current practice Kayexelate is often added after the initial treatment and this is likely to be the case with both ZS-9 and Veltassa. There may be some advantage for ZS-9 in the emergency room setting.
About 50% of hyperkalemic cases present in the hospital. If ZS-9 or Veltassa are used in the hospital, they will then be sent home with a prescription. The nephrologists and cardiologists who are involved in the hospital treatment of a patient will often continue to see the patients outside the hospital. They will be more likely to continue a patient on the drug first prescribed in the hospital.
There is less urgency for rapid onset of action in patients who require potassium level adjusting in order to adjust the dose of a RAASi drug. They will be treated in an out-patient setting.
Ion Exchange Mechanisms of Action
The patiromer resin used in Veltassa uses calcium as the ion that is exchanged for potassium ion but it also exchanged to a lesser degree with hydrogen, sodium and magnesium ions. The degree of exchange is determined by the concentrations of the ions in surrounding fluids. In hyperkalemia in which inadequate amounts of potassium are being excreted in the urine, potassium levels build to abnormally high levels in the colon in the lower gastrointestinal tract. As a consequence, much of the potassium absorbed by patiromer is bound in the colon and then excreted in the feces.
ZS-9 is not an ion exchange resin. It is a crystal that has a very high binding affinity for potassium and a modest binding effect on magnesium. The mode of action is not dependent on the concentration of potassium. Hence, ZS-9 can bind potassium in the upper gastrointestinal tract where concentrations are low. This is what gives ZS-9 an advantage in speed of onset,
The mechanism of action of both drugs in lowering potassium raises the potential risk of hypokalemia or too low potassium levels which has its own serious risks of causing cardiac arrhythmias. However, neither patiromer nor ZS-9 use has led to serious cases of hypokalemia in their phase 3 trials.
Patiromer exchanges calcium for other ions which means that calcium is left behind in the body. The average dose of patiromer exchanges 4 grams of calcium. ZS-9 leaves sodium behind in the body. This could be an issue an as increasing sodium levels increases hypertension and water retention. Because almost all of the patients treated with RAASi drugs have hypertension, chronic heart failure or chronic heart disease, this could cause concern about ZS-9 by the FDA and physicians. Even if the FDA doesn't make an issue of sodium exchange, physicians might still be concerned.
Other Side Effect Issues
Patiromer like Kayexelate uses an ion exchange resin. A major difference is that Kayexelate exchanges sodium and patiromer exchanges calcium. Gastrointestinal side effects have been a major issue with Kayexelate. In the acute phase of the phase 3 study, Veltassa reported 19% incidence of gastrointestinal side effects. Across all doses, the incidence of gastrointestinal side effects with ZS-9 was 4%. In its phase 3 trial, patiromer was well tolerated and dropouts were not an issue. There is the potential that at high doses of patiromer that might be used as a loading dose in clinical practice, that gastrointestinal side effects might be more of an issue.
There appeared to be a signal that edema might be associated with ZS-9 in the ZS004 trial. Edema is the type of side effect that would occur if sodium retention is a problem. However, results so far in the ongoing ZS004e and ZS005 trials suggest that edema is comparable to placebo.
Manufacturing
Both of these drugs are going to require manufacturing large quantities. For example, the average 21.4 grams per day of patiromer translates into 17 pounds per year for a patient. If patiromer were to be used in 1 million patients, this would require 17 million pounds of production per year. The excipients used in combination with patiromer add an additional 8 million pounds. The average dose of ZS-9 is about 7 grams per patient. This translates into 6 million pounds per year needed to treat 1 million patients; ZS-9 has no excipients.
Relypsa is using outside vendors to produce the active pharmaceutical ingredient and ZS Pharma is doing manufacturing in-house. There have been other ion exchange resins like cholestyramine that have been produced in large quantities so that I do not think that production will be an issue for patiromer. ZS Pharma management says that the ZS-9 manufacturing process is simple and consists of the adding together of two materials. They state that in a 2000 liter production unit, they have obtained a yield necessary for commercial production. Scaling up only involves increasing the number of production units. They are very confident in their ability to do this and believe that production is not an issue for commercialization.
One of my sources who has a high level degree in chemistry told me that production of crystals as used in ZS-9 is a complex process and for a company like ZS Pharma with no manufacturing experience, this could be an issue. He is not directly involved with ZS Pharma and I take this comment to mean that it is something to monitor as opposed to specifically pointing to this as a stumbling block. I don't have the knowledge to assess this on my own. As just discussed, ZS Pharma states that this is not an issue. Recognizing that ZS Pharma is sanguine about their ability to produce huge amounts of ZS-9, there is no way for outsiders to assess this and the Company has no experience in manufacturing.
ZS Pharma has stated that it believes that when it is at commercial scale that it can achieve a gross margin of 80% on ZS-9. Relypsa hasn't commented to me on its potential gross margin at scale. However, a source with some knowledge of manufacturing polymeric resins suggests that patiromer's gross margin could be on the order of 60%.
Distribution
Patiromer must be refrigerated in the distribution channel and has twelve months of stability in cold chain distribution. Once it leaves the cold chain, it has three months of stability at room temperature. Partly because of this, Relypsa is using specialty pharmacy distribution. ZS-9 has four years stability at room temperature.
If a hospital is looking to add patiromer to its formulary, there is the question of whether they would need to refrigerate the inventory. This would add a level of complexity that works in favor of ZS-9. With the specialty pharmaceutical distribution, this is not an issue with use outside the hospital.
Bicarbonate and Aldosterone Levels
Metabolic acidosis increases with chronic kidney disease progression and is associated with higher mortality. Bicarbonate is used as a treatment and by bringing bicarbonate levels to within the normal range, especially in CKD patients; ZS-9 could improve clinical outcomes in addition to the cardiac benefits of serum potassium normalization. Results of patiromer in phase 3 trials do not indicate any effect on bicarbonate.
Aldosterone is a hormone that is involved in blood pressure regulation,   reabsorption of sodium ions and excretion of potassium ions. Potassium stimulates aldosterone with the result that hyperkalemic patients often have elevated levels of aldosterone. This can lead to heart and kidney problems. In its phase 3 trial, ZS-9 demonstrated that patients on the drug had decreased levels of aldosterone.
Selectivity for Ions other Than Potassium
The patiromer resin uses calcium as an ion that is exchanged for hydrogen, sodium, magnesium and potassium ions in the lower colon. It binds these ions and is excreted in the feces. It is much more selective for potassium, but the other ions are also bound and excreted in the feces. This raises the theoretical risk of excessively high calcium levels and excessively low levels of these other ions. ZS-9 is more selective for potassium.
The mechanism of action of both drugs in lowering potassium raises the potential risk of hypokalemia or too low potassium levels which has its own serious risks of causing cardiac arrhythmias. Neither patiromer nor ZS-9 use has led to serious cases of hypokalemia in their phase 3 trials.
With patiromer, the phase 3 trials did not produce signals of issues with raised calcium or reduced magnesium or sodium levels. While these are theoretical issues, the phase 3 trials did not produce any signals. It is hard for me to assess whether these issues are a potential problem for patiromer. 
Part III: Potassium in the Body and the need to Lower High Potassium Levels, Size of the Hyperkalemia Market and Current Treatment Methods.
The Role of Potassium in the Body
Potassium is an electrolyte (ion) which is the medical term for atoms or substances that carry an electrical charge when dissolved in a fluid. This is caused by the loss or addition of an electron so that the number of electrons does not equal the number of protons. Electrolytes help to conduct electricity in the body. Potassium is the major positive ion (cation) that is found in cells. Other important electrolytes are sodium, chloride, calcium, and magnesium. The balance of electrolytes in the body is essential for normal functioning of cells and organs. Potassium is the eighth most common element by mass (0.2%) in the human body, so that a 160 pound adult contains a total of about 0.3 pounds of potassium.
Potassium is essential for many bodily functions such as the regulation of the heartbeat, contraction of skeletal and smooth muscles, the amount of water retained in the body and a healthy blood pH level. Potassium plays a role in every heartbeat so that a hundred thousand times a day, it helps trigger the heart to contract and pump blood through the body. A seriously abnormal increase in potassium (hyperkalemia) or decrease in potassium (hypokalemia) can profoundly affect the chance of irregular heartbeats (arrhythmias), which can be potentially fatal.
Hyperkalemia
The body needs to regulate levels of potassium in the blood within a range of 3.5 to 5.5 mEq/L. Hyperkalemia is generally defined as blood potassium levels above 5.5 mEq/L although some consider 5.0 mEq/L as the threshold for treatment. Hyperkalemia can lead to cardiac arrhythmia (irregular heart rhythms); here is a way to think about the different levels of hyperkalemia:
Having a blood potassium level higher than 7.0 mEq/L could cause a cardiac arrhythmia at any moment; it requires immediate treatment, usually dialysis.
Potassium levels of >6.0 to 7.0 mEq/L are considered to be high and dangerous and also require prompt action. Both ZS-9 and patiromer would be used in most of these patients
Mild hyperkalemias of >5.0 to 6.0 mEq/L require action in the form of monitoring, the avoidance of a high intake of potassium and often changing drug therapies that may be increasing potassium levels. ZS-9 and patiromer would be used in a good part of this population as well.
The Danger Hyperkalemia Poses
The normal physiological process for removing excess potassium is through excretion in the urine. In normal humans about 90% of excess potassium is excreted through the urine and 10% is excreted through the feces. The vast majority of potassium is bound up in cells. In patients with compromised kidney function, the relative amount of potassium in the colon goes up because less urine is excreted.
Hyperkalemia is a life threatening condition that is primarily caused by diseases or drugs that reduce kidney function. A JAMA article in 2012 studied the rate of in-hospital mortality and morbidity. The death rate increases gradually as the potassium level goes up to 4.0 to 4.5 and increases dramatically above 5.0. At levels of 6.0, the mortality rate is about 4%; this is roughly comparable to the mortality rate from heart attacks!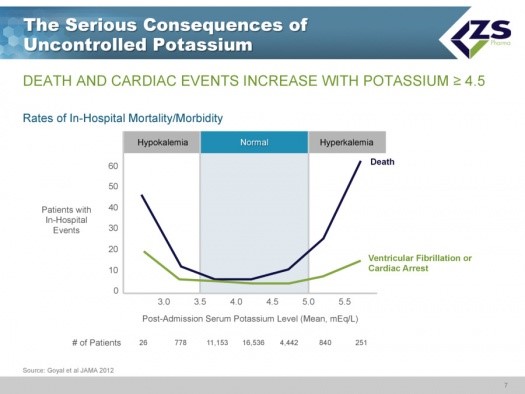 Use of Renin Angiotensin Aldosterone Inhibitors (RAASI) Can Lead to Hyperkalemia
One of the most significant causes of hyperkalemia results from the widespread use of renin angiotensin aldosterone inhibitor (RAASi) therapies such as:
Angiotensin receptor blockers (ARBs) such as Losartan, Cozaar, Avapro and Diovan,
Angiotensin converting enzyme inhibitors (ACEs) such as Vasotec Capoten, Vasotec, Zestril and Accupril and
Aldosterone antagonists (AAs) such as Aldactone and Aldactazide.
These drugs are used ubiquitously in the treatment of hypertension and heart failure. Clinical studies have shown that through controlling hypertension they reduce proteinuria and in doing so preserve kidney function and delay progression to end stage kidney disease and the need for dialysis. They are also used to treat chronic heart failure and have been shown in clinical studies to decrease hospitalization, worsening of heart failure and reduce all-cause mortality. They are extremely important drugs.
These drugs all lower blood pressure through reducing the levels of the hormone aldosterone. However, aldosterone has the effect of lowering potassium so that as it is lowered potassium is increased leading to hyperkalemia which brings a new risk. This is a conundrum for doctors because they want to maintain patients on RAAS inhibitors. Hence, there is a great need for drugs which can treat hyperkalemia and allow patients to remain on RAASi therapy.
The Kidney Disease Outcomes Quality Initiative (KDOQI) provided guidelines on the use ACEs, ARBs and AAs in chronic kidney disease. In general, the highest tolerated dose is recommended. If hyperkalemia occurs, the dose should be reduced to the level that potassium falls in the normal range and if that is not possible, the drugs should be discontinued. Relypsa's market research suggests that only 25% of patients can be treated with the optimal dose of RAASi, 42% can be treated at a sub-optimal dose and 33% cannot tolerate the therapy. Hyperkalemia is almost always the cause because otherwise these drugs are pretty well tolerated.
Kayexelate's Current Role in the Hyperkalemia Market
Relypsa has estimated that there are 15.4 million patients with chronic kidney disease due primarily to hypertension and diabetes and 4.9 million have advanced stage 3 and 4 disease of which 2.5 million have hyperkalemia. They further estimate there are 2.3 million heart failure patients and of these 0.5 million have hyperkalemia. Thus the potential addressable market is about 3.0 million patients. Note that this hyperkalemia is due to kidney disease and RAASi drug usage. Veltassa has been priced at $595 per prescription or approximately $7000 per year.
There are about 500,000 patients who are treated at some point each year with Kayexelate which equates to a penetration of about 17% of patients. About half of Kayexelate is used in the hospital and half in the out-patient setting but it is seldom used for more than two days because of side effects.
ZS Pharma estimates that there are 200 million grams of Kayexelate used each year primarily in the hospital setting. At a dose of 100 grams per day, this represents 2 million patient days of therapy. I am estimating that ZS-9 will be priced at $7,000 per year or roughly $20 per day. Hence the size of the market represented by patient days of Kayexelate therapy would be of Kayexelate priced at ZS-9 prices would be $400 million
Treating Hyperkalemia in the Emergency Room
Taking care of hyperkalemia is one of the first things that emergency room doctors learn. The incidence of hyperkalemia is 1% to 10% of hospitalized patients and a 2006 survey estimated that there were over 700,000 hospital admissions due to hyperkalemia in that year.
There is no efficacious, well tolerated commercial drug for the treatment of hyperkalemia in the emergency room for a period of longer than a few hours other than Kayexelate. This is a drug that is over 50 years old and has never been tested in a clinical trial.
The mortality rate within one day of a hyperkalemic event for a patient with mEq/L < 5.5 is 0.2%. Between 5.5 and 6.0 it is 1.4% and >6.0 it is 3.7%. For comparison, the death rate from a heart attack is about 4%. Hence mEq/L > 6.0 is equivalent to a heart attack. Patients with very high hyperkalemia of 7.0 or lower can literally go from appearing normal to having a cardiac arrhythmia and sudden death in a matter of minutes. Needless to say, when patients show up with serum potassium levels >5.5 mEq/L, the emergency room physician is concerned that he is treating a patient at risk of death.
The very best acute treatment of hyperkalemia is dialysis and this is the appropriate treatment for mEq/L greater than 6.0. However, this is invasive, complicated, expensive and not always immediately available. Imagine if a patient shows up in the middle of the night and there is no nephrologist on duty and one has to be summoned out of bed to come to the hospital to do an emergency dialysis.
After dialysis, the potassium is lowered and the patent can be sent home. In the interim prior to dialysis, the emergency room doctor has several short term actions that he can take. These are temporizing treatments that buy the physician some time until dialysis can be performed. The common thread of each of these treatments is that they cause potassium to shift from fluids into cells thereby lowering serum potassium. However, they only act for a short period of time and doing all the following options in sequence only can buy the physician a few hours. These options are:
Calcium given intravenously moves potassium out of fluids and into the cell and can normalize EKG and remove the risk of a cardiac arrhythmia in less than a minute. This is a spectacular result, but it only works for 30 to 60 minutes and re-administration does not produce the same results.
Sodium bicarbonate causes hydrogen to come out of cells and potassium to go in but again this only lasts for one half hour or so and too much can kill the patient.
Insulin given IV with glucose increases glucose intake into cells and brings potassium with it. This temporarily shifts potassium into the cell. However, insulin causes severe hypoglycemia and to offset this patient has to be given glucose in a big bag of water. However, this significant increase in fluid intake is a big problem in patients who have impaired kidney function which limits their ability to urinate. Still, this can work for a short term
Another possible action is to give the asthma drug albuterol. However, albuterol increases the heart rate and in patients already at risk of cardiac arrhythmias, this increases the risk.
Loop diuretics in patients which increase the secretion of urine and with it potassium are another possibility, but this doesn't work well in patients with renal impairment; it can lead to fluid retention.
Kayexelate is Not the Answer
The one treatment option for the emergency room physician for longer term control of hyperkalemia is Kayexelate, which is an ion exchange resin that uses sodium as the exchange ion. Sodium ions are released from the resin and replaced by potassium, magnesium, calcium and hydrogen ions. The potassium exchange occurs primarily in the large intestine and resin now containing potassium ions is excreted in the feces. The efficiency of this process can be unpredictable.
Kayexelate was introduced as a treatment for hyperkalemia by the in 1958 before there were FDA administered requirements to prove safety and efficacy for new drugs. There have been no controlled trials that define its efficacy and safety profile. Of course, it has never undergone an FDA review. In September 2009, the label was changed to warn of cases on intestinal necrosis, which might be fatal, and other serious gastrointestinal adverse events (bleeding, ischemic colitis, perforation) that have been reported in association with Kayexelate use. The label warns against use in patients who do not have normal bowel function.
It can be given by mouth 1 to 4 times a day as a liquid suspension in which a powder is mixed with water or flavored syrup. The patient must remain upright and not lay down for at least an hour after dosing. It takes Kayexelate about 7 to 10 hours to enter the colon where much of the potassium exchange occurs. This produces a slow onset of action. The rapid onset of action of ZS-9 is a major advantage in most emergency room settings. Patiromer has a similar slow onset of action to Kayexelate; its major advantage over Kayexelate is less GI severe side effects. Given rectally, the onset of action is quicker.
Kayexelate is a difficult drug to take as it can cause profuse diarrhea so that patients need to be near a commode when taking the drug. Patients hate it and nurses who may have to clean up after a patient mishap also hate it. This means that in many cases the patient will be transferred to dialysis rather than being maintained on Kayexelate.
Treatment of Hyperkalemia in the Doctor's Office
A physician encountering a patient with potassium levels of > 6.0 mEq/L will probably send the patient immediately to an emergency room for treatment. For patients below that threshold, the options are limited. A low potassium diet is not a good option as many of the fruits, vegetables and meats that are staples of our diets are high in potassium. Loop diuretics can be used to increase urine flow, but in patients with impaired kidney function can lead to a dangerous fluid retention. If the patients are on RAASi drug therapy, the dose can be lowered, but physicians are reluctant to do this because of the clinical benefit of these drugs. Kayexelate is an unappealing option as it is very difficult to keep patents on this drug long term. There is a tremendous unmet medical need for a safe drug to treat hyperkalemia.
Patiromer uses technology that has similarities to Kayexelate. It is an ion exchange resin which in the lower colon exchanges calcium for potassium and to some extent other electrolytes. The resin and newly bound potassium is then excreted in the feces. Kayexelate uses sodium as the exchange ion and this is the cause of its severe side effects. Patiromer can be thought of as a much safer and more effective drug.
ZS-9 is a first in class potassium trap that can be a breakthrough treatment for hyperkalemia. It is a unique zirconium silicate compound designed specifically to be selective for potassium. It builds on a long history for use of zirconium in dialysis and other biomedical applications. It is insoluble and highly stable and is not systemically absorbed. The API is stable at room temperature for four years.
Part IV: Clinical Data for Patiromer
Overview
The clinical data for patiromer is based on a phase 3 study, a phase 2b study and another study looking at onset of action. Prior to the phase 2b program, studies were started in healthy volunteers and then treatment of hemodialysis patients and next prevention of hyperkalemia in heart failure, For the phase 2b and 3 trials then ultimately settled on the treatment of hyperkalemia in patients with chronic kidney disease with or without heart failure. This is a fairly homogeneous group of patients with chronic kidney disease, type 2 diabetes, hypertension and who were on a RAAS inhibitor. The goal was to control their hyperkalemia with patiromer and allow them to remain on their RAAS inhibitor.
The pivotal phase 3 study enrolled 301 patients and the phase 2b program enrolled 205 patients. The study investigating onset of action enrolled 103 patients. Earlier studies enrolled 607 patients with hyperkalemia and 203 healthy volunteers. The Company anticipates that it will have a total safety base of 730 subjects in the NDA filing. This is summarized below: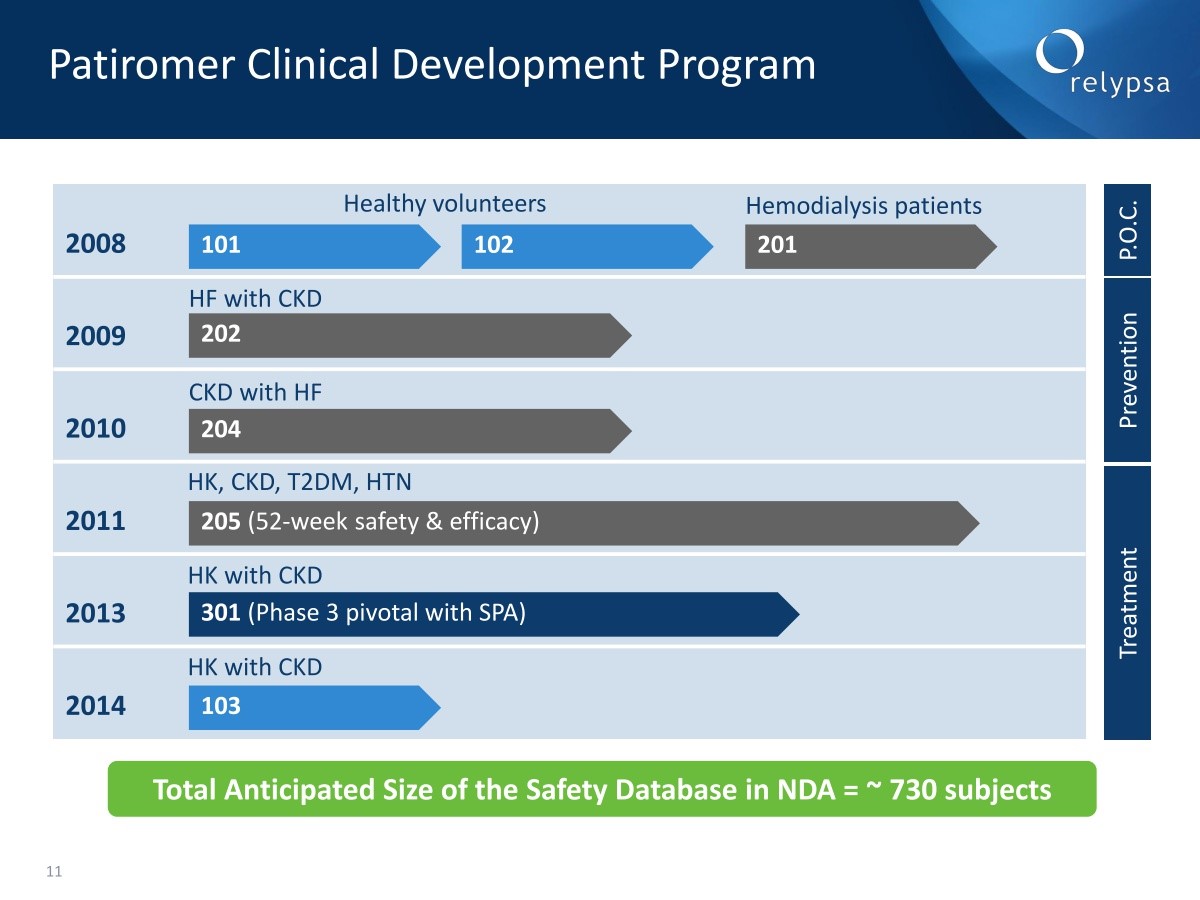 Patiromer was given as a twice a day in the studies but the Company believes that based on what they saw in the phase 1 studies that it can be given as once a day. In phase 2, whether the drug was given as 10 grams three times a  day, 15 grams twice a day or 30 grams once a day, there was a similar decrease in urinary excretion of potassium andan increase in fecal excretion of potassium
Phase 3 Study Design
The phase 3 study enrolled patients who met the criteria of having chronic kidney disease, hypertension and being on a RAAS inhibitor. There were two time periods for the study. Beginning with part A, patients were randomized into a high or low dose of patiromer depending on their level of hyperkalemia. They were stratified into a mild hyperkalemia group (5.1 mEq/L to <5.5) or moderate to severe hyperkalemia (5.5 to <6.5).
Part A lasted for four weeks and the primary endpoint compared the potassium level at four weeks with the baseline potassium levels. There were 243 patients enrolled in Part A. There was no control group in this study as some of the patients has potassium levels that were dangerously high, as much as 6.5 mEq/L and it would have been unethical to not treat them.
This was followed by part B which was designed with the FDA's input. Responders from part A who had baseline serum potassium levels of 5.5 mEq/L to≤6.5 were randomized to receive patiromer plus a RAAS inhibitor or placebo plus a RAAS inhibitor. There were 107 patients who met these entry criteria and they were again randomized into one group that was given patiromer plus a RAAS inhibitor and another that was given placebo plus a RAAS inhibitor. Part B ran for eight weeks and the primary endpoint of Part B was the difference in potassium serum levels at four weeks after enrollment to baseline levels.
The phase 3 study design looked like this.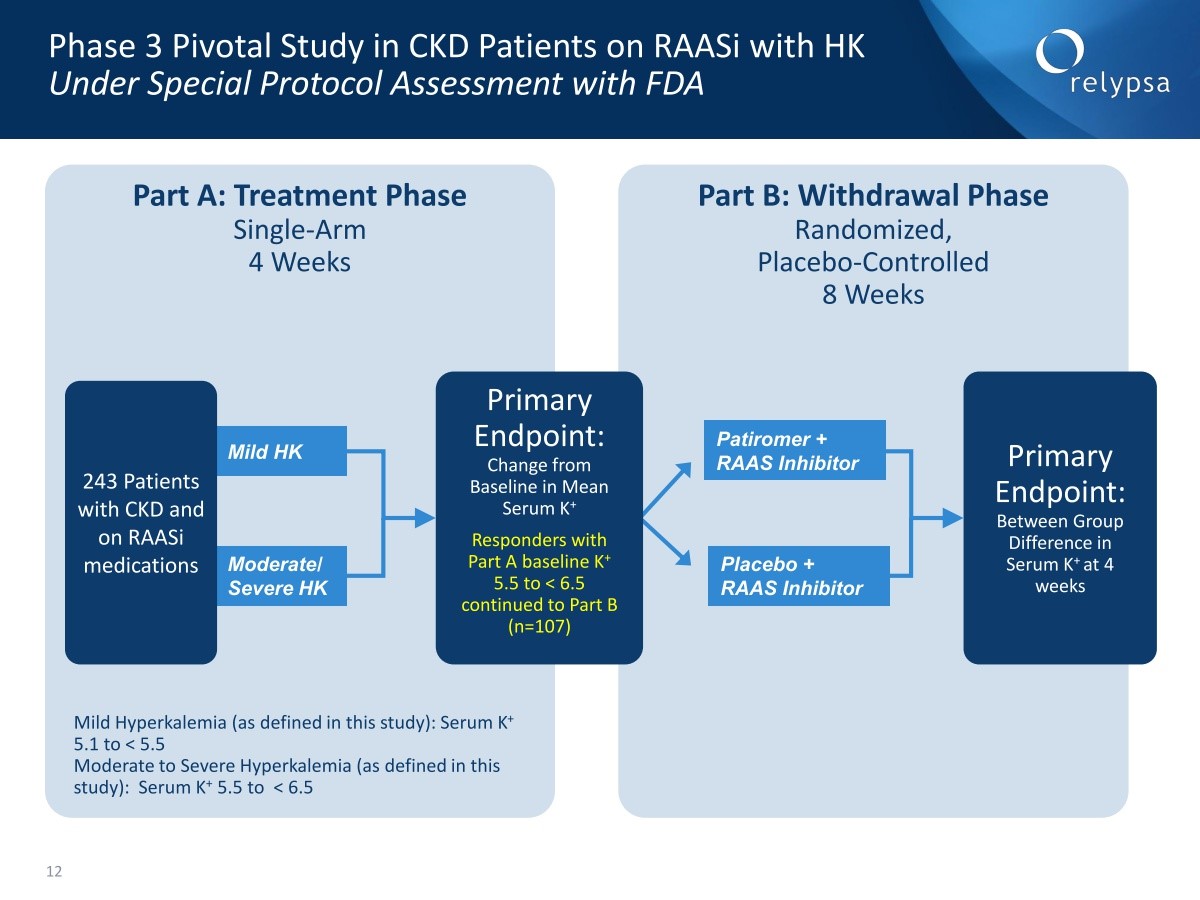 Phase 3 Results
The average serum potassium level for the mild group was about 5.30 mEq/ L at baseline and for the moderate to severe was about 5.75 mEq/L. The following chart shows that serum potassium levels begin to fall almost immediately and by day two the median serum potassium level for the mild group had hit the upper limit of normal kalemia and the moderate to severe group had a decline of median mEq/L of about 0.6 and were approaching normal kalemia levels. Within a week the median patients in both groups were in the normal kalemia range with an average decrease of all patients of about 1.0 mEq/ L.
The primary endpoint for Part A was the mean change from baseline to week four. In the mild hyperkalemic group the mean decrease was -0.65 mEq/L within a 95% confidence interval of 0.74 to 0.53. In the moderate to severe group the decrease was -1.23 within a confidence interval of 1.11 to 1.18. For the group as a whole the decrease was -1.01 within a confidence interval of 0.95 to 1.07. A secondary endpoint was the percentage of subjects who had potassium in the 3.1 to 5.1 range (normokalemic) at week 4 and this was 76%.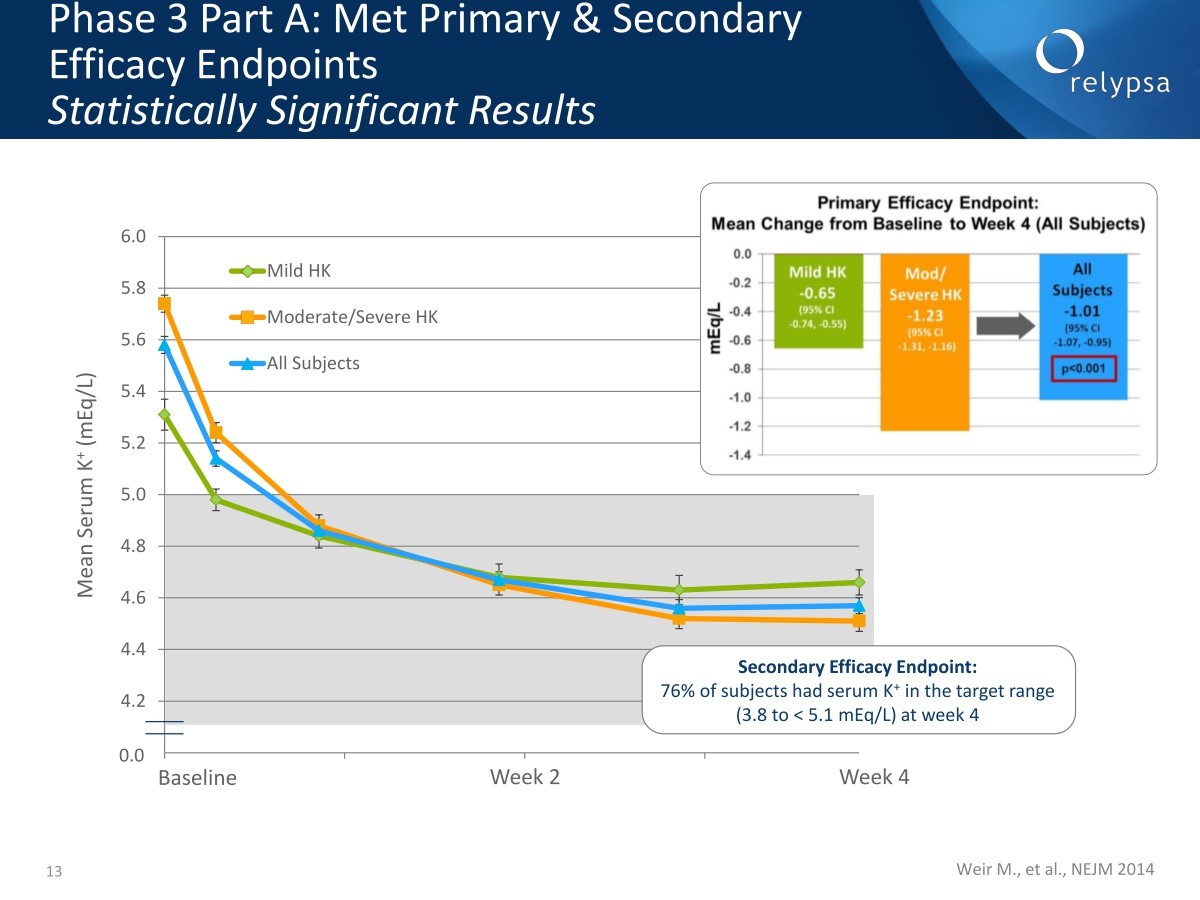 The objective of Part B of the study was to compare the control of potassium levels by patiromer as compared to the placebo group. The placebo group saw a relatively quick increase in median potassium levels of about 0.72 mEq/L while those who on patiromer saw no change and stayed in normal range. The primary efficacy endpoint of Part B was the median change in potassium from four weeks to eight weeks. The median increase in the placebo versus patiromer was an increase 0.72 mEq/L and the p value was <0.001. The placebo patients sometimes within a matter of days returned to hyperkalemic levels while those on patiromer were well controlled.
The next slide looked at which patients breached either 5.1 mEq/L or 5.5 during part B. Ninety one percent of the patients on placebo breached 5.1 while those on patiromer breached it 43% of the time. The patients who were on placebo breached 5.5 mEq/L 60% of the time while those on patiromer breached it 15% of the time. The p value in both cases was p<0.001.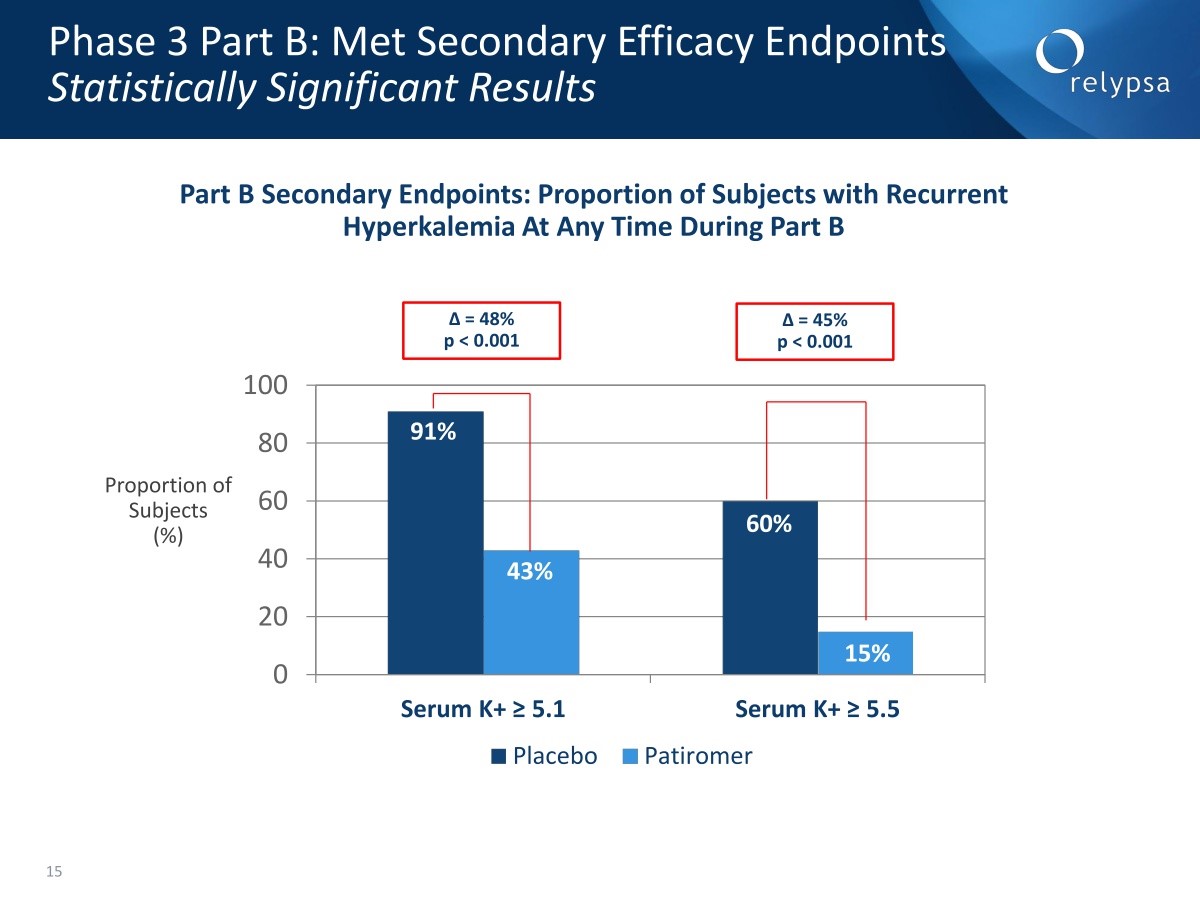 Another important secondary endpoint of Part B looked at the ability to keep patients on RAAS inhibitors. The percentage of patients who required either a downward adjustment or discontinuation of their RAAS inhibitor was 62% for placebo and 6% for patiromer. The percentage of patients who were on any dose of a RAASi at the end of Part B was 48% for placebo and 94% for patiromer. For both measures, the p value was p<0.001.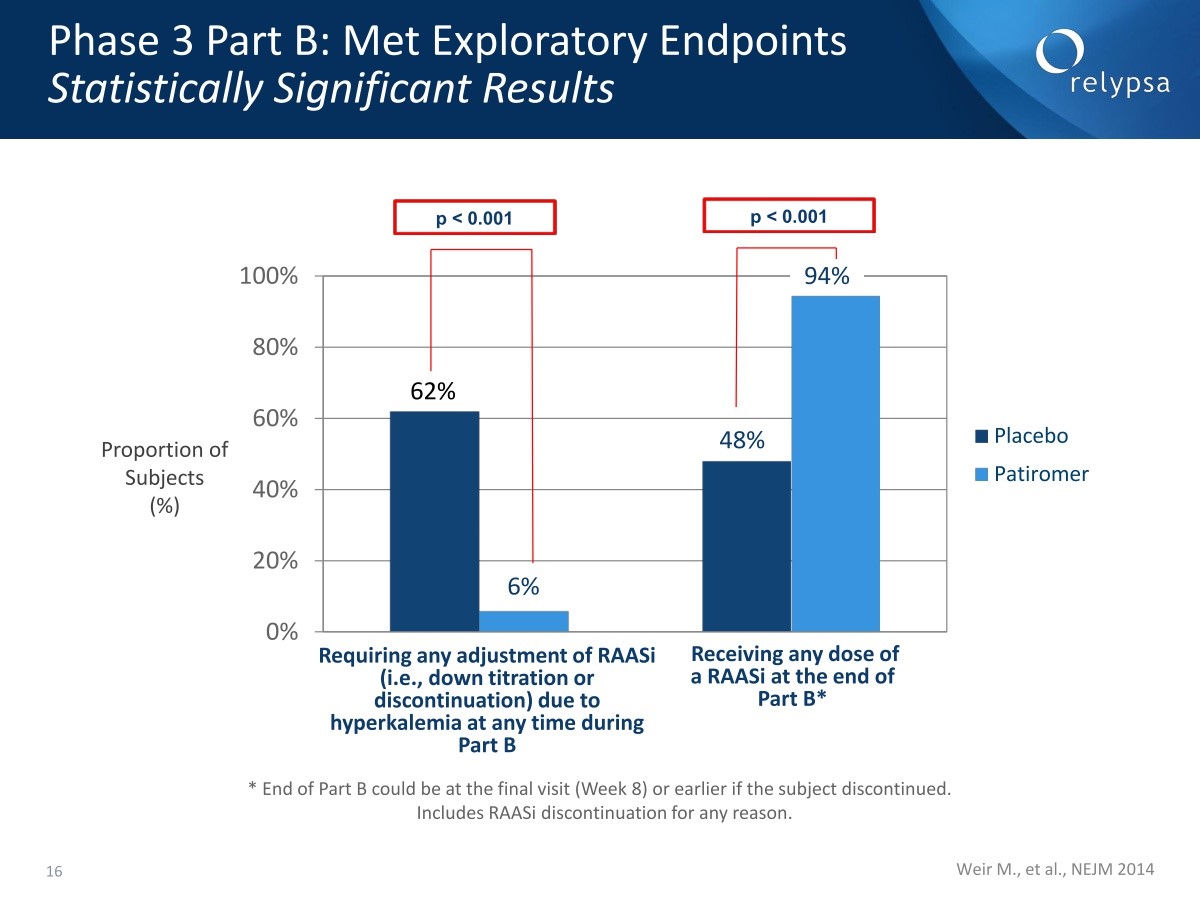 In the placebo group 50% of patients discontinued their RAAS inhibitor, 38% had their dose reduced and only 12% required no dose reduction. Eight three percent of patients on patiromer stayed on their RAAS inhibitor without an increase in patiromer dosage, 11% stayed on their RAAS inhibitor with a patiromer dose increase and 6% discontinued RAAS inhibitor therapy. Patiromer is a titratable drug, but it didn't need to be titrated that much in past B. On placebo, 38% stayed on their RAAS inhibitor without hyperkalemia intervention, 50% discontinued their RAAS inhibitor and 12% required a RAAS inhibitor dose reduction.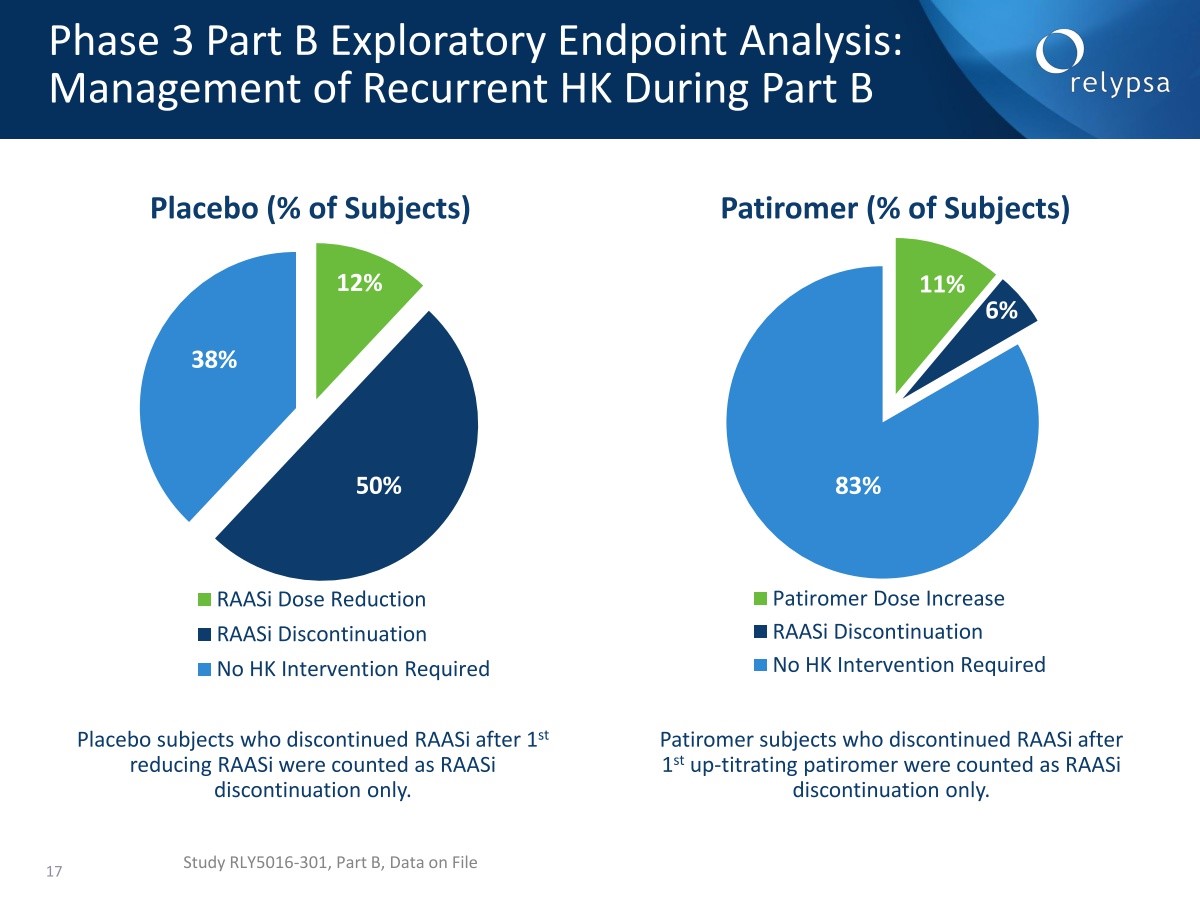 Phase 2 b Study
The phase 2b study was much like part A of the phase 3 study. There was no control group because many patients started in the study a serum potassium level that would have made it unethical to not treat. In the moderate to severe group the median level at baseline was 5.7 mEq/L.
The primary efficacy endpoint was mean change in potassium levels from baseline to either four weeks of first titration of patiromer. In the mild hyperkalemia patients (5.1 mEq/L to <5.5) the mean change was -0.47 with p<0.001. The mean change in the severe group (5.5 to <6.5) was -0.47 with a p value <0.001.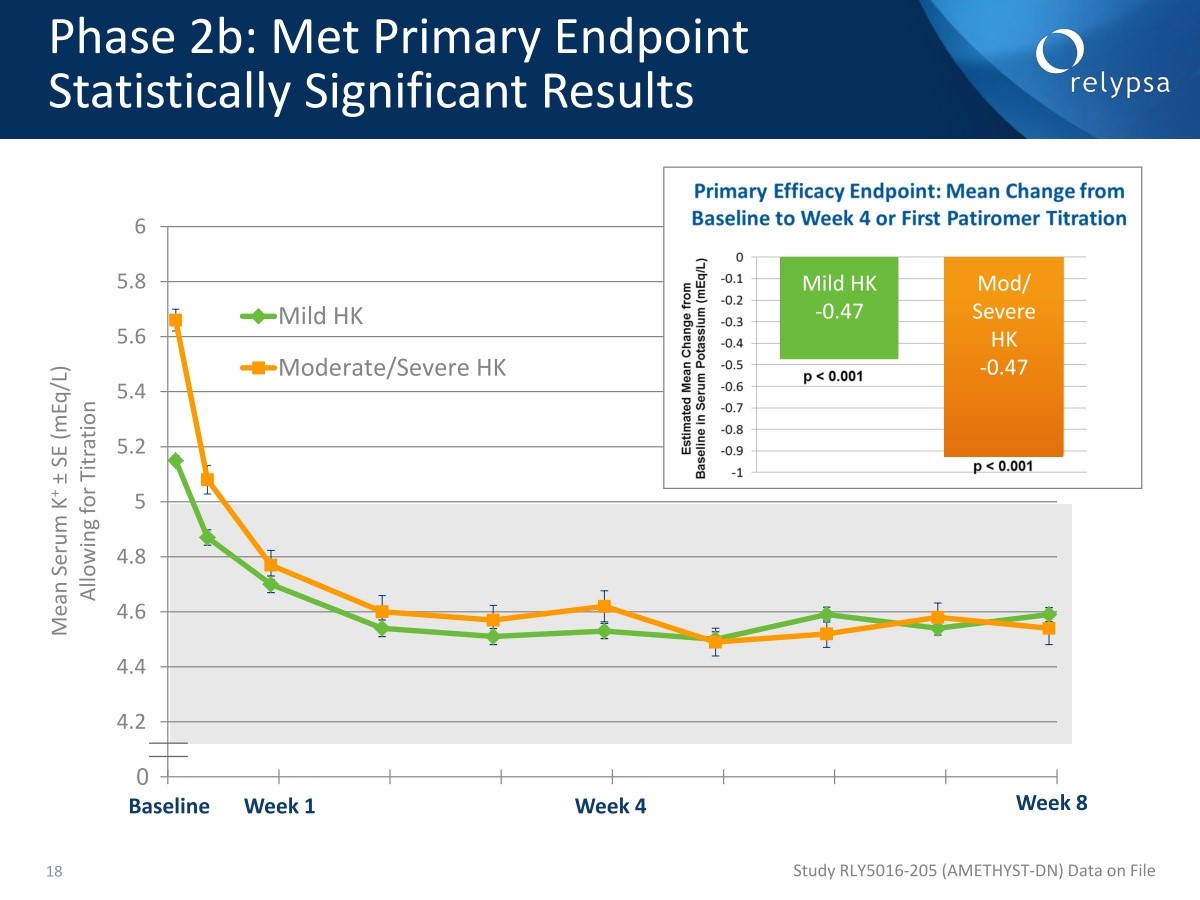 Phase 2 b continued for a period of 52 weeks which gave an important insight into durability of effect. It is impressive that patiromer 2 weeks. Patiromer keeps patients in the normal range irrespective as to whether they came in as mild or moderate. At the end of 52 weeks, when patients were discontinued, hey were back in a hyperkalemic state sometimes in a matter of days.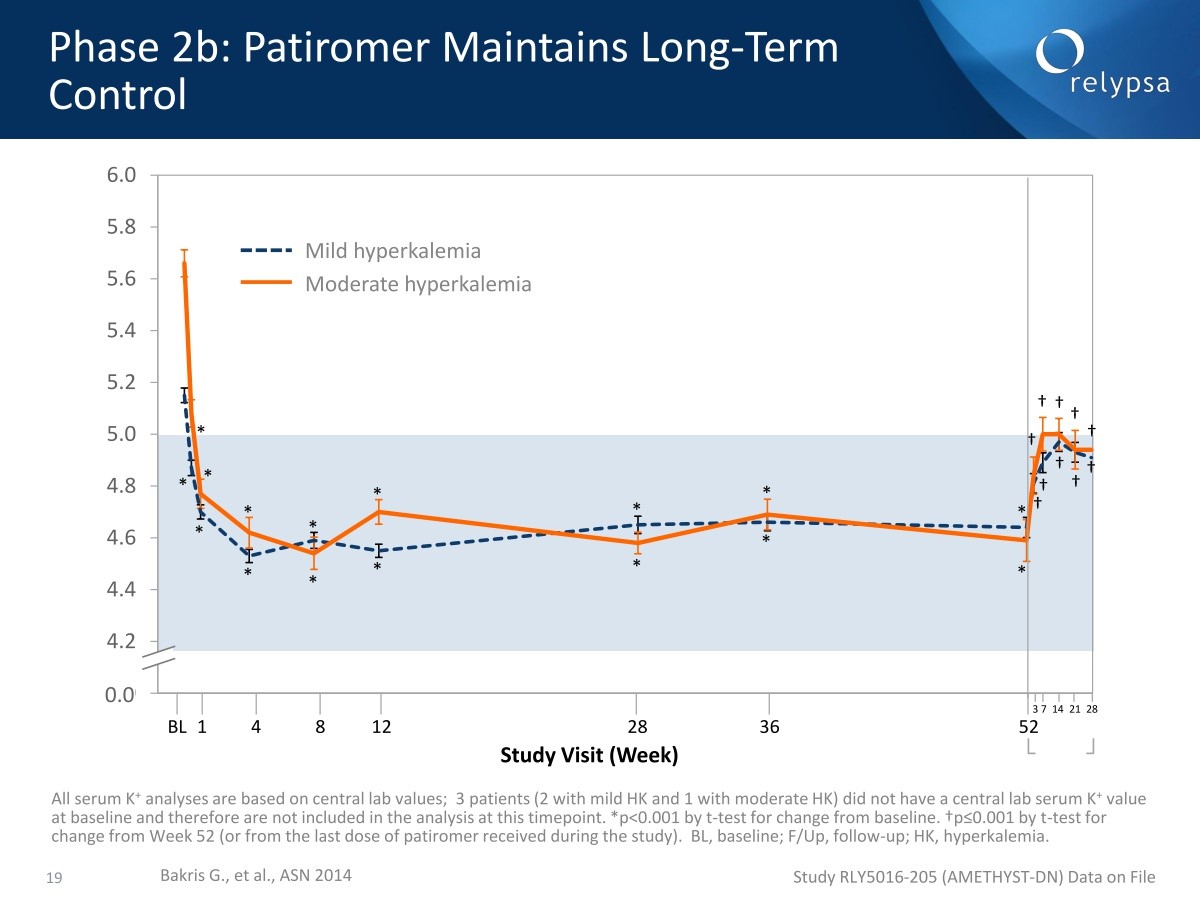 Safety Profile
The safety profile as detailed below is excellent.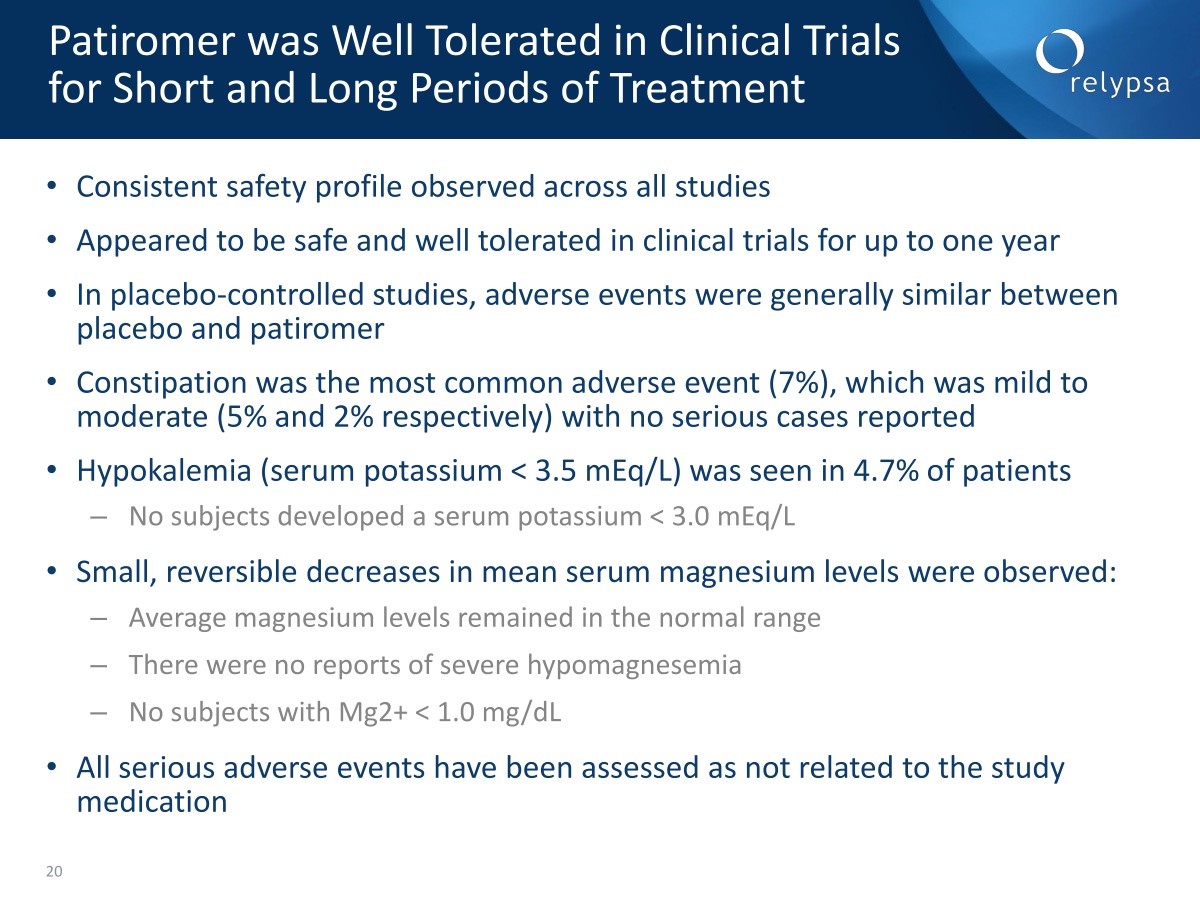 Onset of Action Study
In 2014, they conducted a study aimed at determining onset of action. This was a single arm open label study over a 48 hour treatment period. It involved 25 patients with hyperkalemia who were on a RAAS inhibitor. There was a three day run-in period in which patients who responded to diet were excluded from the study. There was then a 48 hour treatment period in which 8.4 grams of patiromer was given twice a day for two days. Subjects were on a controlled low potassium diet in both the run-in and treatment period. This was followed by a seven day follow-up when patients were taken off patiromer.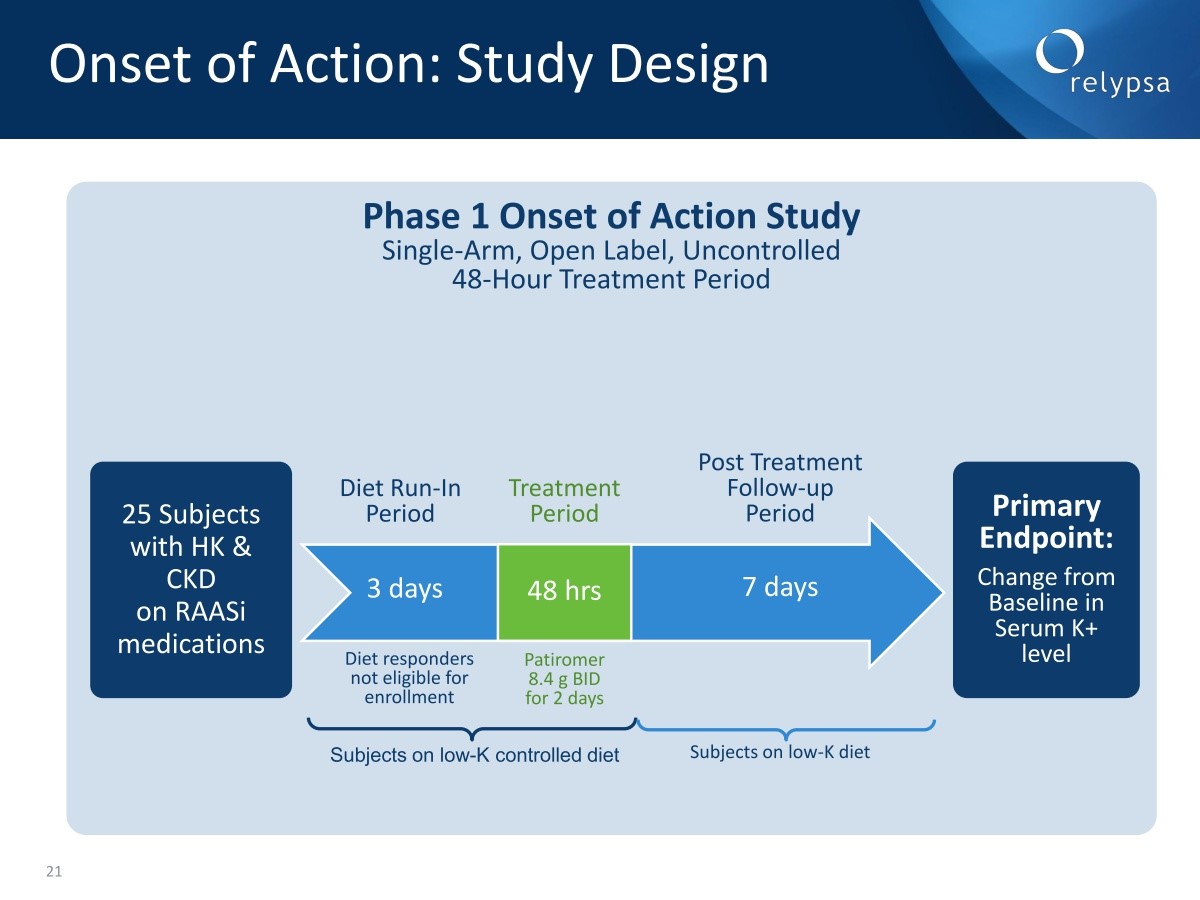 The primary endpoint was change in potassium levels from baseline to end of the follow-up which was measured by periodic blood draws. What was seen was a consistent decrease over a 48 hour period of patiromer treatment. This decline started within about two to three hours. There was then an increase in the seven day follow-up period when patiromer was withdrawn.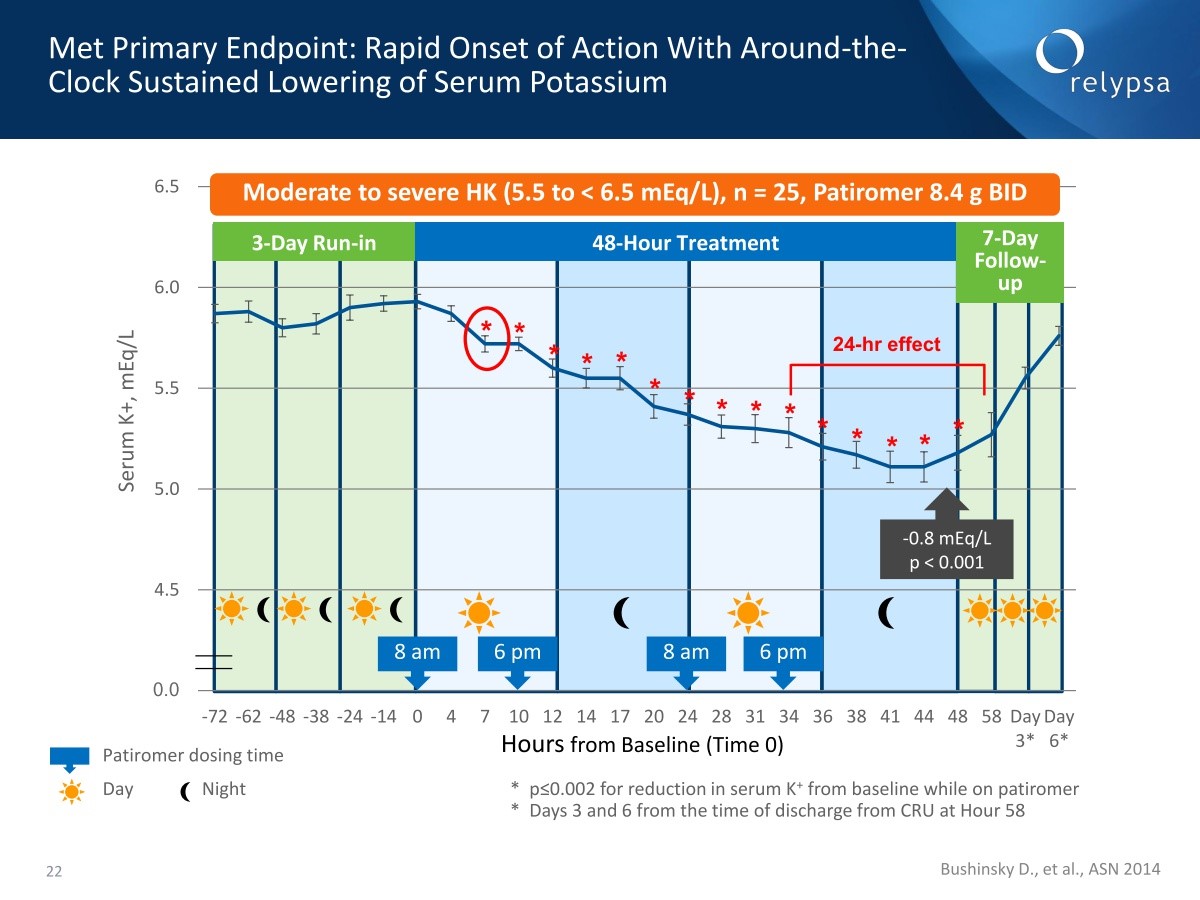 Commercialization
The success of the launch will be dependent on building awareness of the need for chronic potassium control that requires daily control in CKD/HF patients. There must be a clear and compelling message to physicians highlighting ready to prescribe patients types to ensure a positive prescribing experience. Create a compelling brand value proposition for payors and hospitals to assure that patients have optimal access within 90 days of launch. Ensure affordable co-pay. Develop innovative end to end patient education and support program for patients to ensure prompt initiation, adherence and persistence.
The 100 to 120 person sales force will have to cover about 8000 targets which are 7500 physicians and 700 institutions. This is based on data they have for RAASi prescribers and Kayexelate users.
The payor mix is primarily Medicare with 60% followed by commercial at 32%, Medicaid at 3%, VA DoD, IH at 2% and uninsured at 3%.
Tagged as hyperkalemia, patiromer, Relypsa, RLYP, Valtessa, ZS-9 + Categorized as Company Reports, LinkedIn