Relypsa: It Is Early Days in the Launch of Veltassa but the Momentum Seems Quite Strong (RLYP, Buy, $13.46)
Investment Perspective
Investors are closely watching the launch progress of Veltassa follwoing its December 2015 introduction. Medicare and managed care have set up barriers to prescribing that makes getting a prescription filled for a new drug laborious and time consuming and sometimes futile. With very few exceptions, most new product launches have disappointed investors to the point that many hedge funds routinely short companies like Relypsa that are launching new products.  I initiated coverage of Relypsa with a Buy in February 2016.
Analyzing the Monthly Data
In my report An In-depth Analysis of Early Results of the Veltassa Launch I explained Relypsa's well thought out strategy to lessen the impact of managed care and I urge you to read that report. Relypsa is releasing monthly data pertaining to the launch that adds some transparency. Let me briefly explain the data being released:
New patients who started taking Veltassa with a free starter supply

: Relypsa makes sure that every patient who for whom a doctor writes a prescription receives a starter supply of ten days while the Company works with the patient to secure reimbursement and to get the prescription filled.

Outpatient prescriptions reimbursed and dispensed (retail Rx)

: These are prescriptions that have been approved by payors and filled by pharmacies.

Hospital/ institutional setting

: These are sales made directly to hospital and institutions.
Relypsa gives data on both a monthly and weekly basis for these three sets of data.
Let me provide some additional information that is useful in understanding this data.
Obviously, there are no revenues associated with the free starter supply. The key issue for Relypsa is turning these into paid prescriptions. This does give some insight into physician enthusiasm for the product.
The list price of each retail prescription for a one month supply is $595 and this is generally discounted by 15% so that the realized price is about $506 per prescription.
The hospital units contain only a 10 day supply so the realized price per unit is about $169.
The above assumptions allow the calculation of monthly revenues for both the retail and hospital/institutional settings.
I have annualized revenues for Relypsa by multiplying estimated monthly sales by 12.
All of these numbers and calculations are shown in the following table.

Conclusions:
It is still early days for the launch and it is difficult to put this data in perspective. Here is what I see so far.
By all of these measures, the sequential growth is extremely impressive: (1) the number of patients given starter supplies almost doubled for February over January, (2) outpatient prescriptions filled more than tripled and (3) units sold in the hospital/ institutional setting more than doubled.
These are early days of the launch so that the actual retail prescriptions and institutional units are still small. My calculations suggest that February revenues were just $196,000 which translates into an annualized revenue revenue run rate of $2.4 million; this was over triple the level of January.
There is certainly great momentum in the launch, but the numbers are small and it is very hard to make projections. The key will be watching the data to see the rate of monthly sequential increases as the year progresses. The sequential increase of annualized revenues for February over January was 330%. I can't imagine this rate of sequential increase remaining at the same level for each of the remaining months of 2016. As the number of prescriptions increases, so will the three-fold monthly rate of increase slow just because of the law of large numbers.
In trying to model the potential sales for the year, we will certainly see a decrease in the rate of sequential increases but this is impossible to predict at this point. It is certainly incorrect to assume a stable rate of increase in quarterly sales of say 30% for each remaining quarter of 2016, but just for illustrative purposes let's do this anyway. The resultant sales for Veltassa for 2016 would be $11 million and the annualized sales rate in December 2016 would be $34 million. If we assume a 50% increase for each remaining month of 2016, sales for 2016 would be $34 million and the annualized sales rate in December would be $137 million. I want to re-emphasize that the assumption of stable monthly sequential increase is highly flawed.
The Wall Street consensus estimate for Veltassa sales in 2016 is about $30 million.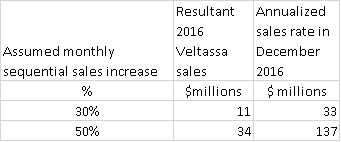 Tagged as Relypsa, RLYP, Veltassa + Categorized as Company Reports, LinkedIn