Portola: Tidbits from Presentation at JP Morgan Healthcare Conference (PTLA, Buy, $21.96)
Investment Thesis in Brief
Andexxa is the only approved product for treating severe bleeds (sometimes life threatening) caused by the Factor Xa inhibitors, principally Xarelto and Eliquis. Current standard of care (SOC) treatments have scant clinical data and are not approved by the FDA. Impotantly, Andexxa inhibits 90% of Factor Xa activity in two minutes which is much quicker than SOC, an obvious major advantage in severe bleeds. There are 140,00 patients hospitalized each year for severe bleeds caused by Factor Xa inhibitors of whom 80% are treated. At a price of $28,000 per course of therapy, this is a US addressable market of $3 billion dollars.
Investors are anxiously awaiting information on 4Q sales of Andexxa- 2 Q, 2018 sales were $2.2 million and 3Q, 2018 sales were $7.7 million- and the impact if any of stockpilng on these results. We should hear about this soon in the upcoming 4Q, 2018 earnings conference call. I expect the sales report to be quite encouraging. Overhanging the stock is the need for capital. PTLA has $381 million of cash which will fund operations through 2Q, 2020. I would not be surprised to see an an equity offering in 1Q, 2019, possibly just after 4Q, 2018 results are announced. This could cause a small near tern impact on the stock price, but with the offering then behind the Company, the stock could do well.
I think that this is going to be a big stock in 2019. I think that the only thing that might slow a rapid uptake of Andexxa would be concern about its product profile stremming most likely from safety issues. The mode of action of Xarelto and Eliquis is to prevent the formation of blood clots. The question is whether by blocking the activity of these drugs could Andexxa result in troublesome clot formation and how would the medical community view its life saving potential against this side effect? I am not saying that this will happen, but it is just a risk that is out there.
Presentation at JP Morgan Conference
Portola presented at the JP Morgan conference on January 8, 2019. I have written about much of the information presented. You may want to refer to my recent report of December 23, 2018.
There were some tidbits of new information that I thought were important:
They have begun shipping Gen 2 manufacured product to the market. Supply constraints with Gen 1 have limited shipments of Andexxa. They have said that they already have inventory on hand of Gen 2 that they believe can meet customer demand for two years, but haven't revealed what that demand might be. Anyway, the initial supply issues that have limited shipments of AndexXa no longer exist.
They expect a positive CHMP opinion on Andexxa on February 28, 2019 based on Gen 2 manufacured product and anticipate a limited 2H launch of AndexXa into Germany, the UK and Scandinavian countiries in 2H, 2019. Difficult reimbursement issues will delay the launch into France and southern European countries.
Specialty drug distributers are selling Andexxa to some hospitals on consignment. Hospitals can retain Andexxa on their shelves at no cost and are only billed when they use the product. The estimated cost of $28,000 needed per course of therapy has been a deterrent to some hospitals using the product so this is also a major positive.
tPa is a product that is used in the hospital to treat ischmic strokes and has use characteristics soemwhat similar to Andexxa. Management made a comment about tPA that caught my attention. They said that 30% of tPA usage occurs in satellite hospitals affiliated with major hosptial centers. These satelites provide initial treatment and then send the patients on to the major centers. I was unaware of this dynamic as I thought that most usage was in 1500 major hospitals, but there appears to be a market beyond that. Key to getting these satelites use Andexxa is securing a C code that will reimburse them. This C code approval is expected in April 2019.
During the 3Q conference call, Portola said that 100 hospitals were stocking Andexxa. The number has now expanded to 200. I was guessing that the yearend 2019 figure would be 300 so this expansoin appears to be going faster than most investors expected.
The Company has $381 million of cash on hand that will fund the Company through 2Q. 2020. Clearly, PTLA will have to raise monney in the near term. I wouldn't be surprised if the offering is in 1Q, 2019.
I have a high level of confidence that Portola will sell or license Bevyexxa and possibly license cedulatinib after an end of phase 2 meeting.
We are all anxiously awaiting information on 4Q sales of Andexxa- 2 Q, 2018 sales were $2.2 million and 3Q, 2019 sales were $7.7 million- and the impact if any of stockpling on these results. Management did not comment on this, but will in the upcomng 4Q, 2018 conference call.
Statistics on US Addressable Market
Management presented the following table that pertains to the US addressable market in the US. There are 140,000 hospital admisssions in the US each year due to Factor Xa drug caused bleeding and about 80% or 112,000 are treated. At an estimated price of $28,000 percourse of therapy, This represents an adressabloe market of $3 billion. The most critical need for Andexxa is in intracranial hemmorhage ICH) which has a mortailty rate of just under 50% at 30 days. This urgent need is where much of the early usage is occuring. There are an estimated 21,000 admissions for ICH bleeds each year which represents an urgent need addressble market of $600 million. Presumably, this maket segment will be rapidly penetrated.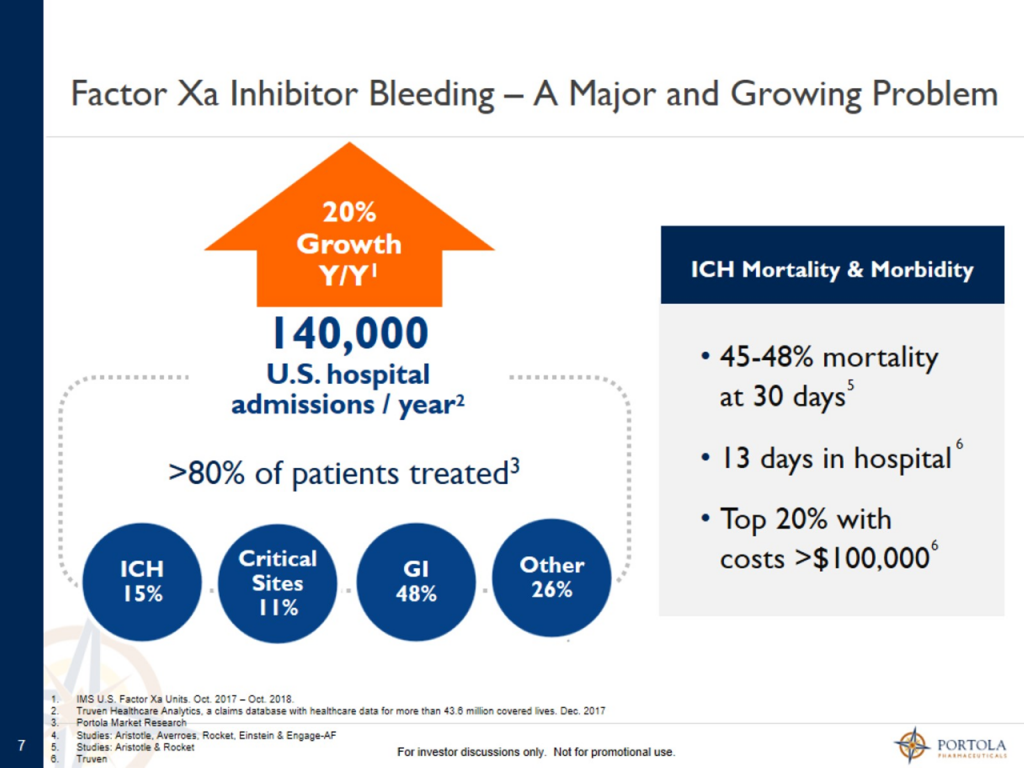 Taking into account the rapid growth of Factor Xa inhibitor drug therapy, management estimates that the addressable market in the US and EU will reach more than 600,000 patients.
Tagged as Portola + Categorized as Company Reports, LinkedIn