Portola: Andexxa Sales in 1Q, 2019 Were Encouraging and Yet the Stock HasTraded Down (PTLA, Buy, $30.16)
Overview of 1Q, 2019 Results
I was shocked to see Portola trading down about  $5.00 in following the release of 1Q, 2019 results. Almost all of the stock price relates to sales of Andexxa so one would think that the sharp drop was somehow the result of disappointing Andexxa sales. Not so. Consensus Street expectations for 1Q sales of Portola were $20.9 million and actual sales were $22.3 million. Andexxa sales were $20.3 million in the quarter.
In listening to the call there was nothing untoward. Management was upbeat and analysts did not seem disappointed in any way as judged by the questions. It is always difficult to project sales early on in a launch and we are all conditioned to expect slow or disappointing sales due to reimbursement and formulary acceptance issues. However, it is difficult to judge these results as being anything other than encouraging. At my last report, I projected 2019 Andexxa sales of $120 million and this looks to be achievable or perhaps low as I will discuss shortly
Management comments on reimbursement issues were positive. NTAP now covers 65% of the price of Andexxa, up from 50% and this makes Andexxa even less expensive. A C-code went into effect in April making it easier for hospitals who initially treat a patient with Andexxa and then pass the patient on to a tier 1 or tier 2 hospital to be reimbursed. The European launch plans for Andexxa remain on track and management expects some sales in late 2019. Physicians are using Andexxa more broadly than just treating severe, life threatening, intracranial hemmorhages. There was just nothing on the call that raised meaningful concerns with me and I did not detect that any analysts on the call had serious issues with the 1Q report. I think the stock should have traded up.
Most of the questions on the call related to projecting 2019 sales for Andexxa. There were lots of questions about initial orders and reorders and other metrics related to the launch. However, at this early date it is very difficult to build a precise sales model and all of us are kind of guessing. That said, there seems to be strong momentum in the launch and Andexxa seems well on its way to becoming a $1+ billion blockbuster in the US and perhaps the same abroad.
Two Sales Models for Andexxa
I have taken two approaches to projecting Andexxa sales for the three remaining three quarters of 2019. In the first scenario, I assume that the sequential increase in quarterly sales will be comparable to what has been seen over the past three quarters. In 3Q, 2018 the sequential increase in sales was $5.5 million; in 4Q, 2018, it was $6.3 million; and in 1Q, 2019, it was $6.3 million. Hence in scenario 1, the sequential sales increase for 2Q, 3Q and 4Q, 2019 is projected at $6.3 million. This results in FY 2019 sales for Andexxa of $119 million as shown in the following table. This is in line with my estimate of $120 million in my previous report.
Management said that it expects a linear increase in quarterly sales without defining linear. No sales guidance for 2019 was offered. If we take linear as being the rate of increase quarter over quarter, the linear increase for 1Q, 2019 over 4Q, 2018 was 45% and for 4Q, 2018 over 3Q, 2018 was 82%. I have arbitrarily assumed in scenario 2 that the linear sales increase for 2Q, 3Q and 4Q, 2019 is 45%. With this assumption, FY 2019 sales of Andexxa would be $153 million. All of this is shown in the following table.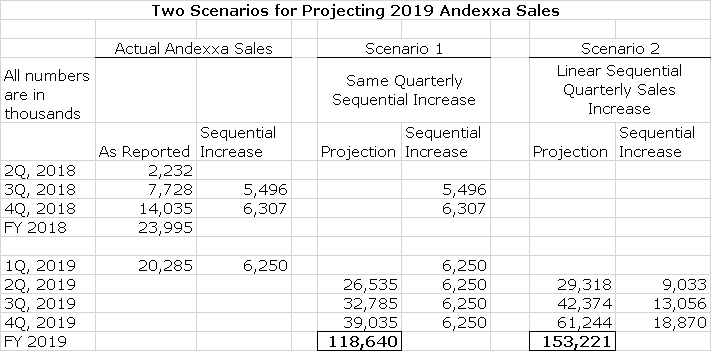 How Do I Explain the Sharp Drop in the Stock Price?
I can't come up with any fundamental reason for the sharp price drop. I would have expected the stock to trade up on the encouraging Andexxa sales results.
This smells a lot like stock manipulation. I am currently writing a series of blogs explaining how Prime Brokers, the DTCC (owned by Prime Brokers) and hedge funds can use naked shorting and computer driven trading to manipulate stock prices. Using these and other techniques, they can make good news appear to be disappointing. This happens over and over with small stocks. There is no way of knowing, but I suspect that a number of hedge funds were expecting disappointing Andexxa sales, which are commonplace with new product launches, and were positioned this way. I also note that some technicians were projecting an upside breakout from the $35 price level, which could have seriously impacted short sellers. However, in the event of good results as was seen here, they can trigger a price decline by using naked shorting to create pressure on the stock. Then computer trading driven by algorithms which are heavily biased by stock price momentum, comes in to magnify and sustain the price decline.
I am encouraged by 1Q, 2019 results and retain my buy recommendation.
Tagged as Andexxa 1Q 2019 sales, Portola + Categorized as Company Reports, LinkedIn