My Approach to Investing in CAR-T Drug Development: Cryoport (CYRX, Buy, $5.67)); Kite (KITE, Neutral, $104.34); Juno (JUNO, Neutral, $27.87), Novartis, (NVS, No opinion, $84.85)
Report Highlights
The pending approval of Novartis' Car-T drug tisagenlecleucel is the beginning of a new era of drugs based on manipulation of genes, most commonly referred to as gene therapy. This promises to be a new dynamic to biopharma drug development that will be a strong (the major?) driver of industry revenues for the next several decades. Current CAR-T drugs are just a crude beginning to what will come.
The two leading factors in CAR-T drug development are Novartis and Kite with Juno being a vociferous but distant third. Novartis is too large for this to make much of an impact for the next few years. Kite is priced for absolute perfection and I can't see buying or holding the stock at this level. Juno is a distant third and is also priced for perfection.
My preferred way of investing in CAR-T drug development is with Cryoport which is providing critical cryogenic logistics service for Novartis and Kite and in total to 28 of the 30 or so companies engaged in the CAR-T space.
The catalyst for this note was the unanimous recommendation by the FDA's Oncologic Drugs Advisory Committee to approve tisagenlecleucel for pediatric r/r ALL. I discuss some key issues raised at that meeting in regard to the CAR-T drugs and other things that are on my mind.
Ushering in the Age of Gene Therapy
The FDA's Oncologic Drugs Advisory Committee unanimously and enthusiastically recommended approval of the first CAR-T product, Novartis' tisagenlecleucel. This is the second product based on gene therapy to be approved. The first was uniQure's Glybera (alipogene tiparvovec) which was approved in Europe in 2012 for the treatment of familial lipoprotein lipase deficiency. However, this product was extremely expensive, difficult to administer, modestly effective and ultimately a commercial failure. The Company announced in April 2017, that it will not pursue the renewal of the marketing authorization in Europe when it expires on October 25, 2017.
For all practical purposes, tisagenlecleucel is ushering in the age of gene therapy; it is a genetically engineered T-cell. Brifely, live T-cells are removed from a patient and a viral vector is used to insert new genes (literally infect) into the DNA of the T-cell. These genes code for a receptor that is expressed on the cell surface. This receptor is an antibody fragment that is specific for the CD-19 antigen that appears on the surface of many type of hematological cancers of B-cell lineage (leukemias and lymphomas that occur in antibody producing B-cells). The receptor enables the T-cell to more effectively hone in on any cancer cell expressing CD-19 and kill the cell. This genetic alteration combines the killing power of the T-cell with the honing ability of antibodies to produce a powerful drug; it is referred to as a chimeric antigen receptor T-cell or CAR-T. After manufacturing, the genetically altered, living T-cell is then reinfused back into the same patient.
The CAR-T cells are the most clinically advanced but not the only research programs that are designed to genetically engineer T-cells. I think that if we look back from ten years hence, we will view the current CAR-T cells as crude and awkward drugs, but we have to start somewhere. Also, gene therapy is not limited to engineering T-cells as there are many, many development efforts that are attempting to insert genes into DNA of living cells or edit out harmful genes. I believe that gene therapy will eventually transform the biopharma industry from one that is largely devoted to developing products to treat symptoms of disease to one that alters or eliminates the genetic causes of the disease.
You can let your imagination run on where this will lead in the management of human health, but the applications go beyond that to food and energy production and even competing with silicon chips in the storage and manipulation of data. I can not even begin to imagine all the places where this technology will lead, but it is likely to transform the planet. From an investment standpoint, it is frustrating for a lay investor like me to try to figure out a coherent investment strategy. There is just so much complex science that I can't possibly keep up with all the developments and it takes me many months to get just a basic understanding of technologies in development. Of necessity, I have to focus on just a few companies.
Investing Strategy for CAR-T
Novartis, Kite and Juno
I have done some work on the CAR-T drugs and the clinical development efforts of the two leading companies in the field, Novartis and Kite and also Juno. Novartis is so large that the CAR-T products can only provide a modest boost to sales and earnings growth in the immediate future, say five years or so. Kite and Juno are pure plays, but they carry extremely high valuations that seem to be based on the presumption that nothing can go wrong. I have been cautious on these companies as investor excitement has carried these stocks to levels that cause my jaw to drop. However, I would note that it seems to almost always be the case that paradigm changing companies seem excessively valued in their early days. Then looking back from a decade later, investor's kick themselves for having missed a great investment because of valuation concerns. Perhaps this will be the case with Kite or Juno but for now I am on the sidelines.
Cryoport
I have come across another very interesting way to invest in the explosion of research and hopefully commercialization of the gene therapy revolution. One of SmithOnStocks subscribers is a friend of mine Peter Brophy, with whom I worked on Wall Street back in the day. He is an active investor in small emerging growth stocks and he brought my attention to Cryoport. As I did my basic research on Cryoport, I got more and more excited about its business model.
The manufacturing of living cells adds a new complexity to the manufacturing process as they must often be frozen and shipped at cryogenic temperatures across the globe. Cryoport has advanced technology, shipping containers called dewars that can maintain drugs at cryogenic temperatures for many days. The dewar technology is a critical, but not the most important aspect of the business model. In my judgment, the even more critical aspect is software that controls and monitors the shipping of the product and provides essential quality assurance information. Living cells are highly vulnerable to damage due to inappropriate handling and temperature excursions. Patient specific cells after manufacturing can be priced at several hundreds of thousands of dollars and if damaged, are likely not replaceable. This makes logistics that provide safe transport a critical aspect of clinical development and ultimately commercialization.
The first question I asked myself about Cryoport was if the logistics are so critical why any biopharma company would farm it out. I came to the conclusion that the reason was not so much to do with the dewar (shipping container), but in the complex software used in the logistics service which Cryoport has developed methodically over several years. This type of software requires many years of development and is not part of the skill sets of science based biopharma companies. Fortunately, there is a way to test the hypothesis that biopharma companies will generally elect to outsource logistics to Cryoport. Novartis, Kite and Juno have all elected to use Cryoport's services in clinical development and indeed 28 of 30 companies in the CAR-T space have made the same decision. Enough said.
Cryoport is a micro-cap company and has not until recently attracted much analyst coverage. I think that the market has not yet come to understand the unique business model of the Company. If Cryoport logistics are used in the clinical development stage of a product, they become part of the BLA filing in the Chemistry, Manufacturing & Controls (CMC) section. The FDA requires that manufacturing and quality assurance processes used in clinical development be the same when the product is commercialized. It is possible that a change in the logistics could lead to a change in the product characteristics so that if a company were to decide that it wanted to change the logistics technology, it would have to demonstrate to the FDA's satisfaction that the change did not alter product characteristics. This could very well require clinical trial data. The same holds true once a product is commercialized.
This gives rise to the most critical aspect of the business model as I see it. Once Cryoport logistics are used in clinical development that leads to a BLA filing it is close to a certainty that it will be used throughout the commercial life of a product. This results in a long, secure predictable life cycle. Another highly positive aspect is that Cryoport is not tied to binary clinical outcomes on any single product, but rather to the success of the whole field, be it CAR-T or some other gene therapy product.
I think that Cryoport offers a unique and compelling way to invest in the gene therapy revolution and offers certain compelling investment advantages over Kite or Juno. It remains largely undiscovered and is selling at a micro-cap valuation of $140 million as compared to $5.7 billion for Kite and $2.9 billion for Juno. These valuations suggest enormous enthusiasm for Kite and Juno and lack of appreciation of the unique investment characteristics of Cryoport. As investors become more aware of Cryoport, I think that it could come to be regarded with comparable enthusiasm.
Comments on the AdCom Meeting for Novartis' Tisagenlecleucel
The FDA Oncologic Drugs Advisory Committee meeting went extremely well for Novartis' tisagenlecleucel and in a derivative fashion for Cryoport. I am highly certain the drug will be approved and probably before the October PDUFA date. The r/r ALL market opportunity it addresses is small with an addressable patient population of about 650 patients, almost all of whom I believe will be treated. Interestingly, Novartis is cryopreserving its cells after leukapheresis and after manufacturing which effectively doubles the logistics opportunity for Cryoport.
The AdCom voted unanimously and enthusiastically to approve tisagenlecleucel for the treatment of r/r ALL. Here is what the ten committee members said when they voted yes:
clinical responses are remarkable……Novartis' risk management strategy is well thought out.
most exciting thing in my lifetime
major advance in r/r ALL
addresses dire unmet medical need
novel therapy….good risk management strategy
paradigm changing drug…. cytokine release syndrome can be managed
high risk approach for disease with few alternatives
still lots of unknowns….unprecedented clinical success….Novartis risk strategy program very well done
remarkable clinical success…..unanswered questions about long term efficacy and risk
Novartis statistical analysis was excellent…..pivotal study well done….quality data….robust data…lack of control arm hinders true analysis of therapeutic benefit
I am as close to certain as I can be that the drug will be approved and probably before the October PDUFA date.
Potential Revenues in the r/r ALL Market
There are about 5,000 case of pediatric r/r ALL that occur each year and 85% of these are of B-cell lineage which the CAR-T cells address. Of these patients about 15% relapse so that the addressable market is about 650 patients. This is a relatively small market, but the value added of tisagenlecleucel is enormous. Data presented in the meeting suggested that 60% of patients seem to be effectively cured; I would caution that this is based on small numbers and limited follow-up, but there does seem to be a profound effect. I think that most of these 650 patients will receive tisagenlecleucel. Remember that the therapeutic benefit is to give approximately 60% of children facing almost certain death, possibly a lifetime cure.
The direct cost of cell infusion and accompanying treatment is going to be extremely high due to these factors:
The CAR-T cells administered in a single infusion will be priced at orphan drug levels which can range from $250,000 to $750,000 or more.
An intensive, conditioning chemotherapy regimen is usually used to reduce the T-cell population in the body prior to cell infusion. The cost of treatment and managing accompanying side effects could be in the hundreds of thousands of dollars which is in addition to cell infusion costs.
Most patients in the clinical trials were hospitalized as a cautionary measure to treat side effects caused by cell infusion. It is not clear as to how often this will be required in commercial use.
Side effects from cell infusion are different from those caused by chemo and are also costly to treat.
Altogether 75% of patients in the phase 2 ELIANA trial conducted by Novartis suffered a serious grade 3 or life threatening grade 4 side effect as a result of the conditioning chemotherapy or cell infusion or both.
In some case, CAR-T is used as a bridge to a stem cell transplant that can cost as much as $1 million.
Patients and their caregivers generally need to remain within close proximity of the clinical site for 30 to 35 days after infusion which could be a considerable expense for those not living in close proximity to the treatment center.
The therapy destroys not only cancerous B-cell but also most normal cells in the B-cell lineage for an extended period of time. This means that patients can not produce immunoglobulins (antibodies) and must be given immunoglobulins harvested from blood transfusion donors.
I have heard speculation that Novartis could price the product at $500,000 per infusion and perhaps more. When the other costs as outlined above are taken into account, this could bring the total cost of treatment to $750,000 or more if there is no following stem cell transplant and perhaps $1,750,000 if there is a transplant. Please take these as ballpark numbesr. Even at this higher cost I would anticipate that most of these 650 pediatric patients would be treated.
Novartis is somewhat constrained on price because they are hoping to launch tisagenlecleucel later this year or in early 2018 for r/r DLBCL. This is a much larger addressable patient population of about 7,500, but the therapeutic effects are both less robust and understood. About 30-40 % of patients achieve a durable, complete response which might lead to long term survival. The data on survival of r/r DLBCL patients is still uncertain but it is certainly going to be less than the 60% for pediatric r/r ALL. I would guess that it might be 30% or less. Another important factor to consider is that unlike pediatric patients who when treated might be given a long, normal life, the much older r/r DLBCL patients have much less life expectancy. It seems to me that the value proposition in r/r DLBCL is much less than with r/r ALL. This presents a pricing quandary for Novartis.
At this point in time, I am guessing that Novartis will price tisagenlecleucel at $500,000 per infusion. If so, the US addressable market for r/r ALL would be $325 million and the market for the rest of the world also be about the same so that the global addressable market would be about $650 million. I would expect very high penetration. I would note that Novartis cryopreserves cells both after leukapheresis and after manufacturing. This allows them to effectively treat patients anywhere in the world.
The addressable market for r/r DLBCL in the US at a price of $500,000 per infusion would be a much larger $3.8 billion. I frankly don't have even an educated guess on the percentage of r/r DLBCL patients who will be treated. This should be an area in intense discussion at the next Oncologic Drug AdCom that I am expecting.
Kite Versus Novartis in the CAR-T Space
Kite lags Novartis in the pediatric r/r ALL space by one and one half years or so, a period during which Novartis will have the market to itself. The two companies from my standpoint appear to be in a dead heat for gaining approval in r/r DLBCL. At this point in time, there is not much clinical data on either tisagenlecleucel or Kite's Axi-Cel. What I have seen so far leads me to believe that the products are not differentiated in terms of efficacy or side effects. It is very early days in understanding these products and perhaps over time there will be differentiating aspects, but not for now.
In comparing the Kite and Novartis CAR-T drugs, one of the uncertainties has been whether Kite has a meaningful edge in manufacturing that could shift market share its way. In the pivotal ELIANA trial, Novartis reported that the median time from leukapheresis to cell infusion (vein to vein) in its clinical trials was about four months. Kite states that its vein to vein time is 17 days, which compared to four months would have been a huge advantage. However, Novartis reported during the AdCom that in the latter stage of the trial, the time was 29 days and expects in the commercial setting the time will be 22 days. If so, there is no meaningful advantage for Kite. Novartis also reported that 8% of cell preparations in the pivotal ELIANA trial failed. This could also have been a major disadvantage for Novartis versus Kite. However, the success rate in the last 40 batches was 98% so again there appears to be no advantage for Kite.
I have been watching the analysis of Kite versus Novartis with a degree of disbelief. Wall Street research has anointed Kite as the first mover and winner in the CAR-T space and has generally disparaged Novartis as an also ran. I think this may have something to do with the investment banking fees of perhaps $70 million that have been generated on over $1 billion of capital that Kite has raised in the last three years. Going into this meeting, the consensus on the Street was that Novartis was at a severe manufacturing disadvantage. This played a significant role in the stock of KITE moving from $60 to $100.
The information showing that there was no edge in manufacturing for Kite had no impact on the stock nor on the enthusiasm of the bulls. Even though Novartis will be first to market in r/r ALL, the bulls continue to pound the table that Kite will be first to market in the larger r/r DLBCL market and that Axi-Cel will be approved without an AdCom Meeting. On the latter point, I disagree strongly. The results in the r/r DLBCL market are impressive but much less so than in r/r ALL while the side effects are the same. I think the FDA will want to hear from the AdCom members' views on whether all or just certain patients should be treated.
The bulls also maintain that because the Axi-Cel trial started earlier, that Kite has a six month lead in the clinical trial development and will get to market six months before Novartis in r/r DLBCL. Again, I disagree. FDA approval of drugs is based on clinical trial data not just about efficacy, but also manufacturing and quality assurance. The clinical data (certainly in the case of CAR-T) is relatively straightforward for the FDA regulatory review. Manufacturing and quality assurance can be more time consuming. Novartis has already passed this hurdle as the cells used for r/r ALL are the same as for r/r DLBCL. It is my view that tisagenlecleucel and Axi-Cel will be considered by AdComs at the same time and likely approved at the same time. Further strengthening my point is that the FDA and physicians will want to see if the data differentiates the two products even though in my view there is no difference in efficacy or side effects.
So what will the market share split be between Kite and Novartis in the r/r DLBCL market? If I am correct that there is no product differentiation and that the products come to market at the same time, it is hard to argue that Kite will dominate the market. In fact, the probable approval of tisagenlecleucel for r/r ALL several months before Axi-Cel in r/r DLBCL could be a meaningful advantage for Novartis.
The marketing of these drugs will not be like marketing a drug that can be given off the shelf. Novartis has said that it will use a marketing plan like that used for medical devices where the Novartis reps are more like consultants than salesmen offering inputs on the preparation and logistics of the cells and the management of side effects. Novartis will have a slight edge in establishing this very important support system with r/r ALL and an equally slight edge in gaining reimbursement. It may also be easier for a center that is treating r/r ALL and r/r DLBCL to just deal with one provider. It seems to me that Novartis will get at least 50% of the r/r DLBCL market and maybe more. This flies in the face of the bullish argument that Kite will dominate.
Side Effects with Tisagenlecleucel are Horrendous
The efficacy of tisagenlecleucel was accepted by the AdCom members with little discussion, but side effects were looked at more closely. Oncology drug side effects are graded by the FDA as follows:
Grade 1: Asymptomatic or mild symptoms; clinical or diagnostic observations only; no intervention indicated
Grade 2: Moderate; minimal, local or noninvasive intervention indicated
Grade 3: Severe or medically significant but not immediately life threatening; hospitalization or prolongation of hospitalization indicated
Grade 4: Life-threatening consequences; urgent intervention indicated.
Grade 5: Death related to side effects.
The serious side effects that occurred during the trial were frequent and severe as shown in the next table taken from the FDA briefing document. Some of these were caused by the conditioning chemotherapy and others by the cell infusion. Overall, 34% of patients had at least one grade 3 side effect and 41% had a grade 4. I had been aware of the frequency and severity of these side effects for some time and had thought that this might be a serious concern for physicians on the AdCom. I was surprised at their lack of concern and their confidence that they could be handled in the commercial setting.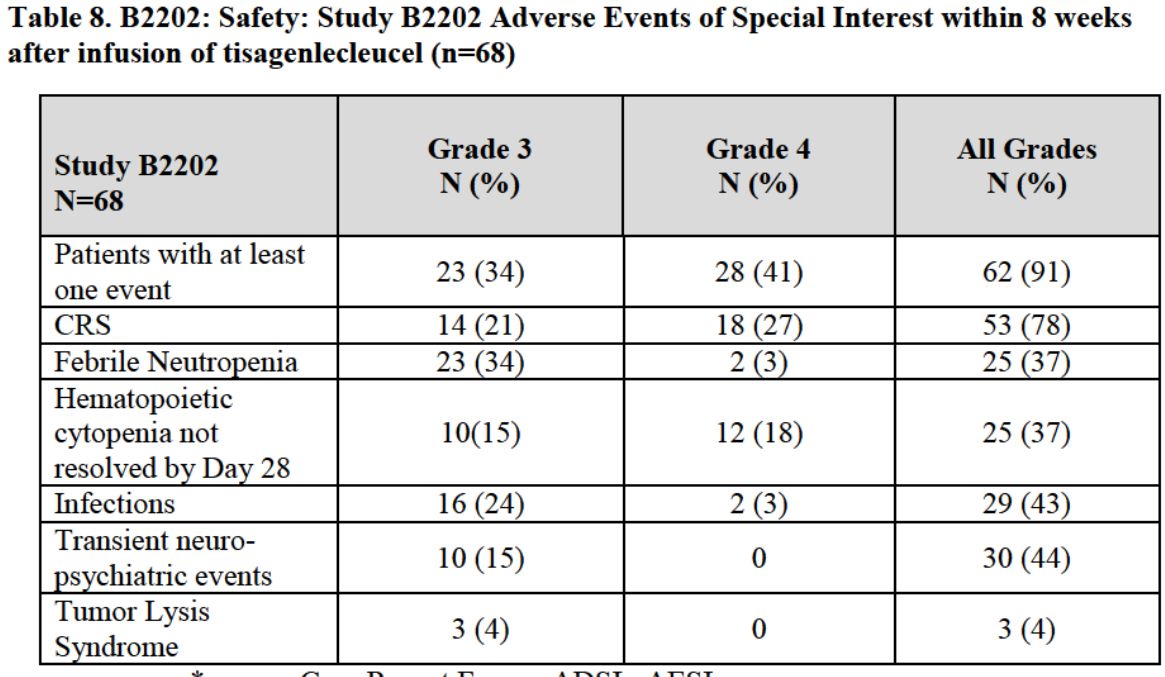 Tagged as Cryoport, CYRX, FDA Oncologics Drug Advisory Committee Meeting on Novaris' tisgenlecleucel, JUNO, KITE + Categorized as Company Reports, LinkedIn