Focusing on the Impetigo Indication for NVC-422 (NBY, $1.29)
Investment Thesis
Although NovaBay(NBY) is a small company as judged by its $37 million market capitalization, it is complex to analyze. It is developing one molecule, NVC-422, for three separate indications, impetigo, viral conjunctivitis and urinary catheter encrustation and blockage. While the molecule is the same, the disease states are quite different as is the formulation: NVC-422 for impetigo uses a topical gel, for viral conjunctivitis it is an eye drop and for urinary catheter encrustation and blockade, it is a liquid instillate. Each of these opportunities requires a quite different analysis. And to complicate matters further, NovaBay has just launched a second product, NeutroPhase, for wound cleansing. Analyzing NovaBay requires the same effort as analyzing four companies.
I have just written an extensive report(over 40 pages)on my website called NovaBay's Robust Clinical Pipeline Approaches Critical Clinical Trial Results in 2013. I noted that I would follow this with four shorter reports, each focusing on one aspect of the company. My first follow-up report is on the use of NVC-422 to treat impetigo. This product is partnered with the Swiss company Galderma, which is conducting and funding the clinical trials. I think that of the three opportunitiesfor NVC-422, the impetigo indication has the greatest potential for success. NovaBay conducted a phase II trial involving 129 patients that reported encouraging results as I will discuss shortly. Importantly, Galderma's decision to license after closely analyzing the product and the clinical trial databrings sophisticated third party validation.
Galderma is now enrolling a 350 patient phase IIb/III trial that is scheduled to report topline results in 3Q, 2013. Success in that trial would have a very positive impact on the stock. Galderma has said that it believes that NVC-422 has worldwide revenue potential of $400 million. Based on my projections which are more conservative, I calculate that the net present value of the royalty stream could have a net present value (on a pretax basis) of $70 million to $118 million. This compares to NovaBay's current market capitalization (on an after tax basis) of $37 million. I would point out to readers that if this trial is successful, I believe that Galderma will then have to do a second confirmatory trial to gain regulatory approval. Assuming success in both trials, NVC-422 for impetigo could be introduced in world markets in 2016.
What Is Impetigo?
Impetigo is a highly contagious bacterial skin infection that is common in pre-school children and adolescents participating in contact sports such as football and wrestling; it is less common in adults. Bullous impetigo primarily affects children under two years of age causing blisters on the trunk, arms and legs. The skin around the blister is usually red and itchy but not particularly sore. The blisters break and scab over with a yellow-colored crust that can last for several days. Infectious impetigo is a more serious form of the disease in which the infection penetrates deeper into the skin's second layer, the dermis. It is characterized by painful, pus-filled sores that can turn into deep ulcers in the legs and feet.
Impetigo is primarily caused by Staphylococcus aureus and occasionally by Streptococcus pyogenes. Mild cases are treated with washing and cleansing the lesions and the applications of antiseptics and topical antibiotics such as Bactroban (mupirocin). When topical agents fail or there is a large area of skin involvement, oral antibiotics such as penicillins, cephalosporins and erythromycin may be added. Methicillin resistant Staphylococcus aureus MRSA as a causative agent for impetigo is a growing concern.
Results for NVC-422 in a Prior Trial WereEncouraging
NovaBay conducted a phase II proof of concept trial in impetigo in July, 2010. The study enrolled 129 children, aged two to eleven, at two centers in the Dominican Republic. It used three different, ascending doses of NVC-422 given in a gel for a treatment period of seven days. Patients and physicians were blinded to which dose was administered, but there was no control group.
Children entered into the study had to show a gram positive stain that indicated that the infection was caused by Staphylococcus or Streptococcus. A sample of the exudate or pus was taken from a target lesion on the first day of treatment and then cultured in a laboratory to determine the bacterium causing the infection. Bacteriological success was defined as the absence of that bacterium at day 8 or day 15 based on a culture of exudate from the target lesion or no exudate material available for extraction from the target lesion.
A paper was presented at the October 2010 ICAAC meeting in which the authors presented their observations and conclusions as follows:
The clinical response rates at days 8 and 15 for all three doses was higher than 84% which the author of the study compared to historical response rates of 30% to 50% seen in the placebo groups of other studies.
10 out of 10 MRSA infections were resolved at day 8.
There were 103 patients with a clinical cure who were evaluated at days 8 and 15. There were no recurrences of impetigo in any of these patients between days 8 and 15.
Bacteriological responses (inability to detect bacteria) at days 8 and 15 were 87% or greater, just slightly better than the 84% clinical response rate.
Adverse events occurred in 7 of the 129 patients enrolled in the study. They were predominately mild to moderate reactions at the application site and all adverse events resolved at the end of treatment.
96% of subjects enrolled completed the study in accordance with protocols at day 8 and 82% returned for the follow-up visit at day 15.
NVC-422 Is Partnered with the Swiss Company Galderma for Dermatological Diseases
In March 2009, NovaBay partnered NVC-422 with Galderma, headquartered in Lausanne, Switzerland with operations in the EU, US, Canada and Brazil to develop NVC-422 in dermatological conditions including impetigo and acne. This company is the largest prescription dermatological company in the world.
Galderma has exclusive worldwide rights and will pay royalties that start at 10% and escalate with sales to a maximum level of 30%. Galderma will conduct and pay for all of the clinical trials in impetigo and acne. NovaBay has retained all rights to co-promote the products developed under the agreement in hospitals and other healthcare institutions in North America.
Galderma has just begun a worldwide phase IIb/III study that will enroll 350 impetigo patients. Treatment will last for 7 days and an evaluation of treatment will be made on days 7 and 15 after treatment begins. The study should be completed in 2Q, 2013 with topline data available in 3Q, 2013. The study is powered as a pivotal study, but it is highly probable that the FDA will require a second confirmatory study for approval. This second trial could start in 4Q, 2013 and finish in 2H, 2014. A filing could be made in 2015 leading to approval and a US launch in 2016.
The phase IIb/III trial will divide the 350 enrolled patients evenly among a BID and TID dose of NVC-422 and placebo. In the phase II trial of NVC-422 in 120 patients, it was effective in 92% of impetigo patients at the highest and most effective dose. This study was not placebo controlled, but other studies in impetigo have shown about 30% to 50% effectiveness in the placebo group. If these effectiveness rates are approximated in the ongoing trial, NVC-422 should show strong statistical significance in efficacy over placebo.
The Market Opportunity
Galderma has said that it sees impetigo as a potential $400 million worldwide sales opportunity. NovaBay conducted a market survey of 150 physicians asking them to list the most important attributes they would like in a new product for impetigo. The two items at the top of their list were preventing the emergence of resistant bacteria and effectiveness against methicillin resistant Staphylococcus aureus or MRSA. NVC-422 has demonstrated in pre-clinical passage studies that resistant bacteria do not emerge to NVC-422. In the phase II trial in impetigo, NVC-422 clinically cured 10 out of 10 patients who had impetigo caused by MRSA. These two product characteristics argue for a quick uptake following commercialization if this trial replicates results in the earlier phase II proof of concept trial.
The rapid growth of MRSA infections presents a problem for the initial physician treating the disease who is likely to be a pediatrician or general practitioner. Non-resistant staphylococcus infections respond readily to available topical antibiotics, but MRSA infections often don't. If untreated, they have the potential to become dangerous and potentially life threatening. It takes several days to culture the bacterium and determine if it is resistant. Hence the physician initially is treating empirically and a new product like NVC-422 with efficacy against both MRSA and non-MRSA infections would be the logical choice for empirical treatment.
The estimated global market for impetigo is shown in the next table.Impetigo is a gateway indication for other dermatological diseases such as acne. NVC-422 may also find applications in surgical settings and wound treatment. It would also likely be used in combination with systemic drugs. There is the potential for very significant sales outside of the impetigo market.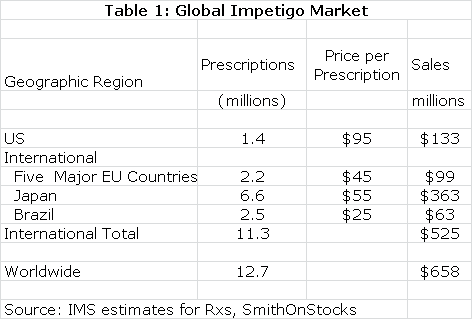 European and Brazilian approval could follow the same timeline as the US while Japan might require trials in Japanese patients that could delay approval until 2017. The product characteristics of NVC-422 argue for significant market penetration. In my model, I have assumed that peak market share is reached in each market six years following introduction and that peak shares are as follows: US (45%), Europe (35%), Japan (25%) and Brazil (35%). I also assume that NVC-422 is priced at parity to existing products in these markets.
Galderma will pay an escalating royalty on sales that I estimate to start at 10% and to reach 30% on sales above $300 million. A summary of my sales and royalty projections are shown for 2016 through 2020and for 2028. In 2028, the patent coverage expires and I am assuming no sales beyond 2028.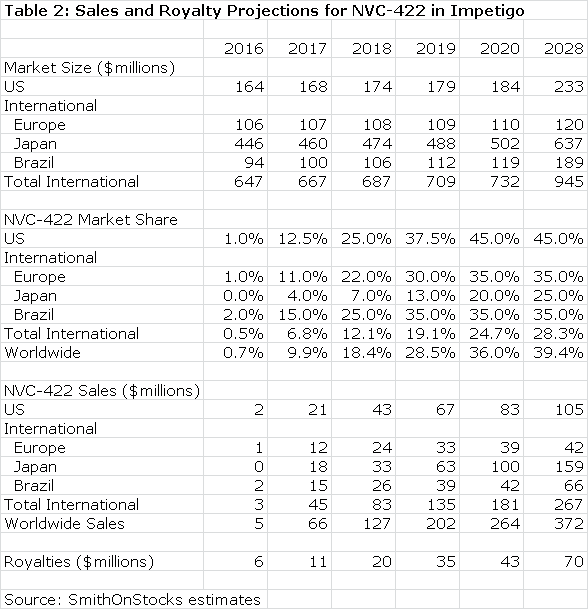 Galderma has estimated that the use of NVC-422 to treat impetigo could be a $400 million worldwide sales opportunity, but hasn't specified the point in time at which these sales might be reached. Against this, my projection of $253 million in sales in 2020 appears reasonable or somewhat conservative. Moreover, success in treating impetigo could give rise to off label use in other dermatological conditions such as acne and in surgical settings and wound healing. I have not included any estimates for sales in these indications, which adds another layer of conservatism to my estimates.
Value to NovaBay
Based on the available clinical data and the validation provided by the Galderma partnership, I believe that the chances for success are good in the impetigo indication. This alone could make NovaBay is an attractive investment. The royalty stream for the period 2016 through 2028 can be discounted to arrive at a net present value. Using a discount rate of 10%, the net present pretax value of the royalty stream is $118million which compares to the current market capitalization of $37 million. Using a discount rate of 15% produces a net present pretax value of $70million.
Tagged as NovaBay + Categorized as Company Reports