Discovery Laboratories: Clinical Trial Data over Next Year Could Validate the Promise of Aerosurf (DSCO, Buy, $1.60)
Investment Overview
The Stock Market Has Written off Aerosurf
The current stock market valuation for Discovery Laboratories of $13 million (8 million shares times $1.60) assigns virtually zero probability for Aerosurf being successfully developed and commercialized. Stocks selling at such a micro-cap market valuation are usually dismissed out of hand by investors as there is an a priori assumption that such a tiny market capitalization signals a failed company. I see Discovery very differently. In this report, I discuss why I believe Aerosurf is potentially one of the most interesting products in development in biotechnology. I also see the chances for successful development as better than for most drugs at its phase 2b stage of development.
The drug development process for any drug is incredibly difficult and there are significantly many more failures than successes as they enter phase 2 and phase 3 trials. However, Aerosurf has an important advantage in that we know that its active ingredient, the peptide KL-4, is effective in treating respiratory distress syndrome (RDS); its disease target. KL-4 is also the active ingredient in Surfaxin, which previously has been approved for treating RDS. The development issue is whether Aerosurf when delivered as an aerosol distributes KL-4 as effectively in the lungs as Surfaxin which is administered as a liquid poured through a tube into the lungs. Creating an aerosolized surfactant is a very complex and frustrating technical challenge that has defied industry efforts for nearly 25 years. Indeed, the development of the drug and medical device technology used in Aerosurf stretches over 15 years.
There will be a Wealth of Clinical Data on Aerosurf Reported in the Next Year
This will start with the imminent reporting of phase 2a data in babies of 26 to 28 weeks gestational age in 2Q, 2016. Data from the first part of this same 2a trial in older babies of 29 to 34 weeks gestational age has previously been reported and was quite encouraging. This is with the caveat that the data was based on a small number of babies. It is extremely important that results soon to be reported in these younger babies is also encouraging. There will also be another study likely to be released in 3Q, 2016 that will investigate how Aerosurf is distributed in the lungs of primates whose lungs are physiologically comparable to lungs of babies. Remember that distribution in the lungs is key to the efficacy of Aerosurf. This study could provide a very important insight into how Aerosurf distributes in the lungs.
The critical trial for the Company is a phase 2b trial now underway that is enrolling 240 babies with respiratory distress syndrome randomized to 160 treated with Aerosurf (at two doses) plus nCPAP versus 80 on nCPAP; it is scheduled to report results in 1Q, 2017. This is a large, well planned, randomized, multi-center trial. If it is successful, it would establish proof of concept for Aerosurf. This would be followed by a phase 3 trial with a comparable design and if that trial were to replicate the phase 2b results, could lead to approval sometime in 2019 or 2020.
With Success in Clinical Trials, the Market should recognize that there is Significant Commercial Potential for Aerosurf
Later in this report, I discuss why I believe that the addressable market for Aerosurf in the RDS indication is $500 million or more in the US and $1 billion or more worldwide. To the best of my knowledge, there are no competitors to Aerosurf in late stage development. Also, RDS is just one of many diseases that Aerosurf can address so that it is literally a pipeline in a product. The composition of matter patent on the drug ingredient extends until 2032 so there is ample time for developing this pipeline.
Finances are Strained, But There is Probably Just Enough Cash to Reach Topline Data for Phase 2b in 1Q, 2016
The company ended FY 2015 with $38.7 million of cash. The burn rate in 4Q, 2015 was $7.6 million and at this rate, the Company has cash to last until early April 2017. This is barely past the scheduled reporting of the topline results of phase 2b in 1Q, 2017. The Company has not given exact guidance on cash burn other than saying that it has cash to last until 1Q, 2017 at the current burn rate and is looking to reduce the burn rate to extend the cash runway even further. Still, the Company is in a tight cash position if the phase 2b trial takes longer to complete. I must point out that the Company's guidance for completion of the parts of phase 2a trial was too optimistic.
I think that the Company ideally should raise say $13 million (within a range of $10 to $15 million) in 2016 to give it some leeway if the phase 2b trial goes longer than expected and also to allow time to discuss potential partnering of Aerosurf. This presents a real problem because at the current market price of around $1.65, the Company in order to raise $13 million would have to issue 8 million shares with warrant coverage of 50% or 4.1 million warrants. This would more than double the current 8.0 million fully diluted shares outstanding to 20.2 million shares.  Obviously, raising money in the equity market would be ugly. While it would be nice to have such a cash cushion, the dilution that this would entail might cause management to wait until the topline results are reported, especially if they judge that enrollment is proceeding as planned.
Phase 2a and Phase 2b Results are Critical Events
The phase 2b trial is clearly a binary event to be reported in 1Q, 2017and if Aerosurf fails in this trial, there is a very high probability that the Company goes bankrupt. There is also some risk that if the phase 2a trial in younger babies of 26 to 28 weeks gestational age reports discouraging data (remember this is imminent) that investors could conclude that the phase 2b trial will be unsuccessful. Having emphasized the risk, I now want to focus on the potential upside.
With success in phase 2b, Aerosurf in early 2017 would be a phase 3 ready asset addressing a $1 billion market with no competitors, a strong pipeline and long patent life. Positive data would likely give a significant boost to the stock and/or lead to a lucrative partnering deal. Discovery has long been in discussions with numerous parties about potential partnerships on Aerosurf and I believe that all of these are dependent on a successful outcome for the phase 2b proof of concept trial. An outright sale of the Company might also be a possibility.  Based on valuations of comparable companies, I believe that success in phase 2b could (should) lead to a $200 to $400 million market valuation. Yes, you are reading this correctly.
Price Target Thinking
To reiterate, the development of Aerosurf is likely to be a binary event with the downside being bankruptcy and loss of all value in the stock. The upside can be asymmetric. Assuming a very positive outcome for Aerosurf, I am guesstimating that the market value could be $200 + million. At this value and then assuming the Company elects to undertake a $13 million financing on terms which I previously described and which results in 20 million shares outstanding, the upside would be $10 per share. To the extent that market capitalization is greater than $200 million (which seems probable) and/or less shares are issued, the price target increases meaningfully.
So when will we know if Aerosurf is going to be a boom or bust? We will almost certainly know by 1Q, 2017 when topline data for phase 2b is likely to be released. There is also the possibility that the release of topline data for the phase 2a trial in babies of 26 to 28 weeks gestational age could create some meaningful data that could sway investors one way or the other. This is hard to judge and I am anxious to see the data.
Recently, Why Has the Stock Done so Poorly?
The stock has done extremely poorly since the announcement of the phase 2a results. The stock traded up from $4.00 just before the announcement on November 6, 2016 to a range of $6.80 to $6.90 in the four trading days ending November 11. Then the stock plunged to $3.90 on November 12. What happened? The first thing that comes to mind is that investors viewed the results negatively, but if that was the case why did it take several days to come to that conclusion? Discovery is not widely followed by analysts, but the analyst interpretations about the results were positive. Here is the report that I wrote on phase 2a results.
In my opinion, the drop was not due to disappointment with the phase 2a results. This was the period of time when the biotechnology stocks were beginning a sharp stock price correction especially among small cap companies. Against this poor market backdrop, two major institutional holders, Fidelity and Deerfield, decided to sell their positions which were over 5% of outstanding shares. I think this selling was probably due to a decision to sharply reduce exposure to biotechnology rather than being disappointed specifically with the phase 2a results. In any event, this overwhelmed the stock. On November 12, a day on which there was no news and five days after the release of phase 2a results, the stock plunged from $6.58 to $3.92. I believe that this was Fidelity and Deerfield existing.
Discovery is very much a retail stock and think that this sudden plunge severely impacted confidence. In addition, the attitude toward small cap biotechnology stocks continued to deteriorate. The next major blow was a decision to do a 1 for 14 reverse stock split. The stock market or more accurately short sellers almost always interpret this as a desperation move and attack the stock. Since the announcement, the stock steadily drifted lower to the current level of $1.65. In my opinion, in a more robust investment environment for small biotechnology companies, Discovery would not have experienced this devastating stock slide that has led to 1 $13 million market capitalization.
Why I Believe Aerosurf Has Great Therapeutic Potential
I have long thought that Aerosurf is potentially one of the most important products in development in biotechnology. Let me explain why I believe this to be the case by looking at the disease state it addresses. In premature babies, the immature lungs do not produce enough surfactant (a mixture of proteins and lipids). The critical role of surfactant in the lungs is to reduce surface tension in the walls of the alveolae; these are tiny expandable chambers (balloon-like) that are surrounded by capillaries. The exchange of oxygen and carbon dioxide between blood and air occurs through the alveolae walls. When we breathe in, the alveolae expand and as we breathe out they contract. The role of a surfactant is to reduce the surface tension in the walls of the alveolae to close to zero making breathing effortless. If there is a lack of surfactant as in the case of premature babies, the act of breathing is much more labored. The risk posed is proportional to the lack of surfactant and in severe deficiencies, can be life threatening. The following image shows the alveoli structure in the lungs.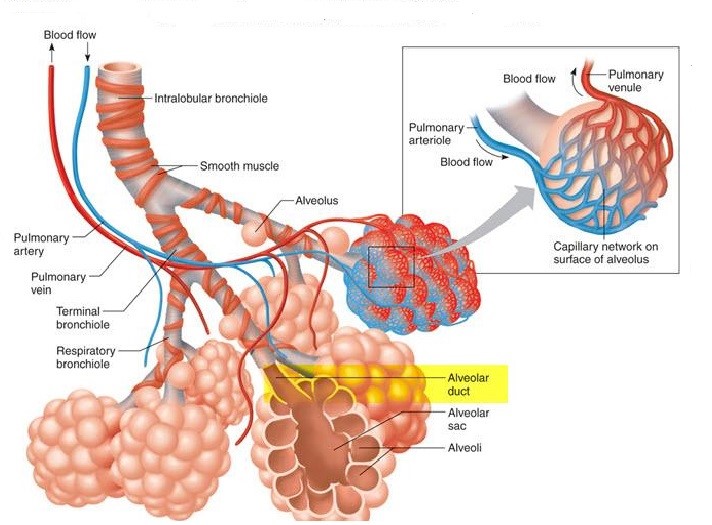 Premature babies have immature lungs that do not produce enough surfactant to allow for efficient breathing. There are two important ways of treating this condition. In severe cases, a tube is inserted into the lungs and the baby is placed on a mechanical ventilator that takes over the breathing function by forcing air into the lungs. Less severely ill babies may be treated with nasal continuous positive airway pressure (nCPAP). This uses a mask applied over the baby's face to apply continuous positive airway pressure to keep the airways in the lungs open. Babies on mechanical ventilators are administered liquid surfactant harvested from the lungs of cattle and pigs. This is given via the intubation tube and supplement natural, human surfactant production. There is no current way of giving surfactant replacement via nCPAP; this is the medical challenge that Aerosurf was designed to address!
This is a baby on mechanical ventilation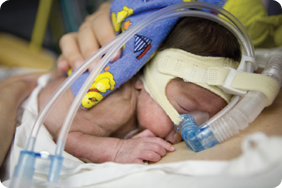 This is a baby on nCPAP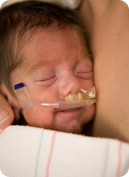 Therapeutic Objectives for Aerosurf
One important therapeutic goal of Aerosurf is to prevent premature babies treated with nCPAP from failing and then requiring intubation, surfactant replacement and mechanical ventilation. The latter is an extremely invasive procedure that while life-saving can cause trauma to the lungs which can affect that baby for many months and possibly throughout life. Clearly, avoiding treatment would be a significant advance. The second goal is to provide surfactant replacement to babies who would benefit from surfactant supplementation even while remaining on nCPAP. Perhaps most or all premature babies could benefit from surfactant replacement to make breathing easier, but the risk associated with intubation and mechanical ventilation means that only the most severely ill babies receive surfactant supplementation.
The key technological breakthrough that Aerosurf is trying to achieve is to deliver a surfactant in conjunction with nCPAP. This entails developing a surfactant that can be delivered as an aerosol and a specialized medical device that can deliver it effectively. Surfactants derived from animals have been in medical use for over 25 years and have proven to be lifesaving. The active ingredient in Aerosurf is KL-4, a synthetic peptide that when combined with lipids mimics the action of animal surfactants. KL-4 is also the active ingredient of Surfaxin, the first synthetic alternative to animal surfactants. Numerous attempts to aerosolize animal surfactants over the years have failed because of their biological complexity and very high viscosity.
Aerosurf Clinical Trial Program is Aiming to Show Proof of Concept
The uniqueness of Aerosurf from a drug development standpoint is that its active ingredient KL-4 has already been approved by the FDA; we know that it works. Remember that the animal surfactants and Surfaxin are delivered as a liquid through an intubation tube into the lungs. The key challenge for Aerosurf technology is to distribute the product as effectively to the lungs as an aerosol. Investors sometimes dismiss aerosolization as just a different but routine way of delivering a drug. In the case of some drugs this may be true, but in the case of surfactants there have been no aerosolized surfactants developed in 25 years. Aerosurf represents a highly sophisticated drug/ device technology that has a chance to address this great unmet medical need.
Aerosurf has shown signals of activity both in animal studies and in phase 2a studies in small numbers of premature babies.  However, is does not yet have the data base necessary to establish proof of concept.  Very importantly, Discovery has a clinical trial program that is designed to establish proof of concept by 1Q, 2017. The key trial is a phase 2b trial that is already underway that will enroll 160 patients on Aerosurf plus nCPAP and compare to 80 patients on nCPAP alone. This trial is scheduled to report topline data in 1Q, 2017.
The goal of the phase 2b trial is to significantly reduce the number of babies that are inadequately treated on nCPAP and have to move on to mechanical ventilation. If this endpoint is achieved in a meaningful way, both investors and potential development partners can have a high degree of confidence that Aerosurf is an effective drug that can gain regulatory approval. As I go into shortly, I believe that the addressable market for this indication is $500 million to $1 billion in the US and $1 billion to $2 billion worldwide. Importantly, Aerosurf is the only product that I am aware of that is in late stage trials for this indication.
In addition to the critical phase 2b trial that is now underway, there are three other trials that will report out meaningful data in 2016. I will discuss each of these later, but here is a summary of each.
2Q, 2016: Data from the second part of a phase 2a study will be reported for babies of 26 to 28 weeks gestational age. Encouraging data from this trial has already been reported in babies of 29 to 34 weeks gestational age. It is extremely important that data from these younger babies (26 to 28 weeks gestational age) be as promising as the known data in older babies (29 to 34 weeks).
3Q, 2016: A retrospective study of 1000 babies who received nCPAP will be reported which will give an important insight into many parameters that affect the clinical outcomes of babies who are treated with nCPAP. This broad historical data base will make it easier to assess the benefit of Aerosurf and also to design the phase 3 trial.
3Q, 2016: A sophisticated study in primates will give an important insight into how Aerosurf distributes surfactant in the lungs. Remember that we know that the active ingredient in Aerosurf is an effective therapeutic. The key is whether Aerosurf can broadly distribute it is the lungs.
The following sections give more detail on the four clinical trials reporting data in the next year
Final Data from Second Part of Phase 2a in Younger Babies (Data in 2Q, 2016)
The second part of the phase 2a trial is in babies of 26 to 28 weeks gestational age will investigate two doses of Aerosurf. The first part of this study was reported for babies of 29 to 34 weeks gestational age. In November 2015, I discussed the data at length in this report "Results for Aerosurf in Phase 2a Trial are Encouraging" https://smithonstocks.com/discovery-laboratories-results-for-phase-2a-trial-are-quite-encouraging-why-then-did-the-stock-crash-dsco-buy-0-30/?co=discovery-laboratories
In thinking about dosing, remember that Aerosurf is delivered via an aerosol in a consistent formulation. Dose is determined by the length of time that the drug is delivered. The data from this second part of the phase 2a trial will be based on two dose groups. In the first dose group of 25 minutes, there will be 8 patients on Aerosurf plus nCPAP versus 8 on nCPAP. The second group will receive a 50 minute dose and will treat 8 Aerosurf patients and 8 control patients. The primary objectives are safety and tolerability but the trial will also look at measures of efficacy as was previously done with the older babies.
A major change from the first part of the phase 2a trial is that these younger babies will be allowed to be redosed up to twice. Intuitively, this would seem to be a more effective way of delivering the drug that could improve therapeutic outcomes. On the other hand, younger babies might respond differently from older patients. I am extremely interested in seeing if these results confirm the data seen in the 15 patients from the first part of the trial. This data is expected in 2Q, 2016.
Phase 2b Trial (Topline Data in 1Q, 2017)
A phase 2b involving 240 babies is already underway. It has been enrolling babies of 29 to 34 weeks gestational age and will be expanded to babies of 26 to 28 weeks if the upcoming data from the second part of the phase 2a trial is encouraging. The size of this trial and its design should provide clear proof of concept so that if the trial is successful, a phase 3 trial should follow.  The phase 2b trial would likely be used as one of two well controlled trials needed to support a regulatory filing.
The 2b trial will investigate two doses Aerosurf with 80 patients treated on each dose. There will be a control group of 80 patients so that in total there will be 240 patients enrolled. Babies can also receive repeat doses. The primary objectives of this study are to provide evidence of efficacy on an acceptable clinical endpoint such as reducing the number of nCPAP failures and identify the dose regimen to take into phase 3.
Observational Study of nCPAP in 1000 Babies (Data in 3Q, 2016)
Last year, Discovery began a retrospective study of 1000 babies with RDS of 26 to 34 weeks gestational age; this is the same age group being studied in the phase 2a and phase 2b trials. This data will be gathered from centers in the US, Europe and Latin America, the geographic sites of the phase 2b trial which is now underway. There are sub-groups of RDS patients in this age group who have not been well characterized in the literature in terms of nCPAP failure. This data is important in defining the clinical need and also should help frame Aerosurf's value from a pharmacoeconomics standpoint.
The phase 2a study has a small control group against which Aerosurf is compared.  In babies of 29 to 34 weeks gestation, the data appears very encouraging. However, because of the small size of the control group, there is uncertainty as to whether those results are representative of what occurs in actual clinical practice. This observational study allows investigators to judge the results against a large, real-life control group. We can also compare results from the Aerosurf arm directly to these historical data. It will also help in the design of a potential phase 3 trial
This is the first time that I have heard of this study so I presume that investors are generally not aware of it. The results will probably be available in 3Q, 2016. I would guess that this will be released after phase 2a results in the younger babies is published. I would expect the Company to publish an analysis comparing phase 2a results to results in this observational study. This looks to me to be a significant news event.
Study to Determine Distribution of Aerosurf in the Lungs of Primates
Another study that is nearing completion is an Aerosurf lung deposition study in non-human primates. In this project, the Company radiolabeled the aerosolized surfactant and then administered it to primates with similar lung anatomy to human neonates. This project consists of a series of experiments to assess the distribution and deposition of aerosolized surfactant in the lung. The Company has said that they were very encouraged by the preliminary data and look forward to reporting the data in 3Q, 2016.
As I previously emphasized, KL-4 is the active pharmaceutical agent in both Surfaxin and Aerosurf. Surfaxin was approved by the FDA for the prevention of respiratory distress syndrome which is the same indication that Aerosurf is pursuing. This means that the question to be answered is whether an aerosolized form of KL-4 can be distributed throughout the lungs as Surfaxin which is delivered as a liquid. This could be an important study.
Worldwide Market Potential for Aerosurf Could be Huge
There is very limited outcomes data on Aerosurf so that my taking this information and coming up with the potential size of nCPAP failure market that it addresses must be viewed with skepticism. That said I have come up with a preliminary estimate for an addressable market of $500 million to $1 billion in the US and $1 to $2 billion worldwide. Let me describe how I came up with this. My analysis starts with the only data we have so far; this from a phase 2a controlled study of Aerosurf that will enroll 112 babies of 26 to 34 weeks gestational age in which 56 will receive Aerosurf plus nCPAP and 56 will be given just nCPAP. The study is divided into two parts.
The first part has completed enrollment and reported results in 80 babies of 29 to 34 weeks gestational age. Forty patients on Aerosurf plus nCPAP were compared to 40 on nCPAP alone. This data was very encouraging for a high dose of Aerosurf for which the nCPAP failure rate was 33% (5 of 15).  In the 40 babies treated with nCPAP alone, the failure rate was much greater at 53% (21 of 40). nCPAP failure means that babies cannot be adequately supported by non-invasive ventilation with CPAP and they require intubation, mechanical ventilation and surfactant rescue therapy.
If this data ultimately proves to be representative of the broad patient population, it would mean that out of 100 babies treated with Aerosurf plus nCPAP, 33 would go on to nCPAP failure while of 100 babies treated with nCPAP alone 53 would experience nCPAP failure. Intubation and mechanical ventilation carries a significant risk of causing greater lung damage than nCPAP. Allowing 20 babies to avoid this risk would have enormous medical benefit. There is also a probable benefit to giving Aerosurf to babies who do not go on to intubation, but I am not going into this in this note.
There are an estimated 120,000 pre-term babies with RDS in the US who are initially treated with nCPAP because doctors want to avoid intubation and mechanical ventilation. There is no current way to determine which babies on nCPAP will need to be intubated so that the entire population would be eligible for treatment with Aerosurf at an estimated  price of $4,500. From a cost standpoint, the cost of treating a baby on nCPAP is about $5,000 whereas a baby on intubation costs about $50,000 or more. If 20 out of 100 babies treated Aerosurf were to avoid intubation, it would produce a net savings of $5500 per baby treated.  I must note that in the first edition of this note that I wrongly calculated the savings as $4,500 per baby and a subscriber pointed out my error.   Here is the correct calculation.
Aerosurf Treatment = 100 babies X ($5,000 + $4,500) + 33 babies X $50,000 = $2,600,000
Standard Treatment = 100 babies X ($5,000) + 53 babies X $50,000 = $3,150,000
Savings = $3.15MM – $2.6MM = $0.55MM or $5500 per baby treated
This does not take into account the costs of further treatment costs that result from damage to the lungs caused by intubation. If Aerosurf were to be priced at $4,500 per use, the US addressable market would be $540 million. The worldwide market would be more than double this or $2+ billion.
Confidence in this analysis is limited by two major points. The first is the small number of patients treated (only 15) with Aerosurf plus nCPAP and even the 40 patients on nCPAP alone. The second is that the data is only in babies of 29 to 34 weeks gestational age. I am awaiting data from the second part of the phase 2a study that will study babies 26 to 28 weeks gestational age in which 16 will be given Aerosurf plus nCPAP versus 16 on nCPAP alone. Will the data in these younger babies be as encouraging as in the older babies (29 to 34 weeks gestational age)? We should see this additional data by mid-year.
Tagged as Aerosurf, Discovery Laboratories Inc, DSCO, respiratory distress syndrome, Windtree Therapeutics + Categorized as Company Reports, LinkedIn