Derma Sciences: An Update and Re-iteration of Buy Recommendation (DSCI, Buy $9.50, For Paid Subscribers)
Investment Perspective in Brief
I am re-iterating my Buy recommendation on Derma Sciences (DSCI) as I believe that it presents an unusual and attractive biotechnology investment situation. DSC-127 is in a phase 3 trial for diabetic foot ulcers with topline results expected in early 2016. If successful in this trial I think that its sales could reach $100 million in 2018 (second year of marketing) with much greater peak sales potential in this indication. There might also be other uses in scar reduction and radiation dermatitis resulting from radiation treatment during cancer radiation therapy. The addressable market for diabetic foot ulcer and these other potential indications is estimated to be well over $1 billion.
What is so interesting about DSCI from an investment standpoint is that has an attractive and fast growing business based on advanced wound care products used for the treatment of diabetic foot ulcers that is projected to have sales of $45 million in 2014 and $131 million in 2018 (this is a 30% compounded annual growth rate). The key products driving my sales estimates are shown below: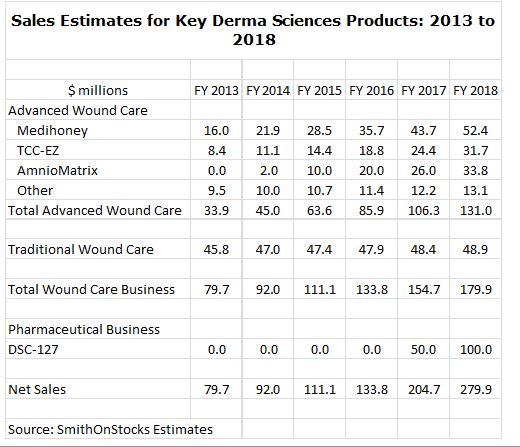 Based on the current market capitalization of about $250 million the company is selling at only 5.5 times the $45 million of projected 2014 sales of the advanced wound care business which seems reasonable for a business with this growth potential. The current valuation suggests that there is little in the stock for DSC-127.
In my initiation report of January 31, I argued for a 2018 price target of $20 to $27 under the assumption that DSC-127 fails in phase 3 and development is abandoned. I further suggested that with success in the phase 3 trial that the stock could sell at $31 to $45 in 2018. The reason that I focus on this somewhat distant year of 2018 is that by then we will know if DSC-127 is commercially successful (or has failed) and the price will reflect whichever of these two outcomes emerges.
First Quarter Overview
The stock has been under some pressure over the last two months as the price has declined by nearly 30%. The correction in small stocks and emerging biotechnology stocks in particular has been a major factor. The decline was also due to total sales growth of 5% in the first quarter that was below expectations for the year of 15%. Advanced Wound Care Products (42% of sales) were up 12% versus expectations of 30% or more for the year and Traditional Wound Care Products (58% of sales) increased 1% versus full year expectations of 2% to 5% growth.
During the fourth quarter conference call held about two months ago, management warned that bad weather was having an effect on 1Q sales so that these sluggish sales trends were not a surprise. Visits to wound care centers in the US, the key target market for Advanced Wound Care, may have been down 10% to 15%.
There was also some disruption in the quarter from the expansion of the sales force from 38 to 50 along with the addition of 12 sales support professionals. Realignment of sales territories caused some disruption. The Company has seen strength return to Advanced Wound Care as weather has normalized in recent weeks. The Company has not changed its guidance first issued in March in which it expected sales to increase 15% in 2014 to $92 million.
US sales were up only 4% in the quarter. Total international net sales excluding Canada account for 10% of sales and increased 17% in the quarter. This reflected rapid growth of Medihoney in the Middle East. For a small company operating primarily through distributors, the international growth ex-Canada is impressive and adds a meaningful dimension to growth potential. The Company also introduced AmnioExcel into the US market in the first quarter, which was one quarter earlier than expected. Management gave guidance that sales could reach $2 million for 2014. I think that AmnioExcel could be the single most important driver of Advanced Wound Care sales over the next few years.
Growth Initiatives for 2014
A lot of Derma's sales growth depends on execution of a business plan without one overriding factor that will make or break the year. The most important factor in growth is the productivity of the sales force and continual expansion. In 2014, it has increased the size of the sales force from 38 to 50. This is done at some initial investment cost as it takes about 18 months for a salesman to begin to make positive contributions to profits, but this investment carries a very high return on investment in future years. The sales force is the crown jewel of DSCI.
AmnioExcel   The most important thing to watch with AmnioExcel is gaining reimbursement from eight Medicare administrative contractors in 2014 and 2015. This is absolutely critical to success. Derma has put in place a comprehensive plan to address each of the eight MACs and to secure reimbursement. MiMedx (MDXG) has been extremely successful in gaining reimbursement for their amnion product over the last two years and this provides a clear understanding of the pathway that can be followed to gain MAC reimbursement.
Medihoney   A big focus for Medihoney this year is the burn market. Management has said that it has converted several key burn centers into using Medihoney and discussions are going on with several others. The Company expects to initiate in the second quarter one or more controlled, randomized studies of Medihoney against a much more expensive, widely used product in the burn setting.
TCC-EZ   At a recent conference, two key opinion leaders previewed two research papers on TCC-EZ that will be available later this year which conclude that greater use of off-loading is needed for the management of diabetic foot ulcers and that total contact casting is the preferred method. One paper also contains some new data that suggests that TCC-EZ may reduce amputation rates.
There is a disconnect between the clinical and cost effectiveness of total contact casting in treating diabetic foot ulcers and its current use. A number of clinical studies have demonstrated that its effectiveness in healing diabetic foot ulcers is 89.5% versus 50% to 60% with standard of care. A study of 264 diabetic foot ulcer patients concluded that the average cost of total contact casting was about $12,000 per patient versus $22,000 for non-TCC treatment. However, the difficulty and time required with older total contact systems has limited use to only 5% of the market. With more supporting clinical and pharmacoeconomic data, TCC-EZ and total contact casting could become standard of care which would obviously have a dramatic effect on sales.
DSC-127    The enrollment for DSC-127 was initially slower than expected, but the Company re-confirmed that it expects trial enrollment to be completed in mid-2015 with top line data read out in the first quarter of 2016. It is expected that the mid-point of the trial will be reached by the end of 2014. The current cost estimate for this program up to the filing of the new drug application continues to be between $55 million and $60 million. Through the end of the first quarter, they have spent $23.2 million.
They are continuing the pre-clinical work with DSC127 on scar reduction. According to the CDC in 2010 there were roughly 51.4 million patient surgical inpatient surgical procedures, 1.5 million aesthetic procedures and about 1.2 million reconstructive surgical procedures; Management believes that the US addressable market for an effective scar reduction product could be as high as $4 billion.
BARDA has provided grants for the study of DSC-127 to treat radiation exposure and resultant dermal burns resulting from a terrorist nuclear attack. They will be meeting with BARDA in the near term to determine if this program will move forward.
They are also contemplating a phase 2 clinical trial program for the treatment of radiation dermatitis. According to the American Society of Radiation Oncology nearly two thirds of all cancer patients receive radiation therapy and about 85% of these patients will experience a moderate-to-severe skin reaction. Management believes that this market could be at least as large as that for diabetic foot ulcers and there is currently is no FDA approved drug for this indication.
Traditional Wound Care   This business segment provides positive cash flow which is used for other businesses. Growth for 2014 is projected at 2% to 5%.
Financial Guidance
Despite the slow first quarter, management re-iterated guidance that Advanced Wound Care sales would increase more than 30% in 2014 based on the existing portfolio of products. There is the potential for additional growth due to acquisitions. They also re-iterated guidance for a 15% increase in corporate sales to $92 million in 2014. Gross margins for Advanced Wound Care are expected to increase and gross margins for Traditional Wound Care are expected to decrease; the overall effect is projected to be a 1% increase in the corporate gross margin.
They expect to spend $35 million on sales and marketing in 2014 mostly in the United States. Spending on R&D, almost all of which is due to DSC-127 is estimated at $28 million; this will largely go away in 2016 with the completion of the phase 3 trial. General and administrative spending is estimated at $17 million. Of these total expenses of $80 million, about $9 million are non-cash items.
The burn rate for 2014 is estimated to be about $40 million, which would result in a year end cash balance of $65 million. This leaves them the flexibility to make an acquisition if an attractive opportunity comes along. Management continues to look for bolt on acquisitions.
Upcoming Analysts Day
There will be an Analyst and Investor Day in New York City on June 17th. The preliminary agenda will include discussions from three physicians on their experience with AmnioExcel. There will also be presentations on the potential use of DSC-127 in diabetic foot ulcers, scar reduction and radiation dermatitis. Finally, a leading burn surgeon will discuss the use of Medihoney in burn treatment.
Tagged as Amnioexcel, Derma Sciences, DSCI, Medihoney, TCC-EZ + Categorized as Company Reports