Cryoport Update (CYRX, $42.24, Buy)
Purpose of Note
This note comments on two news events for Cryoport. The Company reported that it has completed the acquisitions of CRYOPRD and MVE Biological Systems as of October 1. This was somewhat faster than I expected. The stock  also was impacted by the news that Mesoblast's Ryoncil had received a Complete Response Letter from the FDA.
Ryoncil Disappointment Is Not A Major Issue
This was a surprise as an FDA Advisory Committee had recommended approval by a nine to one vote. The FDA is asking for a new clinical trial which will cause a long delay in resubmitting a BLA. I had not been estimating a significant revenue contribution from Ryoncil as can be seen from my recent sales model for Cryoport that was published in my August 20 report.

The above model is intended to be conservative as it only includes estimates for products of Cryoport clients that are already on the market or are likely to be launched in 2021. I anticipate that there will be several others launched in the 2022 to 2024 time frame. For a more detailed discussion, please refer to the August 20 report.
Sales Impact from Acquisitions
My estimate for Cryoport sales prior to the acquisitions as published in the August 20 report is shown below: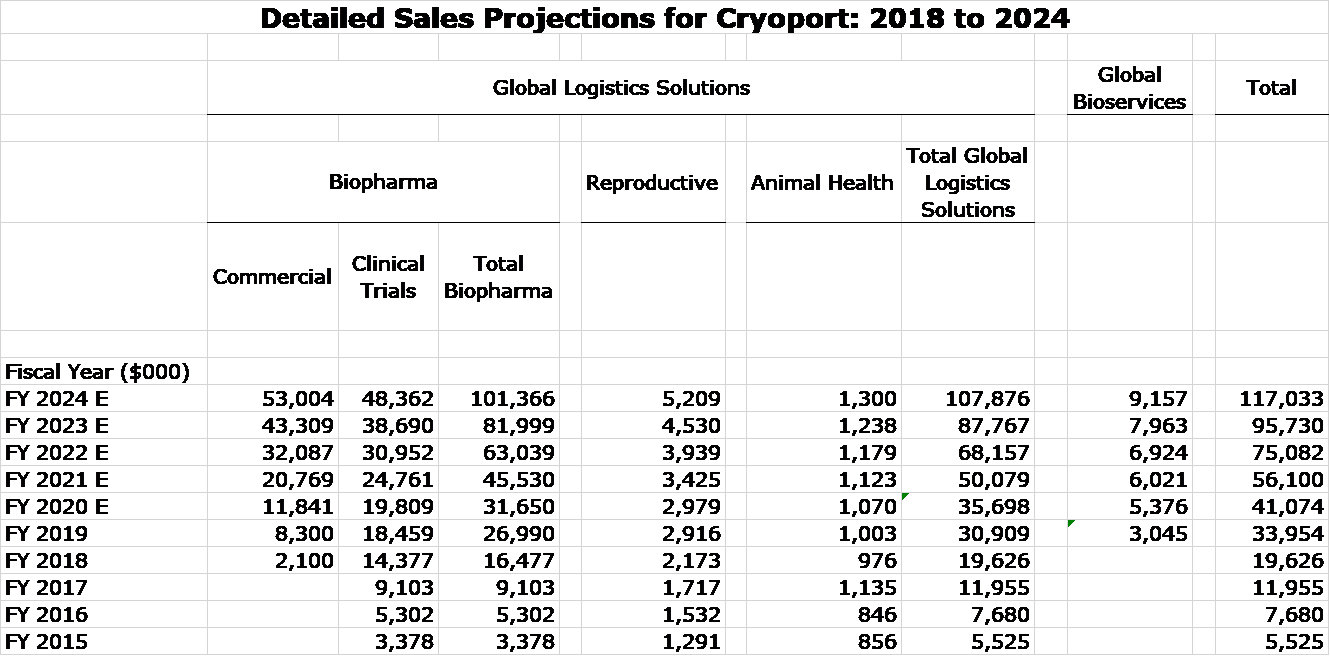 Cryoport reported that in 2019, MVE generated revenue of approximately $84 million and CRYOPDP had approximately $47 million of revenue. Hence the combined sales of the three companies for 2019 was $165 million. CRYOPDP and MVE have been growing in low double digits, but were impacted in 2020 by COVID. Management has not given any guidance on their growth in 2020 or potential in 2021. Just for the sake of illustration, let's assume that revenues of CRYOPDP and MVE are flat in 2020 and grow at 10% in 2021. This would suggest revenues for the new Cryoport in 2020 would be $172 million and in 2021 would increase to $200 million.
Valuation Based on Sales
The fully diluted share count is now about 47 million shares so that at a price of $42 the market capitalization is about $2 billion. The stock is now selling at a market capitalization to sales ratio of 10 times potential 2021 sales. In the world of biotechnology, this is very reasonable valuation. Cryoport said that both acquisitions are expected to be immediately accretive to earnings as each company is profitable. I think that Cryoport will be profitable in 2021, but I don't have a precise estimate.
Of all the stocks that I follow, at this point Cryoport is the one that I would most want to own for the next five years,
Categorized as Company Reports, LinkedIn