Cryoport: Exciting Clinical Data on CAR-T Drugs Points to Dramatic Growth (CYRX, Buy, $14.59)
Investment Overview
ASH is a Key Annual Event
The annual meeting of the American Society of Hematology (ASH) is a closely watched showcase for new clinical data on drugs. Each year, there are literally thousands of papers presented. One of the really hot areas this year (as has been the case for the last two years) was data on CAR-T drugs, which can only be described as extremely, extremely positive for their future sales growth. The first two CAR-T drugs, Novartis's Kymriah and Gilead's Yescarta were introduced in the US in 1Q, 2018 and by 3Q, 2019 they had achieved trailing twelve months sales of $ 625 million. We are at the very beginning of the CAR-T age.
Why Does This Matter to Cryoport?
Cryoport is projected to have sales of $34.0 million in 2019. Providing temperature controlled (cryogenic) logistics solutions for the two marketed CAR-T drugs is projected to account for $9.0 million or 26% of sales. I am further projecting that CAR-T related sales will increase to $65.0 million in 2024. In past reports, I have explained why Cryoport will continue to support Kymriah and Yescarta throughout their life cycles. Competition is heating up in CAR-T development and I identify five other companies in this report that have drugs in human clinical trials. Very importantly, Cryoport is the temperature-controlled logistics provider for each of these companies.
Cryoport's sales are not tied to any one drug developer, but rather are linked to the aggregate sales of CAR-T drugs. Given the importance of CAR-T drugs to its current revenues, Cryoport is essentially a pure play on the CAR-T commercial promise. Its success is not linked to success of a single product. While this is the most important part of Cryogen's current revenues and should be the major driver of growth over the next few years, there are a plethora of other regenerative medicine products in clinical development that Cryoport is supporting. CYRX is not just about CAR-T.
CAR-T Drug Initial Approvals were for Narrow Indications Limiting Initial Uptake
Yescarta is currently approved for a very narrow indication in patients with relapsed or refractory patients diffuse large B-cell lymphoma (r/r DLBCL). These are patients who have failed first, second- and third-line drug chemotherapy regimens. The median survival expectation of these patients when treated with chemotherapy is around 7 months. Kymriah was approved for r/r DLBCL and also pediatric relapsed or refractory acute lymphocytic leukemia (r/r ALL), a similarly deadly cancer. The initial approvals of these drugs were based on small, open label trials with no control arm. The endpoints were objective and complete response rates and there was no defining data on survival and duration of effect. The FDA recognized the life-saving potential of these drugs in r/r DLBCL and r/r ALL and wanted to expedite their commercial availability; hence, it did not require more definitive studies for initial approval.
The limited clinical data presented a major hurdle for the initial uptake of Yescarta and Kymriah. The practice of oncology is highly data driven and there was not much information on survival or duration of effect. In addition, these drugs can cause very severe side effects after treatment so that patients must be hospitalized in order to handle side effects if they occur. This limited initial use largely to major hospitals, most of which had participated in the clinical trials.
Reimbursement Has Also Been a Challenge
Reimbursement issues also were a major hurdle. These drugs are given by a single infusion of cells that costs about $325,000 and the all-in cost for treatment can be $1 million. Without more definitive data, reimbursement discussions were difficult and to compound the problem, obtaining reimbursement in a hospital setting for any product is especially slow and difficult. Providers were faced with uncertainty on reimbursement and if they failed to gain reimbursement for a patient, they could be out $1 million.
Striking New Data on Survival Should Greatly Boost Sales
There was extremely encouraging survival data on Yescarta at ASH. Follow-up data on 269 patients showed that 47% of patients treated with Yescarta were alive at three years. Historical data indicates that 50% of patients treated with chemotherapy survive 7 months. This is a home run result. There is a rough rule in oncology that extending median overall survival by four months is a significant improvement in therapy. The expansion in mOS in this case is a staggering 29 months.
Moving CAR-T Therapy into Less Severe Stages of Cancer and Also into New Cancers
Drug companies usually try to establish efficacy of their drugs in late stages of a cancer where there is a great unmet need; this can be a quick path to approval. This was the case with Kymriah with r/r ALL and r/r DLBCL and Yescarta with r/r DLBCL. These are narrow indications, but are an important foothold into gaining entry into less severe stage of ALL and DBLCL. Numerous trials are underway to expand usage of these drugs into less severe, second line DLBCL patients and to address new cancers like chronic lymphocytic leukemia (CLL) and mantle cell lymphoma (MCL). Gilead just announced that it has filed a BLA for Yescarta in r/r CLL. The data is early but encouraging and has the potential to expand the addressable market several fold. As a guess, sales of Kymriah and Yescarta combined with competitive products under development could expand by more than ten times from the current level of $625 million over the next five or so years,
New Wave of CAR-T Drugs in Development Target BCMA Antigen on Multiple Myeloma Cells
Kymriah and Yescarta target the CD 19 antigen on most cells of the B-cell lineage. This makes them potentially effective useful against many lymphomas and leukemias. There will soon come to market a whole new type of CAR-T products that target B cell maturation (BCMA) antigens on multiple myeloma cells. This represents a whole new and major market opportunity. The first of the BCMA targeted CAR-T products, Bristol-Myers Squibb's bb 2121, could be approved in 2H, 2020.
Competition Is Heating Up
As always happens in a hot new drug category, numerous other biopharma companies are jumping into the market. Bristol-Myers could receive approval for liso cel, a direct competitor to Kymriah and Yescarta in 2H, 2020. BMY has been a major factor in oncology drug marketing and its acquisition of Celgene substantially boosted its market presence. Based on past experience, the presence of a third major player would be expected to expand the anti-CD-19 targeting CAR-T market segment. However, BMY believes that liso cel is highly differentiated from Kymriah and Yescarta with its safety profile. BMY believes that this could allow liso cel to be administered outside of the hospital in the community setting. This would have a dramatically positive impact on the number physicians who could incorporate these drugs into their practice and would also make for easier reimbursement. BMY expects to file a BLA for liso cel before yearend and approval could come in 2H, 2020.
The anti-BCMA CAR-T segment space is even hotter as BMY expects to be first to market with bb 2121. It expects to file a BLA in 1H, 2020 and approval could come before yearend for the treatment of very advanced cases of multiple myeloma. BMY also has two other products targeting this antigen with bb 21217 and JCARH-125. bb 2121 and bb 21217 were developed by bluebird bio and JCARH-125 by Juno which was acquired by Celgene. These drugs are advancing to registrational trials and as a guess could come to market in 2022.
There are several other anti-BCMA drugs approaching registrational trials.
JNJ-4528- Janssen Division of Johnson & Johnson
MCARH 171- Poseida Therapeutics
P-BCMA-101- Poseida Therapeutics
CT 053- CARsgen
LCAR B38 M-Legend
Based on very preliminary data, the general thinking among Wall Street analysts is that bb 2121 data is not as impressive as that shown for JNJ-4528 and other drugs. Johnson & Johnson hopes to file a BLA for JNJ-4528 in 2H, 2020 and could be the second drug to enter the market, probably in 2H, 2021. All of the other agents in development are close on its heels.
Cryoport is a Direct Play on the Explosive CAR-T Market
Cryoport is a direct play on the aggregate growth of CAR-T sales as it provides cryogenic logistics services to each of the companies mentioned in this report. Cryoport is essentially indifferent to which products emerge as market leaders. If my guess is correct that CAR-T sales could expand more than five-fold in the next five years or so and could drive explosive growth for Cryoport. Supporting Kymriah and Yescarta is already the most important driver of sales for Cryoport. In my models, I am projecting that aggregate sales of CAR-T drugs will increase from $753 million in 2019 to $4.4 billion in 2024.
I think that the prospects for CAR-T cells more than justifies my great enthusiasm for Cryoport. However, I would also point out that Cryoport also is supporting the clinical trials and will provide commercial support for other types of regenerative medicines. The following table shows my estimates for sales of Kymriah, Yescarta and liso cell. Instead of making individual sales estimates for each of the emerging anti-BCMA CAR-T drugs, I am lumping sales together. While bb 2121 will likely be first to market and gain an important market presence, it could quickly face competition from seven other products, some of which could be more effective. IMAGE 1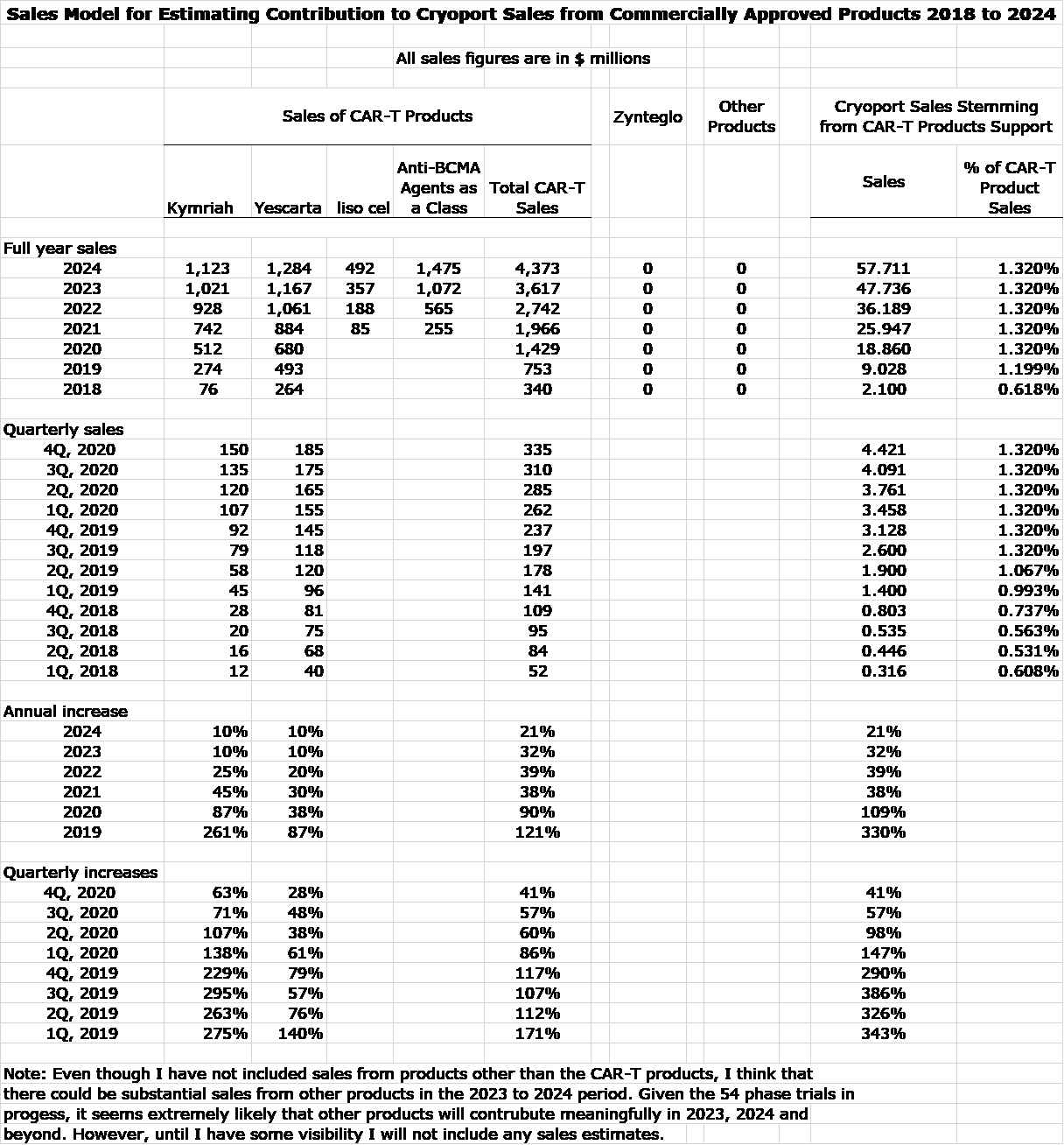 News at ASH from Gilead on Yescarta
Three Year Follow-up Data from ZUMA-1 Shows Striking Survival Data for Yescarta
Gilead's Kite subsidiary announced long term follow-up data from the ZUMA-1 trial. These data showed that 47% of r/r DLBCL patients were alive three years after a single infusion of Yescarta. The data was from 269 patients with relapsed or refractory DLBCL who had undergone a median of three previous therapies. Yescarta was the first CAR-T therapy to be approved for the treatment of adult patients with r/r DLBCL after they had failed two or more lines of treatment. These data are striking and should be a highly significant boost to Yescarta sales. Here is why.
Yescarta was approved on the basis of a relatively small, open-label. The study enrolled 101 patients on Yescarta with no control arm. The drug was approved on the basis that complete responses were observed in 54% of patients, and at 15 months of follow-up, progression-free survival was 41%. There was scant data on survival although complete responses and progression free survival are powerful surrogate endpoints that strongly support the hypothesis of increased survival. However, because of the small size of the trial and lack of a survival benefit this was a significant barrier for expanded medical usage and reimbursement. This three-year survival data clearly demonstrates a dramatic survival effect.
So how good is 47% survival at three years. In 2017, Kite reported on a retrospective trial called SCHOLAR-1 that looked at outcomes for patients suffering from r/r DLBCL who had been treated with various salvage chemotherapies in other trials. No drugs or combinations are approved in this indication so a number of different, unapproved combinations of drugs have been used. There were results from 635 patients. In this group, the median overall survival was 6.6 months so that only 50% of patients were alive at 6.6 months, This Yescarta study indicates that 47% of Yescarta patients are alive at 36 months. In this disease setting, this is an absolute home run.
I think that data like this clearly shows that the survival benefit is enormous for Yescarta in this disease state. These data go a long way to justifying the $325,000 cost of Yescarta cells and the all-in cost of about $1 million for the entire regiment required to administer the cells. They should dramatically increase the acceptance of Yescarta in the oncology community.
Expanding Indications to Earlier Stage of DLBCL and Into New Cancers-CLL and MCL
There was also data from Yescarta on trials in second line DLBCL, a less aggressive stage of that cancer than the initial indication. Data was also reported form clinical trials in second line DLBCL which could expand usage to less severely ill patients. There was also data relating to use in advanced cases of CLL and MCL. This could potentially lead to approvals in these indications which would significantly increase the addressable market for Yescarta. Kymriah and liso cel are being studied in similar trials. After the ASH meeting, Gilead announced that it was filing a BLA for Yescarta in r/r MCL
News from Bristol-Myers Squibb on liso cel
liso cel is a Direct Competitor to Kymriah and Yescarta
Kymriah and Yescarta achieve their therapeutic effect by targeting the CD19 antigen on many cell types of the B-cell lineage. BMY is developing what will be third CAR-T product of this type, liso-cel. Phase 2 data was presented that will be the basis of a BLA filing by the end of 2019. No guidance was given but my guess is that the product will be approved and marketed in 2H, 2020. The manufacturing and marketing infrastructures are in place.
Safety Could Be a Meaningful Point of Differentiation
BMY believes that the data shows that liso-cel is as effective, but they believe the major point of differentiation is the safety profile of liso-cel. The administration of Kymriah and Yescarta is in the setting of large, sophisticated hospitals. These products are given by a single infusion that can be given anywhere, However, some days after treatment some patients develop severe cytokine release syndrome and neurotoxicity side effects. Because of this, the patient must be kept in the hospital environment in order to address these side effects as they occur.
BMY believes that the side effect profile of liso-cel could allow it to be administered in an outpatient setting. This would be dramatically positive as it would meaningfully expand the number of centers and physician who could administer the drug. Perhaps as important, the reimbursement process would be much more favorable as liso-cel reimbursement would be product specific rather than being buried in a DRG.
For Cryoport, Here Are the Key Takeaways
If liso-cel is no better than Kymriah and Yescarta, it should still meaningfully expand the market owing to the power of the BMY marketing infrastructure.
If liso-cel can be administered in an out-patient setting, the entire CD 19 targeted market could be dramatically expanded.
From the standpoint of Cryoport, the various market shares of the participants in the market are indifferent because it supports each of the three marketers. So, BMY entering the market is a major positive.
Clinical Programs for liso cel
BMY also presented an overview of its clinical trial program for liso cel. The initial indication of Kymriah, Yescarta and next liso-cel is in 3L (third line) r/r DLBCL. BMY states that this is just the tip of the iceberg of the addressable market. The clinical program of liso-cel is now dedicated to using liso-cel in earlier stages of DLBCL. This should dramatically expand the addressable market. In addition, liso-cel is being studied in two other types of hematological cancers, chronic lymphocytic lymphoma (CLL) and mantle cell lymphoma (MCL). Again, this would have a dramatic effect on the addressable market for Kymriah, Yescarta and liso-cel. Novartis and Gilead have similar ongoing trials to liso-cel ongoing.
BMY reported encouraging results in TRANSCEND CLL 004 which is phase 1/2 study in 23 patients with CLL/SLL. These were patients who had received at least three (standard-risk disease) or two (high-risk disease) prior treatments. The objective and complete responses were comparable to what liso cel showed in r/r DLDCL. In a presentation on results from ASH, BMY presented the following chart showing the life cycle management program for liso cel. Kymriah and Yescarta have similar programs. IMAGE 2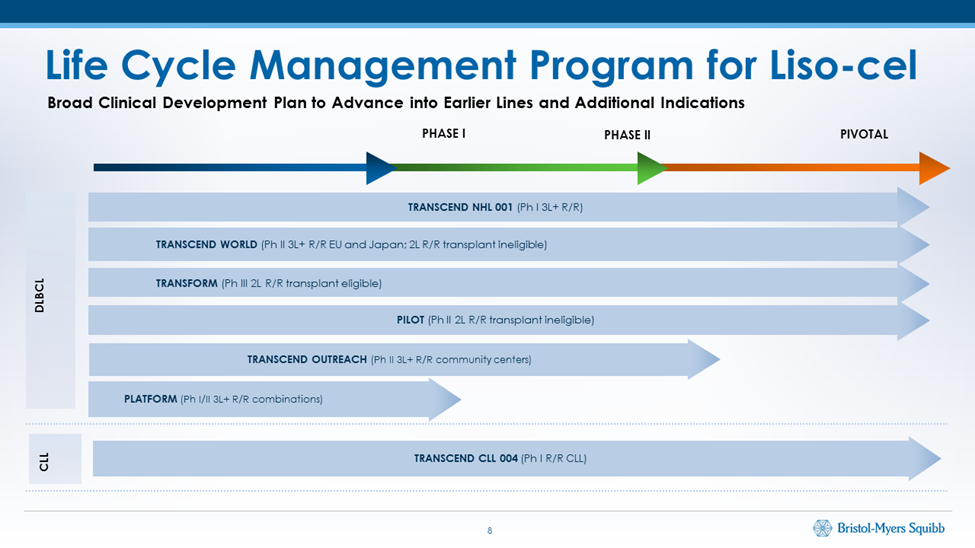 Anti-BCMA CAR-T Drugs
Next Class of CAR-T Cells
The next class of CAR-T cells are targeted at the BCMA antigen on multiple myeloma cells. As in the case of the CD-19 antigen targeted CAR-T products, the first use of these products will be in advanced cases of multiple myeloma in which the patients have relapsed after several lines of therapy. Then following on the clinical line of development that I outlined for the CD 19 targeted CAR-Ts, a broad clinical trial program will endeavor to gain indications for use in less aggressive forms of multiple myeloma. I don't have a good number yet, but my intuitive sense is that the BCMA targeted addressable market is as large as the CD 19 targeted market.
bb 2121 Should Be First to Market but Is It the Best?
BMY presented data from KarMMa, a pivotal, open-label, single arm, multicenter, Phase 2 study of idecabtagene vicleucel (ide-cel; bb2121). KarMMa enrolled 140 patients, of whom 128 patients were treated with ide-cel across the target dose levels of 150-450 x 106 CAR+ T cells. All treated patients were exposed to at least three prior therapies. At the highest dose in 54 patients the ORR was 81.5% and CR was 35,2%. BMY plans to submit a BLA in 1H, 2020.
Bristol Myers through its partnership with bluebird bio should be first to market with bb 2121. Beyond bb 2121 I saw data on seven other BCMA products in development. BMY actually has two follow-on products in bb 21217 (also partnered with bluebird) and JCARH 125. Of course, Cryoport supports bb21217 and JCARH as well as bb 2121.There is a general feeling that bb 2121 is not as good as some of the other products in development. However, this feeling is based on objective response rates appearing to be higher in phase 1 trials. This may or may not be the case.
I would point out that being first to market is a huge positive even if subsequently approved products have some superior and differentiated efficacy and/or safety features. I would expect BMY to establish a strong early position with bb 2121 and then fortify their market share with later introductions of bb 21217 and JCARH. BMY also has one of the strongest marketing organizations in hematological oncology. So, I think that BMY will be the long-term dominant player in the market with Cryoport supporting it. This is a huge opportunity.
Tagged as Cryoport, Cryoport support of CAR-T saless + Categorized as Company Reports, LinkedIn