Cryoport: Detailed Update and Updated Projections Based on 3Q Results (CYRX, Buy, $10.35)
Key Points
Cryoport continued to show explosive growth in the third quarter as sales increased 76% to $5.3 million led by a 91% increase in biopharma (83% of total) sales.
I am projecting a 60% increase in sales in 2019 to $30.7 million again led by a 69% increase in biopharma. (Detailed sales and a P&L models are shown later in this report)
This impressive growth is the direct result of extremely rapid increases in regenerative medicine clinical trials. Moreover, the regenerative medicine industry has just reached an inflection point in which products are moving from clinical trials to commercialization. Cryoport sales from commercialized products are significantly higher than from support of clinical trials.
The closely watched contribution to sales from Kymriah and Yescarta (launched in 2018) suggests that Cryoport for its support of these products receives about 0.56% of their sales or roughly $1,820 per patient treated.
According to my calculations, Yescarta has treated roughly 183 patients in the first nine months of 2018 which is a tiny 3% of the 5,500 addressable patient population for the current approved indications of r/r DLBCL, r/r PMBCL and tFL in the US. I estimate that Kymriah has treated roughly 48 pediatric r/r ALL patients which is 7% of the 650 patient addressable market in the US. There is a lot of opportunity for further growth in these approved indications.
I estimate that combined sales of Kymriah and Yescarta will reach $829 million in 2019 up from $346 million in 2018. This is in line although slightly lower than Wall Street consensus estimates of $894 and $367 million. I estimate that this will result in revenues for Cryoport of $4.6 million in 2019 an increase from $1.9 million in 2018.
Cryoport is now supporting 38 phase 3 trials. Some meaningful percentage (certainly not all) of these will become commercial products- some larger, some smaller than Kymriah and Yescarta. The sales potential is beyond my capacity to project, but I guess that ultimately Kymriah and Yescarta will account for a moderate or small part of sales
Companies supported by Cryoport are currently seeking approval for four products in Europe and one in the US. If approved, they could make small contribution s in 2019. However, I have not included them in my sales projections in 2019 or 2020.
Cryoport added two new distribution centers in 2018 and has established an infrastructure that supports regenerative medicine research and commercialization on a global basis.
The Company has said that it is aggressively pursuing "tuck in" acquisitions. We have seen in the case of Repligen (which has a somewhat comparable business model) that this strategy can significantly increase the rate of sales growth.
The Company has a strong balance sheet to pursue acquisitions with $24 million of cash and no long term debt. Indeed, total current liabilities are only $3 million. My projections show the Company becoming modestly cash flow positive in 2019.
I see Cryoport as a compelling growth story which I expect to show very rapid growth for a decade or more. I continue to be a buyer.
Things I Worry About
Cryoport is very difficult to value on near term results as my projections show an operating loss of $6.1 million and an EBITDA of positive $0.3 million in 2019 and sales of $30.7 million. It is selling at 9.4 times 2019 projected sales. I often use Repligen as a peer company to Cryoport. (Refer to my website for detailed reports on RGEN). Management of RGEN is estimating that 2018 sales for Repligen will reach $192 million so that it is selling at about 15 times 2018 revenues. If the market were to value Cryoport at 15 times my projected revenues for 2019, it would be priced at about $16. Note that the organic growth rate of Repligen is around 15% (acquisitions increase growth) and that Cryoport is currently growing organically at perhaps 60%.
In the near term, Cryoport is closely tied to the success of the CAR-T drugs, Kymriah, Yescarta and others in development. Any investor concern with this class of drugs would be very damaging to Cryoport. While major drug companies like Novartis, Gilead and Celgene are "all in" on the CAR-T drugs and investing billions of dollars on develoment and marketing, I am concerned that there is not a lot of data to accurately predict those patients who will benefit and within those responders what the duration of response will be. Remember this is an expensive drug; the net selling price for one course of therapy is $325,000
I am also concerned that Cryoport is covered by only a few analysts, most of whom specialize in logistics. I note that one of the analysts covering CYRX covers the large railroads. I am sure that these are fine analysts, but this is a biotechnology driven company and they are out of their element. Clients have told me that some of their sales projections for 2019 are $34 to $35 million versus my $31 million. They could be right, but these projections seem aggressive to me and if so, they might have to reduce sales estimates as quarters are reported. This would be a trigger for selling by computer trading driven by algorithms even if the results in an absolute sense are spectacular. We live in a strange world. Obviously, this is a short term issue, but it could cause pressure on the stock at some point in 2019.
Don't get me wrong. I love this stock and based on what I know and project, I plan to hold it for a decade or more.
Investment Overview
Cryoport has emerged as the clear industry leader in supplying logistics support for cryogenic shipping of cells and tissues for regenerative medicine. This industry encompasses gene therapy, cell therapy (e.g. CAR-T), and tissue-engineered products developed to repair, replace, or regenerate genes, cells, tissues, organs and metabolic processes in the body. This approach represents a paradigm shift from the traditional approach of the drug industry that primarily focuses on treating symptoms of disease rather than underlying causes. In my opinion, this will be more important to the biopharma industry than recombinant DNA and monoclonal antibody technology in ten to fifteen years.
For an investor, it is very hard to project sales for Cryoport at the microeconomic level as it is involved in supporting two commercial products and 295 clinical trials. It is impossible for anyone to project sales on a project by project basis. This is why I choose to focus on the broad macroeconomic issues that drive regenerative medicine and Cryoport with it. Clinical development efforts in regenerative medicine are at an embryonic stage of an ongoing saga that will last for decades. As for commercialization, we are just at an inflection point at which products go from clinical development to commercial. Cryoport began support of its first two commercial products, Yescarta and Kymriah, in 2018. These are likely to be followed by certainly tens, more likely hundreds and perhaps thousands of other commercial products in coming decades. As I will outline shortly, commercial products and phase 3 trials provide enormously greater economic returns to Cryoport than phase 1 or 2 trials.
Clinical trials in regenerative medicine have exploded in the last few years and the first commercially meaningful products were brought to market in 2018 by Novartis, Gilead (through the acquisition of Kite) and Spark Therapeutics. Underlying the enormous amount of development going on, the Alliance for Regenerative Medicine estimates that worldwide there are 875 companies involved in regenerative medicine:
468 in the US
235 in Europe
135 in Asia
23 in Australia
15 in South America
1 in Africa
The investment community has provided strong support for the industry as money raised increased 79% year to date to $7.9 billion, again according to the Alliance for Regenerative Medicine. The number of trials underway is huge and growing rapidly as shown in the following table: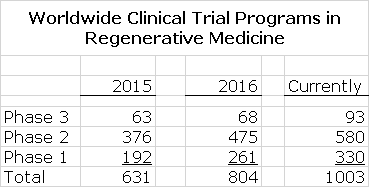 To my knowledge, Cryoport is the only company that is providing an integrated, end to end solution to cryogenic shipping of cells and tissues. This starts with the dewars (containers) that these specimens are shipped in which can maintain temperatures of minus 150 degrees centigrade for up to ten days. As important is the ability to monitor and document chain of condition, chain of custody and chain of identity. This integrated solution is a powerful barriers to competition, but there will always be competition.
One source of potential competition to Cryoport is companies developing their own in-house solution. However, it is important to note that the first meaningful commercial products are CAR-T therapies for oncology and the three leading CAR-T companies are Novartis, Gilead (through acquiring Kite) and Celgene (through acquiring Juno). Each of these companies has enormous resources, but have chosen Cryoport for their cryogenics shipping solution. This is extremely encouraging validation of the uniqueness and value of the Cryoport solution.
From the time I first started covering Cryoport in early 2017, the number of clinical trials supported has more than doubled and in 2018, the first two commercial products were introduced; Novartis' Kymriah and Gilead's Yescarta. This is shown in the following table. This table also shows strong sequential growth for 3Q, 2018 over 2Q.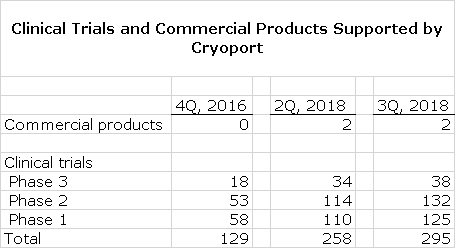 The economics for Cryoport increases substantially as products advance from phase 1 to 2 to 3 and then commercialization. Cryoport estimates annual revenue potential as follows;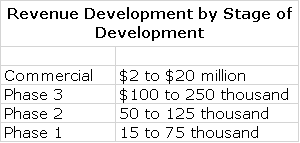 At this point, Cryoport supports:
38 (41%) of the 93 regenerative medicine clinical trials in phase 3
132 (23%) of 580 in phase 2
125 (38%) of 330 in phase 1
These are pretty impressive numbers, but you are probably asking if Cryoport has such a superior offering, why isn't the penetration even higher. I think that there are a number of reasons for this:
Prior to Cryoport cryogenic shipping was done and still is with dry ice. This has numerous drawbacks relative to the liquid nitrogen dry vapor solution of Cryoport, but it is still viable.
Cryoport is a very young and still small company that some trial sponsors may not yet be familiar or comfortable with as their trials began.
Many phase 1 trials and some phase 2 trial might be conducted at one, two or a few centers that prepare cells and tissue on site.
Companies have begun phase 2 or 3 trials using dry ice and don't want to change shipments logistics in the middle of a potentially registrational trial; these could switch at a later date.
Some companies mat still opt for an in-house solution. However, if the leading companies in the space-Novartis, Gilead and Celgene- have chosen to go with Cryoport, it seems that this will validate the Cryoport solution for other companies. Why re-invent the wheel? My guess is that Cryoport will meaningfully increase the percentage of clinical trials supported.
Slow and Steady for Kymriah and Yescarta in First Year of Launch; Huge Growth Potential in the Future
As I mentioned earlier, an inflection point has been reached in which the first two products supported by Cryoport have gone commercial. Investors are looking closely at Yescarta and Kymriah to gauge their success and the resulting economics for Cryoport.  Over the longer term these two products will be just two pieces in a huge mosaic of products supported by Cryoport, but for now they account for all commercial sales and are closely scrutinized. So let's look at the current driving forces behind these two drugs.
The initial indications for Yescarta and Kymriah are for the hematological cancers; diffuse large B-cell Lymphoma (DLBCL), primary mediastinal large B-cell lymphoma (PMBCL), transformed follicular lymphoma (tFL) and pediatric acute lymphocytic leukemia (ALL). In each of these cancers, the initial approval is for very advanced cancers that have relapsed after standard of care (SOC) in second line or later stage therapy or are refractory to SOC. This is referred to as relapsed/ refractory (r/r). The following table includes my estimates for the size of the patient population and revenue potential for currently approved indications. The European potential in terms of patient population is similar to the US as is sales potential.

These markets with addressable patient populations of 5,500 and 650 are small in patient terms but the significant price tag per patient (estimated $325,000 net) makes for a $2 billion addressable market in the US. There is comparable $2 billion potential in Europe and then some more in the rest of the world. Before I show you the sales progress to date of Kymriah and Yescarta and a projection for 2019, keep the following points in mind:
Yescarta was approved and marketed in the US in 2018 for the estimated 5,500 patients with r/r DLBCL. r/r PMBCL and tFL. All of its sales to date have been in the US. There have been no sales in Europe nor in the US for pedantic r/r ALL indication
Yescarta was just approved in 3Q, 2018 for r/r DLBCL, r/r PMBCL and tFL in Europe. It is not approved for r/r pediatric ALL.
Kymriah was approved and marketed in the US in 2018 for pediatric r/r ALL and all of its sales are from this indication. Note that the addressable market for r/r ALL is about 650 patients or 10% of the market for r/r DLBCL, r/r PMBCL and tFL which accounts for the lesser sales of Kymriah versus Yescarta.
Kymriah was recently approved for r/r DLBCL in the US and Europe and for r/r ALL in Europe.
In listening to the conference calls of Novartis and Gilead, both companies describe the launches in the US as slow and steady. They are not in any way discouraged as they continue to invest heavily in the products. In the context of almost every launch being slow, this is not in any way disturbing. There is the necessity to train centers to use CAR-T and the complexity involved in reimbursement. Only a small number of the centers who will eventually use CAR-T now account for most of sales.
According to my calculations, Yescarta has treated 183 patients in the first nine months of 2018 which is a tiny 3% of the 5,500 addressable patient population for r/r DLBCL, r/r PMBCL and tFL in the US. Kymriah has treated roughly 48 pediatric r/r ALL patients which is 7% of the 650 patient addressable market in the US. There is a lot of opportunity for further growth in approved indications.
Yescarta and Kymriah are involved in late stage clinical trials for a number of other hematological cancers. In addition, they are being studied in earlier stages of cancers for which they are already indicated in relapsed/ refractory stages. Depending on the data, this could lead to a significant increase in the size of the addressable patient population.
The following table shows how Kymriah and Yescarta have performed in the first three quarters of their 2018 launches. Alongside these results I include revenues that Cryoport derives from supporting these drugs, which I will discuss shortly. I think that in considering the bullet points I just listed above that Kymriah and Yescarta over the next five years, are likely to have sales substantially in excess of $1 billion products. In 2018 and 2019, I am guesstimating sales of Kymriah as $73 and $245 million and Yescarta as $273 and $545 million, respectively. I think there will be very substantial growth in 2020 and beyond.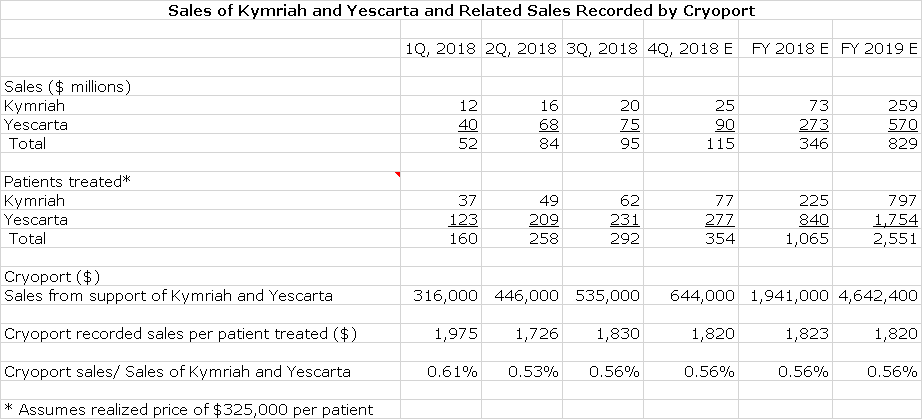 What Kymriah and Yescarta Sales Mean to Cryoport
As I showed in an earlier table, Cryoport has given guidance on what range of annual sales it might achieve from phase 1, 2 and 3 clinical trials and for commercialized products. It has not given guidance on how sales of Kymriah and Yescarta correspond to revenues recorded by Cryoport. The above table shows that Cryoport sales as a percent of combined Kymriah and Yescarta revenues was 0.61% in 1Q, 2018, 0.53% in 2Q and 0.56% in 3Q. I estimate corresponding figures for each patient treated was $1,975, $1,726 and $1,830.
I am estimating that future commercial sales for Cryoport will be 0.56% of combined Kymriah and Yescarta. If this is correct and my 2019 sales estimates for Kymriah and Yescarta are correct, this will lead to $1.9 million of sales in 2018 and $4.4 million in 2019. Using the same thought process, each $1 billion of sales translates into $5.6 million of sales for Cryoport. I am pretty confident that Kymriah and Yescarta will far surpass $1 billion. It is interesting that Celgene has issued guidance that both of its drugs in late stage development, its CAR-T competitor to Kymriah and Yescarta and the new CAR-T drug targeted at BCMA, will each achieve $2 billion of sales by 2030. If so, corresponding revenues for Cryoport would be $22.4 million. Please bear in mind that these revenues are extremely sticky and dependably recurring.
Sales and Earnings Model for Cryoport
The following table shows my projections for sales of Cryoport. The Company breaks down sales into three major categories: biopharma, reproductive medicine and animal health as further breaks down biopharma revenues by commercial and clinical trials. I have generally followed this format in projecting sales through 2020. You should view these numbers as indicating trend and direction. For revenues derived from commercial sales of Kymriah and Yescarta. For revenues from supporting clinical trials, reproductive health and animal health, it is impossible to build up a project by project sales trend. I am largely extrapolating past trends with the precept that as sales base increases, it may be harder to maintain growth rates. The final point I would make is that my 2019 and 2020 models contain no estimates for new commercial products not for new indications for Kymriah and Yescarta. I would be extremely surprised if this is the case, but it is an effort to remain conservative.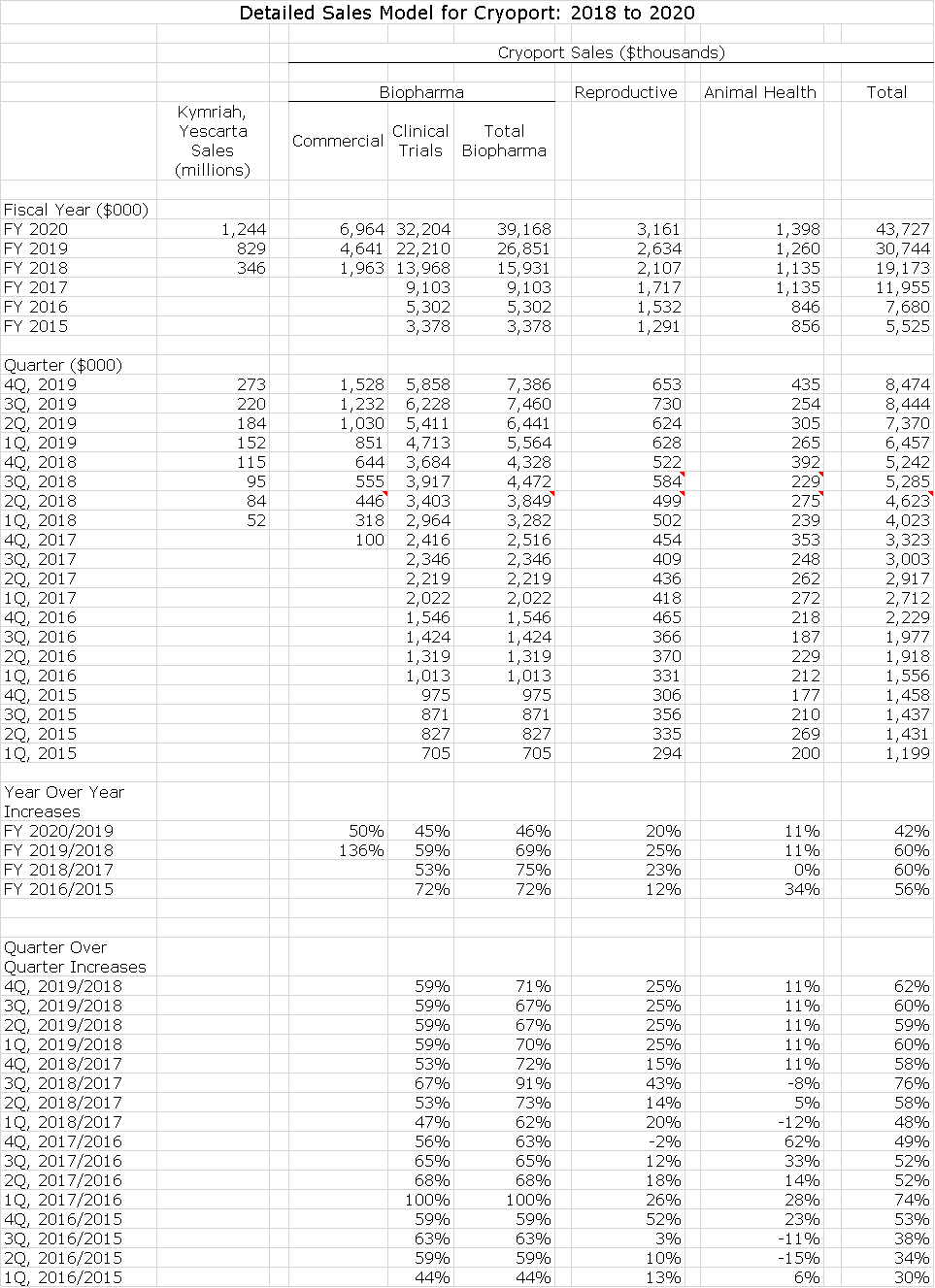 Sales and Earnings Model
In the following sales and earnings model, the most critical component is the sales estimates. The company incurred meaningful expenses in adding two distribution centers in 2018, which depressed the gross margin. I look for an improving gross margin in 2019 and the Company has a long term goal of reaching 60%. Operating expenses involve some guesswork. Significant investments were made in 2018 in personnel and going forward, I would expect them to grow at a meaningfully slower rate than sales, but precise estimates are not possible.
In this model, I want to call your attention to the table that calculates EBITDA.  In 2019, I calculate that the operating loss will be $6.6 million, but that EBITDA will be a positive $320,000. The Company has tried to extend stock option grants to a broad range of employees and so that I estimate that the stock compensation expense will be $6.0 million. This is a non-cash item, but it does impact the number of shares that will ultimately be issued. As of the 3Q 10-Q, there were 28.7 million shares outstanding plus yet to be exercised 5.8 million stock options and 2.1 million warrants. If and when these are exercised the share count would increase from 28.7 million to 36.6 million, a 28% increase.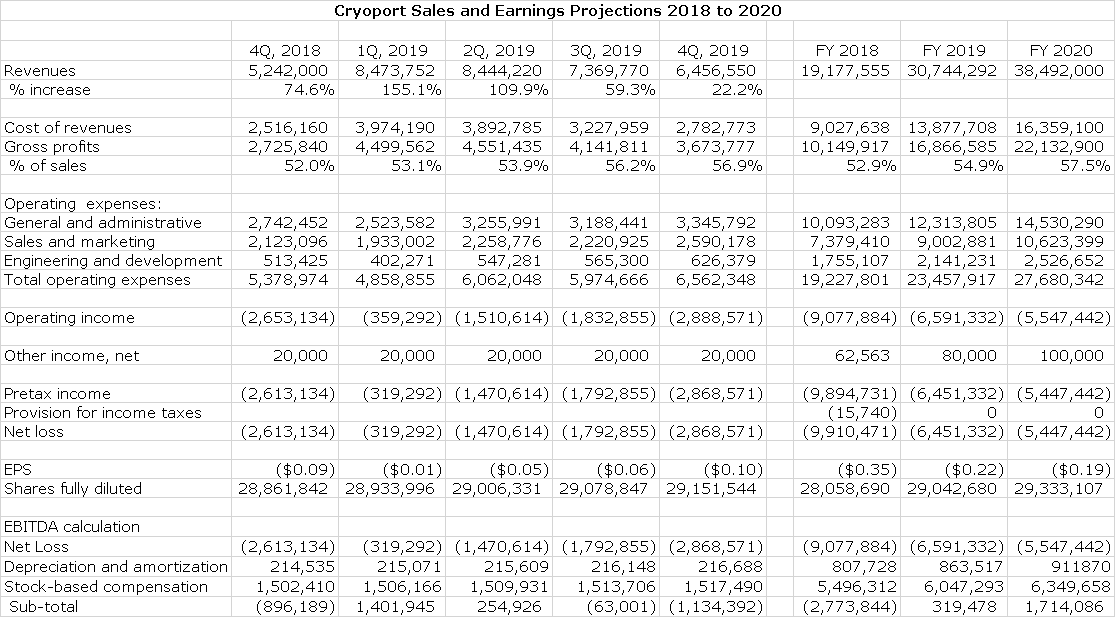 Tagged as Cryoport, CYRX + Categorized as Company Reports, LinkedIn