Cryoport (CYRX, Buy, $72.30) Kymriah Sales are Strong and Equity Offering Was Well Received
Kymriah Sales Were Strong in 4Q, 2020
Novartis just reported 4Q, 2020  worldwide sales for Kymriah of $141 million. This was an increase of 47% from 4Q, 2019 and a sequential increase of 16% from 3Q, 2020. Novartis commented that sales grew strongly in Europe, US and Japan and that coverage continued to expand, with more than 290 qualified treatment centers and 27 countries having coverage for at least one indication.
Two CAR-T products, Novartis's Kymriah and Gilead's Yescarta currently account for most of Cryoport's commercial sales. In 3Q, 2020, support of commercial biopharma products were $2.4 million and support of clinical trials were $6.0 million resulting in total sales from support of biopharma products of $8.4 million. It is important to understand that Kymriah and Yescarta are just the first two therapies based on living cells to be approved. There will be a tsunami of other cell based therapies that will come to market over the coming decades. Market research cited by Cryoport projects that there could be somewhere between 56 and 129 unique new cell based therapies approved by 2027; I expect that Cryoport will support most of them. In the near term, Cryoport said that its clients filed 7 MAAs/BLAs in 2020 and estimates they will file 23 more in 2021. An MAA/BLA can be a regulatory submission for a new product or a new indication for an existing product. Cryoport is poised for explosive growth.
I was concerned that sequential sales growth for Kymriah in 3Q, 2020 was only $4 million or 4%. Novartis really didn't give much clarity on Kymriah sales as this is still a small product for them. Some analysts speculated that the onerous side effects and high price of Kymriah was causing sales to flatten and that COVID might have had an effect. This uncertainty led me to  cautiously estimate 4Q, 2020 sales of $125 million. I was pleasantly surprised by actual sales of $141 million and I think that Kymriah is now on a strong growth track. Reimbursement issues have been made more clear and doctors are better able to handle side effects. Novartis has also had some manufacturing issues to deal with and their resolution may be contributing to the sales acceleration in 4Q, 2020.
Looking ahead, Kymriah appears to have a strong wind at its back in its initial indications. In addition, broadening indications into other hematological tumors and potentially moving forward from relapsed refractory to second line cancer patients should dramatically expand the patient addressable market. The following table shows my sales estimates for 2021 to 2024. Beginning in 2023 or perhaps 2022 we should see a number of both autologous and allogeneic CAR-T products come to the market targeting the same indications as Kymriah. It is possible that beginning in 2023 they could meaningfully slow the sales growth of Kymriah below what I am showing below; this is almost impossible to model. However, this is not a negative for Cryoport as it is likely to support all or almost all of these new products and they should expand the market to the benefit of Cryoport. Here are my new sales estimates for Kymriah.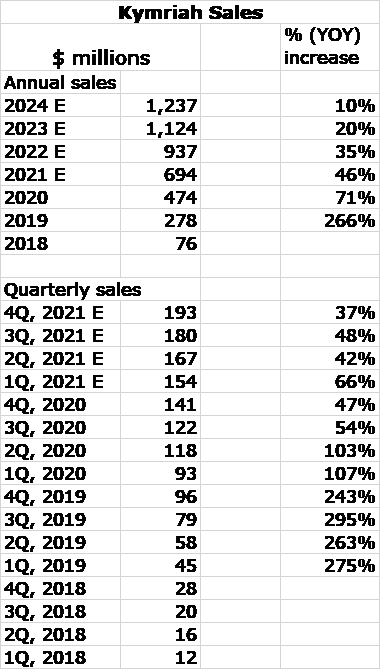 Equity Offering for Cryoport Was Well Recieved
The equity offering for Cryoport was well received. Gross proceeds from the offering were about $287 million and net proceed were about $270 million.  However, I understand that the order book was $900 million. A major benefit from this offering aside from the money added to the balance sheet is the substantial broadening of exposure to the institutional market. New underwriters- Morgan Stanley, Jefferies, SVB Leerink and UBS Securities were able to do introduce Cryoport to a much broader range of clients in the US and abroad. Also, these underwriters will add four new analysts covering the company.
Tagged as Cryoport + Categorized as Company Reports, LinkedIn