Cryoport (CYRX, $23.71, Buy) : Great Potential for Substantial increases in Commercial Sales in the 2020 to 2024 Timeframe
Recent Price Strength and Investment View
The long term fundamentals of Cryoport are so strong that I anticipate I will be recommending the stock consistently for the next several years. It is uniquely positioned to support the overwhelming majority of cell based therapies that require temperature controlled shipping, particularly cryogenic. It is positioned to benefit from a tsunami wave of commercial product introductions that is just beginning. The all-time high price for Cryoport was $24.53 on August 12, 2019. The low price during the Covid-19 market panic was $14.58 on March 23, 2020. It has since come back to approach its all-time high. I must admit that this price behavior surprised me although I am the first to emphasize that I seldom can or even try to call short term price movements. From a long term perspective, the current price level still doesn't capture the long term growth prospects in my opinion. Obviously, this doesn't mean that the stock might not retrace some of the recent upsurge.
Cryoport's strong recent price movement has been primarily driven by the rebound in the overall market that is led by companies whose fundamentals are perceived by investors to be relatively unaffected by the Covid-19 pandemic and resultant economic lockdown. Its fundamental outlook is tied to biotechnology companies who  have seen some effects from patient reluctance to visit doctors' offices and some trials being suspended (not cancelled), but by and large this has been judged to be temporary. Cryoport in lock step has seen some modest slowing that also has been judged to be temporary. Management also said that its entire global logistics network has not missed a beat, no shipments have been missed or delayed, and operations have continued to function seamlessly.
The very sharp rebound in biotechnology stocks (and Cryoport with them) may also be due to the favorable press coverage about their leading role in the effort to develop new therapies and vaccines to treat Covid-19. Biotechnology stocks have been the subject of attacks by critics on pricing and were often portrayed as profit hungry villains gouging the public. At least for the present, they have gone from villain to the great hope for defeating Covid-19. Image does affect the valuations of companies.
Growth Prospects
A picture says a thousand words so before any discussion of recent trends, the next table shows my sales forecast for Cryoport through 2024. It calls for 2024 sales to be 350% higher than 2019. You can see by looking at the table that commercial revenues are the principal driving force in these projections. It may cause you to do a double take, but I have tried to be conservative on estimates for commercial sales.
Right now, all commercial sales come from support of the two CAR-T products, Kymriah and Yescarta. Commercial sales can arise from either the approval of a new product or a new indication for an already approved product. (For example, these two products are approved for only two on many possible indications: r/r ALL and r/r DLBCL.) I have identified ten such approvals that I believe are likely to occur in 2020 or 1H, 2021. I have not completed an analysis of the sales prospects for five of these ten even though I anticipate they will make significant sales contributions. Therefore, I decided not to include any sales estimates for them in order to build some conservatism into my numbers. The biopharma industry and Cryoport with it is in the embryonic phase of launching new gene therapy and other cell based products. Also ignored in my projections is that, Cryoport is supporting 64 phase 3 trials, some meaningful percentage of which could lead to approvals in the 2021 to 2024 time frame. I would not be surprised to see five to ten approvals, maybe more, in the each of the years through 2024. This prospect is also not included in my sales projections.
If you are a seasoned investor you are probably saying whoa- aren't there some issues that give you concern? The answer is of course. CAR-T products currently constitute all of commercial sales and over the next few years, they will continue to be very important. The current CAR-T drugs are extremely effective in cancer patients who have failed all other therapies. From an efficacy standpoint, they are paradigm changing. However, these drugs come with meaningful drawbacks. They can cause serious, sometimes life threatening side effects in a  significant percentage of patients. They are autologous therapies that require removing T-cells from a patient, shipping them to a manufacturing site, inserting genetic material into the nuclei of cells, expanding the resulting cells in culture and then reshipping them to the facility treating the patient. This can be a two week process which can be a very long time for critically ill patients.
So, we have to weigh game changing efficacy against these drawbacks. There are a considerable number of CAR-T therapies in clinical trials that will improve on Kymriah and Yescarta. In particular, there are allogenic CAR-T products in development that use donor cells instead of the patient's cells which are off the shelf products. It is probable that Kymriah and Yescarta sales will be largely replaced by new CAR-T products in the next decade or less. Cryoport will likely be supporting all or most of these. It is not clear whether the support of allogeneic products will result in greater, lesser or the same revenue potential as autologous products.
Another issue to consider is the competing technology of bispecific antibodies. These are two armed  antibodies in which one arm targets an antigen and another the molecular complex on a T-cell. This more effectively allows the T-cell to engage with the cancer cell. There is a lot of research investigating bispecific in indications that are now targeted by CAR-T drugs. It is difficult to judge their relative therapeutic profile at this time, but they have the advantage of being off the shelf products. They do not require cryogenic shipping from Cryoport as do CAR-T products
So how will autologous T-cell, allogeneic T-cell and bispecific antibody drugs all shake out over the coming decade? No one knows for sure and many companies are developing products in all three categories. Based on historical experience, I would suggest that they are each important and will carve out niches. However, the key is that this market is going to be incredibly larger.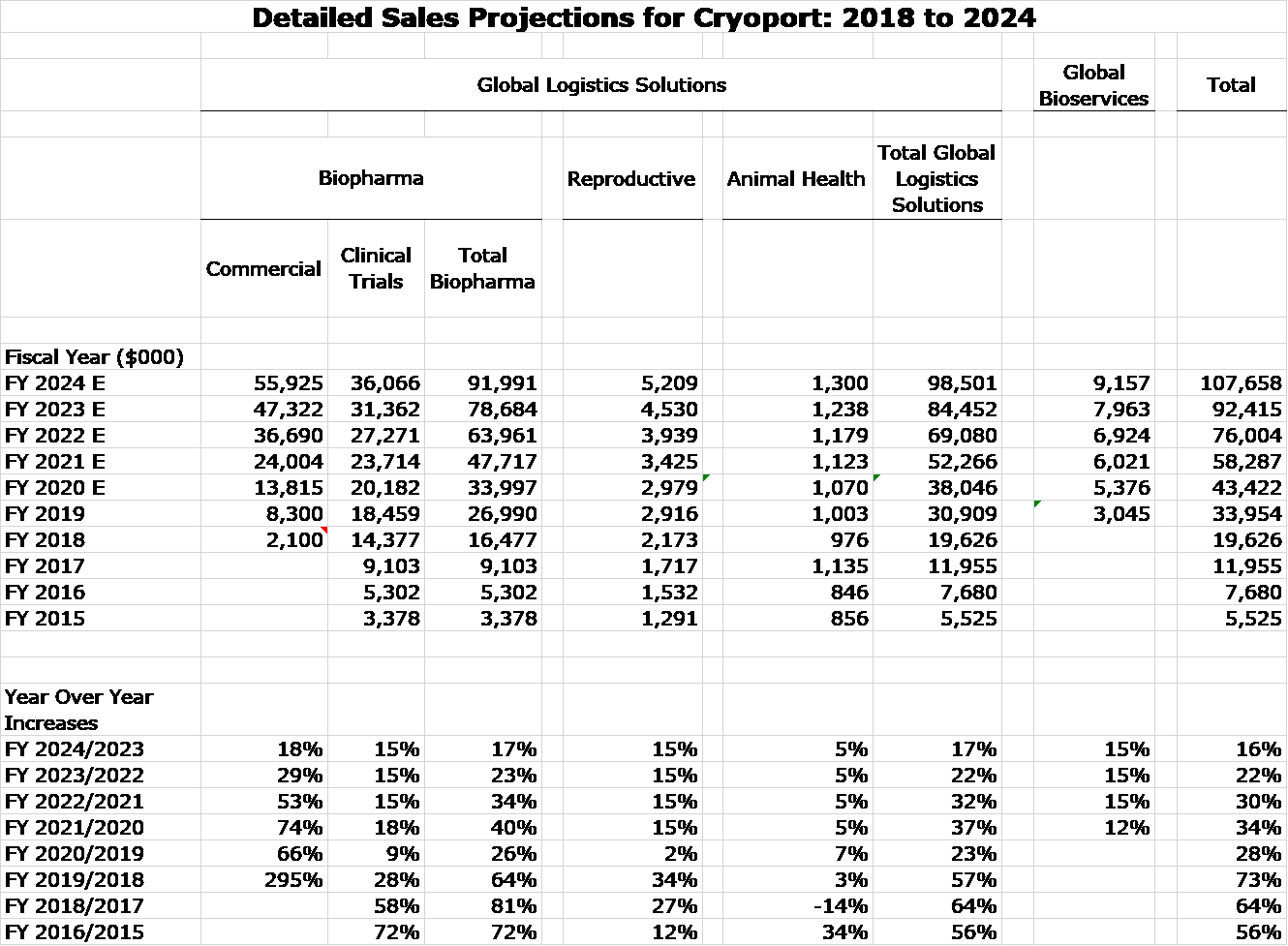 Support of Commercial Products Is Key to the Cryoport Story
In evaluating Cryoport, I am laser focused on commercial sales which generally have revenue potential that dwarf revenues from phase 3 clinical trials and are many magnitudes greater than phase 1/2. Commercial sales are currently in the embryonic stage as Cryoport only supports the two CAR-T drugs, Gilead's Yescarta and Novartis's Kymriah. They are each approved for the two narrow indications- r/r ALL and r/r DLBCL. In 2019, these products accounted for all of Cryoport's  commercial revenues of $8.3 million or 25% of total sales. These products were just introduced in late 2018 and are very early in their life cycles. Their current indications in r/r ALL and r/r DLBCL target patients who have failed almost all other treatment options which is a small component of the potential market that they may ultimately address.
Sales of Yescarta were $140 million in 1Q, 2020. This was a 46% year over year increase from $96 million in 1Q, 2019 and a sequential increase from $122 million in 4Q, 2019. Sales of Kymriah in 1Q, 2020 were $96 million, a 113% increase over $45 million in 1Q, 2019 with a sequential decline from $96 million in 4Q, 2019. Yescarta's sales of $140 million were below my estimate of $155 million and Kymriah's sales of $93 million were below my estimate of $107 million. I don't flatter myself that I do much more than make educated guesses in my sales forecasts. Given the very early stage of the launches and the reimbursement and logistical challenges, my overestimates don't concern me. Cryoport management indicated that Covid-19 didn't cause meaningful delays in commercial sales. Patients receiving treatment have exhausted their options and look to the CAR-T drugs as their last therapeutic hope and not postponable.
There is significant growth potential for Yescarta and Kymriah as over time as they are very likely to receive approval for use in other cancers and in earlier stages of ALL and DLBCL. In addition, reimbursement has been extremely complex and has been a high hurdle to overcome in the early stages of their launches. Under the current reimbursement system which is slow to react to new products, providers can lose more than $100,000 when administering CAR-T therapy to Medicare patients. A CMS proposal to include CAR-T drugs in DRGs is very likely to be enacted and would alleviate this bureaucratic inefficiency. I am not sure as to exactly when this will be implemented and it is still just a proposal, but approval seems probable. Net, net the addressable market for these drugs can expand several fold and reimbursement could become easier and routine.
Kymriah and Yescarta will be facing intense competition from numerous other companies that are developing CAR-T products, many of which may have superior product characteristics. In particular, there is intense research on allogeneic therapies which are essentially off the shelf products. Kymriah and Yescarta are autologous therapies that require removing T-cells from a patient, shipping them to a manufacturing site, infusing genetic material, expanding the resulting cells in a culture and then reshipping them to the facility treating the patient. This can be a two week process. Hence, the allogeneic therapies could over time replace much of the usage of autologous products. They would also meaningfully expand the addressable market.
CAR-T drugs are only the tip of the iceberg of cell based products that will require the services of Cryoport. There are many other gene therapy drugs under development that are targeted at other diseases. We could also see some very significant stem cell therapies that could address comparable or larger markets than the CAR-T drugs. Mesoblast is awaiting approval of Ryoncil, a new product based on mesenchymal stem cells that is effectively the first stem cell therapy to gain FDA approval since hematopoietic stem cells were approved 50 years ago. The FDA has designated Ryoncil as a breakthrough therapy and has established a PDUFA date of September 30, 2020. This product addresses pediatric graft versus host disease. Estimates place the addressable market in the US  as 6,500 patients which is larger than the current addressable market for Kymriah and Yescarta in r/r DLBCL which accounts for most of their sales.
I am aware of several potential approvals for Cryoport clients which will lead to Cryoport revenues:
Mesoblast's Ryoncil has been designated by FDA as a breakthrough therapy for pediatric graft versus host disease. I anticipate approval on its PDUFA date of September 30, 2020. The market as defined by eligible patients is comparable to r/r DLBCL, but the price is likely to be much less. I am unsure as to how this will translate into commercial sales. Right now, Cryoport records commercial sales that amount to about 1.245% of sales of Kymriah and Yescarta. Pricing of its services is based on the number of shipments so that commercial sales as a percentage of Ryoncil sales are likely to be much higher. My guess is that Ryoncil could account for commercial sales to Cryoport that are comparable to US sales of Kymriah and Yescarta.
Bristol-Myers Squibb's CAR-T product liso pro has a PDUFA date of November 6, 2020 for r/r ALL and r/r DLBCL. This product initially targets the same indications as Kymriah and Yescarta. The increased marketing presence should expand the market and if BMY is correct in claiming that liso pro has meaningfully fewer and less severe side effects than Kymriah and Yescarta, the market could be expanded even more.
Gilead's Yescarta has a PDUFA date of August 10, 2020 for a new cancer indication-relapsed/ refractory mantle cell lymphoma. The addressable market as a guess may be comparable to r/r DLBCL which currently accounts for the major part of Yescarta sales
BMY filed ide-cell (aka bb 2121) for relapsed/ refractory multiple myeloma in March 2020. Results in the trial that is the basis of the BLA were quite impressive and I think the probability of approval is very high. It probably has sales potential in this indication comparable to Kymriah and Yescarta for r/r ALL and r/r DLBCL. Upon preliminary review, the FDA determined that the Chemistry, Manufacturing and Control (CMC) module of the BLA requires further detail to complete the review. No additional clinical or non-clinical data have been requested or are required. Bristol Myers Squibb is planning to resubmit the BLA no later than the end of July 2020 so the PDUFA date might be 1Q or 2Q, 2021.
Bluebird's Zynteglo has been approved in Europe and will be introduced in 2H, 2020. I view sales potential as minimal.
Iovance is expected to file a BLA for its tumor infiltrating lymphocyte drug lifileucel for the treatment of melanoma. I don't have any estimate for the PDUFA nor the sales potential at this time but approval in 2021 seems possible.
Iovance is expected to file a BLA for its tumor infiltrating lymphocyte drug LN-145 for cervical cancer. I don't have any estimate for the PDUFA nor the sales potential at this time but approval in 2021 seems possible.
Gamida Cell just announced very positive phase 3 results for omidubicel, for use as an allogeneic hematopoietic stem cell (bone marrow) transplant. The FDA has labeled it as a breakthrough drug. I don't have any estimate for the PDUFA nor the sales potential at this time but approval in 2021 seems possible.
Poseida Therapeutics is expected to file a BLA for P-BCMA-101, a CAR-T product for relapsed/ refractory multiple myeloma. This addresses the same market as BMY's ide cel/ bb 2121. Approval in 2021 seems possible. There are a number of comparable CAR-T products in development that target BMCA and it is not feasible at this point to judge which will be the best. From Cryoport's standpoint, it doesn't matter because I think that it will support each.
Orchard Therapeutics has had some CMC (manufacturing) issues with its BLA filing for its gene therapy product OTL-100 which treats metachromatic leukodystrophy (MLD), a rare life-threatening inherited disease affecting the metabolic system. Approval in 2021 seems possible. Because of the small number of patients being addressed, sales potential for Cryoport is probably small.
Cryoport is supporting 64 phase 3 trials. Each has the potential to be a meaningful new revenue for Cryoport in the next two to four years although some will certainly fail.
In the following table, I have attempted to project sales for Kymriah and Yescarta as well as Ryoncil, liso cel, bb 2121 and Zynteglo for 2020 through 2024. At this point I am not making any estimates for the products of Iovance, Gamida Cell, Poseida and Orchard Therapeutics. This is because I haven't done any work to estimate potential sales and I want to be conservative. I also would expect a large number of other new product approvals in the 2021 to 2024 timeframe, maybe 10, maybe 20. Who knows?
In the right hand column, I estimate how much these products will contribute to Cryoport's sales. You can see that I am projecting that 2024 commercial sales of Cryoport at almost seven times the level of 2019 and this is ignoring a number of probable new product approvals and new indications for existing products. I urge you to take these estimates as an attempt to gauge magnitude and trend and not to view them as precise or engraved in stone. In biotechnology, it has been my experience that anything can go wrong and usually does.

Clinical Trial Revenues
Clinical trial revenues were the major driver of revenues until the approvals of Kymriah and Yescarta in late 2018 gave rise to commercial revenues. In 2019. clinical trial revenues were 53% of total revenues. By 2024, I expect it to be around 33%.
You may recall that there was concern that in 4Q, 2019, because the year over year increase in revenues from clinical trials was 5% which was meaningfully below the increases of 24%, 49% and 43% in 3Q, 2Q and 1Q, 2019.  Management attributed the 4Q shortfall to trial failures for two high volume trials in which endpoints were not met and several clinical trial pauses during the fourth quarter as companies either completed their clinical trial programs and prepared to file for BLAs/ MAAs or advanced from one phase to another (say phase 2 to phase 3).
In 1Q, 2020, the year over year increase in clinical trial revenues was about 9%. This was a better sequential rate of sales than the 5% of 4Q, 2019. This was seen as positive as Covid-19 did impact sales. Management said that 59 trials were suspended in the quarter, but is not aware that any were permanently closed. If so, there could be some catchup later in the year. Management said that they added 17 new biopharma clients in the quarter. The number of clinical trials supported was 465 which compares to 436 in 4Q, 2019 and 383 in 1Q, 2019. The number of phase 3 trials supported was 64 in 1Q, 2020 versus 56 in 4Q, 2019 and 49 in 1Q, 2019.
Tagged as CAR-T drugs, Cryoport + Categorized as Company Reports, LinkedIn