Antares: Sales Growth Guidance for 2019 is Extremely Bullish (ATRS, $3.60, Buy)
Antares just reported 4Q, 2018 sales and earnings. I will do a more detailed analysis of the Company sometime after the release of the 10-K in mid-March. However, I wanted to make a brief comment about the guidance that the Company provided for 2019 sales growth. Antares now has two wholly owned products marketed with Xyosted and Otrexup and three other products marketed by others in which it receives revenues from injector sales and royalties; these are AB rated generics of sumatriptan and EpiPen and also subcu Makena.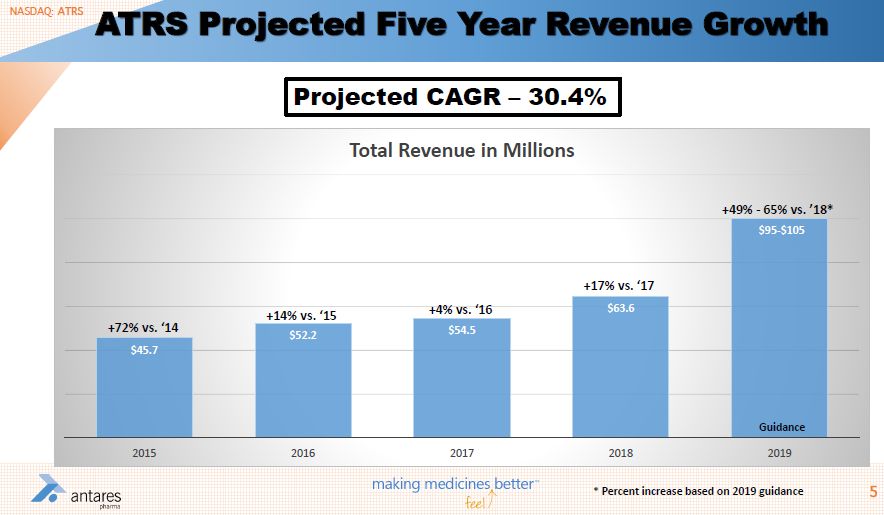 As shown in the above table, Antares is projecting revenues of $95 to $105 million in 2019 which would represent a 49% to 65% increase over 2018 revenues. It did not break out revenues attributable to each of the marketed products and it did not offer any guidance on net income.Antares is obviously anticipating extremely impressive revenue growth for 2019 but what about 2020? I think that the rate of growth in revenues should continue to be as impressive. Here is why.
Teva will begin a full blown launch of the AB rated generic to EpiPen in 2H, 2019 so that 2020 will see a full year of results versus only a half year for 2019. Teva has said publicly that its goal is to capture 50% of the unit market for EpiPen. Because the Teva product is the only approved AB generic to EpiPen there may not be sharp price discounting needed to gain this share. Sales in 2020 should be more than twice as much as 2019.
Eli Lilly has said that it expects generic competition to Forteo in 2H, 2019 and during the conference call Antares indicated that Teva is expecting a global launch of its AB generic to Forteo in 2H, 2019. Forteo has worldwide sales of $1.7 billion divided roughly 50/50 between the US and foreign. As with EpiPen, the Teva product will be the only AB rated generic to Forteo. This promises to be a bigger economic opportunity for Antares than the AB rated generic to EpiPen. Sales achieved in 2020 should be several magnitudes greater than 2019.
Xyosted is just in the very early phases of its launch in which it is introducing the product to the medical community and going through the reimbursement process. Encouragingly, Antares says that it has a goal to have access to 75% of managed care covered lives by the end of 2019. Also the injectable segment of the testosterone replacement market grew at 12% in 2018 do market growth remains robust. I would expect a very strong sales increase in 2020 over 2019.
The investment story for Antares is coming together now in the way that I have been hoping and expecting for the last few years. The Company is well on its way to becoming a highly successful, rapidly growing specialty pharmaceutical company. One thing to keep an eye on is the cash position as Antares ended the year with $28 million of cash. There will be continued heavy investment spending on Xyosted so that it will likely be a significant draw on cash. Important offsets to this will be injectable sales and royalties from the AB rated generics to Epi Pen and Forteo and Makena subcu. The Company might decide to raise more cash over and above what it can raise from its ATM; it raised $7.5 million through the ATM in 4Q, 2018. If Antares does do an offering, it could create a temporary downward blip in the stock. On the other hand the story is now so strong that raising significant money to really maximize the Xyosted launch could be very positively received by the market. I obviously remain a buyer of the stock.
Tagged as Antares Pharma Inc. + Categorized as Company Reports, LinkedIn