Antares Pharmaceuticals: Highlights on Makena from AMAG Pharmaceuticals Analyst Day (ATRS, $1.14, Buy)
Report Overview
Antares and AMAG Pharmaceuticals are jointly developing a new subcutaneous formulation of AMAG's key drug Makena which is currently administered as a deep and painful intra-muscular injection. I recently did a detailed report on the medical profile of Makena and concluded that most (all) of Makena's sales- estimated at $310 to $340 million in 2016 and growing strongly- may potentially be switched to this new sub-cutaneous formulation because of its medical advantages. Makena IM currently has orphan drug exclusivity that expires in February 2018 so that thereafter it could face generic competition. The subcutaneous formulation will be protected by Antares' patents on the injector that expire in 2026. Also, the new formulation potentially could receive orphan drug exclusivity that would provide seven years of marketing exclusivity. Makena is the primary driver of AMAG's business and the subcutaneous formulation of Makena could provide strong protection from direct competition for the period through 2025 or 2026. It also could be the biggest single product contributor to Antares's profits in the next five years.
I would urge you to read my report Antares: Makena Has the Potential to Make a Very Significant Contribution to EPS  before reading this note in order to put the comments in this report in better perspective.
Investment Thesis
Antares remains a key recommendation based on its broad pipeline; see my report Antares: An Outstanding Product Pipeline Promises Dramatic Growth Through 2022 I am also interested in AMAG and am doing ongoing research. I will likely pick up coverage, but I may or may not recommend the stock at that time.
These interests led me to attend AMAG's analyst day on June 1 and this note reports on some of the key comments made at that meeting in regard to Makena. These points are all supportive of my prior, positive view on the potential of sub-cutaneous Makena.
Key Points on Makena from AMAG Pharmaceuticals Analyst Day
AMAG is aiming to gain approval of the sub-cutaneous formulation prior to the loss of orphan drug exclusivity on IM Makena in February 2018. Achieving this timeline depends on: (1) things going smoothly as they complete the studies that support the 505 (b) 2 regulatory application and then (2) receiving a prompt review from the FDA. Investors know all too well that there is room for slippage that could delay approval beyond February 2018. There is a reasonable scenario in which no generic is approved at the time (see my report on Makena previously cited), but what happens if a generic comes to market in February 2018? AMAG management stated that they had looked at past cases to judge the erosion in sales that results from generic completion for injectable drugs for which sales erosion is less dramatic than for oral drugs. They believe that faced with a delay in approval of the sub-cutaneous injector and the beginning of generic competition in early 2018 that that Makena sales could decline by around 30% for the period ending February 2019 as a worst case. They believe the approval of the subcutaneous formulation is likely substantially before then, even in a bad case scenario. Here is a slide presented by AMAG that show how the Company thinks Makena sales might trend under these two circumstances.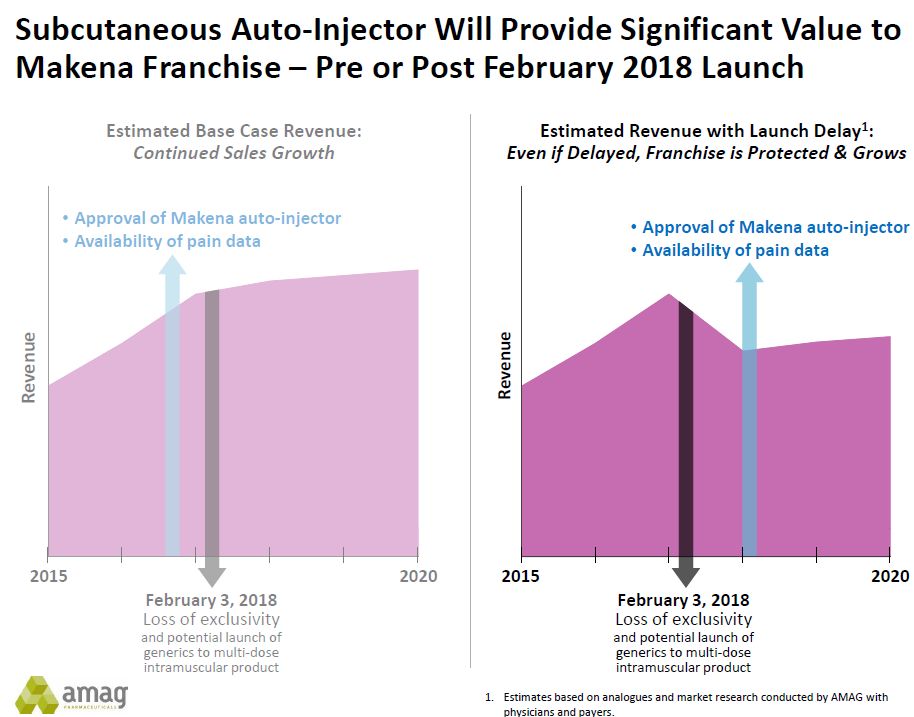 Investors have come to realize that in the first year of marketing most (almost all) new products realize minimal sales relative to ultimate commercial potential of that drug. We are currently seeing this with Novartis' Entresto for congestive heart failure and Relypsa's Veltassa, both of which have great potential to reduce mortality relative to current standards of care. However, managed care does not like to see a rapid sales takeoff for a new product, if it hasn't been budgeted this into their premium structures. Hence they put up all kinds of barriers and move very slowly on granting formulary access. The sub-cutaneous formulation of Makena does not have this issue according to a managed care expert who spoke at the meeting. She said that as long as the product is priced at the same price as the intramuscular formulation of Makena that it can immediately be placed on formulary. This important aspect could allow for very rapid replacement of the IM formulation with the sub-cutaneous.
The key advantage of the subcutaneous formulation is the reduction in pain on injection. The current formulation of Makena requires weekly injections in the buttocks of pregnant women for 13 weeks or more with a large gauge needle and is quite painful. The subcutaneous injection uses a much smaller gauge needle and is virtually painless. Orphan drug exclusivity requires that a drug being considered must confer an important medical advantage. The FDA has indicated that less pain on injection of the subcutaneous formulation might be the basis for orphan drug exclusivity, but it has not guaranteed this.
One expert physician on a panel was asked if he would use the recently approved generic to Delalutin in place of Makena. (See my Makena report for more detail). He said that even though this generic has the same active ingredient- hydroxyprogesterone caproate- as Makena that the approval of Delalutin was for a different indication and in non-pregnant women. He thought that this would be a deterrent to managed care placing it on formulary and implementing measures that might force physicians to use this generic prior to Makena. This would be an off-label use even though the active ingredient is the same. Considering that Makena is being used in a universe of fragile, pregnant women, there is just too much legal risk to forcing such a substitution. Any decision to use the generic to Delalutin instead of Makena would be the purview of physicians and again he thought the risk was so substantial as to deter physicians from taking this course. He thought that if the generic does gain usage that it will be as an alternative to compounded formulations of hydroxyprogesterone caproate.
The current intra-muscular formulation of Makena requires a weekly visit to the doctor because of the difficulty involved in giving the injection necessitates an experienced health care professional to administer it. The subcutaneous injection could be self-administered by the patient in their home. The expert physician on the panel thought that most physicians would still want to see the patient at frequent (although perhaps not weekly) intervals. Another factor is that in-home administration would require a co-pay from the patient for Makena and there is no co-pay if Makena is administered by a physician in their office.
AMAG potentially has substantial milestone payments for Makena. It is obligated to pay a $100 million milestone to Lumara Health when Makena sales reach $300 million, which should happen this year. It is then obligated to pay another $100 million milestone when sales reach $400 million and another $100 million when sales reach $500 million. The payments must be separated by one year. There is then another $50 million of milestone payments beyond this $300 million.
AMAG is guiding to Makena sales of $310 to $340 million in 2016, up from $252 million in 2015.
Tagged as Antares Pharma Inc., ATRS, subcutaneous formulation of Makena + Categorized as Company Reports, LinkedIn