Antares Pharma: The Xyosted Launch Looks Like it will Meet or Beat Wall Street Expectations for 2019 (ATRS, Buy, $2.90)
Investment Thesis
The cornerstone of my positive investment thesis for Antares is Xyosted, which was fully launched in January 2019. While it is very early, I believe that the prescription trends seen over the last four plus months strongly indicate that the launch will be a success. Xyosted is Antares' second wholly owned and marketed product; the first product Otrexup, was a disappointment. If Xyosted is ultimately successful as I am now predicting, it will establish Antares as a fully integrated pharma company with a strong sales infrastructure that can be used as a base to launch more products through internal development and acquisition. Wholly owned and marketed products, assuming they are successful, are much more profitable than licensing to another company. It takes Antares to a whole new operational level.
In this report, I explain the methodology, I used to build a sales model for Xyosted. This model projects FY 2019 sales of $16.5 million which is almost exactly the same as Wall Street consensus. However, I have tried to be conservative on my estimates for prescription trends and net pricing so there may be upside to my numbers. A number of analysts who closely follow Antares are projecting peak sales of $200 million. This would represent about 10% of the US testosterone supplementation market whether measured on a sales or prescription basis. Given the strong points of differentiation for Xyosted such as superior pharmacokinetics, ease of injection and virtually no pain on injection, this seems highly achievable.
So what is management saying? They are not giving any guidance yet on 2019 sales, which is to be expected, but here is what CEO Bob Apple said on the 1Q, 2019 conference call.
"The initial feedback from physicians and patients has been very positive and we believe Xyosted will be the significant growth driver we expected based on the positive product attributes. So the message of steady state (PK), painless (on injection), all those positive attributes of the product are absolutely resonating with the physicians and the patients. We're getting a lot of e-mails from physicians, physician's assistants and patients saying that the experience with Xyosted has been extremely positive. So on that part I would say that we really don't have to alter our message much."
During a recent presentation at the B. Riley FBR health care conference, CFO Fred Powell said that Xyosted is off to a strong start and is exceeding their expectations.  However, he did not say what those expectations were.
This report is totally focused on Xyosted. It summarizes comments made during the 1Q, 2019 conference call and at the recent B. Riley FBR health care conference. These were important in building my 2019 sales model for Xyosted. I am working on another report that should follow on the heels of this one which will build a sales and earnings model for the Company as a whole. This looks to be a very good year for Antares as first quarter sales increased 83% to $23.3 million. Full year sales guidance is for sales of $95 to $105 million which would be a 50% to 65% increase over 2018.
How is the Xyosted Launch Going?
The first quarter conference call of Antares provided some encouraging information on the Xyosted launch. Biotech analysts approach new product launches with trepidation as most prove to be disappointing. This is due to reimbursement hurdles that grow more challenging every year and also slow adoption by physicians. The latter is caused in part by doctors not wanting to get caught up in reimbursement hassles that disrupt their office. Physicians often wait until reimbursement procedures are firmly in place before committing to a new product. They also may take a more conservative wait and see approach because of concerns that clinical trials used to gain approval may be too small to truly establish the benefits and risks of a new drug. Many physicians await broader experience in real life before incorporating a drug into their practice.
These hurdles can be even more difficult for a small and unknown company like Antares to confront. However, physician concern about what they know and don't know about Xyosted is diminished because the clinical use of testosterone supplementation is well known. They understand that the efficacy and safety profile of these products is all about the pharmacokinetic profile which is the major point of positive differentiation for Xyosted. This suggests that the major hurdle that Xyosted has to confront is gaining reimbursement. The injectable testosterone market is dominated by generic products, but Xyosted is priced competitively to them and rebates and discounts with Xyosted are comparable to generics. This may make the reimbursement hurdle less steep.
Building a Sales Model for Xyosted in 2019
Management's public statements are quite encouraging and the prescription trends seem to be building very nicely. It is still early in the launch phase, but it looks like the launch will be successful. It is difficult to predict prescription trends and net price being realized this early in a launch as there is so much going on. However, the objective of this report is to present a plausible model for projecting 2019 sales. Here are the assumptions I am using.
New Prescriptions Trends:
New prescription trends have been very volatile. For example, in the week ending 4/26/2019 there were 90 more new prescriptions written than in the prior week. However, for the week ended 4/19/2019 there was a sequential drop of 66.
If you look at the average weekly sequential increase in new prescriptions for the period beginning 2/1/2019 and ending 5/17/2019, the average sequential increase for each week was 21 NRx.
My best guess is that the sequential weekly increase will increase steadily as the year progresses. In my model, I hope I have taken a conservative approach as I have assumed a constant sequential increase of 18 for each week over the period ending 12/27/2019.
Refilled Prescription Trends:
Refilled prescription trends have been somewhat less volatile. Only for the week ended 3/22/2019 was there a sequential decline of 12. All other weeks showed increases.
The average weekly sequential increase in new prescriptions for the period beginning 2/1/2019 and ending 5/17/2019, was 24.
In my model, I assume a sequential increase of 20 for each week over the period ending 12/27/2019. As with NRx, my expectation would be for a steady increase in the sequential increase in RRs as the year progresses. I think that 20 is conservative.
A significant uncertainty in projecting refills is how long patients will remain on therapy. Testosterone supplementation therapy may not be viewed by patients as being as important or essential as say a drug for hypertension. Some patients will drop out after the first or first few prescriptions.
Price of New Prescription:
The WAC price of Xyosted for a four week supply or four injections is $475. I estimate that Antares will use couponing, co-pay buy downs and other techniques that in some cases could reduce the WAC price by as much as $125 in some, but by no means all situations. This is intended to make the out of pocket cost to the patient the same as for a generic.
In addition to patient support, there will be rebates paid to managed care. It is extremely difficult to estimate what the net price might be, but some knowledgeable sources suggest that early in a launch it could be as low as $300 and this is the estimate I am using for net price per prescription.
Antares starts each patient with the first weekly injection being administered in the physician's office. The patient then returns to the physician's office. They are then sent home with another injector for the second week of treatment at no cost. Presumably at this time, a new prescription is written.
This give Antares two weeks to try to gain insurance coverage for the patient. If the coverage is not received within two weeks, Antares gives a free sample for one month of drug.
Antares reported that at the close of the first quarter that about 60% of new prescriptions were being reimbursed.
This 60% ratio was improving, according to management, as they entered the second quarter. I am assuming that this ratio holds for the balance of 2019.
Xyosted now has coverage for 50% of managed care lives and the ratio is expected to increase to 70% by year end.
The ratio of 60% of new prescriptions being reimbursed could increase as the year progresses. However, I am using 60% in my model as an effort to be conservative.
Price of Refilled Prescription:
I am assuming a net price of $300 per refilled prescription.
Sales Projections Resulting from the Model
All of these calculations are shown for every week through the end of the year in a table in the appendix of this report if you want to check my calculations. I have summarized the results on a quarterly basis in the following table. Because there are many difficult to make assumptions, there are large error bars around these numbers and as the year unfolds, I may have to make some meaningful changes in assumptions. However, I have tried to be conservative based on the information that I know. The end result is that I am projecting sales of $3.06 million in 2Q, 2019, $5.28 million in 3Q and $7.32 million in 4Q. Based on management comments, I think that actual sales of Xyosted in 1Q, 2019 were about $700,000 to $800,000. It is gratifying that my model shows a projection of $805,000.

I am not including any detailed estimates at this time on 2020 sales. However, if you simply annualize the projected 4Q, 2019 sales estimate of $7.3 million, the run rate of annual sales going into 2020 would be $28 million. I would expect sales to be meaningfully larger as there should be continued sequential increase in new and refilled prescriptions in 2020. As a guess, I think that if 2020 sales could be in the $35 million plus range.
Current and Future Potential Market Share of the Testosterone Supplementation Market
To get an insight into Xyosted's market position, let's look at the fourth quarter annualized run rate to gage Xyosted's market share. The dollar size of the testosterone supplementation market is $2.0 billion and is growing at about 5% per annum with generic, intramuscular injectables accounting for $1.5 billion. The remaining $500 million is principally gels. Xyosted could potentially take share from both. The net price of Xyosted is comparable to generics so that its addressable dollar market is also around $2.0 billion. I am projecting that Xyosted will achieve sales of $7.3 million in 4Q, 2019 which is $28 million on an annualized basis which is a tiny 1.4 % of the addressable market based on sales.
There are 7.2 million prescriptions written annually and the annualized prescription rate for Xyosted based on 4Q, 2019 projections is 120,000 or 1.7% of the market. Management has not given guidance but as I mentioned earlier, $200 million is often thrown about as a peak sales number. This would represent about 10% of the addressable market as measured by sales or prescriptions. Given the superiority of Xyosted, this seems quite low.
Xyosted Highlights from 1Q Conference Call
Physician Target Market
Antares has rapidly built a sales team of 83 reps, each with a territory, and 10 district managers. They are targeting three physician groups that are high prescribers of testosterone supplementation products-urologists, endocrinologists and primary care physicians. The latter are primary care physicians who focus on men's health and have a heavy focus on testosterone. This is a small and relatively accessible part of the primary care physician market.
Antares has reached almost half of the targeted physician population and over 1,500 of those physicians have already written at least one prescription for Xyosted. About 3,000 patients have received Xyosted. It is encouraging that high prescribers don't make up the large percentage of the scripts being written. Prescribing is pretty widespread across physicians from all three categories of doctors who write testosterone products.
Reimbursement
Antares says that Xyosted's attributes are really easy to explain. Physicians quickly grasp the key product differentiation components of superior pharmacokinetics, ease of use and almost no pain on injection and their first question is about coverage. Reps really don't have to spend a lot of time educating physicians on Xyosted's attributes. This is encouraging and uncommon for a new product launch.
Reimbursement is the biggest obstacle to overcome. Physicians wants to have confidence that if they write a prescription that it will be reimbursed by managed care. They don't want to get caught up in the hassle of arguing with insurance plans on reimbursement issues. This can tie up their office staff and disrupt the practice. It is extremely important for Antares in this early stage of the product launch to not only get the prescription written but to also get it reimbursed.
By the end of the first quarter Antares had some type of reimbursement for better than 50% of lives covered by managed care, which they said was well ahead of their goal. Effective April 1, additional insurance plans added Xyosted to their formularies, increasing covered lives to approximately 60%. They are still targeting coverage for 70% of commercial lives by the end of 2019.
Formulary Strategy
Antares is only going for tier 3 coverage on formularies. Patient support for patients through couponing and co-pay buy downs can be as much as $125. This is enough to compete effectively in tier 3 for any insurance plan. In addition, managed care demands additional rebates and discounts from the WAC price of $475. Antares can proved these for tier 3 coverage, but tier 2 would just be too costly from a rebate standpoint. For formularies, tier 1 is a generic, tier 2 is the preferred branded product and tier 3 is for other branded products.
Managed care formularies often use step therapy as an approach to control the costs of prescription drugs. Patients are started on most cost-effective drug (usually a generic) and progress to other more costly therapies only if necessary. About 70% of the market is already on generic, so that there is no step edit. So essentially, the step edit has been completed before the Xyosted prescription is written. Consequently, they are really not seeing a heavy step edit process for Xyosted, This practice while representative is not universally practiced as each managed care plan has their own guidelines. Management says that 45% of Xyosted business is coming from patients who have not previously used a testosterone product while 42% is coming from patients switching from a generic injectable. This is extremely unusual for a new product and quite encouraging.
Sampling program
Antares wants all physicians to dose a new patient in their office so that the patient can see how easy and how painless it is to use. If it's a physician is new, they also see how easy it is to use and how painless and can see the positive response typically seen with patients. The physician is the given another sample which is one injector or another week of therapy.  The patient is then asked to return in a week and if so, the patient is given one more week of therapy. Management says that 80% of patients come back for the second week dose. The physician then will likely electronically submit a prescription to the pharmacy after the initial visit.
If there is any kind of an adjudication time to get reimbursement approval for that patient, Antares has two weeks to work on obtaining reimbursement.  Antares uses a nationally recognized adjudication company called Cover My Meds, to help with the adjudication process. If there is commercial insurance and there's initially a rejection because it's not covered, Antares then provides one month free of drugs. During that time Cover My Meds, will then appeal that rejection. Antares says that they have had good success with their appeals. If a person has commercial insurance, and they need prior authorizations that the physician hasn't provided, they will help get that information from the physician's office. It's all part of the process of making it easy for the physician and the patient to get Xyosted. If at the end of this process, the patient can't obtain coverage, they can't be supported any further.
A frequently asked question is what percentage of new scrips to-date have been paid versus free products. In the early stage of a launch the percentage of free prescriptions is higher than as the launch progresses; the parentage increases as insurance coverage increases. While Antares did not provide an exact estimate, they said that percentage continued to decrease over the first quarter. Management said that it was certainly above 60% and increasing going into the second quarter.
Refilled Prescriptions
The refill rate is in excess pf 75%. Overall the refills are becoming more and more meaningful on a weekly basis and so this indicates that persistence is pretty high. Testosterone is an area where patient persistence is an issue, and they are very pleased at what they are seeing right now. If the persistence rate continues, it will be a very strong. Launch.  They don't know yet whether or not switch patients are more likely to stay on therapy longer versus a new testosterone naive patient.
Detailed Model for Weekly Xyosted Sales
At the start of this report, I discussed in detail the assumptions underlying my estimates for net pricing and the number of NRx. RRx and TRx on a weekly basis. I showed the resulting projections for each quarter of 2019 which were based on these estimates. The following table shows the detailed weekly estimates.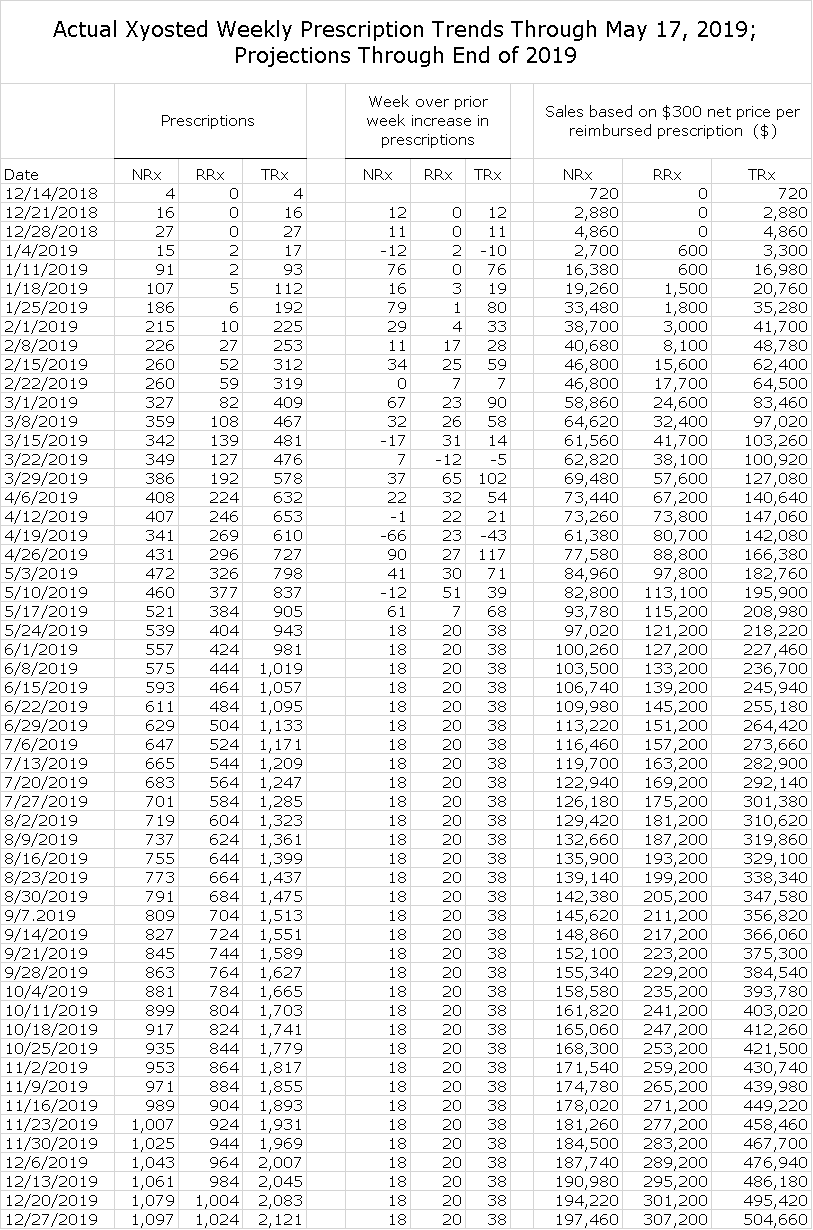 Tagged as Antares Pharma Inc., Xyosted Launch Progress + Categorized as Company Reports, LinkedIn