Antares: Encouraging Revenue Guidance (ATRS, Buy, $4.00)
Key Point
I think that the stock has the potential to double in 2021.
New Revenue Guidance
Antares has just issued guidance that 2020 revenues are expected to be in the range of $145 to $150 million which compares to $124 million in 2020. The midpoint of this range represents a 19% increase from 2019. This compares to prior guidance of $135 to $155 million. Antares also indicated that 2021 revenues are expected to be in the range of $175 million to $200 million. Using the mid-points of the 2020 and 2021 guidance ranges, this indicates an expected 27% increase from $147.5 million in 2020 to $187.5 million in 2021.
As a point of reference, I thought that you might like to see my most recent revenue model for 2020, 2021 and 2022. The revenue estimate for 2020 was $142 million which falls short of the low end of the new guidance of $145 to $150 million. My most recent revenue estimate for 2021 was $180 million which is at the low end of the new guidance of $175 million to $200 million. Both my estimates and management's project that Teva will launch Forteo in the US in 2021. The timing is not yet certain so there are a range of possible scenarios.
Xyosted has emerged as a very strong growth product that should drive revenues for some years to come; my projected sales for 2020, 2021 and 2022 are $46 million, $65 million and $79 million. I suspect that my projections will prove conservative. This may be the the reason why the mid-point of the 2021 management guidance is a little better than my revenue estimate. I am not yet modeling any revenues for the recently acquired Nocdurna (desmopressin acetate), which is indicated for the treatment of nocturia due to nocturnal polyuria in adults who awaken at least two times per night to urinate. However, I doubt that its revenues will be that meaningful in 2021. Other than indicating that it expects revenues from Forteo in 2020, Antares did not provide much detail on the breakdown of sales. Here is my detailed sales model.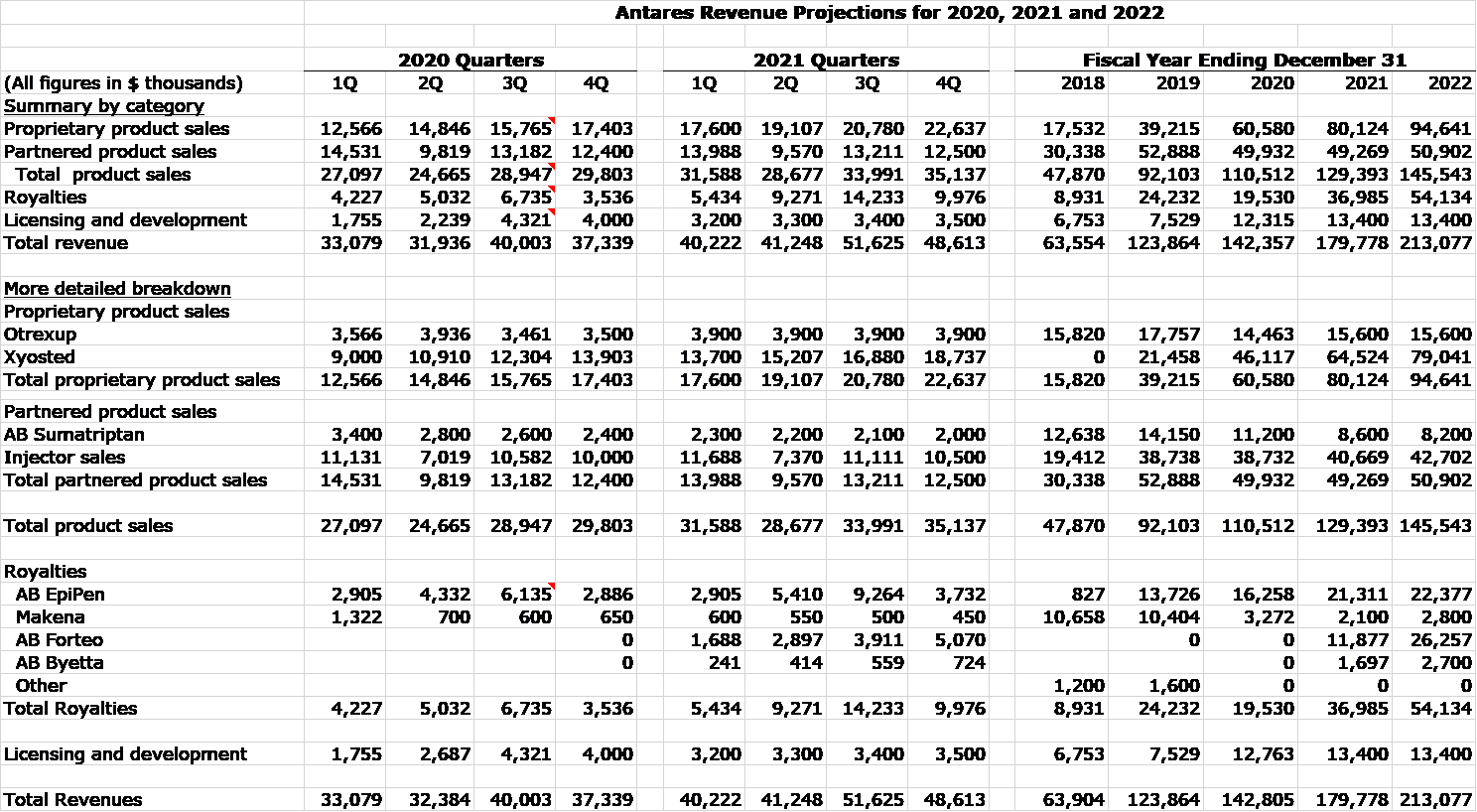 Investment Thesis
I think that 2021 could prove to be the year that investors come to believe that Antares has major growth potential driven by Xyosted. Greater focus on the company could also drive appreciation for two major partnered products in its pipeline.
I think that the collaboration with Indorsia could be  a game changer. Indorsia is developing a subcutaneous, self-administered  injection of a new drug selatogrel which would be self-administered at the onset of symptoms to stop a suspected heart attack. While Xyosted will be the main driver of sales and profits for the immediate future, I think that focus will gradually shift to selatogrel, which if successfully developed could be a mega blockbuster. Indorsia has said that it will begin a phase 3 study in 1H, 2021. If successful, approval would possibly come in 2024.
We are still waiting to hear about a Pfizer collaboration. We don't know what the drug is other than that it is a rescue medication. Perhaps later this year we will learn more. However, Pfizer is a huge company and will only develop a product with blockbuster potential, say $1 billion or more. This suggests another major commercial opportunity for Antares.
Based on 165 million shares outstanding, Antares has a market capitalization of $660 million which is about 3.5 times projected 2021 sales. This is an extremely modest valuation given the growth of the current product line and the promising pipeline. I think that it is possible that the stock could trade at 7 or more times sales in 2021 based on looking at peer companies resulting in a 2021 stock price of $8. If investors become infatuated with selatogrel ( a distinct possibility), this sales to revenue ratio could surge even higher.
Tagged as Antares Pharma Inc. + Categorized as Company Reports, LinkedIn