Antares (ATRS, Buy, $4.00) Why I Think That the Otrexup Launch Will Be A Success (Paid Subscribers Only)
Recent Price Behavior
Antares' (ATRS) price has drifted down since the approval of Otrexup for the treatment of rheumatoid arthritis and psoriasis on October 14, 2013. Antares launched Otrexup on January 15, 2014 for the treatment of rheumatoid arthritis and on March 3, 2014, its partner LEO launched Otrexup for psoriasis. Last October, the price was about $4.69 and the current price is $4.08 or so. This is against a backdrop in which there has been a strong stock market for emerging biotechnology stocks. Obviously, Antares has underperformed in this time frame.
The price behavior reflects investor concern that the launch will be disappointing. One reason for this concern is that the majority of recent launches of new products in their initial phase, especially by small companies, have been disappointing. This reflects the strong and increasing power of managed care in the early launch phase. In many cases, payors set up early barriers to prescribing as they carefully evaluate the benefit to cost ratio of a new drug.
Investors are often quick to conclude that a slow build in initial sales in an absolute sense or relative to expectations means that the launch has failed. However, this situation can create a great buying opportunity. This was certainly the case with Cadence Pharmaceuticals (CADX). In a May 31, 2012 article, I wrote that the launch of Ofirmev was gaining traction. This was at a point when the stock had declined to $2.72 from$7.00 a year earlier (when the product was launched) as some investors concluded that the launch of Ofirmev was disappointing. As investors came to realize that the launch was a success, dramatic stock price gains were seen and indeed Cadence now is in the process of being acquired at $14.00 per share by Mallinckrodt.
I think that concern that the Otrexup launch will be disappointing is the major drag on Antares' stock. In this article, I am reiterating my buy and the reasons why I think the launch will be successful. Before I do this, let's examine the bear argument which goes as follows.
Bear Argument Examined
The bears argue that Otrexup is a me-too drug whose only advantage is that it is a bit more convenient to use; they warn investors not to expect Otrexup sales to roar out of the starting gate. They go on to state that rheumatologists and insurance companies aren't likely to embrace Otrexup. The FDA approved Otrexup based on data showing the self-injector device was able to deliver higher blood levels of methotrexate in patients compared to oral methotrexate. However, an injectable methotrexate product already used by rheumatologists also delivers superior levels of the drug into the blood and at a lower price.
Importantly, Antares has no data correlating higher blood levels of methotrexate to better outcomes for rheumatoid arthritis patients. Antares has not conducted a clinical trial to demonstrate use of Otrexup benefits patients any more than oral or conventionally injected methotrexate. Without these comparative effectiveness data, Antares will have a tough time selling Otrexup.
I think this argument misses some essential points about Otrexup that negate this bearish appraisal.
My Bull Argument
Otrexup is a subcutaneous formulation of methotrexate (MTX). This is the gold standard DMARD used in treating rheumatoid arthritis and will continue to be for the foreseeable future; rheumatologists love this drug. However, as the disease progresses and higher doses of MTX are tried in an attempt to control the disease; the higher doses often don't increase blood levels and therefore the effectiveness of the drug. Otrexup can allow physicians to give higher effective doses of MTX that result in higher blood levels thereby increasing its effectiveness versus oral MTX. This allows physicians to keep patients on MTX for a longer period of time before switching them to (or adding) a biologic such as Humira, Remicade or Enbrel.
There are already injectable formulations of methotrexate available in the US and the literature suggests that they are more effective than oral methotrexate. However, they all require weekly intramuscular injections with a large gauge needle that are usually given by a care giver and may entail a physician office visit. These injections lead to pain and muscle soreness for day or two after the injection. Otrexup can be self-administered by the patient with an auto-injector that is virtually painless.
Accounting for the cost of an office visit the prices of the intramuscular product and Otrexup are comparable in "all-in" cost for the payor. Importantly, from a patient standpoint, the co-pay will likely be around $10 for either Otrexup or the IM formulations. The payors should like it because Otrexup costs about $7,000 per year versus $20,000 per year or more for the biologics that would otherwise be used.
Antares is only five weeks into the launch of Otrexup so there are no meaningful metrics to judge how it is performing. I think that Otrexup has a number of things going for it that will lead to success. Physicians know and revere MTX; it is not a new drug for them so that if they believe that it will allow more effective blood levels and longer periods of dosing of MTX, they will embrace the drug. I believe that physicians will infer that higher blood levels achieved with Otrexup will translate into increased efficacy. I don't think they need a randomized, double blind trial versus oral MTX to reach this conclusion.
Antares reports that its reps have already called on 90% of the target audience of 2,500 rheumatologists in the five weeks since the launch. The Company also reports that Otrexup is broadly reimbursed by formularies as a tier 3 formulary product by payors responsible for 63% of covered lives. Antares has also set up a coupon program which limits the out of pocket cost to patients for each Otrexup prescription to about $10 or so, the co-pay for generic oral methotrexate is $10. At this early go, the launch seems to be doing well despite the lack of metrics.
Wall Street analysts are projecting a range of $11 to $17 million of Otrexup sales in 2014. I think that this is achievable and could be conservative. I view peak sales guidance of $200 million given by management as achievable. This report is not comprehensive and does not discuss the value of the Company's current business of developing and licensing products for others. Nor does it address the potential of the pipeline. Management believes that they can introduce one new product per year of comparable importance to Otrexup beginning in 2016. Otrexup is just one component of a promising pipeline. The following table lays out the breadth and scope of the Antares pipeline.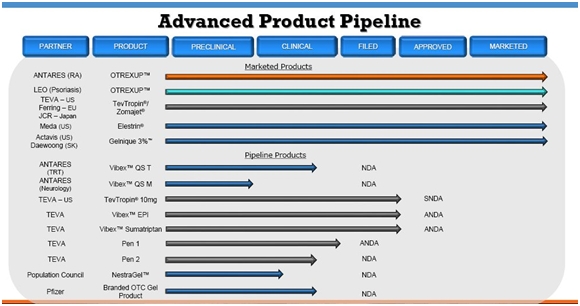 I want to bring to your attention that a privately owned company called Medac has developed an auto-injector product that it claims is comparable to Otrexup. I have not seen the product to know how the two compare, but I assume that the Medac product will be effective. The product was filed with the FDA on January 27, 2014 and could be commercially launched by late 2014.
The two companies are suing each other for patent infringement and I don't know how that will turn out. I think that investors should assume that the Medac product will be introduced in late 2014. I do not see this as a deterrent to buying Antares. Almost all drug categories that I have seen usually have up to five products which compete and do well and sometimes the promotion efforts of companies competing with similar products can actually expand the market to the benefit of each company. I don't see this as a zero sums game.
Rheumatoid Arthritis
Rheumatoid arthritis is a chronic, auto-immune disease that causes pain, stiffness, swelling, and loss of function in the joints. It occurs when the immune system mistakes normal body tissue as being foreign and launches an immune response. This attack leads to inflammation and swelling in the joints which can progress to destruction of bone and disfigurement as shown below.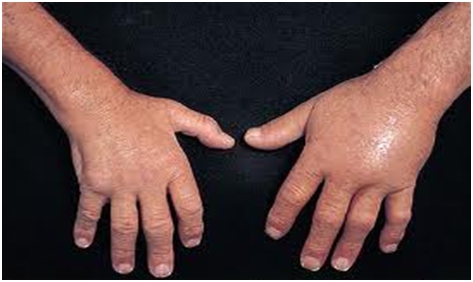 Drugs Used to Treat Rheumatoid Arthritis
In the early phase of the disease, rheumatoid arthritis patients generally start on drugs such as aspirin, naproxen and ibuprofen or corticosteroids that treat the pain and inflammation that are symptoms of the disease. As the disease worsens, they progress to disease-modifying anti-rheumatic drugs (DMARDs), which treat the root cause of the disease through dampening the immune response.
The gold standard DMARD that almost always is the first drug chosen by physicians to treat rheumatoid arthritis is methotrexate (MTX). Over time, the disease inexorably progresses and may no longer be controlled by MTX. At this point physicians turn to newer biologic agents such as Enbrel, Humira and Remicade. MTX is also used to treat psoriasis and other autoimmune diseases.
The Shortcomings of Oral Methotrexate
Oral MTX is and will remain for the foreseeable future the gold standard DMARD. However, it has significant shortcomings. It can cause severe and limiting gastrointestinal side. The dose is given once per week and if it is taken during a weekday, the effects can be so bad for some patients that it may interfere with the next day's work or even cause them to miss work. For this reason, some patients elect to take the drug on Saturday.
A second major issue is a plateauing of blood levels as the dose is increased. Rheumatoid arthritis patients are usually started on oral MTX at doses of 5 mg/mm2 given once a week. As the disease progresses; the dose may be increased to 10 and then 15 mg/mm2. However, the blood levels of MTX plateaus at doses above 15 mg/mm2. For example, a 20 mg/mm2 dose is no more effective than 15 mg/mm2, but patients experience increased side-effects. Results of clinical studies of blood levels of Otrexup versus oral MTX are shown below.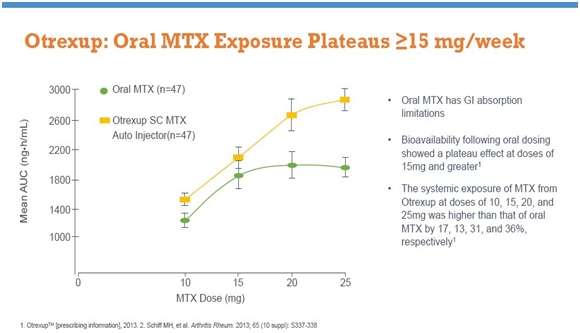 This plateauing effect and gastrointestinal side effect issues create an opportunity for injectable MTX dosage form. An injectable dose does not have to pass through the GI tract but enters the bloodstream directly. This reduces the GI side effect issues. It also first pass metabolism of the drug as it passes through the liver which is responsible for the plateauing effect.
Injectable MTX allows physicians to titrate blood levels higher than can be obtained with oral MTX. This allows physicians to keep patients on methotrexate longer before they have to move to a biological prescription. Physicians have enormous trust in MTX and the ability to keep patients on longer before moving to one of the newer biologic agents is very appealing. An injectable MTX can bridge the gap between oral MTX and the biologics.
Otrexup
In the US, the only currently approved injectable MTX products must be given intramuscularly which are deep and painful. They currently account for about 8% of MTX prescriptions. They usually must be given by a care giver and can require weekly physician office visits. Patients do not like IM injections due because of the large gauge hypodermic needle that is required. This can lead to pain and muscle soreness for day or two after the injection. This limits the use of IM dosage forms.
Sub-cutaneous injections of drugs are much less painful and can be self-administered by the patient with a smaller gage needle as in the case of diabetics and insulin injections. A sub-cutaneous form of methotrexate is widely used in Europe, but Otrexup is the first to gain approval in the US.
Otrexup is a disposable single use auto-injector intended for once weekly administration of methotrexate. It is injected sub-cutaneously (under the surface of the skin) using Antares' Vibex Medi-Jet auto injector device in one of four dosages of 10, 15, 20 and 25 mg/mm2/week. (mm2 refers to the estimated skin surface area of the patient being treated). These dose volumes are small and can be comfortably injected in the leg or the abdomen. The Otrexup device looks like this.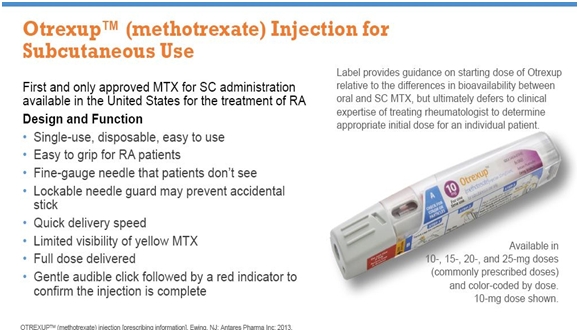 Otrexup delivers the dose in about three seconds, but patients are told to hold the device on the skin for about five seconds to make sure that they complete administration of the dose. There is almost no pain with the procedure and the needle in the device retracts so that a "needle-phobic" patient never sees it; the device is then thrown away.
Antares was required to run a user study for regulatory approval in which patients were asked to evaluate the pain of Otrexup injection on a scale of 0 to 100 where 0 represented no pain and 100 represented maximum pain. The Vibex Medi-Jet device used with Otrexup was ranked between 2 and 3. I personally injected myself with saline solution and it was barely noticeable.
The Therapeutic Role Filled By Otrexup
Otrexup is not going to compete directly with either oral MTX or the biologics. Almost all patients start on oral methotrexate. When patients fail or become intolerant to methotrexate, they are currently switched to injectable methotrexate or a biologic.
Physicians love methotrexate and the value of Otrexup is that it allows physicians to keep patients on methotrexate longer before they have to move to a biological prescription. Otrexup will bridge the gap between the oral DMARDs and the biologicals. Because this is a chronic disease requiring treatment for as long as decades, the treatment period for Otrexup could be very long.
The Launch of Otrexup
In the preceding paragraphs, I have presented arguments that I believe will make Otrexup a valued addition in the treatment of rheumatoid arthritis. This value proposition will now be tested with a launch that began about five weeks ago in the US. It is being conducted by a field force of about 25 reps that was created by a company that specializes in forming sales forces for companies. These reps are supported by three district sales managers and six medical science liaisons that interface with physicians on a scientific level.
On its fourth quarter conference call, Antares reported that its sales reps had reached 90% of the target 2,500 rheumatologists and over 600 samples have been requested and distributed. The Company is limiting samples handed out so that they are only given to physicians who intend to actually treat a patient with Otrexup. Hence, it is reasonable to conclude that 600 patients have been treated in the initial five weeks of the launch.
In general, with most new pharmaceutical products, it takes between six and seven visits to be able to completely get the attention of and educate physicians on a new drug. Antares reps have made more than one call to only some of the highest prescribing rheumatologists. However, because MTX is so highly regarded by physicians and the GI side effects and blood level plateauing effects of oral MTX are so well recognized, I think that most rheumatologists can understand the value added with just one or a few sales calls.
The FDA approved Otrexup for psoriasis as well as rheumatoid arthritis, but Antares did not have the financial resources to launch the product to the different physician population that prescribes drugs for psoriasis. As a result, in November 2013, Antares entered into a promotion and license agreement with LEO Pharma in which LEO Pharma was given the exclusive right to promote Otrexup to dermatologists for symptomatic control of severe psoriasis in adults in the U.S. LEO is responsible for promotion and marketing activities in dermatology and Antares is responsible for supplying them the product.
LEO launched Otrexup on March 3 to dermatologists for the psoriasis indication. LEO has a large database with 50,000 psoriasis patients, and they will be using 75 sales reps to target approximately 7,000 dermatologists. Antares chose LEO because of their competence and expertise in psoriasis, and their established relationships with dermatologists and patients.
Antares spent nearly $9 million in 2013 on sales and marketing, prelaunch product positioning, branding, third-party payer positioning and new personnel. They also invested over $6 million in Otrexup inventory which was on the balance sheet at year-end in anticipation of 2014 product sales.
Teaching Patients to Self Administer Otrexup is Important
One of the essential selling points for Otrexup is that patients can self-administer the drug so that an important point of the launch is making sure that patients can comfortably do so. Antares is providing starter kits or samples that explain to patients how to self-administer. Based on the actual human use studies that were requires to gain regulatory approval, it was found that 98% of patients found Otrexup easy to use and were able to use it by simply following instructions without any specific training provided by a healthcare professional.
Administration is an easy three step process in which the patients remove the cap, remove the safety and then gently but firmly push down on the area where they are going to inject; this is usually the belly or the thigh. The injector is held down for a count of ten and the injection is done. It's not a very complex process.
The single biggest concern is that despite the fact that patients don't see a needle or feel much on injection, they still know there is a needle and needle phobia is something that is very common. However, after the first injection the overwhelming experience is that it the injection is neither difficult nor painful. This was certainly my experience. I don't think this issue is going to limit the uptake of Otrexup.
Pricing of Otrexup
The US price point for intramuscular formulations of MTX is about $500 for four injections that are given each month. This includes the cost of the weekly administration that is usually administered in a clinic or physician's office. The retail price for Otrexup is about $588 for four injections per month and does not require an office visit for administration.
This translates into an annual retail cost of about $7,000 at retail. This compares to $20,000 per year for the biologics and a few hundred dollars for generic oral methotrexate.
Reimbursement
Payors should see the value proposition for Otrexup as being a positive in reducing costs. Otrexup does not compete with oral MTX which is a generic that may only cost a few hundred dollars or so per year. It is only used when patients no longer respond to oral MTX. At this point, in the past, physicians switched to or added a biologic drug like Humira, Enbrel or Remicade.
There is a strong therapeutic argument that can be made for switching patients who are performing poorly on oral MTX to injectable MTX before turning to a biologic. There is also a strong cost argument. The biologics cost about $20,000 or more per year. Otrexup is priced at about $7,000 per year and accordingly saves the payor about $13,000 for each year that the biologics can be avoided.
The early results suggest that managed care has embraced Otrexup as Antares management has stated that Otrexup is has received reimbursement for 63% of covered lives. It is generally placed on tier 3 reimbursement.
Co-Pay Program Makes Otrexup Affordable
The most important point from a patient's perspective is not the retail price of the drug but the co-pay which is their out of pocket cost. Antares has implemented a commonly used industry practice in which it offers the patient financial assistance for the co-pay. When the patients are prescribed Otrexup, they are given a card with a distinct identification number that identifies the patient and their health plan. The patient can then go to the internet and download coupons which are handed to the pharmacist when the prescription is filled.
This coupon reduces the amount of the co-pay by up to $50. As a tier 3 drug, the co-pay for Otrexup is usually $50 $70. If the co-pay is $70, the patient's out of pocket cost is about $20. If the co-pay is $50 or less the patient, there is always a minimum $10 co-payment required for the patient. The co-pay for generic oral methotrexate is $10 so there is not much difference in out of pocket cost for Otrexup.
The card is valid for 12 refills or a 12-month period, whichever is over first. As far as the patient is concerned there is nothing else to do. They just hand that card over to the pharmacist and everything else is automatic. This co-pay is administered for Antares by a third-party co-pay assistance vendor. Antares gets billed once a month for all of the co-pay assistance cards that were processed.
Tagged as Antares Pharma Inc., ATRS, Medac, methotrexate, otrexup, psoriasis, rheumatoid arthritis + Categorized as Company Reports