Antares (ATRS, Buy, $2.72) Effect of Covid-19 Appears Modest So Far On Company and Xyosted in Particular
Investment Overview
Antares stock has been more impacted by the market sell off than many other biotechnology stocks which have rebounded sharply. This occurred even though Covid-19 issues appear to have had only a modest and temporary impact on 2020 results based on what we saw in 1Q. I continue to think there is great potential upside for the stock.
Antares did not break out Xyosted sales in 1Q, 2020 but I estimate that they were about $8.6 million versus my estimate of $9.0 million. This compares to $9.0, 7.0, 4.6 and 0.8 million in 4Q, 3Q, 2Q and 1Q of 2019. Xyosted prescriptions were rocketing up until mid-March when the lockdown started. They have subsequently flattened on a sequential basis but this represents a much better than expected performance in my view. I have much greater confidence that over the next few years that this product will have a blockbuster type of impact on Antares. Briefly, here is what else went on:
Teva has done a good job with its AB rated generic to Epi-Pen and appears well on its way to capturing 50% of the market from Mylan.
Teva continues to indicate that the AB rated generic to Forteo will gain approval later this year. I estimate this will be a bigger product for Antares than the AB rated generic to Epi-Pen. Whereas Teva is only marketing the AB EpiPen in the US,  Forteo will also be marketed in Europe
Many analysts were expecting Makena sales to disappear given a 9 to 7 vote of an FDA advisory committee to remove it from the market. See this link for more detail. The product did $20 million of sales in 1Q and contributed $1.5 million of royalty income to ATRS. AMAG continues to promote Makena and the FDA does not seem to be in any rush to decide what to do. AMAG manaagement said that Covid-19 issues slowed sales, but that Makena is showing resilience. I would look for sales or perhaps $15 to $20 million in 2Q. I continue to believe that Makena will remain on the market and look for 3Q and 4Q sales to improve over 2Q.
The company withdrew sales guidance for the year which is understandable given the uncertainties of the effects of the pandemic.
The company was nicely cash flow positve in the 1Q, 2020 and expects to be cash flow positive for the year so that management believes it will have around $50 million of cash by year end, comparable to the cash position at the close of 1Q. There seems to be no need for more cash in 2020 to fund operations.
Pipeline is Outstanding
With all of the uncertainties in the world, investors have lost focus on Antares' new product outlook. I think that collaboration with Indorsia could be  a game changer. As a side note, the founders of Indorsia also managed the highly successful biotech company Actelion up to the time it was acquired by JNJ. Indorsia is developing a subcutaneous, self adminstered  injection of a new drug selatogrel which would be self-administered at the onset of symptoms to stop a suspected heart attack. While Xyosted will be the main driver of sales and profits for the immediate future, I think that focus will gradually shift to selatogrel, which if successfully developed could be a mega blockbuster. Indorisia is finalizing the Phase 3 study design and the pivotal  trial is expected to start in 1H, 2021. If successful, approval would possibly come in 2024.
We are still waiting to hear about the Pfizer collaboration. We don't know what the drug is other than that it is a rescue medication. Perhaps later this year we will learn more. However, Pfizer is a huge company and will only develop a product with blockbuster potential, say $1 billion or more. This suggests that this is a major commercial opportunity fro Antares.
Antares in the past has said that it would like to develop about one drug per year for its own account, but they haven't announced anything since Xyosted. We are waiting.
Xyosted Has Held Up Well
The econmic lockdown in reponse to the Covid-19 pandemic presented a never before seen or anticipated forecasting challenge. Patients were afraid to go to physician's offices and by the the middle to end of March, Antares sales reps were no longer making in person visits to physician visits. It was my fear that this could lead to a sharp slowdown in prescrition growth for Xyosted. This product is still in an early launch phase that requires extensive education of physicians and patients and Antares remains in a learning phase on how best to promote Xyosted. Also testosterone supplementation can be postponed if the patient is concerned with going to the physicians office. Complicating the situation is that before starting Xyosted, a patient must make still another visit to a laboratory for a blood draw.
My fear was that there would be a sharp slowing in prescriptions. I have to say that I am amazed at how well Xyosted has performed in the period from mid-March through the first week of May. In the appendix of this report, I include a table showing estimates by a prescription auditing firm of new and refilled prescription since the introduction of Xyosted in late 2018 until the first week of May 2020. I also calculate a four week moving average that gives a better idea of prescription trends by smoothing out weekly fluctuations. For the time being, let's just look at the data for January 3, 2020 to May 8, 2020
IMAGE 1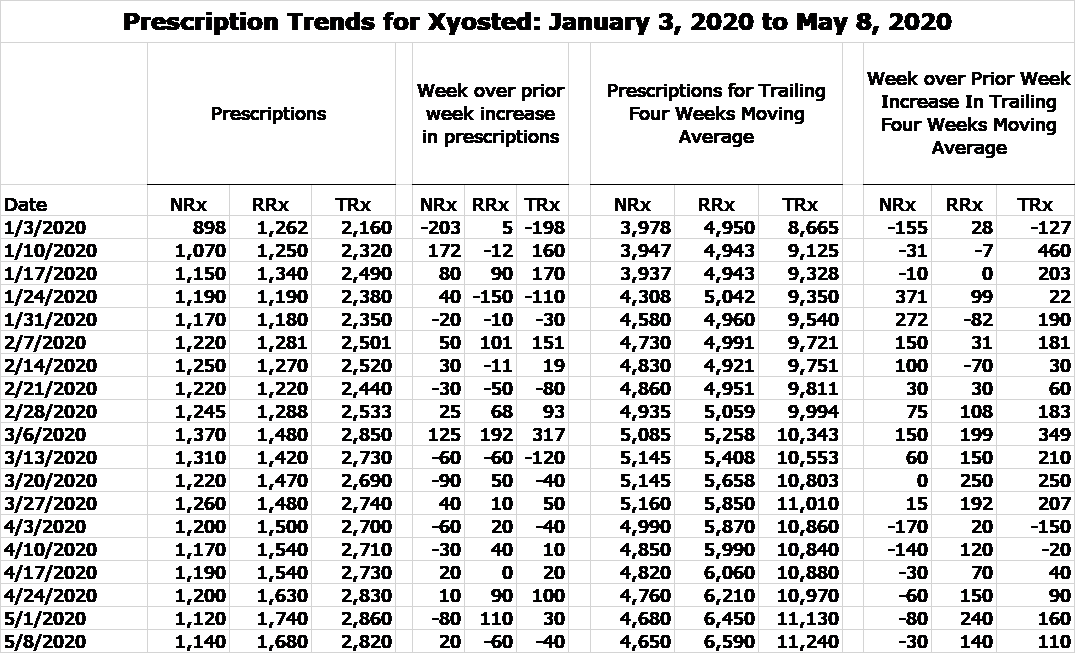 The prescription trend was extremely strong from early 2020 through the week of March 6. Then with the anouncement of the lockdown, there was a flattening of NRxs in the remaining weeks of March and a significant decline in the first two weeks of April followed by more modest declines in the remainder of April and first two weeks of May.  RRxs continued to grow modestly this two month period. To me this is a significant upside surprise. I would not have been surprised to see a 20% or more decrease in NRxs. Refilled prescription growth has more than offet the decline in NRXs so that total prescriptions have actually increased since mid-March. I think that this speaks to the highly favorable product characteristics of Xyosted and an extremely impressive marketing approach by Antares.
By late March, Antares sales reps were no longer going to physiicans offices. However, the company quickly pivoted into a virtual marketing approach. Late last year, the Company had begun to use virtual detailing in smaller territories not covered by existing reps. Through this they already had significant experience in being able provide samples, copay cards and make product presentations all via an electronic platform. They also conducted virtual speaker programs that provided health care professionals with the information and tools needed to prescribe Xyosted (and also Otrexup). Management said that by rapidly deploying these virtual selling tools to all territories, they were still able to generate new patient starts, albeit at a lower rate.
The first quarter of each year is a challenge for both large and small pharmaceuticals companies as there is meaningful switching by patients from one insurance payment plan to another and plans reset their co-pays and deductibles. As a result, there is often significant slowing in sequential growth as companies scramble to adjust to new conditions. Going into 2020, Antares implemented an enhanced copay program that made it easier for both new and current patients to fill their prescriptions.  They wanted to make sure that patients could get Xyosted without a large out-of-pocket payment so they increased the copay card from $150 up to $350 during the first quarter and extended that through April. This impacted the gross-to-net calculation resulting in a drop to just slightly below the 50% range, whereas it previously was in the low to mid-50s gross to net percentage.
The reluctance of patients to visit physicians offices appears to have been a significant positive for Xyosted relative to other testosterone formulations. Intra-muscular testosterone injections are about 70% of the market and many require a visit every week or two to the physicians office for the injections. Some patients can give themselves the injection at home, but a meaningful percentage go to the physicians office. Xyosted can of course be self admistered by the patient with a once a week, virtually painless subcu injection. If a patient has been diagnosed with low testosterone and has already satisfied the insurance prior authorizations to initiate testosterone therapy, they can be easily switched from a physician-administered IM injection or implant to Xyosted. This has been and will continue to be a meaningful positive dynamic.
Appendix
Here is the weekly prescription audit data for the period from December 14, 2018 to May 8, 2020.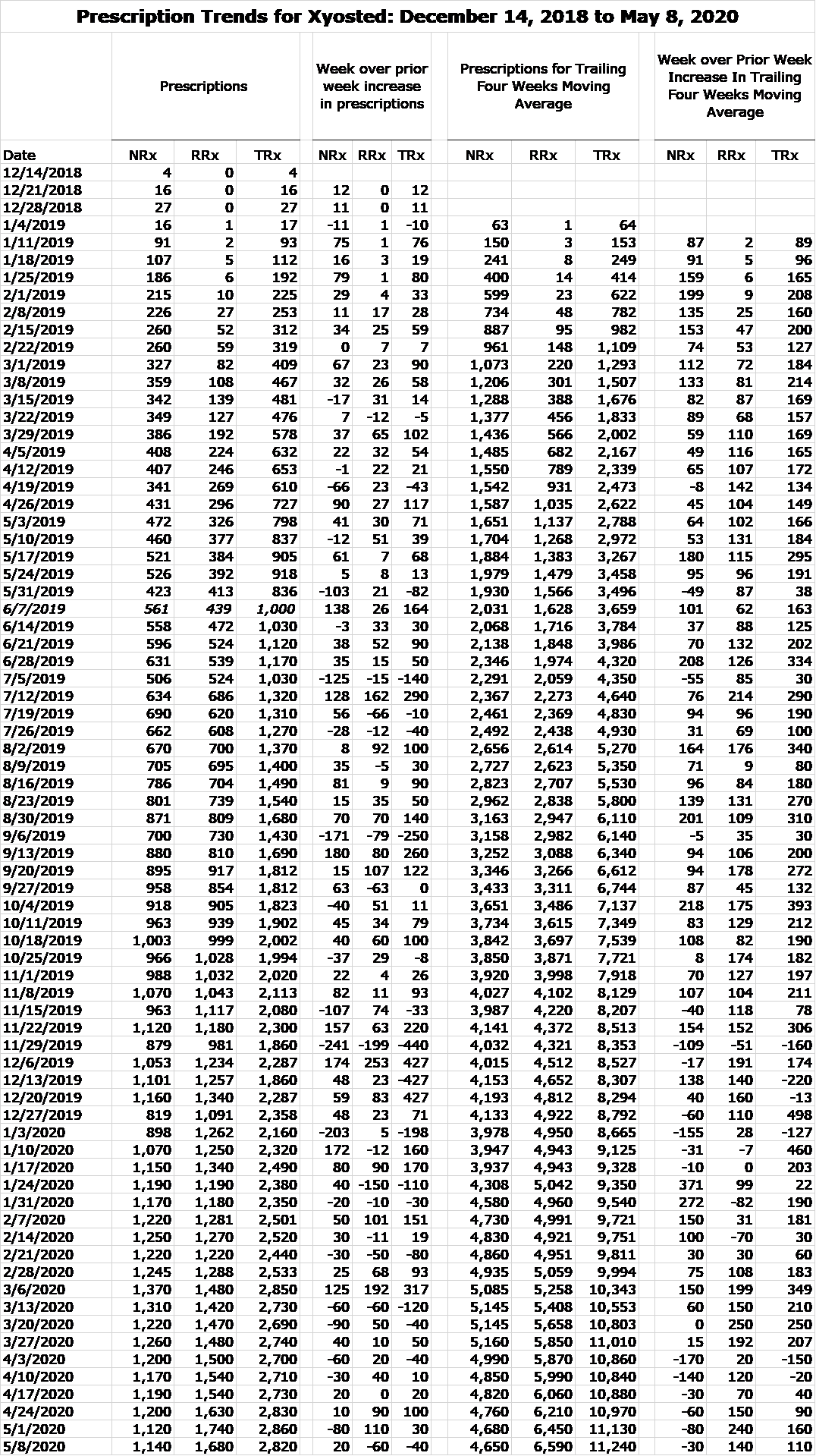 I have also included two slides from Antares 1Q, 2020 conference call that pertain to prescriptions for Xyosted and EpiPen.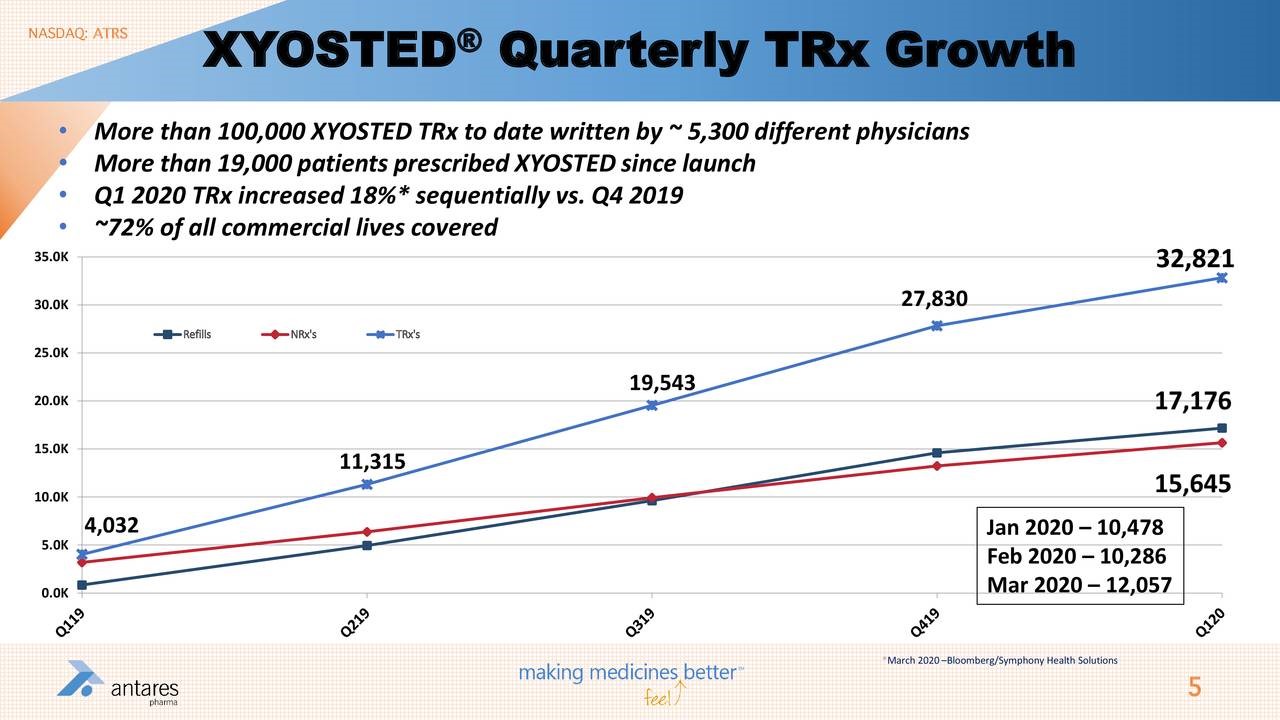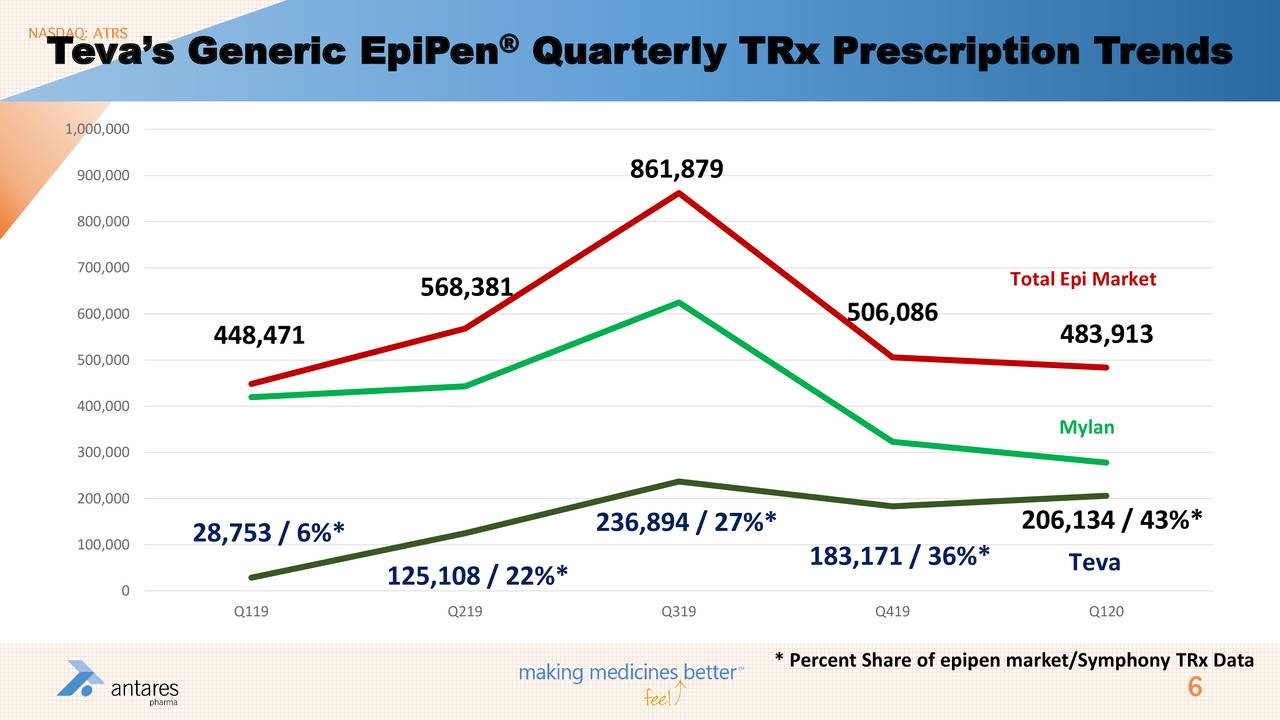 Tagged as 2020, Antares Pharma Inc., Xyosted sales trends in 1Q + Categorized as Company Reports, LinkedIn