Observations from ASCO on Immuno-oncology with a Focus on Northwest Biotherapeutics' (NWBO, Buy, $9.43) DC-Vax-Direct© and the Checkpoint Inhibitors of Bristol-Myers Squibb and Merck
Key Investment Points Stemming from ASCO
I have been going over data presented at ASCO on immune-oncology products and have been listening carefully to the presentations by Northwest Biotherapeutics and other companies active in this space, particularly Bristol-Myers Squibb and Merck. Let me summarize some of my key takeaways which will be addressed in more detail later.
The presentations of Merck and Bristol-Myers Squibb suggested that their checkpoint inhibitors could be synergistic with cancer vaccines. This provides important third party validation of the promise of cancer vaccines in the treatment of cancer. Wall Street analysts and investors have been skeptical on cancer vaccines. I can see the possibility of a one hundred and eighty degree turn from disinterest to excitement.
If my speculation is correct, Bristol-Myers Squibb or Merck or perhaps some other checkpoint inhibitor drug developer could particpate in trials combining their checkoint inhibitors with Northwest's DCVax-L© or DCVax-Direct© or both. If this were to occur, this would be very important validation for NWBO's drugs. My speculation is that Bristol-Myers would be the most likely to undertake such a combination, but I must stress that this speculation on my part..
There is a reasonable hypothesis that suggests very strong synergy between DCVax-Direct© and checkpoint inhibition which in the most optimistic of many possible scenarios might make this combination the backbone of many solid tumor treatments.
I think that it would make great deal of sense to combine DCVax-Direct© with Opdivo and/or Keytruda in the treatment of non-small cell lung cancer as both are already approved for this indication. Improvement of results for the combination over Opdivo alone even in a small study could show important proof of concept.
Northwest has the potential to undertake many important new trials with DCVax-L© and DCVax-Direct©. The question is how will they fund these trials; the shorts have been betting heavily that Northwest either won't be able to raise money or will have to do so on onerous terms. They could be wrong. Neil Woodford has already invested $65 million in Northwest by purchases of securities issued by the Company and has purchased an estimated additional $15+ million in the open market. This money is not just being invested from one of his funds. It may be the case that he has a continued appetite for the stock and can continue to provide additional funding going forward. Also, out of respect for his investment acumen, other investors may follow his lead.
 Some Important SmithOnStocks Hypotheses Stemming from American Society of Clinical Oncology Meeting
There was a presentation at ASCO on DCVax-Direct© by Dr. Marnix Bosch, the Chief Technical Officer of Northwest. Dr. Bosch worked at the Dutch National Institutes of Health (RIVM) as head of the Department of Molecular Biology, as well as in academia as a professor of Pathobiology. He has authored more than 40 peer-reviewed research publications in immunology and virology, and is an inventor on several patent applications on dendritic cell product manufacturing. Dr. Bosch presented the first extensive look at data coming from the phase 1 trial of DCVax- Direct© and this report puts a major focus on his presentation. I also have been listening to wrap-up presentations held for analysts by some of the large pharmaceutical and biotechnology companies at ASCO, in particular those of companies leading the research into checkpoint inhibition: Bristol-Myers Squibb, Merck and Roche. I have previously written extensively on immuno-oncology and the role of checkpoint inhibition and cancer vaccines in my January 20, 2015 report "Immuno-Oncology Promises to be the Next Big Thing in Biotechnology".

The data emerging from ASCO continues to support my view that the checkpoint inhibitors, particularly Bristol Myers Squibb's Opdivo and Yervoy, and Merck's Keytruda will be the backbones of treatment for most solid tumors and some hematological cancers. Wall Street analysts have pegged this as a $20 billion opportunity in the period somewhat past 2020 and I agree. By being first movers in the space, I believe that Bristol-Myers Squibb and Merck will gain the dominant share of this market, but there will be plenty of room for other companies to develop products with major commercial potential. I think that this bodes well for the stocks of both BMY and MRK over the next five years. Of the two, I favor Bristol-Myers Squibb as it has a smaller pharmaceutical sales base so that the incremental impact of sales of its checkpoint inhibitor drugs will be greater. It is also in the early stages of introducing another blockbuster drug with its anti-coagulant Eliquis and has a strong pipeline. BMY is the fourth largest holding in my personal portfolio.
The mechanism of action of checkpoint inhibition affects the functioning of T-cells which are the "nuclear option" for the immune system in ridding the body of infectious disease and cancer. However, this comes at the risk of creating too strong of a response that  could have the undesirable effect of T-cells attacking and destroying normal body tissue. To guard against this, nature has built in certain receptors on T-cells that when activated dampen or turn off the T-cell response when it becomes too strong. Tumors have found ways to highjack this natural protective system by secreting proteins that interact with checkpoint receptors on T-cells and turn off the T-cell response against cancer. The checkpoint inhibitors block the pathway that tumors use to turn off T-cell attacks, restoring the ability of the immune system to attack cancer cells.
The checkpoint inhibitors as single molecules have been tested in patients with advanced stages of the aggressive cancers melanoma and non-small cell lung cancer. They appear to be remarkably effective in about 20% to 30% of patients treated who very importantly had exhausted all other options. Investigators are excited that combinations of checkpoint inhibitors with other existing cancer treatments such as chemotherapy, monoclonal antibodies and targeted therapy will lead to higher patient responses in this population. There is also great hope that response rates and survival will be much better in less sick populations.
What is particularly exciting to me is that in wrap-up presentations to analysts at ASCO by Bristol-Myers Squibb and Merck, both companies were enthusiastic about combining their checkpoint inhibitors with cancer vaccines. Merck already has formed collaborations with Advaxis and Amgen on their cancer vaccines and I think that there will be forthcoming new collaborations by Bristol-Myers and more by Merck. Roche and Astra-Zeneca are also developing checkpoint inhibitors and will also form collaborations with cancer vaccine drugs. If I am correct, I think that this will be a major validation that will excite Wall Street analysts and investors about cancer vaccines in the same way that they have become excited by CAR-T therapies.
The presentation by Dr. Bosch was also stimulating in his discussion of the hypothesis that Northwest's dendritic cell cancer vaccines may be very synergistic with the checkpoint inhibitors; Bristol-Myers Squibb and Merck appear to share this view. He hypothesizes based on the data seen so far in the phase 1 trial that DCVax-Direct© may result in the creation of more T-cells activated against solid tumor antigens. This increased T-cell population combined with the ability of checkpoint inhibition to block cancer defenses against both these newly createdT-cells  and previously activated  T-cells could be a very powerful combination. It is still early days and I am speculating on very little data. However, in my most optimistic scenario, the dendritic cell vaccines and other cancer vaccines could be added to checkpoint inhibitors as the backbone of treating many solid tumors and some hematological cancers.
In a speech in early January of this year, Northwest's CEO Linda Powers  discussed  the scientific and biological  rationale as to why dendritic cell vaccines such as thre DCVax products could be quite synergistic with checkpoint inhibtor drugs. Ms. Powers also suggested that Northwest has been considering the possibility of combining NWBO's dendritic cell vaccines with checkpoint inhibitors.  Bristol-Myers has an active program in glioblastoma with a phase 3 trial being planned (Merck does not have such a program at present) which would suggest a common ground between the companies. Admittedly, I have no direct information from either company and my judgment is reliant on intuition. However, I speculate that Northwest in coming months could begin a trial that combines either DCVax-L©, DCVax-Direct© or both with Bristol-Myers Squibb's Opdivo.
Overview of the Phase 1 Trial of DCVax Direct
Northwest Biotherapeutics has just reported the first extensive look at data from the phase 1 trial of DCVax-Direct©; its first trial in humans. In looking at phase 1 results, I sometimes encounter two extreme views on what to expect in phase 1 data. On the extreme positive side, there are some who expect a clear insight into the efficacy of the drug in particular cancers. At the other extreme, there are those who label any results that do not involve large numbers of patients in a randomized trial as being meaningless. Both views are wrong.
The primary purpose of phase 1 trials is to determine if a drug can be used safely in humans at certain doses. In many cases, the phase 1 is conducted in healthy volunteers so that there is no chance to determine signals of efficacy. In the case of DCVax-Direct©, patients in the trial did have cancer so that there is the chance for signals of efficacy, but at best these are only signals and not proof of concept. Depending on the design of the trial, however, there can be interesting insights drawn that create hypotheses that are important in designing the next clinical stage phase 2 trials. For a phase 1, this DCVax-Direct© trial was particularly rich in providing data for hypotheses generation and there were intriguing signals of efficacy.
Key Points about the Phase 1 Trial
There were no safety or feasibility constraints for intra-tumoral injection of DCVax-Direct©.
Side effects were minimal and anecdotal comments suggest improved quality of life.
The primary purpose of the phase 1 trial was to demonstrate safety and to try to determine; (1) an appropriate dose and (2) an effective dendritic cell activation method for DCVax-Direct© in order to proceed to phase 2. These objectives were clearly met and will lead to two phase 2 trials in non-small cell lung cancer and sarcoma and another exploration trial in other solid tumors similar to the phase 1 design which enrolled patients with multiple types of solid tumors.
There is evidence based on biopsies and biomarkers that DCVax-Direct© is creating an immune response against a wide array of solid tumors. Investigators saw in some patients substantial recruitment of T-cells to the tumor suggesting that DCVax-Direct©  may break down the barriers of the tumor that inhibit T-cell infiltration.
The emergence of de novo T-cell infiltrates suggests induction of specific anti-tumor response.
The evidence suggests both a local and systemic effect.
There is also evidence that T-cells that have infiltrated into the tumors are functionally active.
There is also evidence of induction of PD-L1 expression in the tumors, which  suggests an attempt by the tumor to activate immune checkpoints and turn off the newly invigorated T-cell response; this suggests that a combination with checkpoint inhibitors could be synergistic.
 Phase 1 Trial Details
The phase 1 trial enrolled 40 patients who were suffering from 13 different types of solid tumors. These were terminal cancer patients. most of whom had multiple inoperable tumors, had failed multiple prior therapies and had a very poor prognosis; improvement of any sort is rare and unexpected. On average, each patient had 3 inoperable tumors and many had micrometastases. DCVax-Direct© was injected into tumors that were ≥1 centimeters; only one tumor was injected in each patient.
Patients typically received their first injection about six weeks after recruitment into the trial.  The treatment regimen called for injections at weeks 0, 1, 2, 8, 16 and 32 so that there were up to six injections over 8 months (not all patients received six injections). Because this was primarily a safety study, investigators were very cautious on dosing and aggressiveness of treatment. They injected only one tumor and the injections were spaced 1.5 to 2.0 months apart after the first two weeks. There was relatively little pain at the site of injection and occurrence could be treated with lidocaine. The delivery system for DCVax-Direct© seems to be feasible, effective and well tolerated. Only four patients are still in the process of completing study visits. Of course, data collection is ongoing and most patients will be followed until death.
Some tumors were on the surface of the body and easily accessible, but with  image guidance, tumors can be treated almost anywhere in the body. A guide needle is inserted and DCVax-Direct© cells are delivered through a needle inside the guide needle. The configuration using ordinary, widely available imaging technologies (CT and ultrasound) allows cells to be delivered into multiple areas of the tumor and avoid necrotic areas in the center of the tumor. Investigators performed imaging and took biopsies at various times which were sent to independent, specialized laboratories for evaluations of key parameters such as infiltrating T-cells, histology, cytokine release and changes in tumor size. They looked at local and systemic responses and also evaluated various potential endpoints that could be used in subsequent studies.
Three different doses- 2 million, 6 million and 15 million cells- were investigated and two different dendritic cell activation methods were tested. It was not initially expected that there would be any differences in the activation methods, but they turned out to be biologically and clinically quite distinct. Remember that the manufacturing process starts with obtaining monocytes from the body through a blood draw. These monocytes are precursor cells that are  then differentiated into immature dendritic cells which are cryopreserved. They are later thawed and reinjected into a tumor in the patient's body where they pick up antigens from the tumor, differentiate into mature dendritic cells and migrate to lymph nodes. Because DCVax-Direct© is based on the injection of living cells, it is very different from inorganic, small molecule drugs. The manufacturing process is the product so that changes in the way monocytes are differentiated into immature dendritic cells can lead to products with very different properties. This was demonstrated in the phase 1 trial as one activation method was quite effective and one was effective, but less so.
Safety Results of Phase 1
There were no safety concerns with the phase 1 trial and this was the primary objective of the study. There were 149 total injections which were in almost all cases side effects were well tolerated and transient. There were transient fevers of ≤39 degrees centigrade that could be treated with Tylenol and were usually accompanied by chills and night sweats in the one or two days after injection. There were 11 cases of fatigue, 7 of anorexia, 6 of pain at the injection site and some cases of nausea, headache, decreased appetite, etc. There were 2 serious adverse events: dehydration caused by fever and systemic inflammatory response syndrome that were successfully managed. A maximum tolerated dose was not reached. There were no meaningful differences in side effects among the dose levels.
Survival Results in Phase 1
Of the 40 patients in the trial, 39 were evaluable. The company showed survival results for 39 patients in the trial of whom 27 are still alive at periods of up to about 18 months after the first injection, which typically occurred about one and one half months after patient recruitiment. It is difficult to draw conclusions because of the small number of patients treated, the diversity of tumors treated and the difficulty in finding historical control groups to compare against. These were very diverse cancers.
Overall Survival
The survival data is shown below by type of tumor. It can be seen that there are many different types of cancers in which the patients are still alive. Survival was not limited by tumor type. I think that at this stage it is very difficult to draw firm conclusions from this data. We know that these were terminal patients that are expected to die in a short period of time, but the aggregate effect of DCVax-Direct© is difficult to decipher. We do know that there were some striking improvements in some patients as other presentations have highlighted unexpected and significant/ meaningful improvements in one pancreatic cancer patient, two sarcoma patients, one non-small cell lung cancer patient and one ovarian patient. I think that this data will provide more insightful results as it matures.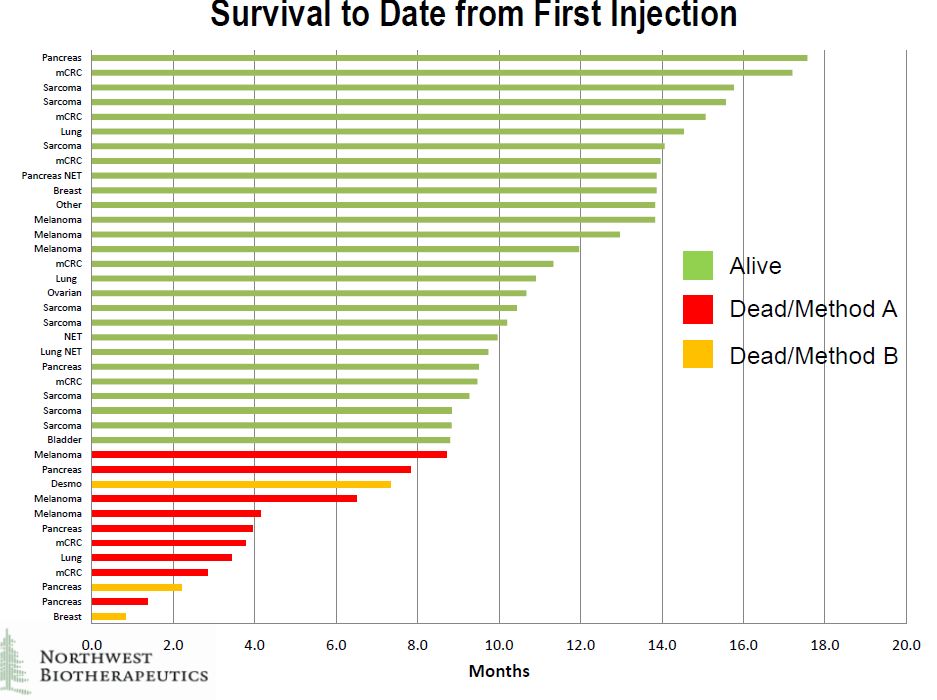 Click on slide to enlarge
Survival Viewed Against Number of Injections Received
The survival by number of injections is shown in the next table. Clearly, most of the deaths occurred in patients who received fewer injections. This may be attributable to the treatment, but there is an alternate explanation that those patients who were destined to do better and live longer would obviously receive more injections.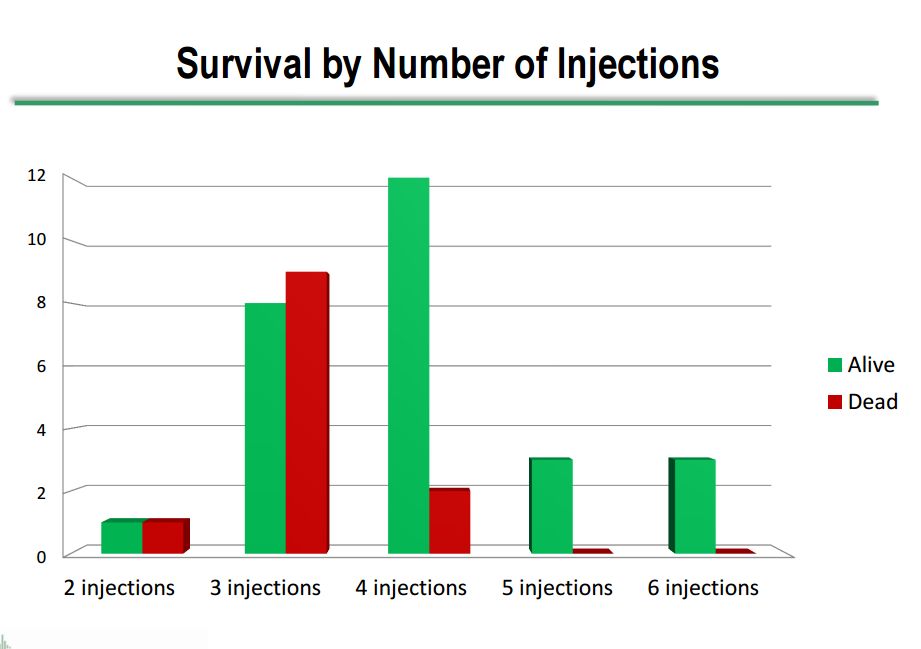 Click on slide to enlarge
Survival by Dendritic Cell Activation Method
As I previously touched on, there were two dendritic cell activation methods used in the study, method A and method B, which showed very distinct differences. The Company would not comment on what differentiates the two methods. Of the 18 patients treated with method A, 9 have died and 9 are still alive. Of the 21 patients treated with method B, 18 are still alive and 3 have passed away. The 50% survival rate with method A in a terminally ill patient population may be a positive outcome, but method B shows a clear and statistically significant difference between survival in the two methods. However, the numbers of patients are small and there are so many different variables between the two groups that we cannot be confident that the populations measured in each method are the same.
It can also be seen that patients treated with DC activation method B are much more likely to have stable disease at week 8; 16 Method B patients had stable disease as opposed to 3 with progressive disease while in Method A there were 4 patients with stable disease and 12 with progressive disease.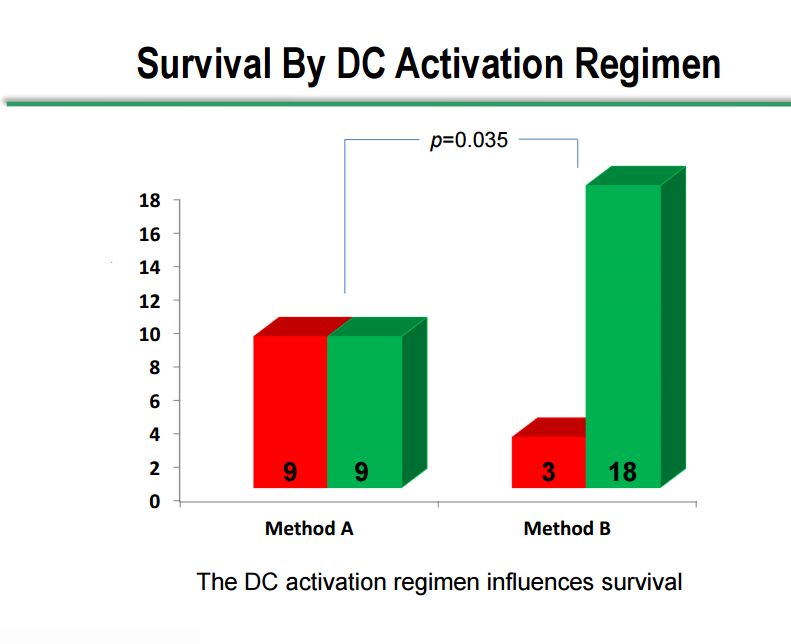 Click on slide to enlarge
Correlation with Stable Disease and Survival
Survival correlates very well with stable disease/absence of progression. The next table looks at stable disease versus progressive disease at week 8 after the first injection. Stable disease is defined as <25% increase in the sum of the longest tumor diameters in the tumors measured. As can be seen in the following table, there is significant correlation between stable disease at 8 weeks and survival. Of the 21 patients with stable disease at 8 weeks, 19 are still alive and 2 are dead. Of the 14 with progressive disease at week 8, 5 are alive and 9 are dead.
The results were striking when looking at survival outcomes based on stable disease at week 8 when the data was stratified by dendritic cell activation method. Sixteen of 19 patients on activation method B who had stable disease at 8 weeks are still alive. This compares to 4 of 16 in activation method A who remain alive. This is strongly suggestive that method B is much more effective, but I would caution that the numbers are small and we are dealing with very heterogeneous populations. Another cautionary point I would make is that in many patients, investigators frequently see an initial increase in tumor size, probably due to the infiltration of immune cells or an inflammatory reaction, which can mistakenly give the appearance of progressive disease. All of the results just discussed are shown in the following table from Dr. Bosch's presentation.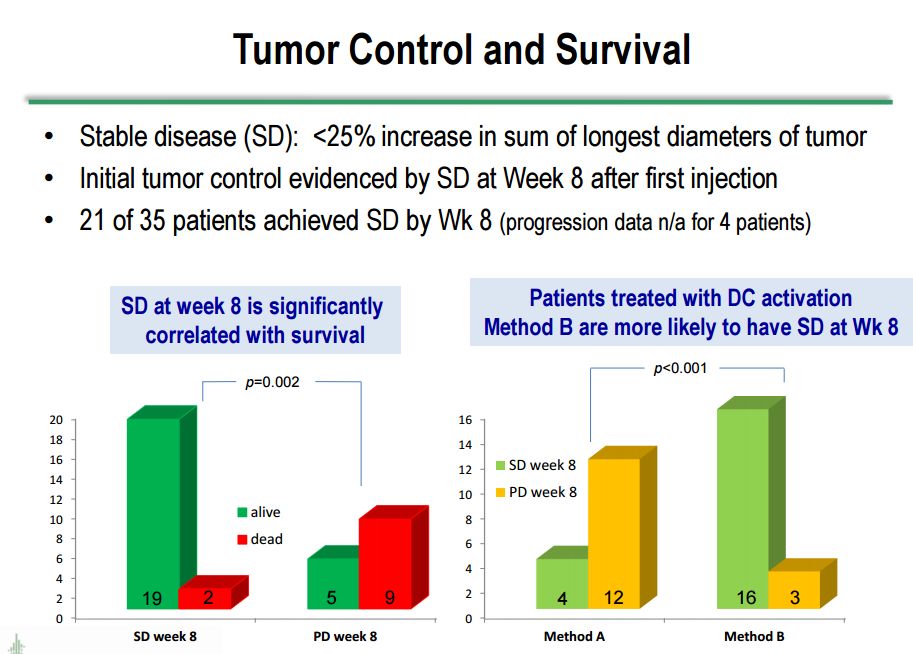 Click on slide to enlarge
Hypotheses about Possible Mechanism of Action
Northwest's Dr. Bosch spent a good deal of his presentation on hypotheses generation to explain the mechanism of action, the resultant effect of DCVax-Direct© on cancer cells and whether they are producing potential systemic effects as well as local. While these appear to be logical and consistent, I would caution that they are still hypotheses and need to be confirmed or modified by larger studies.
He began his discussion by giving an overview about dendritic cells which are the key antigen presenting cells that are required for inducing an adaptive immune response. In order to mount an adaptive immune response, dendritic cells must be functional and intact. However, in tumor patients, they are often paralyzed or at least partially blocked in their function by mechanisms that the tumor has evolved to defeat them. This may have rendered dendritic cells ineffective. The Northwest manufacturing process by preparing immature dendritic cells ex vivo are then reinjecting them may result in the creation of fresher, healthier and more effective dendritic cells.
The tumor micro-environment is highly immune-suppressive, and hampers induction of de novo immune responses as well as the function of effector cells. Cancer cells produce VEGF, TGF β, and other cytokines that block functional maturation of the dendritic cell. To generate an effective immune response in cancer patients, Northwest believes that the tumor microenvironment must be modified. This can be done by producing immature dendritic cells ex vivo and to prepare them so that when they are re-injected back into the tumor, they modify the tumor microenvironment by producing TNF α, IL-6 and IL-8.
Immature dendritic cells are very good in taking up and processing antigen. They are the cells that are initially are injected in the tumor where theysome of them chew some cancer cells into little pieces. They next differentiate into mature dendritic cells that travel to the lymph nodes to display the antigens to the immune system via the MHC II molecular complex. While traveling to the lymph node they undergo a maturation process that takes 48 to 72 hours. These antigens are then displayed on the MHC II molecular complex to passing CD4 helper T-cells that leads to the activation of CD-8 cytotoxic T-cells and B-cells.
Patient Outcomes Examples
As a starting point, it is useful to consider two patient examples. One was a patient who had a T-cell response to the tumor which was blunted by the tumor and another in whom there was no evidence of a T-cell response. At the time that therapy was begun, there were some CD3 cells and some CD4 cells but almost no CD8 cells. CD3 surface markers are found on all T cells: helper T-cells, cytotoxic T-cells and stem cells and other precursor cells that can differentiate into helper T-cells and cytotoxic T-cells. The CD4 surface marker is found on helper T-cells and the CD8 surface marker is found on cytotoxic T-cells. Seven days after the first injection, they saw massive infiltration of CD8 cells and CD4 cells in this patient indicating an immune response where none had been seen before.
Dr. Bosch hypothesizes that the initial weak presence of T-cells suggests that there had been a response of T-cells but the tumor had put up defenses that protected it against the T-cells. What this DCVax-Direct© treatment appears to have done was to break down the barriers that exist and allow the T-cells that already exist to multiply. This differentiation of existing cells in the tumor was probably combined with T-cell infiltration from newly activated T-cells. There were also shared T-cell receptor, tumor targeting sequences for both T-cells in the tumor tissue and T-cells circulating in the blood. This suggests that T-cells that are specific to the tumor were spreading through the blood to other parts of the body and is consistent with both a local and systemic effect.
In patient two, there were no CD3 cells at the time of the first injection indicating that there were no T-cells in the tumor; this indicated no or a very limited adaptive immune response to the tumor. At 8 weeks after the first injection, 40% of the tumor mass was T-cells which indicated that DCVax-Direct© had resulted in a strong T-cell response. (As an aside, this resulted in a significant increase in the size of the tumor which can be mistaken for tumor progression.) There was also production of the cytokines interferon gamma and tumor necrosis factor which are functional markers of T-cell activity that indicate that the T-cells are active. Moreover, these cytokines also have anti-tumor effects on their own.
Dendritic cells produce significant amounts of cytokines such as TNFα, IL-6 and IL-8. Northwest hypothesizes that the injection of its cells into the tumor converts the immune suppressive environment into an immune conducive environment. Immature dendritic cells take up antigen in the tumor and then differentiate into mature dendritic cells as they migrate to the lymph nodes. There they display the tumor antigens through their MHC II complex to circulating CD4 cells which leads to the activation of CD8 cytotoxic T-cells. This would be consistent with this treatment working in patients who have a pre-existing T-cell response and in those who do not have a pre-existing T-cell response.
Potential Synergy of DCVax-Direct© with Checkpoint Inhibitors
Tumors evolve defense mechanisms that enable them to evade or block an immune response. One of the mechanisms is that they mimic an immune regulatory mechanism that has already been put in place by nature to dampen the T-cell response in order to prevent auto-immune disease. In this case, the tumor is highjacking those pathways by secreting molecules that suppress the immune response. One of these pathways is called the PD-1/ PD-L1 pathway.
Northwest looked at tumor tissue before and after treatment in patients who had no de novo expression of PD-L1. There was sometimes no expression of PD-L1 at day 0 or week 8 but by week 16 there was PD-L1 expression. This suggests that the tumor was secreting PD-L1 to defend against T-cells whereas there had previously been less need to secrete PD-L1 which is indicative of there being no or a limited immune response. As an aside and in an argument which is too complex to discuss here, this expression can be produced by tumor cells or on the invading macrophages which are recruited to the tumor and upregulated.
About 70% to 80% of patients treated by the checkpoint inhibitors don't respond to checkpoint inhibition. This suggests that if DCVax-Direct© can re-invigorate a blunted immune T-cell response or initiate a new T-cell response, this would result making some patients candidates for checkpoint inhibition that they weren't before. Fourteen of 22 evaluable patients in the phase 1 trial showed either de novo or significantly increased expression of the PD-L1 molecule after DCVax-Direct© treatment. This indicates that the tumor was now facing a T-cell attack and in response was producing more PD-L1 ligand
Upcoming Phase 2 Trials 
The Company plans to pursue Phase 2 trials in non-small cell lung cancer and sarcoma, as well as a Phase 2 trial to explore multiple diverse types of cancers similar to the Phase 1 study.  Drawing on lessons learned from phase 1, they will inject multiple tumors instead of just one and injections will be more frequent. It will also use dendritic cell activation method B that was shown more effective in phase 1. The number of sites in the US will be greatly expanded and foreign sites will be added. No other details have been given. All three studies should be started in coming weeks or months although Northwest has not given any guidance.
Presentations by Bristol-Myers Squibb and Merck at ASCO
I am not going to try to go over in any more than passing what Bristol-Myers Squibb and Merck presented at their analyst meetings at ASCO. As I previously mentioned, both spoke positively about the potential of combining their checkpoint inhibitors with cancer vaccines. I have reproduced a slide from Bristol-Myers Squibb which shows its planned registrational trials for Opdivo and Yervoy. It can be seen that this is a development effort across many solid tumor types. My purpose in inserting the table is to show that BMY has a study ongoing in relapsed GBM and a study planned in newly diagnosed glioblastoma multiforme. Merck has not highlighted any planned trials in GBM, but is likely to do so in the future. The more advanced stage of development in GBM leads me to speculate that it is more likely to be interested in combining Opdivo with DC-Vax-L than Merck.
I think that it would also make great deal of sense to combine DCVax-Direct© with Opdivo in the treatment of non-small cell lung cancer as Opdivo is already approved for this indication. Improvement of clinical outcomes relative to Opdivo even in a small study could provide proof of concept.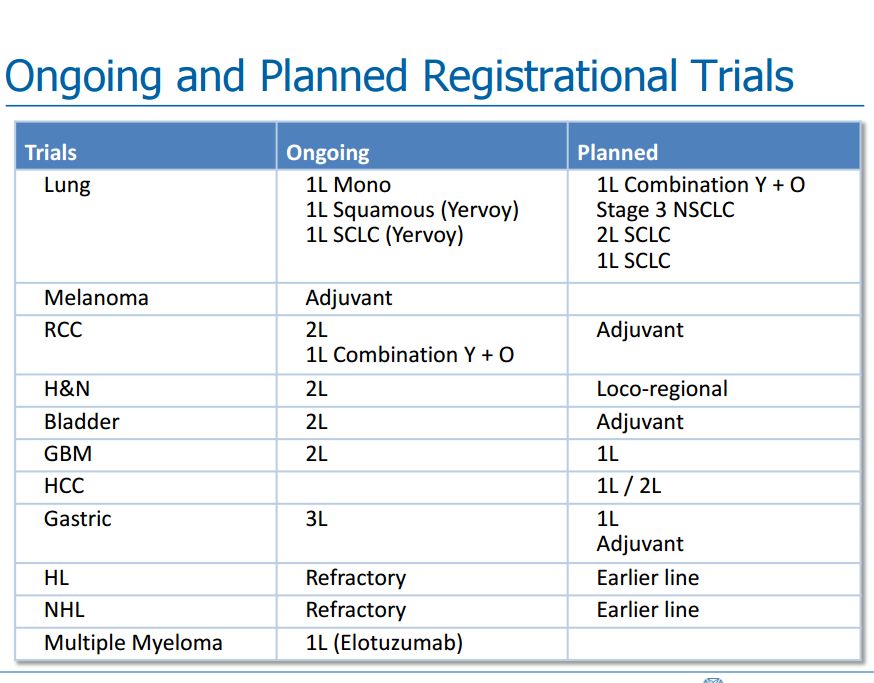 I also have included a slide from the Merck presentation that shows their interest in combining Keytruda with novel cancer vaccines.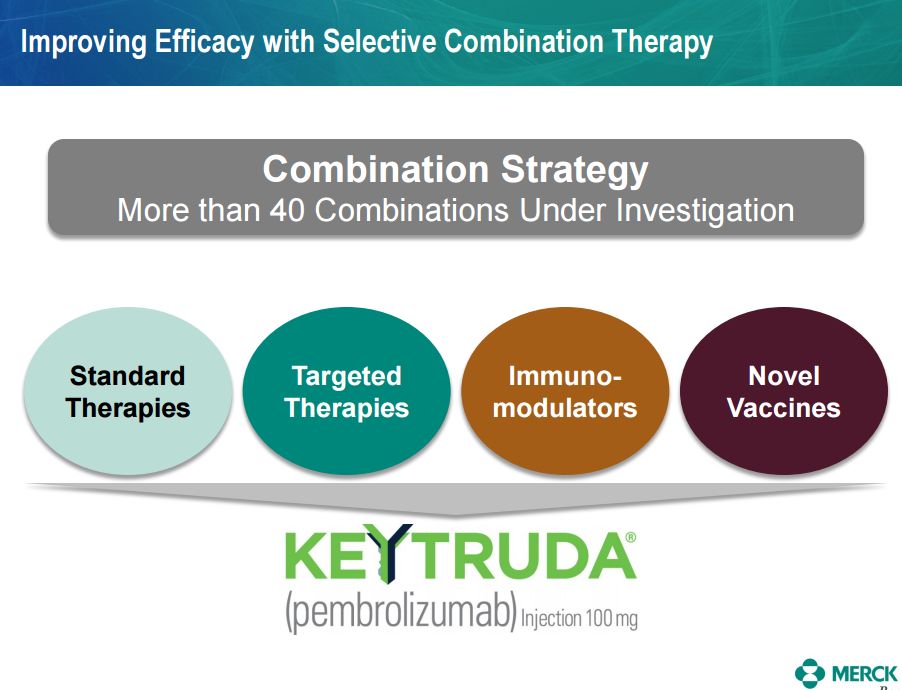 Tagged as dcvax direct, DCVax Direct Phase 1 Trial at ASCO, DCVax-L, Keytruda, Northwest Biotherapeutics Inc., NWBO, Opdivo + Categorized as Company Reports