Northwest Biotherapeutics' DCVax Cancer Vaccines May Be a Game Changer In Cancer Therapy (NWBO, $0.22)
Northwest Biotherapeutics' DC Vax Cancer Vaccine May Be a Game Changer
In Cancer Therapy
Report Outline
Investment Thesis and Opinion
Introduction
Phase I Trial Results for DCVax-L were Impressive
Manufacturing Process is Superior to that of Provenge
Fraunhofer and King's College Collaborations Put Me over the Top
An Asymmetric Investment Opportunity
There Are Significant Negatives
Can the Phase III Trial Succeed and If So, Will FDA Approve DCVax-L?
Price Target Discussion Modeled on Pharmacyclics and Threshold
What about ImmunoCellular Therapeutics and Dendreon?
Could Dendritic Cell Cancer Vaccines be a Major Advance?
Compassionate Use in Europe
Communicating with Shareholders
Key Relationships, Collaborations and Corporate History
The Toucan Funds and Linda Powers
Cognate BioServices
The Two Continent Strategy
Fraunhofer Institute in Germany
The United Kingdom Approach
Advantages of the Fraunhofer and King' College Collaborations
Compassionate Use Program
Corporate History
The Cancer Addressed By DCVax-L: Glioblastoma Multiforme
An Overview of Brain Cancer
Incidence of Glioblastoma Multiforme
Current Treatment of Glioblastoma Multiforme
Clinical Results for DC-Vax-L and New Phase III Trial
Phase I Data for DC Vax-L
Design of New Phase III Trial
Enrollment
The DC Vax-L Manufacturing Process is Critically Important
The Pipeline
Product Lines
DCVax-Prostate
Financials
Funding History
Shares Outstanding
Investment Thesis and Opinion
Introduction
I am starting my coverage of Northwest Biotherapeutics (NWBO.OB) with a Buy. I became interested in this small bulletin board company based on research that I did on Dendreon whose prostate cancer vaccine Provenge is the first approved cancer therapeutic that uses living dendritic cells. I came to believe that this technology had the potential to significantly improve cancer outcomes over current regimens based on chemotherapy, monoclonal antibodies and targeted therapies.
I looked for other companies with dendritic cell technology and came across Northwest. The company has a tortured financial and stock price history over the past decade in which it has struggled as an underfunded and ignored company scrambling to stay alive. Somehow, it has managed to advance its lead product, DCVax-L for glioblastoma multiforme (the most severe type of primary brain cancer), to a phase III trial for which topline results are expected in 2013 or early 2014.
Despite its tortured past and tenuous current financial position, Northwest has a compelling technology platform and products. It is a pioneer and industry leader in using living cells as the basis for therapeutic products. In the case of living cell therapy, the manufacturing process is the product and through its collaboration with Cognate BioServices, it has developed sophisticated manufacturing technology. It is in phase III development with DCVax-L for glioblastoma multiforme and has another product DCVax Prostate that is waiting for funding to begin a phase III trial.
Phase I Trial Results for DCVax-L were Impressive
DCVax-L has begun a phase III trial on the basis of data from two phase I trials. Like many phase I trials, these involved a small number of patients (twenty), had no control arm and were done at a single clinical site. Seasoned biotech investors will quickly point out such results are often not replicated in larger studies and this has certainly been the case with prior cancer vaccines.
I understand this and I initially viewed the phase I trial results with conventional skepticism, but as I looked closer, I found the results just too striking to ignore. Investors often get excited with cancer drugs if phase I/II results in difficult to treat cancers like glioblastoma multiforme show objective responses of 30% to 40% (defined as shrinking the tumor mass by more than 50%). Usually improvements in progression free survival (time for the tumor to start growing again) and median survival are measured in a few months or even weeks.
DC Vax-L showed median progression free survival of 25.0 months which compares to 6.9 months expected with standard of care "SOC" and median overall survival of 36.4 months versus 14.6 months expected for SOC. The data suggests that after three years, 55 of every 100 patients treated with DC Vax-L would be alive versus 16 of every 100 treated with SOC. Even with all of the phase I caveats, this strong signal of activity suggesting a nearly unprecedented increase in survival was just too much for me to ignore.
Manufacturing Process is Superior to that of Provenge
My experience with Provenge had shown me that in living cell based products, the manufacturing process is the product. I came to believe that NWBO has a superior approach to manufacturing as compared to Provenge. Both start with the collection of monocytes through a blood draw. These monocytes are then matured into the dendritic cells that are the basis for Provenge and DCVax-L. The Provenge manufacturing process results in a mixture of cells in which monocytes are only about 20% of total cells while the DCVax-L process produces 80% monocytes. This greater potency allows DCVax-L to be given as simple intra-dermal injections versus a one hour infusion for Provenge. I think that this low monocyte yield might also impair the efficacy of Provenge in relation to DCVax-L, but this is just speculation on my part.
The Provenge manufacturing process requires making fresh product for each of three infusions given over a one month period. The DCVax-L process makes sufficient quantities in one batch production process to allow for treatment over three years. Unlike Provenge, this allows for booster shots which intuitively I think might increase efficacy. The vials of DCVax-L are cryopreserved until needed. They are delivered to a doctor's office where they are simply thawed and injected unlike the one hour infusion needed for Provenge.
The more efficient manufacturing process for DCVax-L should sharply reduce the cost of manufacturing relative to Provenge. Because of high cost of goods sold, Dendreon had to price Provenge aggressively and management has suggested that it will take $500 million of Provenge sales to break even. DCVax-L is expected to be priced more in line with other types of new cancer therapy and carry normal pharmaceutical margins. Importantly, DCVax-L is given as seven injections over the first year so that it doesn't have the dose density that has created a reimbursement issue for Provenge.
Fraunhofer and King's College Collaborations Put Me over the Top
I was intrigued with the phase I data and the superior manufacturing process, but I kept thinking what am I missing? It is not comforting to like a company that everyone else seems to be indifferent to or negative on. Understanding Northwest's collaborations with Fraunhofer Institute and Kings College London and King's College Hospital provided third party validation and gave me the investment courage necessary to push me over the top and go out with a Buy. I thought that if these two prestigious and knowledgeable institutions were willing to team up with Northwest that I might be on to something.
Fraunhofer is a prestigious and well respected research institute in Germany that over 60 years has gained a reputation for advancing science in healthcare and many other areas. Kings College Hospital is the premier teaching hospital in London and serves a catchment area in the U.K. of 4.9 million patients. King's College London is a sister institution that does contract manufacturing and has expertise in production of living cell products.
I think that the Fraunhofer and the King's College collaborations bring to Northwestern's European development efforts the same benefits for manufacturing, clinical trial support and interaction with regulatory agencies that small companies look for when they partner with a big pharma company. Importantly, these collaborations do not produce the significant dilution to shareholders caused by sharing profits with a pharma partner. Northwest also does not risk losing control over product development if the big pharma company moves too slowly or becomes distracted, a not uncommon occurrence. These unique and highly valuable collaborations are a critical aspect of Northwest that investors have overlooked.
The two manufacturing operations of Fraunhofer and King's College London provide significant benefits. Because the manufacturing process is so crucial to the product, it will bear close scrutiny if the time comes for regulatory agencies to consider approval of DCVax-L. At that time, the European regulatory agencies will have thorough knowledge of the DCVax-L manufacturing process. It is also necessary to have European manufacturing to cope with the logistics associated with personalized medicines. These facilities also mitigate the risk of any manufacturing disruption that might occur in the US, UK or Germany the other two may be able to offer backup.
Both Fraunhofer and King's College London had existing clinical grade manufacturing facilities for living cell products, a portion of which they are dedicating to the DCVax-L program. Thus Northwest was able to avoid the capital expenditures and a time delay of two years that would have been involved in constructing new facilities assuming that somehow Northwest could have raised the necessary funds.
The relationship with Toucan Funds and its founder, Linda Powers, also puzzled me at first. There are significant cross dealings between Toucan and Northwest as Ms. Powers is Chairman and CEO of the Northwest and has been responsible for and invested in numerous fund raisings. My initial suspicion was that there might be something wrong. However, as I looked closer, I concluded that funding from the Toucan Funds, its affiliates and Ms. Powers all stem from the unwavering support of Ms. Powers and this is the only thing that has kept Northwest from going out of business. The strength of this conviction is underlined by the 53% ownership of Northwest by Toucan, its affiliates and Ms. Powers. If you want to find a management with "skin in the game" NWBO is certainly on the top of the list.
An Asymmetric Investment Opportunity
Some hedge funds have made enormous returns by looking for asymmetric investment opportunities. These stem from finding upcoming events that are not well understood and which have the potential to cause dramatic stock movements in the case of a positive outcome. The chances for such a positive outcome may be modest, but if it does occur the potential reward dramatically offsets the risk of being wrong. This is asymmetric investing and biotechnology lends itself very much to this approach.
For an asymmetric opportunity there has to be lack of awareness or extreme skepticism that a positive outcome can occur. Small biotechnology companies fit this approach because most Wall Street analyst coverage in biotechnology is focused on larger biotechnology names (more symmetric investing). In addition, the large number of trial failures in small biotechnology has produced a pervasive skepticism that any clinical trials will succeed.
Asymmetric investing does not mean that an investor is smart enough to predict with certainty clinical trial outcomes. The premise is that the event has a reasonable chance of occurring, is unexpected and if it does occur the upside potential dramatically offsets the risk of losing much or all of the investment if the outcome is negative.
The approach I have used to gage potential upside for Northwest is to compare it to two other cancer targeted biotechnology companies that have drugs in similar stages of development. If the phase I results for DCVax-L are repeated in the phase III trial, it will be a great breakthrough for treating glioblastoma multiforme. In addition, it will validate the dendritic cell approach for the treatment of most solid tumors. I believe that the market would respond to this event in the same way that it has reacted to Pharmacyclics results with ibrutinib in hematological cancers which has resulted in an increase in market capitalization from $500 million to $4 billion over the last year. With the 430 million fully diluted shares for Northwest that I project for 2014, this would result in a price of about $9.00.
This is an obvious best case. In the event that the results are positive, but show more modest improvements, I think that the example of Threshold Pharmaceutical with TH-302 might be a good model, When results showed modest objective responses and modest improvement in progression free survival in pancreatic cancer, the market capitalization jumped from $77 million to $450 million. At $450 million, Northwest would sell for about $1.00 per share.
Of course, the phase III trial could fail. There is ample evidence of trial failures in biotechnology and especially in cancer vaccines where very promising phase I results are not replicated in phase III trials. There is a very real risk that if this occurs with DCVax-L that Northwest would fail. Anyone investing in Northwest must be prepared to lose all of their money. My asymmetric analysis suggests that an investor is risking at most $0.22 to see an upside of as much as $9.00 in an optimistic case and perhaps $1.00 in a positive but more subdued case. Don't ask me to assign odds for each scenario. I just think that there is a reasonable chance for success in which case the upside is so significant that this risk is justified.
There Are Significant Negatives
The starting point for analyzing the potential for a stock is to recognize the negatives and this is even more imperative when dealing with an emerging biotechnology company like Northwest Biotherapeutics. There is a long list of negative issues that any potential investor should consider.
· Northwest Biotherapeutics is a bulletin board listed company that sells for $0.22 per share and has a market capitalization of about $57 million.
· There is almost no Wall Street research coverage or institutional awareness of the company.
· There are only eight fulltime and two part time employees. However, this metric gives no credit to its relationships with Cognate BioServices, Fraunhofer Institute, King's College in London, its contract research organization and other contract services. In the aggregate these provide Northwest with significant additional personnel and infrastructure resources.
· NWBO ended the first quarter with just $37,000 of cash, current liabilities of $24 million and long term liabilities of $1 million. The burn rate in the first quarter was $3.5 million. Northwest appears insolvent at first look. However, this balance sheet is typical of the quarter ending balance sheets that Northwest has presented for several years. The company has done a long string of small financings on a quarter by quarter basis to fund the company.
· In the 10-K for 2011 the auditors raised a going concern issue. Again this has been a recurring issue for Northwest for the past several years.
· The company just filed an S-1 in which it announced that it plans to raise about $25 million of cash. Raising this amount would be extremely important from an investor standpoint as it would finance the company through the completion of the primary endpoint of the phase III trial and announcing of topline results in late 2013 or 2014. If this offering is unsuccessful, the company must continue to finance from quarter to quarter to complete its phase III clinical trial, which could cause many investors to be concerned about solvency and avoid the stock.
· Coincident or prior to the offering, the company will try to eliminate most of the debt overhang by converting $17 million of notes payable and convertible notes into equity. About $9 million of this is owned by Toucan and its affiliates and another $7 to $8 million by investors who have consistently supported the company in the past. I think that Northwest will be able to convert most of this debt into equity. However, failure to do so could potentially block the equity offering and force the company to rely on quarter over quarter financings.
· Certain aspects relating to clinical issues also cause unease. The company is jumping from phase I to phase III on the basis of two phase I trials that enrolled only 20 patients that had no comparison arm and were done at a single clinical center. Seasoned biotech investors will quickly point out that this is an uncomfortably small number of patients and the lack of any control arm is usually a danger signal as is work done at just one center.
· By my calculations, the company now has 257 million shares outstanding. If the offering and recapitalization are successful, I estimate that the number of fully diluted shares will increase to 431 million shares.
Can the Phase III Trial Succeed and If So, Will FDA Approve DCVax-L?
The randomized phase III trial of DCVax-L in glioblastoma multiforme will enroll 300 patients in the US, Germany and the UK with topline results expected in late 2013 or early 2014. The primary endpoint is median time to progression and patients who progress in the control arm will be switched to DCVax-L. This is similar to the original design of the Provenge phase III trial. Provenge did not successfully reach the time to progression endpoint, but it did show a statistically significant improvement in median overall survival and this ultimately led to its approval. The improvement in overall survival was achieved even though the patients in the control arm also received Provenge once their disease progressed.
Because of the similarities of the DCVax-L trial design to that of Provenge, there will be a lot of fretting as to whether DCVax-L will be successful. There will also be concern because the FDA has signaled that it prefers to see a survival benefit in cancer trials and often requires two separate, confirmatory trials for approval. These FDA issues raise the concern that even if the endpoints of the trial are successfully reached that the FDA may require another supporting phase III trial.
These are legitimate concerns, but the experience with Avastin gives hope. Avastin was studied in GBM patients who had failed standard of care. There were 134 patients evaluated in two non-randomized trials. In 2009, the FDA was willing to approve Avastin for GBM based only on very modest progression free survival of about 4 months and with no evidence of an effect on survival. Note that the DCVax-L trial adds DCVax-L to first line standard of care while Avastin was used in sicker patients who had failed SOC.
Price Target Discussion Modeled on Pharmacyclics and Threshold
In trying to set a price target for Northwest, I used the approach of studying the market capitalization of companies with cancer targeted drugs that are in a similar stage of development that have caught the attention of Wall Street. If the phase III trial results for DCVax-L are about the same as its phase I trials, I think that Northwest could be viewed in the same very bright light as Pharmacyclics.
In a period of about one year, Pharmacyclics has increased from $7.00 per share to a recent price of $57 and now has a market capitalization of $4 billion. The company has clearly caught the attention of Wall Street where its lead drug ibrutinib is correctly viewed as potentially a major advance for treating lymphomas and leukemias. A worldwide partnering deal with Johnson & Johnson has validated the technology and bolstered investor confidence. There are analyst projections that ibrutinib can achieve $2 billion or more of annual sales.
The clinical data for ibrutinib is based on two non-randomized, phase Ib/II trials. In one trial there were 69 patients with chronic lymphocytic leukemia "CLL" or small lymphocytic lymphoma "SLL" who had failed standard therapy. After 18 months of follow-up, 70% to 90% of the patients divided into three distinct groups according to disease characteristics did not experience a progression in their disease. In an additional 26 treatment naïve patients, 12% achieved a complete response and 96% of patients had no disease progression at 14 months.
A second non-randomized trial of 30 patients combined ibrutinib with bendamustine and rituximab in CLL. The overall response rate was 93% with 13% of patients achieving a complete response with no morphologic evidence of CLL. With a median follow up of 8.1 months only 2 patients reported progressive disease and an additional 5 patients proceeded to stem cell transplant.
The takeaway point from these two trials is that ibrutinib as a single agent and in combination with other drugs can delay progression of these two intractable hematological cancers for an impressive length of time. The data is too immature to draw meaningful conclusions about survival benefits but given how well that it is holding the cancer in check, it is likely to be impressive.
It is difficult to compare results in different cancers other than to say that glioblastoma multiforme and refractory/relapsed CLL and SLL are aggressive and difficult to treat. DCVax-L and ibrutinib have both shown impressive results in patient populations for which available treatment options are limited. The partnership with Johnson & Johnson gives third party validation of ibrutinib, but the Fraunhofer and King's College Hospital and King's College London collaborations also provide validation for Northwest. The most obvious difference is the greater number of patients in the ibrutinib trials, 125 versus 20 for DCVax-L, which gives somewhat more confidence in the interpretation of results for ibrutinib.
The market opportunities for both DCVax-L and ibrutinib are equally huge if they are successfully developed. The US glioblastoma market is an addressable market of about $1 billion and the European market is about the same size. Just as the mechanism of action of ibrutinib opens the potential for broad usage in most stages and types of lymphomas and leukemias, the dendritic cell vaccine approach of Northwest is applicable to most stages and types of solid tumors. The addressable markets for each are vast. I can see that in the event that the phase III results for DCVax-L are like those of phase I, analysts might also estimate $2 billion of sales potential and this could result in a market capitalization of $4 billion for Northwest.
In comparing and contrasting what we know about the two drugs, the first thing to note is that the results for each are both in non-randomized trials. DCVax-L was done at a single center versus multiple centers for ibrutinib. The two trials of ibrutinib enrolled 125 patients versus 20 for DCVax-L. The edge goes to Pharmacyclics in the reliability of the results, but not overwhelmingly so.
The second company to consider is Threshold Pharmaceuticals, whose lead drug, TH-302, has shown activity in a broad range of solid tumors. Threshold's price has increased from $1.29 in early February 2012 to a current price of $7.82, which gives it a market capitalization of $413 million. The strong move in the stock was caused by the release of results from a phase II study in pancreatic cancer in which TH-302 was added to gemcitabine or other agents used in treating pancreatic cancer. This showed an improvement in progression free survival from 3.1 months to 5.6 months and the objective response rate was 22%.
Threshold is an example of what more modest positive results in terms of therapeutic improvement might do to Northwest's market capitalization. The example of Threshold might apply if the results of the phase III trial data for DCVax-L were to show encouraging but not "knock your socks off" type of results. This might result in a $413 million market capitalization.
What about ImmunoCellular Therapeutics and Dendreon?
Northwest is invariably compared to ImmunoCellular Therapeutics (IMUC), which is at a similar stage of development with ICT-107, a dendritic cell cancer vaccine targeted at glioblastoma multiforme (GBM). I have previously written extensively on IMUC. ImmunoCellular has also reported phase I results for ICT-107 that are striking.
Investors naturally compare DCVax-L and ICT-107, but sometimes and wrongly assume that this is a "winner takes all" situation. I think that both drugs can do well in the event that trials are successful and they gain approval. It is invariably the case with other types of drugs that patients respond differently to similar drugs so it might be the case that some patients might respond better to one drug than another. There is also no theoretical reason that I can see that the drugs could not be used in sequence, a frequent strategy employed in cancer therapy.
DCVax-L, however, does have some important differences from ICT-107 that should be noted. One of the most important differences relates to the percentage of patients that can be treated. Everyone has an immune type (referred to as a "HLA" type), just as they have a blood type. As a matter of biology, IMUC's product is only able to treat two immune types (HLA A1 and A2) and cannot work in the rest of the population. Although IMUC estimates that as much as 75% of the US population may be HLA A1/A2, academic sources estimate more like 50% and IMUC's own trial enrollment numbers appear to be in line with the lower estimates. In contrast, NWBT's DCVax technology, which is made from biomarkers from the patient's own tumor, can treat the entire population – all patients whose tumor can be surgically wholly or partly removed. In general, it appears that around 90% of patients are able to have their tumors surgically removed and to deliver enough tumor tissue for DCVax to be made for them.
The Fraunhofer and Kings College strategy also gives DCVax-L a very important leg up in Germany, the UK and the rest of Europe. It will have data on European patients, the results of compassionate use cases in Europe and German and UK manufacturing sites. If IMUC goes for European approval, it will have to try to persuade European regulators to approve ICT-107 on the basis of patients only treated in the US and a US manufacturing site. This is likely to be a significant stumbling block.
Europe has regulatory policies that make it somewhat easier for dramatically different, potential breakthrough therapies like DCVax-L and ICT-107 to gain approval. The FDA takes a much more conservative view and often requires additional information from existing trials or even new trials before it grants approval. It could very well be the case that Europe will act more quickly than the US and it is likely that DCVax-L has an easier and quicker road to approval than ICT-107.
The manufacturing processes of both Northwest and ImmunoCellular represent significant improvements over that used by Dendreon to produce Provenge. They yield about an 80% concentration of monocytes from the blood draw as opposed to about 20% for Provenge. This richer concentration makes for a more potent and purer product that can be given as intra-dermal injections as opposed to the one hour infusions required with Provenge.
Provenge must also be prepared fresh for each use. DCVax-L is prepared in batches and divided into individual doses that are frozen and remain available for use for several years. Thus DCVax-L can easily be given as booster shots while a booster shot for Provenge requires that the whole manufacturing process to be repeated.
The Provenge process is very costly and Dendreon indicates that Provenge will need to reach $500 million to reach breakeven. DCVax-L can produce attractive margins at prices comparable to other new cancer drugs, according to management. Long time storage of a single production lot allows for continued treatment with almost no further costs as all of the manufacturing cost is incurred with processing the first batch.
Could Dendritic Cell Cancer Vaccines be a Major Advance?
The commercial success of the biotechnology industry sprang from recombinant DNA technology in the 1980s and 1990s with the next leg of growth arising from monoclonal antibodies in the 2000s. I think that living cell therapy products could be the next game changer in biotechnology and this caused me to look for other companies with products in late stage development; this is how I came across Northwest.
Despite the enormous amount of research in cancer, advances have been modest. Chemotherapy is the foundation of care, but in most cases it extends median survival by a few months or years at the cost of side effects that greatly affect quality of life or are life threatening. Focus has turned to monoclonal antibodies, other immunotherapies and targeted therapies, but with the notable exception of Glivec and its close imitators (targeted therapies for chronic myelogenous leukemia) the improvements in median overall survival seen have been modest and there are invariably side effect issues. The best known monoclonal antibody based drug, Avastin, increased overall survival from 15.6 months with standard of care to 20.3 months in its lead indication of metastatic colorectal cancer, a modest improvement of 4.7 months and more modest effects in other solid tumors. However, this hasn't prevented it from being a huge commercial success as sales reached $5.3 billion in 2012.
From a scientific standpoint, agents such as the dendritic cell cancer vaccines that re-activate the immune system hold great therapeutic promise. While Dendreon only improved median survival by 4.1 months in its trials in metastatic prostate cancer, I believe that this may have been the result of the inefficient manufacturing process that produces a product with significant shortcomings and the way that the trial was designed. The results with DCVax-L have given a hint that it may be able to extend median survival by years as opposed to months, an issue that I go into in greater detail later in this report.
Compassionate Use in Europe
With the help of Fraunhofer and King's College, Northwest is close to receiving approval for compassionate use in Germany and the United Kingdom. This means that DCVax-L could be the second living cell product for cancer after Provenge to realize product revenues. The course of therapy requires injections at days 0, 10, 20, and at weeks 8, 16, 32, 48, 72, 96 and 120. This works out to 7 shots in the first year and two maintenance shots in the second and third year. The maintenance shots will continue until the supply of DCVax-L is used up. In the clinical trials, therapy will be stopped at the end of three years as that provides the necessary statistical power.
The company has not yet determined pricing, but it is likely that it will charge an equal amount per injection which may be about $11,000 per injection. If so, realized revenues would be $77,000 in the first year and $22,000 in the second and third. In a compassionate use trial around 13 patients would create $1 million of revenues in the first year if all patients started at about the same time. In actuality patient starts will be staggered, but this gives some sense of the revenue potential.
Communicating with Shareholders
Northwest has been remiss in its investor relations efforts over the years and has done a poor job in informing investors about company developments. I believe that Linda Powers, who became CEO in 2011, will come to be regarded as a knowledgeable and credible spokeswoman as well as company leader as she explains her strategy. I can see investors becoming engaged and interested as has been the case with me.
Ms. Powers has her own money on the line and is about as aligned with other shareholders' interests as one could imagine. Since she first became involved with the company in 2004, she and her investment funds have almost single handedly kept the company afloat through extremely difficult times and they now own 53% of outstanding fully diluted shares.
Key Relationships, Collaborations and Corporate History
Northwest is more than just 8 full time employees operating with a strained balance sheet. Through its close relationship with Cognate BioServices, it has access to sophisticated manufacturing processes that have taken ten years to develop. The agreements with Fraunhofer, King's College London and King's College Hospital bring all of the advantages of a partnership with a large pharmaceutical firm without the dilution and loss of control. The sum of these parts makes Northwest a much stronger organization than it appears.
The Toucan Funds and Linda Powers
The Toucan Funds were set up as SBIC venture capital investment funds in which two thirds of the money came from a Small Business Administration program that allocates investment money into pioneering research areas that have difficulty obtaining funding from other sources. For each $1 that private investors put up first, the SBA will provide matching funds of up to $2. Toucan secured $40 million of private capital, and then obtained $80 million of matching funds from the SBA. Ms. Powers and her husband contributed about 70% or $28 million of the private funds. The remaining $12 million or so came from grants from investments by the states of West Virginia and Maryland to encourage biotechnology investment in their states and from various high net worth investors.
The anchor of the Toucan investment funds is Cognate BioServices which was formed in 2002. In the case of living cell products, the manufacturing process is as important as the components. Ms. Powers wanted to establish a state of the art manufacturing facility for living cell products that could then provide the critical manufacturing support for subsequent investments. I think that the manufacturing technology transfer to Fraunhofer and Kings College London that were so essential to the collaborations is a strong validation of Cognate's expertise in the manufacturing of living cell products.
With this manufacturing platform, the next element of the Toucan/Powers strategy is to invest in high risk projects such as those that are just emerging from academic laboratories and are preparing to run the gauntlet of pre-clinical and then clinical development; these are generally too high risk for conventional investors. Living cell technology was tailor made for this strategy as conventional dogma questioned the feasibility to develop commercial products.
In researching Northwest over the past year, I have come to regard Ms. Powers as an extraordinary entrepreneur who goes where others fear to tread and who also puts significant amounts of her money on the line alongside other investors. I also think that the prescience to build a state of the art living cell manufacturing facility with Cognate was extremely important.
I go back far enough to remember that investors and big pharma scoffed at recombinant DNA technology dismissing it as a manufacturing tool with limited commercial potential. George Rathman of Amgen and Bob Swanson of Genentech didn't listen to the skeptics and of course this technology was the building block of biotechnology. Skeptics also abounded in the early stages of monoclonal antibodies that have subsequently led to the development of blockbuster drugs like Avastin and Herceptin that have been the second leg of the biotechnology industry. I think that products based on living cells may provide the next leg to biotechnology and I see Linda Powers as the same maverick entrepreneurial type as the legendary Rathman and Swanson. I know that most pundits will consider this as a rash statement, but before leaping to that conclusion, please consider the following paragraphs.
I asked Ms. Powers about who she depended on for the scientific advice that has led her into her pioneering and leadership position in living cell technology. I was expecting to heat the names of distinguished scientists or perhaps even a Nobel Laureate; I didn't. She said that early on she hired expert advisers but felt that they were really too much in learning process themselves and were too steeped in conventional dogma to give her the insight she needed. Instead, she relied on absorbing input from academics, did not rely on advisers and came to depend on her own instincts. Her whole focus was to invest in game changing technology and she saw enormous opportunity in immune therapy and living cell therapy. I share this view.
Ms. Powers is apparently a very bright individual with a B.A. from Princeton University, where she graduated magna cum laude and Phi Beta Kappa. She also earned a JD, magna cum laude, from Harvard Law School. She has extensive experience in corporate finance and restructurings, mergers and acquisitions joint ventures and intellectual property licensing. She has become active in biotechnology organizations and serves on the board of six private biotechnology firms. Her scientific expertise came as she developed the Toucan portfolio.
Ms. Powers first became involved in Northwest in 2004 which because of financial missteps was on the verge of failing. She stepped in with a significant investment that kept the company going. She became Chair of the board of directors in 2007 and CEO in 2011. I think that Ms. Powers did not fully anticipate the clinical development issues and resultant financing challenges that were greatly exacerbated by the great recession of 2009 and 2010. However her resolve never wavered. She continued to invest her own money and attract money from angel investors to keep the company alive on a quarter by quarter basis. In addition, Cognate continued to support manufacturing of product without requiring cash payments that resulted in it acquiring huge accounts receivables that were subsequently converted into notes payable, convertible notes and equity.
Without Linda Powers and Cognate, Northwest would almost certainly have gone under long ago. The combination of Toucan, Cognate and Linda Powers now own 53% of the fully diluted shares outstanding. Importantly, there are no distinct classes of stock held by Ms. Powers. Her stock is the same class as everyone else's. This is one of the most extraordinary examples that I have seen where managements' intellectual and financial interest is so closely tied with those of external shareholders.
Cognate BioServices
Northwest has contracted the manufacturing of DCVax products to Cognate BioServices. There are numerous companies capable of manufacturing small molecule and biologic drugs. This provides a wealth of experience and expertise that is not available for living cell products because there has only been one living cell product that has been approved for cancer and that is Dendreon's Provenge. Cognate and two other companies are the only established contactors for specialized manufacturers of living cell products. The production of such living cell products involves manufacturing entirely different from small molecules and biologics and requires specialized physical facilities and equipment. Likewise the skill sets required of personnel and good manufacturing practices are different.
The regulatory requirements for living cell products are exceptionally difficult to meet in part because the products are often personalized. Cognate has an impressive regulatory track record. Over the last decade it has been responsible for manufacturing product for more than 20 INDs for living cells products and all of these INDs have been approved by the FDA. Impressively, no client of Cognate has been put on clinical hold due to manufacturing issues.
Northwest and Cognate Biosciences have spent over ten years pioneering a unique method of batch manufacturing for DCVax-L that is based on producing at least 3 years of treatments from one batch manufacturing cycle. They have developed special cryopreservation methods which enable a multi-year quantity of product to be frozen and kept frozen for years while maintaining its potency. This multi-year batch manufacturing and cryopreservation are essential elements that result in high costs only being incurred one time. Thereafter, the stored cryopreserved product is effectively an off the shelf product with little marginal cost. This should allow Northwest to price DCVax-L comparable to or below current biologics and small molecules used in cancer treatment and still achieve attractive profit margins.
Cognate's facilities are located near the airport in Memphis, Tennessee to take advantage of worldwide air shipping hubs for both Federal Express and UPS. The logistics of personalized medicine requires that tumor samples and dendritic cell precursors gathered in blood drawn be flown in for processing and frozen finished product is then flown out. Cognate currently has capacity to service about 300 DCVax-L patients per year, which is sufficient for the phase III trial. However, Fraunhofer and King's College London will add additional capacity. The current manufacturing facilities could be modularly scaled up over time to a capacity of 5000 patients per year; Dendreon launched Provenge with capacity of 2000 patients. This would support first year revenues from newly treated patients of $350 million. Also, it should be noted that the injections in years 2, 3 and beyond are manufactured with the injections for the first year and are available off the shelf.
Northwest has an agreement with Cognate to provide product for the next five years through March 31, 2016 for both the phase III trial in GBM and potentially trials of other products in other cancers. The agreement requires a monthly facility fee to maintain the clean room facility and a fixed fee for each patient for whom a dose is manufactured. The amount of the fixed fee varies according to the amount of capacity dedicated to Northwest's programs.
The Two Continent Strategy
Through the leadership of Linda Powers, Northwest is now in the position of being able to develop DCVax-L in Europe concurrently with the US through the collaborations with Fraunhofer, King's College London and King's College Hospital. The Toucan Funds focus on developing living cell products required an understanding of the European regulatory structure for these highly specialized products. Through this she found unique avenues for Northwest to enter Europe and develop a two continent approach to clinical development.
Germany and the UK are particularly advanced in terms of living cell products and with the UK population of 62 million people and German population of 85 million they offer a total market of 147 million or roughly half the size of the US. The core of the strategy for entering Germany and the UK began in early 2010 and ultimately evolved into relationships with Fraunhofer Institute in Germany and Kings College Hospital and Kings College London in the United Kingdom.
Fraunhofer Institute in Germany
There is no real comparable organization to Fraunhofer in the US. It has the prestige of the Mayo Clinic, M.D. Anderson or Sloan Kettering in the US even though it does not perform clinical activity or clinical trials. It is a research organization with 60 institutes spread throughout Germany and the world, each focusing on different fields of applied science; healthcare is just one segment. It employs around 18,000 people, mainly scientists and engineers, with an annual research budget of about €1.65 billion. It is owned by the government and 30% of its funding comes from government grants and 70% from contract work, usually for small emerging companies like Northwest. Its strategic objective is to be a leader in applied research through a flexible, autonomous and entrepreneurial approach to research projects.
Fraunhofer interacts with many small biotechnology firms in the course of determining what projects it will undertake. The Northwest relationship began with a presentation by Ms. Powers. As I discussed earlier later, Ms. Powers and her Toucan Funds are an impressive story of entrepreneurialism in pioneering the development of living cell products. Fraunhofer was impressed by the technology platform of Northwest, its product portfolio and particularly by the manufacturing expertise of Cognate BioServices.
Fraunhofer had not seen any small company or for that matter large company involved in so many INDs for living cell products as was the case with Northwest and Cognate. At the time the relationship was being formed, Cognate was just coming off a surprise, unscheduled inspection from the FDA which it passed with no findings; this impressed the detail oriented Germans. Fraunhofer was also impressed by the data Northwest had generated in GBM and prostate cancer and that it was in late stage trials with DCVax-L.
There is natural concern from US investors that if Northwest has such great technology, why is it a bulletin board company and why is it so financially strapped. Metrics like these that quickly turn off US investors were not an issue for Fraunhofer. They did their own due diligence and analysis of the technology, product portfolio and manufacturing and went on to forge a strong relationship which creates enormous value for Northwest.
The relationship has gone through several stages that have brought it to its current status. After the two companies decided to form the collaboration, there was a four month period of technology transfer and training of personnel. The clinical and manufacturing information given to Fraunhofer was extensive. This was followed by a 12 to 14 month process that has brought Fraunhofer to the point of having manufacturing certification that allows it to ship product for clinical trials in Germany and throughout Europe.
Fraunhofer charges its partners for the research done on projects and Northwest will pay for product produced for clinical trials. However, in the beginning of the partnership Fraunhofer billed only nominal amounts and even then delayed billing for the first four months in deference to the strained finances of Northwest. Cognate pays a nominal baseline charge to maintain space and infrastructure in Fraunhofer's clean room facility and will pay for manufactured product; this is passed on dollar for dollar to Northwest. With this, Northwest was able to get a state of the art clean room facility which would have been an impossibility to accomplish on its own and did so without any capital cost and without the two years of time needed to develop, equip and validate a new clean room facility. From Fraunhofer's standpoint, the manufacturing expertise transferred from Cognate is the key benefit.
The critical process of gaining manufacturing certification in Germany started with Fraunhofer personnel being trained on site in the Memphis facility of Cognate. In addition to learning standard operating procedures, the certification process requires qualifying reagent suppliers and assays used in manufacturing and keeping records in a nearly identical fashion as in the Memphis facility. German personnel participated in validation and practice runs in Memphis. Cognate continues to supervise operations in Germany in order to make sure that the production processes in the two facilities are as nearly identical as possible.
An additional key contribution of Fraunhofer was to identify a number of major medical centers and investigators in Germany that should be a part of the phase III trial and communicate to the medical centers and investigators that this trial is being supported by Fraunhofer. The Fraunhofer brand carries tremendous weight and respect. They have identified up to 30 such sites and the quality of the investigators is made apparent as the lead investigator in the German trial is Frau Shukart, the incoming chairperson of the German Neurosurgeon Association whose members will be performing the brain surgeries in the phase III trial. Fraunhofer was also helpful in obtaining a $5.2 million grant from the German government that is expected to fund up to half of the costs of performing the phase III trial in Germany.
The relationship with Fraunhofer provides all of the aspects that small companies seek in partnerships with big pharma. They provide a broad spectrum of necessary skills for manufacturing, clinical trial organization and regulatory expertise. Fraunhofer operates independent of the government. It carries more prestige and raises less suspicion with key academics needed to run the trial than a profit oriented big pharma partner based on an illustrious track record stretching back more than 60 years.
Fraunhofer went through a plant inspection by German regulators on June 12 and 13, 2012 in preparation for the phase III trial. There were no findings that require meaningful work. The regulatory authorities asked for certain assays and standard operating procedures to be developed in regard to the placebo. This information was sent to the agency in the last week of June and Fraunhofer is hopeful of receiving its manufacturing certification in the near future that could allow the clinical trial enrollment to start in September. The Fraunhofer produced product following manufacturing certification can be shipped anywhere in Europe and can probably act as a backup to Cognate in the US; the FDA might require an in vitro bridge study showing equivalency of Fraunhofer and Cognate produced product.
The United Kingdom Approach
The United Kingdom structural counterpart to Fraunhofer is a little different but provides the same end result. It starts King's College Hospital and King's College London which are sister institutions within the overarching Kings College Healthcare Partners. King's College Hospital is one of the premier teaching hospitals in the UK and will participate in clinical trials while Kings College London will manufacture DCVax-L for the phase III trial.
King's College Hospital is a venerable and conservative institution, at least on the administrative side. They wanted to establish a working relationship and gain confidence in Northwest and Cognate before announcing the collaboration. The beginning of the relationship dates to the same time as Fraunhofer, but was only announced on April 20, 2012.
The training of the King's College London personnel to produce DCVax-L followed the same process as with Fraunhofer with one important difference. The UK regulatory system for living cell products is more streamlined than Germany. In the UK, King's College London is already certified for the manufacture of a broad range of living cell products and this covers the manufacture of DCVax-L while Germany requires a separate certification for each product. Other requirements have to be met in regard to good manufacturing practice, but DCVax-L fits within the existing certification held by Kings College London. As with the Fraunhofer facility, this product can be shipped for clinical trials throughout the UK and Europe and also can be a backup for the US.
In the US, the first step in conducting a clinical trial is to get approval from the FDA. Then the trial sponsor approaches the ethics committees of institutions that will participate in the trial to gain their approval to conduct the trial. The process is reversed in the UK as the first step is to gain approval from the institutions and then gain regulatory approval. Northwest has already received ethics committee approval at Kings College Hospital, and the form of that approval makes it applicable nationwide. So, Northwest will not have to obtain other ethics committee approvals at each individual medical center after this. The remaining step is regulatory approval from the UK's "FDA," which is the MHRA. Northwest believes that King's College Hospital could begin enrolling patients in August or September. The gating factor is the regulatory approval of the clinical trial by the MHRA.
Site selection in the UK will be different from that in the US and Germany. The National Health System has organized the leading teaching hospitals like Kings College Hospital into designated territories or catchment areas in performing sophisticated services like brain surgery. For example, King's College Hospital serves some 4.5 million people. Additional sites will also cover catchment areas with populations in the millions. In addition to King's College Hospital, Northwest will probably need to recruit six to eight similar institutions in the UK. The more dispersed GBM treatment systems in the US and Germany will require 40+ sites and 25+ respectively. Northwest anticipates announcing additional sites in the UK in the immediate future.
Advantages of the Fraunhofer and King' College Collaborations
These two manufacturing operations provide significant benefits. Because the manufacturing process is so crucial to the product, it will bear close scrutiny if the time comes for regulatory agencies to consider approval of DCVax-L. At that time, the regulatory agencies will have thorough knowledge of the facilities which makes approval much easier than if the product was manufactured in the US. These facilities also mitigate the risk of any manufacturing disruption that might occur at one of these facilities as the other two may be able to offer backup.
Both Fraunhofer and King's College London had existing cGMP or clinical grade manufacturing facilities for living cell products, a portion of which they are dedicating to the DCVax-L program. Thus Northwest was able to avoid the capital expenditures and a time delay of two years that would have been involved in constructing new facilities assuming that somehow Northwest could have raised the necessary funds.
The manufacturing sites at Fraunhofer in Germany and Kings College London in the United Kingdom were developed under the supervision of Cognate BioServices. This assures consistency to the greatest extent possible. The personnel who will run these facilities were also trained by Cognate.
Compassionate Use Program
The associations with Fraunhofer and Kings College Hospital will also allow for the running of a compassionate use program in parallel with the clinical trial. The UK and Germany are more advanced than the US in allowing compassionate use of unapproved drugs that are in clinical trials for patients who don't qualify for the clinical trials. Kings College London and Fraunhofer will manufacture product for these compassionate use cases. Such cases are not covered by insurance; the patients pay for the product on a self-pay basis.
Corporate History
For many companies, a review of corporate history is low on the list of issues with which investors concern themselves. I know that I usually focus on the core technology, products, clinical trials, markets addressed, regulatory pathways and financial strength. However, in the case of Northwest Biotherapeutics, I think that understanding the corporate history is key to making the critical decision on investment worthiness.
Northwest Biotherapeutics was founded in 1996 by Dr. Alton Boynton, the current chief science officer. He is credited with being the first person to conduct a clinical trial with dendritic cell cancer vaccines. During the 1990s, he treated over 100 prostate cancer patients in academic settings using technology that became the basis for the company's DCVax technology platform. Prior to founding NWBO, he headed the molecular oncology research laboratory at Northwest Research Foundation, a predecessor to the Fred Hutchinson Cancer Center in Seattle.
The company came public in December 2001 in an offering that raised $20 million and valued the company at $100 million. The offering was made at a time when a biotechnology financing window was rapidly closing and the money raised was insufficient relative to the burn rate of the company. The company had hoped to come back to the equity market quickly feeling that data generated with its dendritic cell vaccine DCVax Prostate would be recognized by the market as significant validation of the technology, boost the valuation and allow the company to raise the capital needed to fund the company and conduct a phase III trial.
The company was unfortunate because by the end of 2002 the equity market was shut down for biotechnology financings. It was fast running out of cash and the stock price dropped sharply. NWBO failed to meet the minimum requirements of the NASDAQ National Market and was delisted resulting in relisting on the OTC bulletin board. This unfortunate financial beginning put the company on a tortured path that has lasted for a decade. Plagued by the stigma of being a bulletin board company, limited resources and low market valuation, it struggled to attract capital to keep development plans alive. NWBO was on the verge of insolvency by 2004 when Linda Powers, head of the Toucan venture capital funds, made a series of investments that allowed the company to continue its development efforts; Toucan went on to become the major shareholder.
At the time the company went public its focus was on developing DCVax-Prostate based on encouraging data that it had accumulated in phase I and II trials. In January of 2005, FDA Clearance was received to conduct a phase III trial in prostate cancer with DCVax-Prostate. The phase III was planned to be a double blinded, placebo controlled trial enrolling about 600 patients at 30-50 sites in the United States. However, a trial of this size was beyond the financial capability of the company to fund.
Northwest was concurrently developing a second product, DCVax-L, a dendritic cell vaccine for glioblastoma multiforme or GBM. In 2004, Northwest began a collaboration with investigators at UCLA who conducted two phase I trials for DCVax-L. The trials evaluated safety and efficacy in 20 newly diagnosed GBM patients and 9 recurrent GBM. The initial data from these trials was very impressive and DC Vax-L became the principal focus of the company. The impressive data along with the potential for a smaller, easier to fund trial were the primary factors in the decision. DCVax Prostate was put on the shelf until its phase III trial could be funded.
In June of 2005 Northwest Biotherapeutics announced that it had received FDA clearance for a phase II trial of DCVax-L. The trial design involved about 140 patients at 12 to 15 sites in the US. The first patient was enrolled in December of 2006 and altogether 33 patients were enrolled. However, there was a serious problem because the placebo injection that was intended to mimic DCVax-L was distinguishable; this caused a problem with patients recognizing that they were receiving the placebo and causing them to drop out in the control arm of the study. This problem was corrected and the trial was scheduled to restart in 2007, but a funding crisis prevented this. The trial only restarted in early 2011 and by the end of 1Q, 2012 the trial was enrolling in 30 sites with plans to expand to 40 by the end of 2Q, 2012.
Northwest Biotherapeutics has been through a series of "near death" experiences since 2007 as it struggled to raise enough capital to keep the company alive. It was living from quarter to quarter and had to execute a series of financial deals to stay afloat. With capital from the equity markets unavailable, the company was only kept alive because of investments from Toucan and Linda Powers' efforts to raise capital from non-traditional investors. The company was forced to do a series of small deals, almost living from quarter to quarter. By the end of 1Q, 2012, Linda Powers and Toucan owned almost 53% of the fully diluted shares outstanding. She had been Chairman since 2005 and in 2011 she stepped in as CEO.
The doggedness of Ms. Powers finally gave the company funds needed to restart the DCVax-L trial in January of 2011. By the end of the second quarter of 2012, the company had activated 41 clinical sites in the US.
The Cancer Addressed By DCVax-L: Glioblastoma Multiforme
An Overview of Brain Cancer
DCVax-L is being developed for the treatment of glioblastoma multiforme "GBM". There are two types of brain tumors: (1) primary tumors such as GBM that arise in the brain and (2) secondary tumors that are metastases of tumors that originate elsewhere in the body. Primary brain tumors can arise in any area of the brain and can affect a variety of neural cells, glial cells and/or ancillary cells. Glioblastoma multiforme is the most lethal type of primary brain cancer, and it affects glial cells, which are non-nerve cells that provide support and provide protection for the neurons in the brain. Glial cells surround neurons and hold them in place, supply nutrients and other support oxygen to them and insulate one neuron from another. They were once thought of as the inert glue of the nervous system, but this view has changed. They are now seen to play an additional role in neurotransmission and to play a role as partners to the neuronal cells.
Secondary tumors of the brain occur in the terminal phases of a metastasized cancer that originated outside the brain. Metastases leak into the lymphatic system and blood vessels, circulate through the body, and some are deposited in the brain. The most common types of cancers that result in secondary tumors of the brain in order of frequency are lung cancer, breast cancer, malignant melanoma, kidney cancer and colon cancer. DCVax-L is not currently targeted at these secondary cancers, but could be applicable to some or all of them in the future (since DCVax-L is anticipated to be applicable to all solid tumor cancers).
Astrocytomas are a type of primary tumor of the brain. They originate in star-shaped glial cells called astrocytes. These tumors don't usually spread outside the brain and spinal cord to affect other organs. People can develop astrocytomas at any age. The less aggressive types are more often found in children or young adults, while the aggressive types are more prevalent in adults. As is conventional with all tumor types, astrocytomas are categorized into four grades according to how aggressively they grow.
1. Grade I tumors are slow growing and are generally benign; they don't spread readily into surrounding tissue. Surgeons can often remove most of the tumor and either this alone or in combination with radiation can provide long term survival and in some cases total remission.
2. Grade II are slow growing astrocytomas that can evolve into more malignant, higher grade tumors. Median survival for this cancer is about four years.
3. Grade III are anaplastic astrocytomas that grow more rapidly than lower grade tumors and are more likely to invade healthy tissue and crowd normal cells in the brain. This can lead to symptoms such as seizures, neurologic deficits, headaches, or changes in mental status. Anaplastic astrocytomas recur more frequently after surgery than lower grade tumors, because their greater tendency to spread into surrounding tissue makes them difficult to completely remove surgically. Individuals with grade III astrocytomas have a median survival time of about two years with surgery followed by radiation and chemotherapy.
4. Grade IV is glioblastoma multiforme which is the most common and malignant primary brain tumor. These grow rapidly and can become large before producing symptoms comparable to anaplastic astrocytomas. About 10% of glioblastoma multiforme results from progression from low grade or anaplastic astrocytomas with the remaining 90% arising spontaneously. Surgery is the start of treatment unless resection would result in unacceptable damage to the brain. This is followed by radiation and chemotherapy. Median survival is about 15 months with surgical removal of the tumor followed by radiation and chemotherapy. GBM is the first target of DCVax-L although any surgically treated brain tumor could potentially be treated.
Incidence of Glioblastoma Multiforme
As explained above, brain cancer is categorized into primary tumors which originate in the brain and metastatic tumors which originate in other organ systems and migrate to the brain. The American Cancer Society estimates that each year there are 40,000 new cases of primary brain cancer, and 160,000 new cases of metastatic brain cancer. The most aggressive and lethal form of primary brain cancer is grade 4 glioblastoma multiforme, the disease that killed Ted Kennedy. It is estimated that there are roughly 12,000 cases of GBM each year in the US and that 85% or 11,000 patients undergo surgical resection.
The standard of care for GBM starts with surgical removal of the tumor followed by radiation and chemotherapy. The only clinically significant innovation of the last 30 years was the approval of the chemotherapy agent Temodar in 2006. The Gliadel wafer also was approved but was a failure clinically. The FDA approved Avastin for patients who failed standard of care in 2009 on the basis that it produced tumor shrinkage in 30% of patients and extended median progression free survival by a modest 4 months; it had no beneficial effect on median survival. Temodar added to SOC extended median survival to 14.6 months from diagnosis, an improvement of 2.5 months. Despite the modest benefit of Temodar, it quickly gained wide penetration in the market and reached sales of $935 million in 2011.
The standard of care for GBM starts with surgical removal of the tumor followed by radiation and chemotherapy. The only innovation of the last 30 years was the approval of the chemotherapy agent Temodar in 2006. This innovation extended median survival to 14.6 months from diagnosis, an improvement of 2.5 months. Despite the modest benefit of Temodar, it quickly gained wide penetration in the market and reached sales of $935 million in 2011. The FDA approved Avastin for patients who failed standard of care in 2009 on the basis that it produced tumor shrinkage in only30% of patients and extended median progression free survival by a modest 4 months; it had no beneficial effect on median survival.
Current Treatment of Glioblastoma Multiforme
Current treatment of GBM starts with the surgical removal of as much of the tumor mass as possible. However, GBM grows tentacle like extensions into surrounding tissue making it difficult to remove distant parts of the tumor without damaging surrounding tissue. Tumor cells invariably remain in areas of the brain that are away from the site of initial diagnosis and inevitably this leads to a recurrence. Following surgery, treatment is aimed at eradicating as much of the remaining tumor mass as possible. The standard of care is generally as follows:
1. Surgical resection tries to remove as much tumor mass as possible.
2. Corticosteroids are added to reduce the inflammation caused by the surgery and to control swelling. Because corticosteroids depress the immune response, DCVax-L's ability to create an immune response would be affected if it is used in conjunction with corticosteroids. However, in the phase III trial DCVax-L is added after patients have recuperated from surgery and have been tapered off steroids.
3. An MRI scan is made a few days after surgery to identify residual elements of the tumor
4. Radiation, gamma knife surgery or their combination are used to try to eradicate whatever remains of the tumor.
5. The chemotherapy drug Temodar is added to further reduce remaining tumor cells left after surgery has removed most of the tumor mass. It can be used in sequence or together with radiation.
Clinical Results for DC-Vax-L and New Phase III Trial
Phase I Data for DC Vax-L
The company has conducted two phase I trials in GBM at UCLA Medical Center that were led by Dr. Linda Liau, who is lead investigator for the current phase III trial. As is the case with all phase I trials, these were done as unblinded studies with no comparator arm. To give some perspective on the results of these trials, I have compared them to the pivotal phase III trial that established the chemotherapy drug temozolomide and radiation as standard of care (SOC) following surgical resection.
The trial that established the current standard of care following surgery was the Stupp trial, "Radiotherapy plus Concomitant and Adjuvant Temozolomide for Glioblastoma" that was published in the March 15, 2005 edition of the New England Journal of Medicine. It compared radiation therapy alone to radiation combined with temozolomide. The patients in the trial were 18 to 70 years of age with newly diagnosed GBM that was confirmed by pathologists examining tissue samples of the tumor. The study excluded patients with anaplastic astrocytoma (grade III), who have a better prognosis. The primary end point was overall survival; secondary end points were progression free survival, safety, and the quality of life.
In the trials conducted by Dr. Liau, DC Vax-L was added to standard of care. The phase I trials enrolled 20 newly diagnosed glioblastoma patients and 9 patients with recurrent glioblastoma. Treatment consisted of two intradermal injections of DCVax-L given at days 0, 10 and 20. In 2006, the FDA approved the use of booster shots so that some patients also received these booster shots. In the next table, I have only shown results for the 20 newly diagnosed patients in order to make results comparable to the SOC trial that only enrolled newly diagnosed patients.
The comparisons are strikingly positive for DC Vax-L as it showed an improvement in median progression free survival of 25.0 months versus 6.9 months for SOC and an improvement in median overall survival of 36.4 months versus 14.6. At the end of three years, the data suggests that 55 of every 100 patients treated with DC Vax-L would be alive versus 16 of every 100 treated with SOC. Please note that the following results for DCVax-L and standard of care were obtained in different trials and that it can be misleading to compare data from separate trials. These results are summarized below: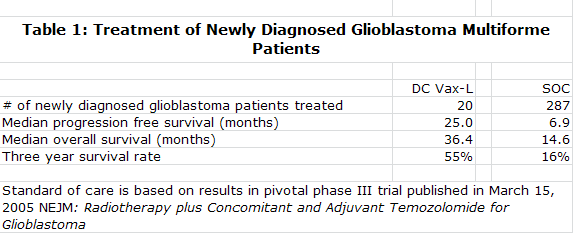 The Kaplan Meier curves for progression free survival and overall survival are shown below with the top blue curve being DC Vax-L and the bottom red curve SOC. They show strong statistical significance although it must be understood that this is comparing data from different trials. The p value for median progression free survival was 0.00001 and the p value for overall survival was 0.0003. A p value of 0.0003 means that there is only a 3 in 10,000 probability that the results were obtained by chance. The "p" value is a measure of statistical significance: it is the probability that a set of results were due to chance. So, the smaller the p value, the smaller the chances are that the results were due to chance and were not "real." The FDA generally requires a p value of 0.05 or less (i.e., a 5 in 100 or less possibility that the results of clinical trials were due to chance) for approval.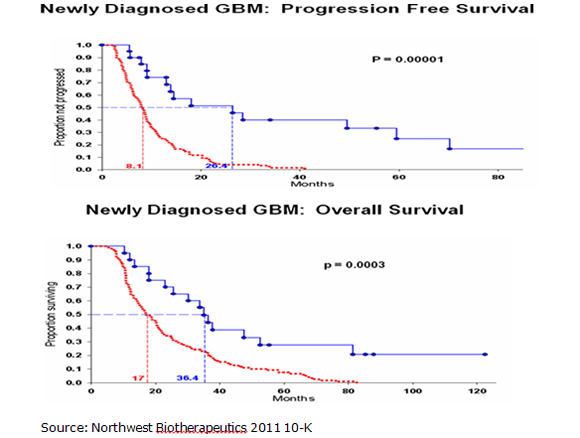 Seasoned biotechnology investors will quickly point out the shortcomings of this data. The phase I trials of DCVax-L enrolled only 20 newly diagnosed GBM patients. The trials were open label so that there was no control arm against which the DCVax-L results could be compared. Such trials are subject to investigator bias, albeit inadvertent. In testing a new drug, investigators often have a tendency to select for younger, healthier patients who are likely to do better and avoid older, sicker patients with a poor prognosis. No one wants to see a drug fail this early in development because it is tested in patients with little hope of improvement. These investors would also have significant reservations about comparing results from different trials because the patient populations may be quite different. This is especially the case in comparing phase I results for DCVax-L versus phase III results for SOC.
Investors also have had bad experiences with other companies that have sought to develop cancer vaccines and experienced stunning failures. CancerVax, Genitope, Favrille and Cell Genesys were all companies that showed striking phase I results with their cancer vaccines (none of which were dendritic cell vaccines), but each failed to duplicate the promising early results in later trials. Investors suffered large losses and there is not surprisingly a lot of skepticism on Wall Street about cancer vaccine companies. This is very apparent in the controversy surrounding Dendreon following the 2010 launch of Provenge.
There is also a knee-jerk reaction questioning how a company with the financial and operating history of Northwest Biotherapeutics could create such a promising product. It is a small, virtual company that outsources most of their clinical development and manufacturing: it has only 8 full time employees. This is a resume that causes some investors to be cautious.
I acknowledge and share all of these concerns, but I think that it is difficult to ignore the compelling survival data shown in these phase I trials. Investors get excited about phase I results for chemotherapy, monoclonal antibodies and new targeted therapies if they show meaningful tumor size shrinkage in phase I trials of 30% to 50% without any evidence of a survival benefit. Viewed against this backdrop, the phase I results for median progression free survival and median survival for DCVax-L are stunning.
Design of New Phase III Trial
Based on the phase I results, the company designed and began a phase II study in 2007. The study was originally designed as a 140 patient trial but has been expanded to 300 patients to create the power needed to be a registrational trial. In May of 2011, the FDA gave approval to conduct this as a phase III trial. Originally, the trial was randomized to compare DCVax-L added to SOC versus SOC alone. However, the trial was not effectively blinded because the placebo injection given to the control arm was easily distinguishable from DCVax-L. Consequently, patients in the control arm knew that they would be receiving placebo and this caused a high dropout rate in the control arm. The decision was made to delay the trial until Northwest could develop a placebo that would allow proper blinding.
Placebos for pills are relatively easy to develop, and have been commonplace for decades, but creating a placebo that is indistinguishable from living cells in a vial presented a new and difficult challenge. After considerable work, Northwest and Cognate succeeded in developing a placebo. The company obtained new FDA clearance and re-approvals by all the clinical sites, and was ready to restart the phase II trial in 2008. The size of the trial was also enlarged from 140 to 240 patients at that time. The trial proceeded and enrolled some 33 patients (including those in an informational arm of the trial). However, trial enrollment was once again delayed as the company entered a period of financial distress due to the great recession. However, Northwest managed to keep the trial itself going, and the patients already enrolled continued through the treatment regimen and follow-up.
The trial was finally able to resume adding new patient enrollment in early 2011. In about one year, the company has opened 41 clinical sites across the US. There is a high level of awareness among oncologists specializing in GBM so that site enlistment has been rapid and hopefully that means that patient enrollment will also be rapid.
The primary outcome measure of the trial is progression free survival from the time of randomization between patients treated with DCVax-L plus SOC and patients treated with SOC plus the placebo. The secondary endpoint is median overall survival. The treatment regimen consists of two intradermal injections of DCVax-L or placebo given on days 0, 10 and 20 as in the phase I trials and then followed by booster injections at weeks 8, 16, 32, 48, 72, 96 and 120 months. The trial is designed to be stopped when 110 events occur. An event is defined as progression/ recurrence of the disease or death. The 110th event is expected to be reached within 18 to 24 months and could be sometime in late 2013 or 2014.
In the trial, patients in the control arm who progress will be allowed to cross over to active treatment with DCVax-L. This will complicate the interpretation of survival results since some patients in the control arm will be on DCVax-L treatment after they progress. In these patients, later administration of DCVax-L is essentially being compared to earlier administration of DCVax-L. You may recall that Provenge had the same design and it is believed to be the case that this caused the Provenge survival data to be understated. DC-Vax-L faces the same issue.
Enrollment
As of June 29, 2012, the phase III GBM trial was open at more than 41 sites in the US with more expected to open in the third quarter of 2012. In Germany, Northwest is working in partnership with Fraunhofer Institute. It is expected to open up to 30 sites in Germany with enrollment starting in September.
In the UK, the number of sites open is expected to be only six or eight. This is because the UK national health system funnels sicker patients into a limited number of catchment hospitals. The first enrollment site in the UK is King's College Hospital. It is one of a handful of prestigious teaching hospitals in the UK and has a catchment area of 4.5 million patients. Other teaching hospitals that are likely to be announced in the coming months serve populations of several million in their catchment areas. Enrollment at King's College Hospital is expected to start in September.
The phase III trial of DCVax-L will be conducted at more than 80 sites on both sides of the Atlantic in some of the best medical research institutions in the US, UK and Germany. This gives the opportunity for product approval Europe as well as in the US.
The DC Vax-L Manufacturing Process is Critically Important
For living cells "the process is the product" as the manufacturing process is as integral to ultimate product characteristics as the composition of the product itself. The manufacturing process for living cells is fundamentally different from those used for chemical or biologic compounds, requiring specialized equipment and facilities and specially trained personnel.
In the case of drugs that are small molecules, different manufacturing processes can produce an end product with virtually identical therapeutic characteristics. Biologics like monoclonal antibodies are more difficult to manufacture than small molecules but the processes involved are becoming more routine and the products more reproducible. It is very different for products like DC Vax-L that are based on the processing of living cells outside of the body. The treatment of these cells can drastically change the efficacy of the product so that the process is pretty much the product. The manufacturing process for DCVax-L takes about ten days and consists of the following steps.
Collection of white blood cells is done through a leukapheresis procedure in which a tube extracts blood from one arm, runs it through a machine that separates the white blood cells and then returns the remaining blood through a tube in the other arm. Over a period of a few hours, the machine can extract the white blood cells or buffy coat needed for manufacturing. This is sent to Northwest's contract manufacturer, Cognate BioServices in Memphis.
The buffy coat contains monocytes, lymphocytes, granulocytes and other types of white blood cells. Monocytes are precursor cells to dendritic cells and must be separated from the rest of the cell mixture. The buffy coat is spun to separate the cellular components into gradients based on weight; the gradient containing monocytes is then collected and placed on a plastic dish that has molecules on its surface that bind specifically with monocytes. After allowing time for binding, the other cells are washed away leaving a mixture that contains 80% monocytes. As a point of reference, the Provenge manufacturing process does not include the plate separation step and results in only 15% of the resulting mixture being monocytes.
The monocytes are next transformed into immature dendritic cells through mimicking the natural process that occurs in the body. Over a six day period, the cells are exposed to growth factors that cause the cells to go through several stages of differentiation. There are also mechanical manipulations such as rocking the mixture to keep the cells in suspension that are important to this process. This results in immature dendritic cells that are ready to be loaded with antigens.
Northwest tries to expose the immature dendritic cells to the full "repertoire" or set of all of the antigens in the tumor. After the surgeon removes the tumor, a small piece is sent to the pathology laboratory for analysis and the remaining tumor is washed with saline, chopped into small pieces and placed in a vial with premixed bag containing enzymes. It is then ground up into small pieces, placed in a container and shipped to NWBO by courier. At the manufacturing facility, a lysate or extract is made from the tumor tissue. This tumor lysate is then used to load and educate the immature dendritic cells.
There are differences of opinions on what antigens to use. NWBO's close competitor ImmunoCellular uses six synthetically manufactured cancer antigens instead of the tumor lysate. Dendreon uses a combination of one cancer antigen fused to GM-CSF. Proponents of the lysate approach point out that no two cancers are the same and the character of the tumor changes over time. They believe that this approach can better tailor the vaccine to that patient's tumor. IMUC on the other hand maintains that most their antigens are expressed on all GBMs and some of them have unusual affinity for cancer stem cells.
In the next step, the now loaded immature dendritic cells are harvested and separated into standardized single- use DCVax-L vials for administration. They are then frozen and cryopreserved, allowing them to be available for three years or more. There is considerable art in this freezing process; IMUC by the way follows much the same process. In contrast, Provenge must be shipped fresh to the infusion site.
DCVax-L then undergoes stringent quality control testing according to current industry standards including sterility testing for bacterial and mycoplasma contamination and potency testing prior to shipment to the administration site for injection.
A summary of the manufacturing steps for DCVax-L is as follows:
· Day 1: Tumor tissue and buffy coat arrives at the manufacturing facility.
· Day 2: Precursors of dendritic cells are isolated
· Days 2 to 7: Precursors are differentiated into immature dendritic cells
· Day 7: Immature dendritic cells are loaded with antigen
· Day 8: The finished product is harvested and frozen to complete the manufacturing process
One manufacturing run allows the production of enough vaccine a 3-year course of treatments, involving 11 injections consisting of two intra-dermal shots each time. The phase III protocol calls for giving 10 injections over a 120 week period so this is sufficient for covering the protocol and treating the patient for up to three years. Relative to Provenge, this results in significantly reduced cost because each new treatment does not have to be manufactured specifically.
The greater concentration of immature dendritic cells in the final products for NWBO and IMUC allows them to be given as intradermal injections while Provenge must be given as a one hour infusion. DCVax-L and ICT-107 can also be administered in the area near lymph nodes where immature dendritic cells antigens normally reside and ingest antigens. DCVax-L can then follow the normal chemokine gradient that takes them to the lymph node where they evolve into mature dendritic cells. Provenge is infused into the blood and has to exit the blood stream, migrate through tissue to the lymph system and then finds its way to the lymph node. This is a much more indirect route.
Northwest has entered into a services contract with Cognate BioServices for consulting and manufacturing services. Cognate maintains a GMP facility in Memphis, Tennessee with capacity to produce enough DCVax-L for approximately 300 patients per year. This process can be modularly scaled to perhaps 5,000 patients per years. This should be more than sufficient for the product needed for the phase III trial of DC-Vax-L.
The two companies have developed a second generation closed and automated device based on tangential flow filtration that could increase production capacity to 9,000 patients per year. However, the product economics are favorable with the existing first generation manufacturing process. Also, any material change in the manufacturing process could result in the product being deemed to be a different product which would force the company to redo some or all of the clinical trials. Because of these issues, Northwest will continue to use the current process for the phase III trials.
For DCVax-L, the collection of the patient's tumor tissue, which is to be used to make lysate and provide the antigen component of the vaccine, involves a simple kit. The kit consists of a box with a vial which has a grinder top and is pre-loaded with a proprietary mix of enzymes. Such kits can be kept on hand like any inventory item at medical centers. In the operating room, after the tumor has been surgically removed, instead of disposing of the tissue in the medical waste, the nurse or technician chops the tissue coarsely and drops it into the vial, puts the vial back into the box, and hands the box to a courier pick-up service such as FedEx's or UPS' life science division, or a specialized courier such as World Courier.
DCVax-L is at the forefront of personalized medicine. Instead of preparing a production run whose resultant product can be given to any patient, DCVax is designated for a particular patient. The product is prepared specifically for each patient based on characteristics that define their tumor. It is then used in ongoing treatment cycles lasting for three years for each patient so that each product shipment for each patient must be tracked and managed individually.
DCVax-L is given as an intra-dermal injection comparable to a flu shot. It must be kept frozen from the time of production until it is administered to the patient. At that time it is thawed to room temperature and administered to the patient; this process takes about five minutes. This cold chain distribution and storage chain creates some issues for hospitals, pharmacies and physicians who will need to adopt new methods for handling, distribution and delivery of DCVax. However, there are other products marketed today that have similar requirements and this is not a great problem.
Very importantly, there are no handling steps at the point of care except thawing the frozen DCVax product to room temperature. This is a key factor in the simplicity of DCVax and it distinguishes DCVax from many past products. There is no need for lengthy intravenous infusions. DCVax-L and DCVax-Prostate are administered through a simple intra-dermal injection, similar to a flu shot, and are just a few drops in size. With the absence of handling steps at the point of care, and the simple intra-dermal injection, the DCVax-L products can be administered to patients in any clinic or doctor's office.
The Pipeline
Product Lines
The hypothesis for all of Northwest's products lines is that the effectiveness of the patient's dendritic cells has been compromised in some way by the cancer. The therapeutic goal is to replenish and restore the effectiveness of the dendritic cells.
The DCVax products are manufactured by exposing dendritic cells grown from precursor monocyte cells in a laboratory setting to tumor lysate; this is an extract of proteins that are obtained by grinding up the patient's own tumor tissue. The dendritic cells and tumor lysate are combined in a laboratory dish where the dendritic cells incorporate the full set of antigens expressed by the patient's tumor. This technique applies to any cancer in which enough tumor tissue can be obtained in the surgical procedure, not just glioblastoma multiforme.
In some cases, it is not possible to surgically remove the tumor and obtain the lysate; DCVax-Direct was developed for these situations. It uses partially matured dendritic cells that are processed differently. They are injected directly into the tumor where they pick up the antigens of that tumor and then mature into fully functional dendritic cells.
Metastatic prostate cancer generally involves the spread of micro-metastases into near-by bone. There is no focal tumor that can be surgically removed to make tumor lysate nor can it be injected into. For this cancer, Northwest has developed DCVax Prostate that uses a proprietary antigen that is found on most metastases: this is prostate specific membrane antigen or PMSA. The PSMA is produced through recombinant manufacturing methods, and is then loaded into dendritic cells to make DCVax-Prostate.
At this point in time DCVax-L is the only product in clinical development, but the company does have a promising pipeline. The most advanced product is DCVax-Prostate. It has been studied in hormone independent patients with metastases and without metastases. Provenge was approved for hormone independent patients with metastases. DCVax Prostate is ready to begin phase III trials pending a partnering deal.
DCVax-Prostate
DCVax-Prostate was studied in open label phase I/II trials that treated 11 patients with non-metastatic, hormone independent cancer and 22 patients with metastatic, hormone independent prostate cancer. The criticism directed at limitations of the phase I trials of DCVax-L - small patient size, no control group, single center, etc. - also apply here. This should not be taken to mean that these phase I trials were less rigorous than phase I trials in general. It is just the case that almost all phase I trials have these limitations. The results were again eye opening as detailed in the next table.
There is no standard of care for hormone independent patients with no metastases, but the results of DCVax Prostate can be compared to the natural course of the disease. These suggest a striking improvement in time to progression and median survival.

In the treatment of hormone independent prostate cancer with metastases, there are two approved treatments, Taxoterre and Provenge. DCVax Prostate phase I/II results can be compared to phase III results for Taxoterre and Provenge as follows:

Additional comparisons of DCVax-Prostate and Provenge are shown below: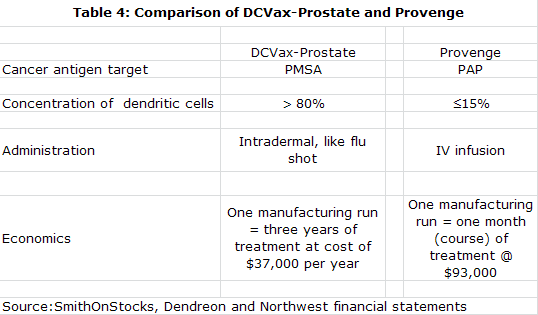 Financials
Funding History
The last few years have been a struggle for survival for NWBO. The company has had to use multiple financings including notes, convertible notes and common stock to fund operations. It has also extensively relied on trade creditors, principally Cognate, to extend payables which has been used to fund operations. The results of all of these funding measures are summarized in the following table. In the aggregate, the company has raised $36 million of cash that has allowed the company to fund $40 million of research and development over the last three years. It has done this while retaining small cash balances on the balance sheet. All of this is shown in the following table.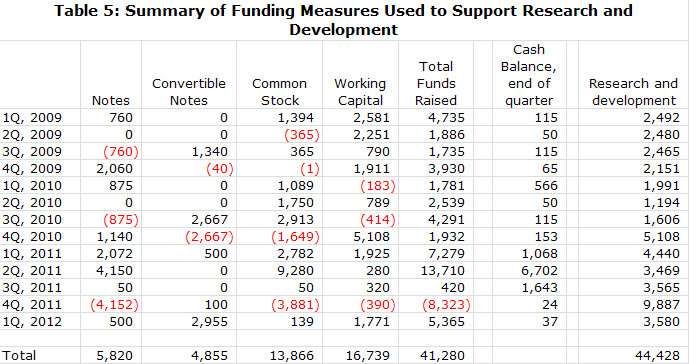 Shares Outstanding
The financing history of the company is a record of near death experiences in which the company was scrambling to keep afloat. These serial financings have led to a significant increase in the number of shares outstanding as the offerings were accompanied by significant warrant coverage. I have summarized the outstanding common stock at the end of 2011 along with warrants and options that may be exercised in the following table.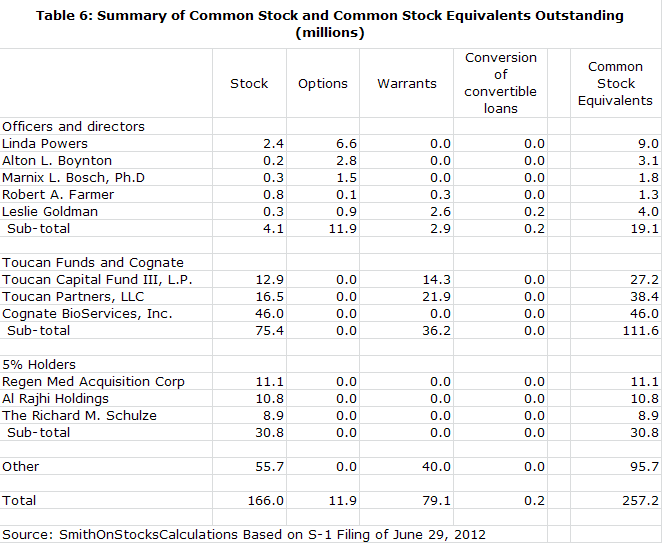 As of June 29, 2012, I estimate that the fully diluted share count was roughly 257.2 million shares. The share count could be increased by 113.6 million shares if the company raises $25 million in the proposed equity offering at a price of $0.22. In addition, I am assuming warrant coverage of 25% in the offering that will increase the fully diluted share count by another 28.4 million. Converting $17 million of short term debt into equity at $0.22 per share would increase shares by a further 31.3 million. By my estimates, the fully diluted share count in 2014 could be on the order of 430.5 million.
Disclosure: The author of this article did not own shares of Northwest Biotherapeutics at the time this note was written. In reading this note, you acknowledge that you have not used it as the sole basis of your decision making and that all investment decisions are based on your own analysis. An investment in Northwest Biotherapeutics carries substantial risk and investors could potentially lose much of their investment. The reader acknowledges that he/she has carefully read the Investment Approach, Terms/Conditions and Disclosures sections in the About Us section of the website. The reader acknowledges that he/she will not hold SmithOnStocks accountable for any investment loss that may be incurred if a decision is made to invest in Northwest Biotherapeutics.
Tagged as Northwest Biotherapeutics Inc. + Categorized as Company Reports