Northwest Biotherapeutics and ImmunoCellular Therapeutics Can Both Be Winners with their Cancer Vaccines (NWBOD, $5.50)
Investment Perspective
I think that some investors are incorrectly viewing the investment outlook for Northwest Biotherapeutics and ImmunoCellular Technologies (IMUC.OB). Both companies are developing dendritic cell vaccines for glioblastoma multiforme, the deadliest form of primary brain cancer; NWBOD's product is called DCVax-L and IMUC's is ICT-107. Some investors have portrayed this as a winner take all competition in which there will be one clear winner and one clear loser. I disagree; if both products are successful in their clinical trials, I think that each has blockbuster sales potential.
There is an urgent need for better therapy for glioblastoma. The average glioblastoma patient dies within 15 months of diagnosis when receiving standard of care which is surgical resection followed by radiation and chemotherapy. The data for both NWBOD's DCVax-L and IMUC's ICT-107 is based on limited data from phase I trials, but the data is striking. It suggests that 55% of patients treated with DCVax-L and ICT-107 are alive three years after diagnosis versus 16% for standard of care. I discuss this in more detail later in this report.
To me, this data suggests that two different versions of the same technology are effective and this provides important validation of dendritic cell cancer vaccine technology. If both products come anywhere near to phase I results in larger registration trials, they will each represent major therapeutic advances. It is my experience that in cases in which two products using similar technology are commercialized, there is rarely, if ever, just one winner and one loser. There are invariably points of differentiation that lead to segmentation in the market and this will almost certainly be the case with DCVax-L and ICT-107, if their clinical trials are successful.
There is one major differentiation between the two products that is readily apparent. ICT-107 can only work in a certain immune type (HLA A1 and A2 positive) and not in the rest of the glioblastoma population. In the phase II trial of ICT-107 that just completed enrollment, about 50% of patients were HLA A1/A2 positive suggesting that ICT-107 can only address half the patient population. (Despite this result, ImmunoCellular management believes that the ratio is closer to 75%.) Along the same line, DCVax-L may be somewhat limited because in 10% of patients, there is insufficient tumor tissue needed to make a full three year supply of the drug, although a smaller amount can still be made.
My experience suggests that there will be other points of differentiation that will become apparent as clinical data is developed. I also see no reason why these products could not be used in sequence or perhaps in combination to improve results. This often happens in cancer therapy.
The commercial opportunity in this space is huge and is capable of supporting blockbuster sales for both DCVax-L and ICT-107 and potentially other products. There are currently about 12,000 new patients diagnosed each year in the US who undergo surgical resection and might benefit from treatment with DCVax-L or ICT-107. I think that these products could be priced comparably to Medivation's (MDVN) new drug for prostate cancer, Xtandi, which has a price of $89,000 per year. This indicates that the US addressable market is over $1 billion. There are estimated to be an additional 12,000 patients in Europe and 12,000 patients in the rest of the world. This indicates a worldwide addressable market of over $3 billion. The previous estimates are based on patients staying on therapy for a year. Because patients may stay on therapy for several years, these estimates could understate the potential by 50% or more.
There is one other point that should be made in this discussion and that is that success in glioblastoma, if achieved, would hold the promise of successful use of dendritic cell cancer vaccine technology in many other cancer types. The market valuation of both companies would be bolstered by the promise of substantial product development opportunities beyond glioblastoma.
Asymmetric Investing
Those who follow my work are aware that one of my investment strategies is asymmetric investing. Some hedge funds have made enormous returns by looking for asymmetric investment opportunities. These stem from finding upcoming events that are not well understood and which have the potential to cause dramatic stock price movements in the case of a positive outcome.
For an asymmetric opportunity to exist there has to be lack of awareness or extreme skepticism that a positive outcome can occur. Small biotechnology companies fit this approach as most Wall Street analyst coverage in biotechnology is focused on larger biotechnology names, so there is limited analyst coverage of emerging companies. In addition, the large number of clinical trial failures in biotechnology has produced a pervasive skepticism that few, if any, clinical trials will succeed.
Asymmetric investing does not mean that an investor is smart enough to predict with certainty clinical trial outcomes. The premise is that the event has a reasonable chance of occurring, is unexpected and if it does occur the upside potential dramatically offsets the risk of losing much or all of the investment if the outcome is negative. Both Northwest Biotherapeutics and ImmunoCellular are asymmetric investment opportunities.
The approach I have used to gage potential upside that might come with success in the clinical trials for Northwest and ImmunoCellular is to compare them to Pharmacyclics (PCYC) which has reported striking results for ibrutinib in hematological cancers; DCVax-L and ICT-107 are at a comparable stage of development. This resulted in an increase in PCYC's market capitalization from $500 million to $4.4 billion over the last year. I think that success in the phase III trial now underway with DCVax-L could produce a comparable surge in market capitalization. With the 27 million fully diluted shares for Northwest that I project for 2014, this would result in a price of about $162. The comparable upside estimate for IMUC would be $39.
Investment Opinion
Based on the data available to me, I think that the chances of success in the ongoing clinical trials of DCVax-L and ICT-107 are comparable. That said, of the two companies I favor Northwest Biotherapeutics, in part because of my more favorable assessment of the manufacturing process for DCVax-L. In living cell therapy, the manufacturing process is the product. Investors have painfully learned that CMC issues stemming from manufacturing can lead to Complete Response Letters from the FDA as readily as clinical trial issues.
My greater comfort with DCVax-L starts with the long experience in living cell manufacturing of Northwest's sister company Cognate BioServices, which is manufacturing DCVax-L. My confidence is substantially bolstered by the validation provided by the collaborations in Europe with King's College in England and Fraunhofer in Germany. ICT-107 is being manufactured by Progenitor Cell Therapy, which is comparable in manufacturing expertise to Cognate. However, ICT-107 lacks the validation that the Fraunhofer and King's College collaborations bring.
Fraunhofer and King's College are sophisticated in the development and clinical application of innovative new medical treatments, including the manufacturing of living cell products, and both of them have made their collaboration with Northwest a top priority. These institutions are allocating their own manufacturing facilities to Northwest's programs and have adopted the manufacturing process of Northwest/Cognate after extensive due diligence.
In addition to the validation of NWBOD's manufacturing process, the involvement of Fraunhofer and King's College gives Northwest a profound advantage over ImmunoCellular in Europe. They provide invaluable credibility and support in the conduct of European clinical trials. They will also provide local manufacturing of the product so that regulators will gain critical experience with the manufacturing process during the course of the trials. ImmunoCellular is at a distinct disadvantage without European collaborators. The process of drawing blood from a European patient and shipping it to a US manufacturing site represents an extremely formidable logistics challenge.
Both Fraunhofer and King's College have used their expertise and credibility to begin a compassionate use program for DCVax-L in Europe. This can create a large, additional safety data base that may be important in regulatory decisions. Compassionate use may also lead to meaningful revenues and cash flow at some point even prior to approval.
The FDA can sometimes take very conservative views on new drugs. In my judgment, European regulators seem willing to accept more risk on cutting edge therapies, and to take a more practical approach with therapies for severe unmet medical needs. I can see the possibility that Europe would act to approve DCVax-L even if the FDA asked for additional clinical trials for DCVax-L. I don't think this is a possibility for ICT-107.
The FDA has approved the designation of the current trial of DCVax-L as a phase III trial, indicating that the agency views the technology and the manufacturing process to be supportive of and sufficiently rigorous for potential registration. ICT-107 is in a phase II trial, which suggests that there may still be manufacturing issues to be resolved, although I can't assess how important they may be.
In terms of impact on stock price, I would hasten to point out that clinical trial results will trump all other factors. While I see greater potential for NWBOD because of its superior positioning in Europe, this does not diminish my assessment that IMUC is also an asymmetric investment opportunity.
Current Investor Perceptions are Skewed In Favor of ImmunoCellular
I started this note by saying that I thought that the market was wrongly viewing DCVax-L and ICT-107 as being locked in an all or nothing competition in which winner takes all. It is important to understand how this perception arose.
The discussion of the dendritic cell cancer vaccine market has been shaped by ImmunoCellular's recently departed CEO Manesh Singh who was an articulate spokesman. Biotechnology CEOs are inclined to overstate the positives of their product and understate the negatives while doing just the opposite with competitive products. In this regard, Mr. Singh was not different from his peers with the possible exception of his exceptionally high energy level.
Mr. Singh was very proactive in presenting at conferences and engaging analysts and investors in one on one presentations. In contrast, the CEO of Northwest Biotherapeutics, Linda Powers, has not been as active. Perceptions in the market have been shaped by Mr. Singh. I do not mean to imply that he was deceitful, but rather just zealous on the attributes of ICT-107 versus DCVax-L. The discussion on the relative merits of these two drugs has been like a debate between one participant and an empty chair.
In preparing a major report on NWBOD, I had extensive dealings with Ms. Powers. I believe that this allowed me to see the potential of DCVax-L and ICT-107 in a more balanced way. I also attended a September 7, 2012 presentation at the BioCentury conference in New York by the interim CEO at ImmunoCellular, Dr. John Yu. This provided the opportunity for an informative dialogue with Dr. Yu. Based on my interactions with Mr. Singh, Ms. Powers and Dr. Yu along with supporting due diligence, I have tried to better balance perceptions about these companies in the following paragraphs.
Which Glioblastoma Patients are Eligible for ICT-107 and DCVax-L?
Each patient has an immune type which is referred to as an HLA type, just as they have a blood type. The types of peptide fragments used with ICT-107 can only be responded to by patients with the right immune type just as a blood transfusion of a particular type of blood can only be accepted by a patient with the right blood type. ICT-107 is based on six peptide fragments and only patients whose immune systems are HLA A1 and A2 positive can respond. All patient immune types can respond to DCVax-L.
ImmunoCellular has consistently stated that 75% of potential patients are HLA A1 and HLA A2 positive. Some academics that I have spoken with believe that the percentage is more like 50%. In the recently completed phase II trial of ICT-107, 278 patients were screened for the trial in order to enroll 132 patients; only 46% of patients screened were enrolled. I asked Dr. Yu how many of the screened patients were not enrolled because they were not HLA A1/A2 positive. He said that it was probably around 50%, but attributed this to just bad luck in the types of patients who were screened; he continues to maintain that the right ratio is 75%. The evidence suggests to me that the ratio is closer to 50% than 75%.
In the case of DCVax-L, tumor tissue is removed from the brain and is processed to produce the tumor lysate needed for production. Usually, two grams of tumor tissue is needed, and even smaller amounts can be sufficient. In about 10% of cases, this may not be enough tumor tissue to produce a full 3-year batch of the vaccine, although a smaller amount can usually be produced.
Effectiveness against Cancer Stem Cells
IMUC has stressed that ICT-107 may effectively target cancer stem cells which constitute about 1% to 5% of cells in a tumor. They do not divide prolifically like daughter cancer cells into which they differentiate. Because chemotherapy, radiation and targeted therapies attack rapidly dividing cells, the stem cells may remain after treatment eliminates the daughter cells. The cancer stem cells then differentiate into new daughter cells and the cancer reemerges.
IMUC has stressed that ICT-107 may be unusually effective against stem cells as four of the antigens targeted by ICT-107 are expressed on stem cells. This has been portrayed as potentially a major advantage over the tumor lysate approach of DCVax-L. However, DCVax-L incorporates the full set of antigens on the patient's tumor cells including the antigens of cancer stem cells.
The understanding of cancer stem cells is at an early stage and there is no meaningful clinical data to draw upon. I think that it is not possible to determine if one approach is better than the other and indeed what the effectiveness of either drug may be against cancer stem cells.
How Effective are Tumor Lysate Products like DCVax-L?
IMUC has shown a presentation slide in investor conferences for the last year in which it compares a tumor lysate dendritic cell vaccine, which it prepared and tested in 6 patients to ICT-107. In this slide, ICT-107 was portrayed as producing strikingly superior results. It is important to understand that the two products were not tested head to head in the same trial or the same clinical conditions.
There are two points to be made on this slide. Let me first re-emphasize that in living cell therapies the manufacturing process is the product. Just because two vaccines use tumor lysate doesn't mean that they are the same product. Also, the tumor lysate product that IMUC tested was given to patients with Gliadel wafers implanted in their brains post-surgery. These wafers release the toxic chemotherapy drug carmustine which may kill immune cells that come to the area where the tumor was removed and where residual tumor cells are lurking.
Cancer vaccine therapy is impaired if the immune cells that respond are killed. In addition the wafers remain in the brain for an extended period and transform into a residue that may cause inflammation and adverse residual effects that could affect outcomes. Dr. Yu believes that the effects of carmustine disappeared within days and were gone by the time the vaccine was given.
The most important point I would make is that DCVax-L produced nearly identical results to ICT-107 in phase I trials. I don't think that this IMUC slide demonstrates that the ICT-107's peptide approach is superior to the tumor lysate approach of DCVax-L.
Comments on Clinical Trials of DCVax-L and ICT-107
Dr. Yu reiterated that there would be an interim look at the phase II trial of ICT-107 in the first quarter of 2013 and topline data will be available in 4Q, 2013. This trial enrolled 132 patients of whom roughly two-thirds (87 patients) received ICT-107. The upcoming interim look will be a futility analysis to determine if there is a chance for the trial to produce positive results. NWBOD expects to complete enrollment of their larger phase III trial, with 300 patients (about 200 randomized to DCVax-L), by mid to late fall 2013, and expects to have topline results by the end of 2013.
The ICT-107 trial has overall survival as an end point while DCVax-L uses progression free survival and also allows for a crossover of patients from placebo to DCVax-L. Overall survival is the gold standard end point that the FDA prefers and the cross-over design of the DCVax-L trial confounds the analysis of overall survival. While I think that FDA would most likely approve DCVax-L on the basis of progression free survival, there is some risk. I note that Avastin was approved in refractory glioblastoma patients on the basis of a better response rate with no evidence of better progression free or overall survival.
The trial of ICT-107 is labeled as a phase II trial by the FDA. A phase II trial may be the basis of approval in some rare cases, but usually the FDA will request an additional supporting trial for issues relating to the size of study, confirmation of the clinical outcomes and/or CMC issues before approval. Product approval based upon just a single trial, with that trial being only a Phase II trial, is rare. For approval, the results would have to be particularly striking and barring this, the FDA might require another trial.
The trial of DCVax-L is labeled as a phase III trial, which means that the FDA believes that it could be used as the basis for registration. The DCVax-L trial is also more than double the size of the ICT 107 trial, providing a correspondingly stronger statistical basis. This allows for a larger safety data base and the compassionate use in Europe will also increase the amount of safety data. However, this does not mean that the FDA might not require an additional trial for approval.
Departure of Manesh Singh
There has been speculation that Mr. Singh left ImmunoCellular because he knew that the phase II result would be negative. I find this speculation to be ill-founded because the study is blinded and no one knows what is going on in the study. I had heard from industry sources that there were difficulties between Mr. Singh and Dr. Yu. I asked Dr. Yu about this and he refused to comment, but his body language suggested to me that there was a rift between the two men.
Let me speculate on the cause of the disagreement. Mr. Singh has said on several occasions that he would like to sell the company. I think that this technology is Dr. Yu's creation and he may not have wanted to sell out at this early stage. Of course, I don't really know and it could just have been a personality clash.
Clinical Trial Results Are Striking for Both DCVax-L and ICT-107
In phase I trials, both DCVax-L and ICT-107, when added to standard of care, produced impressive signals of efficacy in comparison to the current standard of care (which is surgical resection followed by a combination of radiotherapy and the chemotherapy drug temozolomide). I have compared the median progression free survival, median overall survival and three year survival for the phase I trials of DCVax-L and ICT-107 along with the pivotal phase III trial that established radiotherapy and temozolomide as standard of care in the following table: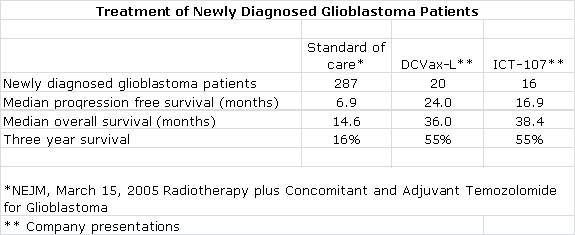 At face value, these results are striking and suggest that 55 of every 100 patients treated with DCVax-L and ICT-107 added to standard of care are alive three years after diagnosis versus only 16 out of every 100 treated with standard of care. It is also extremely interesting that these two different products produced remarkably comparable results and for me provides meaningful validation of the dendritic cell approach.
Seasoned biotechnology investors will quickly point out the inherent flaws of the comparisons in the preceding table. The phase I trials of DCVax-L and ICT-107 enrolled a small number of patients in non-randomized trials performed at one clinical site. Such trials are subject to investigator bias, albeit inadvertent, as investigators have a tendency to select for younger, healthier patients. They are reluctant to enroll older, sicker patients with poor prognosis who might die regardless of treatment. No one wants to see a new drug be judged ineffective because it is given to patients for whom there is very little hope for survival. In phase II and III clinical trials, however, such patients do find their way in.
There is an axiom in cancer drug development that phase III results are never as good as phase I or phase II because of the reasons just cited. Comparing results from different trials is also viewed suspiciously because protocols and the characteristics of the patient populations can vary widely, especially when comparing small phase I or II trials to larger phase III trials.
I acknowledge and share all of these concerns, but I think that it is difficult to ignore the compelling survival data shown in these phase I trials. Investors often get excited about phase I results for chemotherapy, monoclonal antibodies and new targeted therapies if they show meaningful tumor size shrinkage in phase I trials in 30% to 50% of patients suffering from difficult to treat cancers even if there is no evidence of a survival benefit. Viewed against this backdrop, the phase I results showing huge survival benefits for DCVax-L and ICT-107 are stunning.
Rationale for Dendritic Cell Cancer Vaccines
Cancer cells display markers or antigens on their cell surface that are distinct from normal healthy cells. Full blown cancers occur because the immune system is no longer able to properly recognize cancer specific antigens and activate the adaptive immune system to attack and eradicate cancer cells. The goal of dendritic cell cancer vaccines is to bolster the adaptive immune response in the hope that this will allow the immune system to regain its efficacy.
Drug developers are trying to replicate the action that in nature stems from the immature dendritic cell capturing antigens, migrating to the lymph nodes and differentiating into a mature dendritic cell that displays that antigen to T cells and B cells. This trains the T cells to recognize and attack cells bearing this antigen, and B cells to produce antibodies to the antigen. In nature, this is an incredibly complex process; Northwest Biotherapeutics and ImmunoCellular (and Dendreon) have developed different manufacturing processes to try to duplicate this process.
Comparing The Manufacturing of DCVax-L, ICT-107 and Provenge
While manufacturing is a critical aspect of small molecule drugs and biologicals, in the case of products based on living cells like DCVax-L, ICT-107 and Provenge, the manufacturing process is the product. Both DCVax-L and ICT-107 appear to have superior manufacturing processes when compared to Dendreon's Provenge, the pioneer dendritic cell vaccine.
The manufacturing of all three products starts with a blood draw to obtain monocytes, which are then processed to produce antigen presenting dendritic cells. The objective is to produce dendritic cells that are programmed to train killer T-cells, B cells and other immune cells to detect and attack antigens on cancer cell surfaces.
Each company uses a different approach. Dendreon's Provenge, which is directed against prostate cancer rather than glioblastoma, uses a single antigen. It loads the dendritic cells with a fusion protein that is a combination of prostatic acid phosphatase or PAP and granulocyte macrophage colony stimulating factor or GM-CSF. PAP is an antigen that appears on about 75% of prostate cancer cells and GM-CSF is an immune system stimulator.
ImmunoCellular loads the dendritic cells with six peptides which mimic antigens that are widely expressed in glioblastoma: gp100, MAGE-1, IL13Rα2, Her2/Neu, AIM-2 and TRP-2. Each of these antigens is an off the shelf product that is produced synthetically. The company believes that the last four antigens are highly expressed on cancer stem cells and believes that this greatly enhances the efficacy of ICT-107.
Northwest Biotherapeutics uses a tumor lysate to obtain antigens for its vaccine. When the surgeon removes the tumor, a small piece is sent to the pathology laboratory for analysis. The remaining tumor is washed with saline and placed in a premixed tube containing enzymes. It is then ground up into small pieces in the tube, placed in a shipping container and shipped to NWBOD by courier.
Proponents of this approach point out that no two cancers are the same and that the character of the tumor changes over time and sometimes results in the suppression of antigens that are targeted by the immune system. They believe that this approach is more specifically tailored to that patient's tumor, and that 'immune escape' by the tumor is much less likely in the face of using the complete set of antigen targets (biomarkers) from the tumor in this more extensive antigen mixture. Proponents also point out that this approach includes the antigens associated with cancer stem cells, as the lysate includes the full set of antigens.
The Provenge manufacturing process is relatively inefficient and only about 15% to 20% of the final product is antigen presenting cells (including dendritic cells and others). Both DCVax-L and ICT-107 have superior processes that result in at least 80% of the final product being dendritic cells, the "professional" antigen presenting cells. This greater purity and concentration allows DCVax-L and ICT-107 to be given as simple intra-dermal injections versus a one hour intravenous infusion for Provenge. I think that this low antigen presenting cell yield might also impair the efficacy of Provenge in relation to DCVax-L and ICT-107. The intravenous infusion used with Provenge might also be an issue as it is more difficult for the dendritic cells to reach the lymph nodes from the vasculature than from the intra-dermal injections near the lymph nodes used by ICT-107 and DCVax-L
The Provenge manufacturing process requires making fresh product for each set of three infusions given over a one-month period. The DCVax-L process makes sufficient quantities in one batch production process to allow for treatment over three years, or longer. The ICT-107 approach also makes enough in one batch for treatment over several years, and could allow for producing product for a much longer time. Unlike Provenge, this allows for booster shots which intuitively I think might increase efficacy. The vials of DCVax-L and ICT-107 are cryopreserved until needed. They are delivered to a doctor's office where they are simply thawed and injected, unlike the one hour infusion needed for Provenge. The multi-year batch production of DCVax-L and ICT-107 are far more cost-effective than the Provenge production of just one month at a time.
Tagged as ImmunoCellular Therapeutics LTD, Northwest Biotherapeutics Inc. + Categorized as Company Reports