KaloBios: The Fascinating Story of the Takeover of the Company by Martin Shkreli and His Hedge Fund Buddies (KBIO, $18.25, I would not touch this stock)
Investment Thesis and Overview
KaloBios (KBIO) announced on November 13 that it was ceasing operations and had engaged a restructuring firm to help liquidate its assets. Management said they were unable to find a strategic partner interested in licensing or acquiring its technology and the Company had only around $5 million of cash. The stock was then trading at $0.90 and had a market value of about $3.7 million. The next three trading days (November 16, 17 and 18) surprisingly saw the stock close on each day at about $2.00.
On November 19 it was announced that a group headed by Martin Shkreli had bought a majority stake in KaloBios which answered the question as to why the stock had traded up. The Shkreli news then led to a dramatic surge in stock price and trading volume. The stock surged from a close of $2.07 on November 18 to a close of $10.40 on November 19th. Then on November 20th it was announced that Shkreli would become CEO of KaloBios with a board made up of him and three hedge fund cronies; the stock surged again from $10.40 to $18.25.
Arguably the value of the KaloBios assets and the stock price is minimal or perhaps zero. Stock market investors, original management and other biopharma companies saw negligible potential for the successful development of a product. Few observers would think that the notorious hedge fund manager Martin Shkreli leading a new board (the previous board resigned) comprised of three hedge fund cronies has the business acumen to warrant the movement in the stock. The stock price movement appears to be the result of a well-conceived short squeeze and perhaps something more (manipulative?).
What caught my attention and initially drove me to write this note was the inexplicable trading volume in the stock. I have seen a consistent pattern of unexplained high trading volume in stocks which I believed to be manipulated and have been unable to explain this phenomenon. Usually this occurs during short attacks, but in the case of KaloBios this occurred during an upward price surge. Here are the trading numbers. KaloBios has just 4.1 million shares outstanding and the Shkreli group acquired about 70% or 2.8 million shares leaving a float of just 1.3 million shares. During the three days in which the Shkreli group was acquiring its position the stock traded 12.7 million shares. Then in the following two days it traded another 25.7 million shares.
Amazingly, the trading volume over the period November 16 to November 20th has been 38.5 million shares. I hypothesize that some combination of dark pools, high frequency trading and counterfeit stock created by illegal naked shorting is largely responsible for this, but I am unable to clearly explain what is going on. I would welcome anyone who can explain how this can occur. I suspect that if we find the answer, we may have a good understanding of how hedge funds manipulate stocks. Here is the trading history.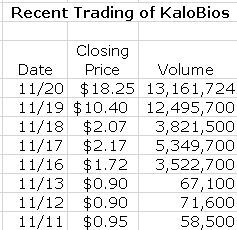 As I did some research, I also was drawn in deeper when I looked into Shrkeli's infamous career. Based on his record, there is good reason to suspect that the new KaloBios is going to be run to enrich its new hedge fund owners and probably at the expense of any investors who stumble into the stock. I would not touch this stock with the proverbial ten foot pole at this time. For those of you seeking a company run by hedge fund managers with no management experience and a history of self-dealing, KaloBios is now your company. Investors-caveat emptor!!!!!
I think his move on KaloBios may actually produce some positive societal benefits (certainly unintended). It starkly shows that there are some ruthless, immoral bad people (hedge funds) like Shkreli who band together to manipulate stock prices. A look at what has gone down with KaloBios gives still another insight into the ability of hedge funds to manipulate stock prices. Sadly, I think that Shkreli is just one on a very large number of hedge fund managers involved in unethical and possibly illegal business activities
Who Is Martin Shkreli
Marin Shkreli is an amoral man devoid of any sense of ethical business behavior. Indeed Shkreli's business conduct is the subject of lawsuits that could lead to his imprisonment. Most recently, the privately owned biotechnology firm Turing Pharmaceuticals, of which he is the founder, gained national notoriety when it bought a generic drug used to treat malaria and opportunistic infections stemming from HIV. Turing promptly boosted the price of this drug that was first introduced in 1953 by 5,500%.
Martin Shkreli has an interesting and ugly biography. His initial introduction to Wall Street was working at Jim Cramer's hedge fund where he started in 2000 and worked for four formative years. (It is amazing how instrumental Cramer has been in developing controversial hedge fund operatives). Shkreli founded his own hedge fund MSMB Capital Management in 2009. I first came across him in 2012 when he presented himself as an activist investor who was writing articles on Seeking Alpha. His modus operandi was for him and his business associates to short a stock and then put together an unbalanced, highly negative report urging other investors to short the stock. This was invariably accompanied by a shorting attack concurrent with the publication of the article. Seeking Alpha loved his work and recommended most of his articles as must reads. This was also the genesis of a new breed of activist investor writers on Seeking Alpha who have a similar business plan, but that is another story.
The activist hedge fund manager role proved a bit limiting for Shkreli and he decided to become a biotechnology entrepreneur. Instead of shorting biotech stocks, he decided to become a builder of great companies. In 2011 he founded a company called Retrophin which focused on orphan diseases while still running his hedge fund. Concurrently, MSMB made disastrous investments that led to huge losses resulting in MSMB becoming essentially bankrupt. Shkreli did not tell investors of these losses and kept on raising money and trading in an effort to make up the losses.
In 2012, he told investors that he was dissolving MSMB to focus his energies on his biotechnology firm Retrophin. He told the MSMB investors that they could redeem their investments either in cash or stock in Retrophin. However, some of Shkreli's investors who are now suing him alleged that he never had any intention of paying back investors. According to this investor lawsuit, Shkreli used a series of self-deals, falsified documents and extra-legal maneuvers to avoid giving them back their money. The lawsuit also claims that in 2014 he tried to intimidate a former MSMB employee, telling his wife in a letter that "I hope to see you and your four children homeless and will do whatever I can to assure this," and reaching out to the ex-worker's teenage sons on Facebook to say their father "betrayed" and "stole $3 million from me."
Retrophin's board is also suing Shkreli for more than $65 million alleging that he transformed Retrophin into a personal bank that could clear MSMB's debts and also line his own pockets. Its suit alleges that Shkreli distributed Retrophin shares to his business partners allowing them and himself to profit from funds raised by the Company and further alleges that he used company assets to pay his personal debts, all without board approval. The lawsuit claims that Shkreli pocketed more than $5.6 million in undeserved cash from the company and used about $59 million worth of Retrophin shares for his personal benefit and the benefit of his business associates.
After being fired from Retrophin and being sued, this undaunted entrepreneur went on to found (privately owned) Turing Pharmaceuticals in 2014. Like Retrophin, this company was focused on developing orphan drugs. In August of 2014, Turing announced that it had raised $90 million from an investor group led by Shkreli and 34 unnnamed "preeminent" institutional investors.
A part of this money was immediately used to purchase Daraprim (pyrimethamine), a drug used for protozoal infections. It is commonly used as an antimalarial drug (for both treatment and prevention), and is used in combination with the antibiotic sulfadiazine to treat toxoplasma gondii infections in HIV-positive patients. It was discovered in 1953 and in 2010 Glaxo sold marketing t rights to CorePharma which then sold the marketing rights to Turing Pharmaceuticals. Turing promptly increased the price per pill from $13.50 to $750. This came at the same time that Valeant was being called out for similar pricing strategies on older generic medicines. This prompted Hillary Clinton to tweet "price gouging like this in the specialty drug market is outrageous."
Shkreli Takes Over KaloBios
When KaloBios announced its liquidation plans on November 13, the stock was trading at $0.90. Owing to a reverse stock split earlier in 2015, there were only 4.1 million shares outstanding so the market capitalization was a tiny $3.6 million. It was reported on November 19th that Shkreli and his group had acquired a majority interest in KaloBios and this caused an explosion in the stock from $2.07 to $10.40 in just one day. The price strength and volume in the stock on November 16, 17 and 18 seems to almost certainly due to the Shkreli group "quietly" accumulating shares.
It was next reported on November 20th that the Shkreli group had acquired 70% of the outstanding shares. KaloBios also announced the appointment (surprise, surprise) of Martin Shkreli to the position of Chief Executive Officer and his election as Chairman of the Board. The stock surged again from $10.40 to $18.25. Other aspects of this takeover were:
In connection with these developments, the former directors resigned, effective immediately.
KaloBios received a commitment from Shkreli and other investors for an equity investment of at least $3.0 million. In addition, Shkreli and the group of investors have committed to a $10 million equity financing facility, subject to applicable shareholder approval.
The company has ~$5 million in cash and will endeavor to file its quarterly results on Form 10-Q as soon as possible.
Shkreli will continue as Chief Executive Officer of Turing Pharmaceuticals AG and the two companies will operate independently.
What is Going On?
It appears that Shkreli and his cohorts bought about 2.8 million shares (70% of total shares outstanding) at a price of about $2.00 so they have a paper profit of $45.5 million on an investment of about $5.6 million if they still hold all of these shares. This is a nice five days of work. It has not been specified, but I wonder if the $90 million raised by Turing was used in part to finance this purchase.
It strains the imagination to think that Shkreli can find any value in the KaloBios assets as previous management was not able to successfully develop them nor to sell them to another biopharma company. Hence, this does not bear any semblance of a purchase based on perceived value of KaloBios assets; they are probably worthless. This could be a way for Turing to back into being a public company through a reverse merger and indeed if this was the intent, it was a very clever and profitable way to do so. Shkreli however states that Turing and KaloBios will be run separately.
Based on the way Retrophin was managed, it appears that KaloBios could be a public vehicle for Shkreli and friends to use its access to capital to enrich themselves at the expense of shareholders. As we speak, they could be raising some part of the $10 million from the equity financing facility. At Retrophin, Shkreli did not control the board and this led to his ouster. He is not making the same mistake twice as he and his business associates are the board. The three other board members are Martin Biastek who co-founded MSMB with Shkreli, the hedge fund manager David Moradi of Antheon Management and Tony Chase who I believe is also a hedge fund manager. The former board of KaloBios has all resigned. For those of you seeking a company run by hedge fund managers with no management experience and a history of self-dealing, KaloBios is now your company. Investors-caveat emptor!!!!!
I am not a great fan of short selling as I see it as essentially un-American to root for companies to fail. I recognize, of course, that there are bad actors (like Shkreli) where short sellers serve a useful societal function in exposing them. However, I think that short selling has gone beyond this and has been developed into an art form to manipulate stock prices by some (all) hedge funds that are deeply involved in biotechnology companies. I hypothesize that they make most of their returns from shorting stocks and then coordinating with other hedge funds to manipulate stock prices down. The considerable success of this tactic has also attracted a lot of camp followers who pile on and short stocks that are under attack. Hence, I enjoy a good short squeeze as has obviously been the case in the KaloBios situation.
Could Someone Explain the Trading Volume in the Stock?
What really drove me to write this note was the wild stock trading in KaloBios. This is a company that has 4.1 million shares outstanding. In the four day period (November 16 through 20) in which Shkreli became involved, the stock traded 38.5 million shares. If Shkreli bought and held his 2.8 million shares, the remaining 1.3 million shares were involved in trading of 35.6 million shares. This would be a lot of buying and selling for so few (1.3 million) outstanding shares.
I can't explain this trading intensity nor have I found anyone that understands it. Most investors think that a trade occurs between one individual selling and one buying and that the position is going to be held for a while. I have no experience leading me to understand how a 1.3 million share float can result in 35.6 million shares trading in a five day period. While I can't articulate how it is done obviously something very unusual and not at all understood is going on. I hypothesize that that there is a connection between this baffling, frenzied trading and dark pools, high frequency trading and naked shorting.
Dark pools are as their name sounds involve trading operations that are done away from the exchanges and in great secrecy. These are sponsored by brokerage firms like Goldman Sachs. Morgan Stanley and Merrill Lynch; overall there were 48 dark pools at last count. They provide little if any transparency on trading and allow hedge funds to trade among themselves. Dark pools account for about two-thirds of volume even for small companies like KaloBios. Only insiders (and I am not one) know what kind of chicanery goes on.
High frequency trading plays hand in hand with dark pools. In his excellent book Flash Boys: A Wall Street Revolt, Michael Lewis gives some insight into dark pools and high frequency trading. The high frequency traders use computers that can execute 150 trades in the blink of an eye. The computers employ algorithms that are written by some of the brightest mathematicians in the world. Lewis explains that the raison d'etre of high frequency trading is to trade ahead of institutional and retail orders. Their defenders argue that they bring liquidity to the market but this is disputed by others who argue that they usually only hold positions for a few seconds or less. I suspect that high frequency trading is used to manipulate stock prices.
Legal shorting requires the investor initiating a short position to borrow the stock they are selling from brokerage firm customer accounts which are long the stock; this limits the number of shares that can be shorted. However, most hedge funds just go ahead and short the stock with no attempt to borrow the shares. This is illegal naked shorting which creates counterfeit shares.
Time after time I have seen heavy volume in stocks that are under attack by hedge funds and also in much fewer cases in which manipulation is meant to drive the stock price higher. I suspect that dark pools and high frequency trading are instrumental in the frenzied trading of KaloBios but I'll be darned if I can explain it. Anyway, this was what drove me to write this article at first and as I dug into the past business activities of Shkreli I was fascinated and this resulted in the article being much longer than intended.
I think that Shkreli and his hedge fund cronies made a brilliant and altogether legal move in their acquiring KaloBios and may have "put the hurt" on a number of short sellers. Going forward, I would not want to be involved in KaloBios in any way as it is almost certainly going to be run for the benefit of Shkreli and his hedge fund cronies. It will be interesting to watch to see if Shkreli follows in the footsteps of that legendary biotechnology stock manipulator David Blech who currrently receives his mail in a jail cell.
Tagged as KaloBios, KBIO, Martin Shkreli + Categorized as Smith On Stocks Blog