Discovery Laboratories: What I Intend to Do in the Aftermath of a Disastrous Stock Offering (DSCO, Buy, $0.54)
Quick Summary
Discovery Laboratories has just completed a stock offering that was done at distressed prices. This was a disaster for existing shareholders as new shareholders participating in this deal now control about 58% of fully diluted shares. The Company now has cash to that could last until 1Q, 2017 which will allow for the conduct of two phase 2a trials whose topline results should be reported in 4Q, 2015 or 1Q, 2016. I think that results from these trials could give an interesting, but not definitive, insight into efficacy and safety of Aerosurf. Results from a phase 2b proof of concept trial will likely be available in 2H, 2016; these should be close to definitive.
I consider Aerosurf to be one of the most important drugs in development in biotechnology. By providing better treatment of respiratory distress syndrome, it could potentially reduce mortality and morbidity in large numbers of premature infants. I think that its US potential sales could be $1 billion. The current market capitalization of Discovery based on fully diluted shares is $155 million. In my judgment, strong results expected in 2H, 2016 from the phase 2b trial could result in a market capitalization of $500 million to $750 million which is roughly $2.00 to $3.00 per share. If the phase 2b trial fails to show meaningful efficacy, the Company would likely go bankrupt.
We will have to wait for phase 2b results in 2H, 2016 to establish proof of concept that would be needed to get to the $500 million to $750 million market capitalization. The recently completed phase 2a trial gave some encouraging but far from definitive signals that suggest efficacy and safety. Results expected in 4Q, 2015 or 1Q, 2016 from two expansion phase 2a trials may add further insight into efficacy and safety and potentially could have a meaningful, positive impact on the stock.
I think that there is a good chance that Aerosurf will be successful in clinical trials. We know that its active drug ingredient, KL-4 surfactant, is effective as it has already been approved by the FDA. The issue is not efficacy, but whether adequate amounts of KL-4 can be safely delivered to the lungs in an aerosol dosage. I intend to purchase the stock in 48 hours which is my normal waiting time after publishing a new recommendation. For those who choose to follow me, I do want to re-emphasize that the downside is $0.00.
Investment Overview
Discovery Laboratories has been a textbook case on how to destroy shareholder value by maintaining a weak balance sheet and financing out of desperation at a depressed stock price. It appears to me that the Company's strategy has been to finance only to the point that it can barely get to the next milestone on the belief that the milestone event will be positive and  allow them do a much bigger financing at higher prices. Presumably, they felt this would be less dilutive to existing shareholders. This was a risky and poor strategy as things don't always go as planned in drug development and short sellers are attracted like bees to a honey to companies with weak balance sheets who need to finance. Using techniques as described in my recent report in situations like this shorts can manipulate the stock price virtually to wherever they want.
Discovery Laboratories has been a huge mistake for me. I recommended the stock in the $2.00 to $2.75 range last year, primarily on the promise that I see for Aerosurf and secondarily on the thought that the Surfaxin launch would be slow, but steady. When it became apparent in December 2014 that the Surfaxin launch was a failure, I recommended selling DSCO at a price of $1.25 and taking the tax loss. See "Current Investment Recommendations for Stocks Covered by SmithOnStocks; A Yearend Review." A driving reason for this move was that the Company was in a weak cash position, the stock was depressed and was a perfect target for the shorts. My intention was to re-recommend the stock after the financing was completed. I have had a great deal of luck recommending stocks after a capital raise gives the Company a strong balance sheet and a clear runway beyond an important binary event.
The Company has just completed a financing that can only be described as a complete disaster for existing shareholders. The shorts just hammered the stock prior to the offering and Discovery financed out of desperation at a price of $0.60 per share. This recently completed deal has raised the fully diluted share count from about 106 million shares to 258 million if the Green Shoe is exercised. I am just appalled by this strategic catastrophic blunder on the part of the board and management. They gave up 58% of the Company to shareholders coming in on this new deal. Management has stated that these new shareholders are quality investors and not hedge funds covering their short positions (I know covering short positions on an equity offering is illegal, but it is still done.) I hope it is the case that these are quality investors.
Investment Thesis
So where do we go from here? I think that a large part of the investment community has written off the Company and indeed at this point in time only one knowledgeable analyst (who works for its investment banker) is writing on the stock. The recent deal will add two other analysts from small investment banks that were included in the offering. Without investment banking fees, I think that none of these analysts would write on the Company. Discovery is in the far back corners of the biotechnology world. Almost no one has confidence in the management and board.
I may be the lone believer in the Company, but I have always believed that the Company's lead product Aerosurf s at the top of the list of interesting new biotechnology products. I am recommending the Company based on this belief now that the financing is behind the Company. This was what my plan was all along and I wrote a detailed June 29, 2015 report on Aerosurf. If you are interested in buying this stock, you should read this report. However, I completely understand if you don't want to have any involvement. I will be buying this stock in two days after my customary waiting period following a new recommendation expires.
As explained in my Aerosurf report, I believe that the recently reported phase 2a results for the product provide just a glimpse of the possible efficacy of the product as it was primarily a trial that focused on safety of the product and CAG device used to deliver it (which is as important as the drug). There are signals (far from conclusive) that Aerosurf is working. There are two new phase 2a trials that have begun enrollment and their results are expected late in 4Q, 2015 or early 2016. The primary goals of both of these trials is safety, but I think there may be more signals of efficacy (again not conclusive) that could move the stock. The decisive time point for the stock is the completion of the phase 2 b trial that management says will be completed in mid-2016 with results in 2H, 2016. This will largely establish if Aerosurf is safe and effective.
With a successful phase 2b trial, the attitude on DSCO could change 180 degrees. Investors would begin to give a high probability for success that could lead to approval in late 2018 or 2019 of a unique drug satisfying a critical unmet medical need with $1 billion of US sales potential and no competitors on the horizon. Looking at other companies with products at this late stage of development with comparable potential, I could see DSCO being given a market capitalization of $500 million to $750 million assuming market conditions and attitudes toward biotechnology companies are essentially the same in 2H, 2016 as now. This translates into a price per fully diluted share of about $2.00 to $3.00 per share in 2H, 2016.
The very real risk in the stock is if the phase 2a trials that could be reported by yearend reveal a safety issue or if the phase 2 b trial whose results are due in 2H, 2016 show no evidence of meaningful efficacy. The results in both cases would likely be bankruptcy for the Company. Investors are looking at an upside of $2.00 to $3.00 and a downside of $0.00. I think the chances for success are better than the chances for failure; read my recent report of June 23, 2015 which explains why.
On the financing side, the Company will have about $64 million of cash after the offering which could last until 1Q, 2017. This should get the Company past reporting of phase 2b results in 2H, 2016 but just barely. I think that the Company can finance from strength if the phase 2b results are positive and if they are negative, I think the Company will go bankrupt.
Clinical Trial Plans for Two Phase 2a Trials and a Phase 2b Proof of Concept Trial
In my une 23, 2015 my previously cited June 29 report, I went over the first phase 2a trial of Aerosurf which was the first study in human neonates. I would urge you to carefully go through that report again before reading this section on three trials that will be completed over the next year. Trials of Aerosurf can be performed very quickly as the treatment period is just a matter of a few days and determinants of efficacy are almost immediately apparent such as less oxygen requirement, lower CO2 in the blood and reduced intubation.
The company has already enrolled several babies in a new phase 2a expansion study for which I expect topline results in 4Q, 2015 or 1Q, 2016. Like the first phase 2a study the primary goal remains safety and tolerability of the drug and the capillary aerosol generator (CAG) used to deliver the drug. It will enroll 32 babies of 29 to 34 weeks gestational age, the same age group as in the first phase 2a trial. The trial will be randomized 1:1 so that 16 babies will receive Aerosurf plus nCPAP and 16 will receive nCPAP. There are, however, important differences. In the first trial cohorts of babies were treated for 15, 30 and 45 minutes, respectively. Remember that Aerosurf is an aerosol that is delivered at consistent concentration. The dose is increased by lengthening the time of administration. In this new phase 2a trial, Aerosurf will be administered for 60 minutes to one group and 90 minutes in the second. As importantly, the physician has the ability to prolong time of administration and give repeat doses in this new phase 2a trial; this was not allowed in the first phase 2a.
This new trial is more reflective of how physicians would actually use Aerosurf in clinical practice. They would monitor critical variables such as FiO2 and CO2 on a real time basis. They would continue treatment for some time (perhaps 60 or 90 minutes or longer) in the hope that the baby's condition would improve and they could avoid intubation. If the baby was relatively stable but showed some signs of distress, they might give a repeat dose.
Because of this change in trial design, I think that there will be the opportunity to see some real signals of clinical activity. The number of babies probably is too small to see statistical significance in the results, but there may be informative trends or anecdotes that could afford physicians and investors important information about the drug.
Enrollment also has also begun in a second phase 2a trial in 16 premature infants of 26 to 28 weeks gestational age. I also expect topline results in 4Q, 2015 or 1Q, 2016. Randomization is 1:1 against nCPAP so that 8 babies will be treated with Aerosurf plus nCPAP and 8 with nCPAP. Remember that the completed trial was in babies of 29 to 34 weeks gestational age. The trial will give doses of 30 and 45 minutes and will allow for repeat dosing if needed and the time of dose administration can also be increased. A major objective of this trial is to determine if Aerosurf can be given to much younger babies than have been treated so far.
To repeat, both of these phase 2a trials are enrolling and I think that we could see topline data for each in 4Q, 2015 or 1Q, 2016. With the information gained from these phase 2a clinical trials, the Company is planning for a phase 2b clinical program, which is expected to be completed in mid-2016.  The primary purpose of this trial will be to demonstrate evidence of efficacy on acceptable endpoints, identify the dose regimens to be used in the phase 3 clinical program and provide an estimate of effect size.  This trial will assess aerosolized Aerosurf administered in three escalating doses to 200 to 250 premature infants 26 to 32 week gestational age who are receiving nCPAP for RDS, compared to infants receiving nCPAP alone.  The trial will be conducted in approximately 50 clinical sites, including both inside and outside the United States.
Discovery is continuing to work with Battelle (a relationship begun in 2012) for the manufacture of a sufficient number of CAG devices and disposable Aerosurf dose packs to support the remainder of the phase 2 clinical program.  They are also collaborating with Battelle in planning production of CAGs for use in a potential phase 3 clinical program and, if Aerosurf is approved, initial commercial activities. Patheon Manufacturing Services will manufacture the lyophilized for of KL-4 surfactant that is used in Aerosurf in phase 2 and 3 trials.
Analysis of a Disastrous Stock Offering
The just completed offering produced enormous dilution for existing shareholder. New shareholders coming in on this offering through shares and warrant now control about 150,000 of the estimated 257,000 fully diluted shares. They now own 58% of Discovery. What a disaster.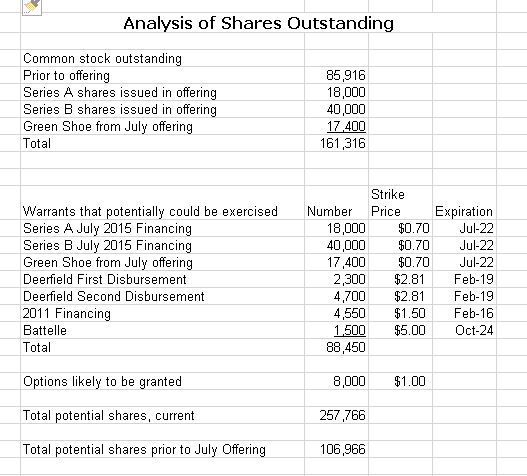 If the Green shoe is exercised, this offering will bring in about $38 million which includes $5 million of interest forgiveness on the Deerfield loan. Combined with the approximate $26 million of cash remaining on the balance sheet, this gives the Company about $64 million of cash. At the 2Q burn rate of $9 million this cash would last for seven quarters or until 1Q, 2017. Critical phase 2b results will be released in 3Q, 2016 or 4Q, 2016, which is before the Company runs out of money in 1Q, 2017.
As part of this deal, Deerfield was issued stock and warrants so that no cash interest expense has to be paid on the Deerfield loan until 2018. There are principal repayments of $12.5 million in February 2018 and $12.5 million in February 2019.
Tagged as Aerosurf, Discovery Laboratories Inc, DSCO, Windtree Therapeutics + Categorized as Company Reports