Discovery Laboratories: Results for Aerosurf in Phase 2a Trial are Encouraging; Why Then Did the Stock Crash? (DSCO, Buy, $0.30)
Introduction
This report discusses the results of Discovery Laboratory's first in human, phase 2a trial of Aerosurf. In writing this report, I am assuming that the reader has an in-depth understanding of Aerosurf and its disease target. If you are new to the Company, I would strongly urge you to read my in-depth article of June 23, 2015 called Discovery Laboratories: An Analysis of Phase 2a Results for Aerosurf and What to do with the Stock.
I consider Aerosurf to be one of the most important new drugs under development in biotechnology. I believe that it has sales potential of over $1+billion in the US and a similar amount in international markets if successfully developed. So what are the chances? We know that the synthetic surfactant product (KL-4) which is the active drug ingredient in Aerosurf is an effective drug when given as a liquid dosage form (the baby is intubated and the liquid KL-4 is poured through a tube into a baby's lungs). The FDA has approved KL-4 in this dosage form. In Aerosurf, KL-4 is delivered as an aerosol which could provide highly meaningful medical benefits and as highly meaningful cost reduction benefits for payors.
The intubation procedure in a premature baby carries great risk and the long sought "Holy Grail" of neonatology is to be able to give a surfactant in a less invasive, aerosolized form. This would allow the product to be given safely in conjunction with nasal continuous positive airway pressure (nCPAP); this uses nose clips instead of an endotracheal tube.
Investment Thesis
The just reported data from the phase 2a trial of Aerosurf in 80 babies of 29 to 34 weeks gestational age is extremely encouraging in regards to safety which was the primary goal of the trial. There appears to be no issue with air leaks and side effects in general are comparable to nCPAP. Aerosurf seems to be as safe as nCPAP. In terms of efficacy, I caution that the small sample size of this trial limits the level of confidence in interpreting results. However, if the phase 2a results which show that 20 of every 100 babies treated with Aerosurf can avoid intubation are replicated in larger trials, I believe this would be a major medical advance.
There is some uncertainty as to whether the effects seen in these older babies will be seen in younger and more fragile babies of 26 to 28 weeks gestational age. It could be better or worse. We will know the answer soon as topline results for a phase 2a trial in these younger babies are expected in 1Q, 2016. While I don't necessarily expect this to be the case, I can't rule out the possibility that Aerosurf will be less effective in these younger babies.
The phase 2b trial of 250 patients will start in 4Q, 2016 (before the results of the second phase 2a in younger gestational age babies is known). It will produce topline results in 4Q, 2016 and set the stage for a phase 3 trial which could provide topline results in 4Q, 2017. Assuming success in all trials, the product could be approved in late 2018 or 2019.
Discovery has 154 million fully diluted shares outstanding so that at the current price of $0.30 it has a market capitalization of $46 million. It ended 3Q, 2015 with $46 million of cash and is guiding to a cash burn of $8 million in 4Q, 2015. At this rate, the Company would end 2016 with $6 million of cash. Management will not comment on this calculation but has indicated that this cash will last into 1Q, 2017. This is past the expected release of topline data from the critical phase 2b trial in 4Q, 2016.
The results in the phase 2b trial will be a major inflection point. If they duplicate the results seen in the small phase 2a trial that was just completed, I think this will be proof of concept and that Aerosurf will be viewed as a major medical advance and there would be a high level of confidence that the product will be approved in 2018 or 2019. Management would then be faced with the decision in 2017 to seek and commercialize with a partner (which would be easy if the phase 2 results are seen as a success) or to just sell the Company outright.
So what would the market capitalization be in late 2016 with success in the phase 2b trial? We would be looking at a very unique product in Aerosurf that meets a major unmet medical need and would significantly reduce costs in neonatology intensive care. The phase 2 program is well conceived and would give confidence that the phase 3 trial needed for approval would have a high probability of success. In other reports, I have suggested that commercialization could lead to peak sales of $1 billion in the US and $1 billion in Europe. Based on looking at valuations of companies with less promising products than Aerosurf that are in late stage development, I think the market capitalization would be more than $500 million and perhaps $1 billion or more. On the current fully diluted share count of 154 million shares, this would translate into $3.25 per share or more.
The upside reward in the case of success is enormous, but there is risk. If the phase 2b trial is unsuccessful and suggests no path forward, the value of the stock would be zero. So we are looking at a binary event that essentially puts the stock at $3.25 or $0.00 in about a year based on reporting of phase 2b results. This is not, of course, unusual in biotechnology investing. However, I must alert you that there could be an important clinical data release even before then.
There could also be important information in 1Q, 2016 from the second phase 2a trial in younger babies of 26 to 28 weeks gestational age. Will these results be the same as the phase 2a trial in older babies of 29 to 34 weeks gestational age? Disappointing results relative to the just reported trial in older babies could raise concerns about potential success in or even conduct of the phase 2b trial. This is not to say that they will be disappointing (my guess is that they could be the same or better) but just to acknowledge the possibility.
I think that a seasoned biotechnology investor would view these results just reported as quite encouraging especially in the context of a $46 million market capitalization. Why then did the stock get blasted after it reported the news? The stock closed at $0.47 on November 11th and then after reporting the phase 2a results on November 12th closed at $0.28, a decline of 40%.
These is only one major Wall Street analyst following Discovery. This is Tom Shrader of Stifel who is an excellent analyst; full disclosure, Tom and I once worked together. He wrote a note entitled DSCO Update: Compelling Phase IIa Data Clarify Clinical Development Plans. He has a one year price target of $2.50. I checked the news outlets and social media and could find no comments on the Company. To the best of my knowledge, there were no written commentaries on the stock that were negative and the one knowledgeable analyst on the stock came away quite positive. Based on my analysis and that of Tom Shrader, the stock would have been expected to trade up sharply.
What is going on here is highly unusual. Here is what I think happened. Those of you who follow my work have heard me suggest that there is major manipulation of both small and large stocks by hedge funds operating as a wolfpack. I believe that they use a combination of: (1) lack of transparency in dark pools which account for about two-thirds of trading volume even for small stocks like Discovery, (2) high frequency trading which allows them to make 150 trades in the blink of an eye and (3) illegal naked shorting. In the short term in stocks such as Discovery which have little or no institutional support, they can virtually set the price anywhere they want.
In regard to DSCO, here is what I think went down. The Company announced on November 6th that it was going to hold a conference call on November 12th to discuss phase 2a results. It also announced that it was moving Aerosurf into a phase 2b trial. One could only assume that the results were positive. The stock moved to a close of $0.47 on that day and for the next four trading days closed at about $0.47 which is about what one would expect. Then on the day of the release of trial results it plunged to $0.28 for no apparent reason.
The hedge funds have an ability to move stocks up or down depending on whether it suits their purpose. The shorts are significantly exposed on this stock and did not want to see the stock experience a sustained rally on positive clinical trial news. I think that they purposely manipulated the stock to the $0.47 range from $0.34 where it had been trading and then crushed it on the day of the news release causing investors to believe that this good news was somehow bad. Also, the stock movement sucked in some momentum investors allowing the shorts to do some naked shorting to pick up a little more pocket change.
I have no objective evidence to support my hypothesis that there is massive criminal manipulation of stocks by a group of hedge funds, but the circumstantial evidence is overwhelming. I have seen this brazen action of making good news look like bad news happen over and over and over. Of the 15 companies that I write on, I have seen circumstantial evidence of manipulation in 12 of those.
The Phase 2 Program for Aerosurf
There are three distinct phases of the Aerosurf development program. The first (data for which are discussed in this report) is a phase 2a trial that involved babies of 29-34 weeks gestational age; there were 40 babies treated with Aerosurf plus nCPAP and 40 with nCPAP alone. The design of the trial is shown in the next table as the part circled by red. There is a second phase 2a trial underway for babies of 26 to 28 weeks gestational age (versus 29-34 in the just reported phase 2a) that will enroll 16 babies on Aerosurf plus nCPAP and 16 on control. Topline results will be reported on this nearly completed second trial in 1Q, 2016. The final component of the phase 2 program will be a 250 patient phase 2b trial of Aerosurf in babies of 26-32 weeks gestational age.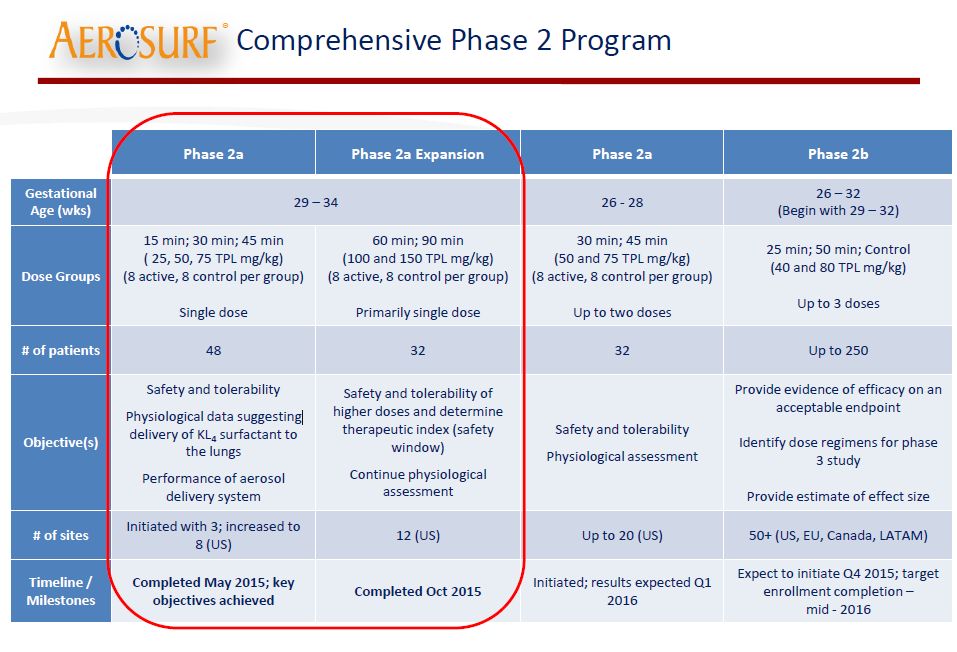 For complete details for the 80 patient trial of Aerosurf in babies of 29 to 34 weeks gestational age. I would refer you to the slide deck presentation. I will only focus on a few slides that I think are of greatest interest.
Results from the Phase 2a Trial in Babies of 29-34 Weeks Gestational Age
Efficacy
Based on the phase 2a data in the first 80 patients, the Company has selected two doses for the all-important phase 2b trial. Remember that Aerosurf is delivered as a steady aerosolized concentration and the dose is determined by the length of time that Aerosurf is administered. In the just completed phase 2a trial doses of 15, 30, 45, 60 and 90 minutes were studied. This data suggested that the most effective doses were 45, 60 and 90 minute doses. However, the 90 minute dose produced no incremental benefit over the 45 and 60 minutes. Based on this data, the two doses in the phase 2 b trial will be 25 and 50 minutes.
In terms of answering the question as to whether Aerosurf is effective and can deliver therapeutically effective amounts of KL-4, the following table is very encouraging. The goal of nCPAP therapy is to avoid intubation of babies; nevertheless, about 50% of nCPAP babies fail treatment and ultimately have to be intubated. One key therapeutic objective of Aerosurf is to reduce the percentage of babies who fail nCPAP therapy. The following table shows the very encouraging effect on intubation of babies given 45 minute and 60 minute doses in phase 2a.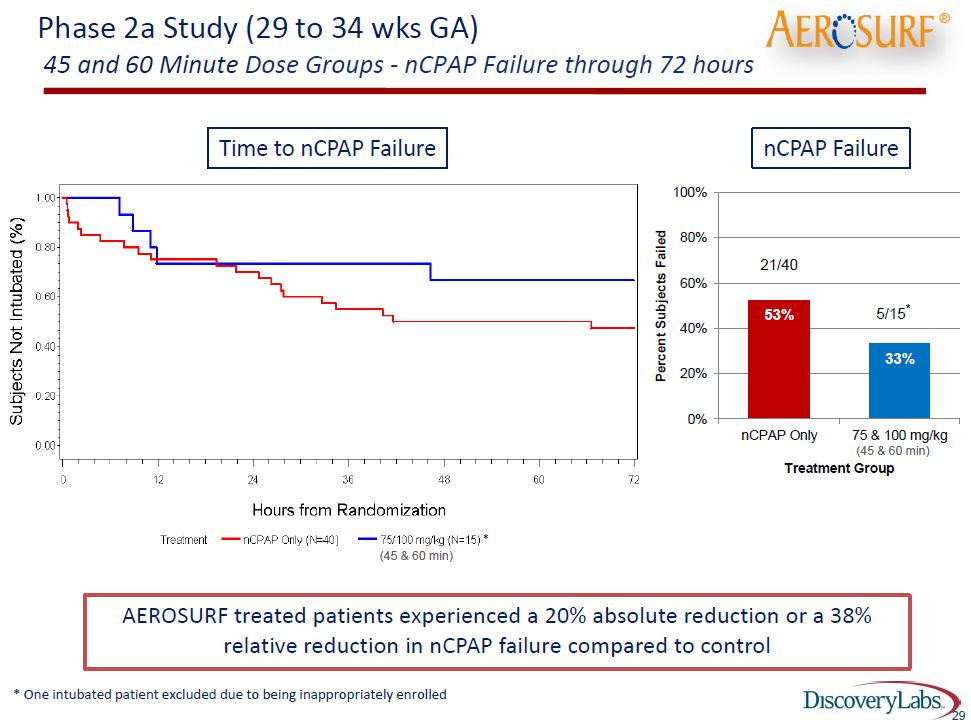 This data shows that 72 hours after a single dose in 15 patients treated with Aerosurf only 5 (33%) failed therapy and had to be intubated whereas 21 of 40 (53%) in the nCPAP control group had to be intubated. Other data showed that at 6 hours, 18% of the nCPAP patients had to be intubated, while none failed who were on either the 45 minute or 60 minute Aerosurf doses. This suggests that Aerosurf is effective in newborn lungs by 6 hours and that the effect lasts through 72 hours. Let me emphasize that these are very small numbers of babies so that we cannot draw any statistically firm conclusions. Discovery will need a much larger data base of perhaps 250 to 500 babies before any statistically acceptable conclusions can be drawn.
I caution the reader again not to totally accept this data as being representative of how Aerosurf might perform in clinical practice because of the small number of data points. That said, let's consider the data. If this data were to be replicated in larger, statistically meaningful trials. It would indicate that instead of 53 babies out of 100 being treated with nCPAP going on to intubation only 33 out of 100 babies treated with nCPAP plus Aerosurf would need to be intubated. This means that 20 of 100 babies treated with Aerosurf would be saved from going on to intubation.
I am not going to go into detail, but the risk of intubation is extremely high and the risk of Aerosurf plus nCPAP is quite low. Allowing 20 babies to avoid this risk of intubation has enormous medical benefit. There is also a probable benefit to giving KL-4 to babies who are not destined to go on to intubation, but I am not going into this in this note. From a cost standpoint, the cost of treating a baby on nCPAP is about $5,000 whereas a baby on intubation costs about $50,000 or more. If 20 out of 100 babies treated Aerosurf were to avoid intubation, it would produce a net saving of $900,000 (20 babies times $45,000). This works out to be a saving of $9,000 per baby treated.
Safety
The data on these 80 patients is a meaningful signal that Aerosurf is effective although this does not rise to the level of statistical proof. The next important issue is whether Aerosurf is safe. The data from this 80 patient trial suggests that Aerosurf plus nCPAP is as safe as nCPAP alone. The serious adverse events were comparable in the two groups and in line with historical experience with nCPAP. This is shown below: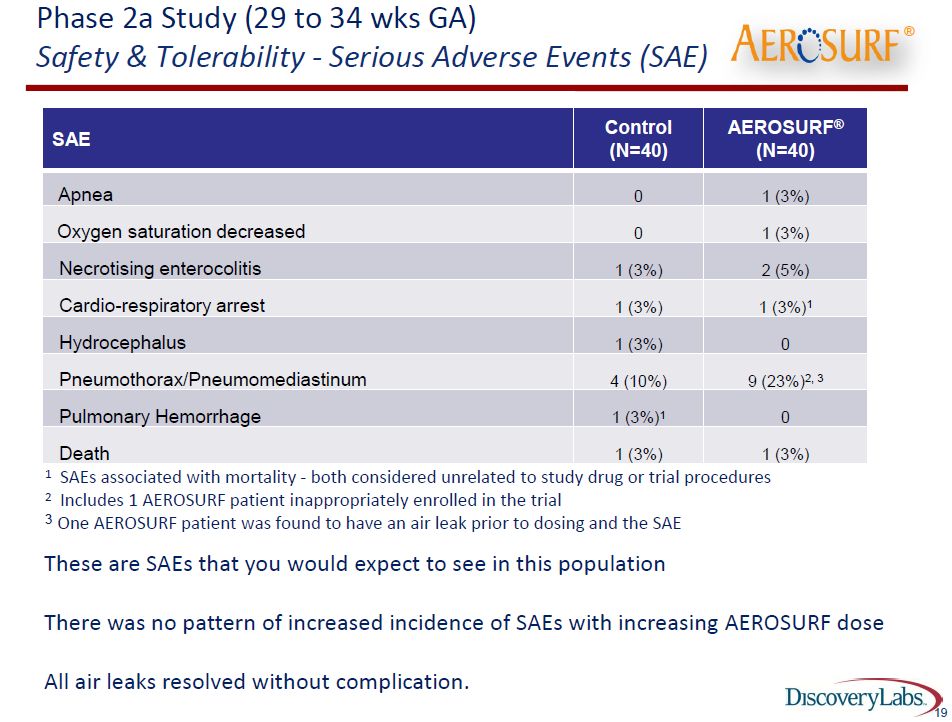 Earlier this year, Discovery reported results from the first 48 patients of the first phase 2a trial. At that time there appeared to be an imbalance in air leaks that suggested that Aerosurf might cause more air leaks, a severe but not infrequent occurrence in premature babies on both intubation and nCPAP. Let me define what an air leak is.
Normally the air that we breathe goes down the trachea (windpipe) to a series of branches of the windpipe called bronchi. The air then goes to the air sacs where oxygen is delivered to the blood and carbon dioxide is released. If the air sacs become overfilled with air, the air can break out of the air sacs and get into spaces where it should not be. This condition is sometimes referred to as air leak and includes the following conditions:
Pneumothorax where the air is trapped inside the chest between the chest wall and the lung, causing the lung to collapse.
Pneumomediastinum where air is trapped in the middle part of the chest, and
Pulmonary Interstitial Emphysema (PIE) where air is trapped between the tiny air sacs, encircling the smallest blood vessels and bronchi.
The incidence of air leaks is shown in the following table: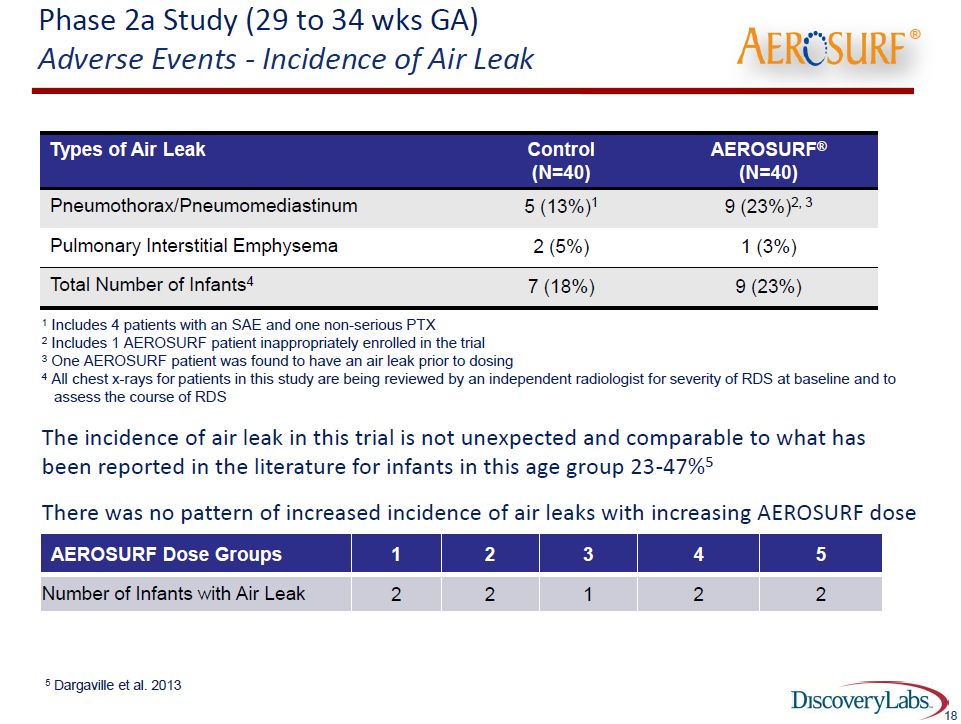 As noted in the footnotes to the table, the literature suggests that about 23 to 47% of babies of 29 to 34 weeks gestational age develop an air leak and in this study 18% (7 of 40) patients on nCPAP had an air leak and 23% (9 of 40) Aerosurf babies had an air leak. However, the data for Aerosurf was reported on an intent to treat basis. One of the 9 babies was given 5 minutes of treatment before it was determined it was not eligible for the study and developed an air leak 36 hours later. A second baby was determined to have had an air leak before treatment. Excluding these two babies would indicate that only 18% (7 of 40) babies on Aerosurf had an air leak which is the same percentage as nCPAP. This is very encouraging data.
The Second Phase 2a Trial in Babies of 26 to 28 Weeks Gestational Age
The data on the first phase 2a trial was in babies of 29 to 34 weeks. There is an ongoing second phase 2a trial in babies of 26 to 28 weeks that is now enrolling. This will enroll 16 babies on Aerosurf plus nCPAP versus 16 on nCPAP alone. The Aerosurf dosage used in this trial was informed by the earlier trial and will be 8 babies on a 30 minute dose and 8 babies on a 45 minutes. In the first phase 2a trial almost all babies were given just one dose. In this second trial doctors are allowed to give two doses. This suggests that the FDA is comfortable with the safety profile of Aerosurf. Intuitively, I would think that giving a second dose if needed would improve results.
The second trial is reported as enrolling quite rapidly. Because important efficacy measures can be assessed as early as one to three days after treatment, results are quickly available. I estimate that the first baby enrolled was treated in October or November. Discovery is guiding that topline results will be available in 1Q, 2016. This could provide important new information.
Phase 2b Trial in Babies of 26 to 32 Weeks Gestational Age
This trial will use Aerosurf doses of 25 minutes and 50 minutes. The protocol allows the physician to give up to three doses of Aerosurf. The trial will initiate in babies of 29 to 34 weeks gestational age. Following data from the phase 2a trial in babies of 26 to 28 weeks gestational age, it will then enroll babies of babies of this gestational age group in the phase 2b. There is some uncertainty as to what the results could be in younger babies; they could be better or worse. My guess is that they will duplicate the encouraging results from the trial in older babies. The greater use of repeat doses could lead to better results.
The phase 2b trial will enroll 250 patients in 50 sites in the US, Europe, Canada and Latin America; this is big trial. Doses of 25 minutes and 50 minutes will be investigated and the physician will be allowed to give up to three doses. The trial will initiate in 4Q, 2015 and the Company is guiding that enrollment will be completed in mid-2016. Remember that the important efficacy endpoints can be assessed 72 hours after a baby is dosed so that trial endpoints are reached in three days after dosing as opposed to months or years. This indicates that important topline data can be released in 4Q, 2016.
The phase 2b trial is powered to show a 30% absolute reduction in nCPAP failure for Aerosurf plus nCPAP versus nCPAP alone. This is roughly in line with the reduction seen in the phase 2a trial in babies of 29 to 34 weeks gestational age. This study will further refine the dosing in terms of minutes and repeat dosing for a phase 3 trial. This phase 3 trial will likely be of the same size or somewhat higher than the phase 2b trial, say 250 to 400 patients. Going off of the quick enrollment expected in phase 2b, this study might start in 4Q, 2016 or 1Q, 2017 and provide topline results by 4Q, 2017. Assuming success in both trials, the phase 2b trial could act as the second pivotal trial and allow an NDA to be filed in 2018 with approval in late 2018 or 2019.
Tagged as Aerosurf, Discovery Laboratories Inc, DSCO, KL-4, Windtree Therapeutics + Categorized as Company Reports