Derma Sciences: An In-Depth Look at An Emerging Growth Stock (DSCI, $12.77) (Subscribers Only)
Investment Perspective in Brief
Derma Sciences presents an unusual and attractive biotechnology investment situation. We are all aware of the binary outcomes of critical phase III trials in which a successful outcome usually leads to a dramatic increase in stock price (perhaps several fold), but failure can lead to a 50% or greater decrease in price. As there tend to be more failures than successes, it is always difficult to make a risk adjusted decision to buy a stock facing a binary outcome.
DSCI will report critical phase III results for its wound healing drug DSC-127 in mid-2015 or early 2016. The upside potential is substantial in the event of success, but the downside risk if it fails is enormously reduced. Why? Because the Company has an attractive business based on advanced wound healing products that should achieve sales of $45 million in 2014 and has the potential for long term growth of perhaps 30+% based on its current product line. Key to this business segment are some innovative products sold by an effective and steadily expanding sales force; this makes DSCI an attractive partner for smaller companies looking to sell or license their products. Because of this I believe that advanced wound healing could grow faster than the projected growth of 30+% based on current products.
I argue later in this report for a 2018 price target of $20 to $27 under the assumption that DCC-127 fails in phase III and development is abandoned. I further suggest that with success in the phase III trial that the stock could sell at $31 to $45 in 2018. The reason that I focus on this somewhat distant year of 2018 is that by then we will know if DSC-127 is commercially successful (or has failed) and the price will reflect whichever of these two outcomes emerges.
What Now Drives the Company
Derma's advanced and traditional wound care products can be used for all types of wounds such as ulcers resulting from diseases, surgical procedures, burns and injuries resulting from trauma. However, its greatest focus and opportunity lies in the treatment of difficult to treat diabetic foot ulcers. In the US, over 20 million people have diabetes and the annual incidence of diabetic foot ulcers is about 1.3 million. Derma estimates that its advanced wound care products are applicable to 300,000 to 500,000 cases annually which develop into serious conditions for which the cost over the course of one to two years of treatment can be $20,000 to $40,000.
Diabetic foot ulcers cause significant morbidity and can potentially be life threatening conditions if they become infected. It is estimated that they cause 100,000 amputations per year. The five year mortality rate following amputation can be 45% to 55%. This compares to a five year mortality rate of 35% for metastatic colon cancer.
Derma Sciences may offer the most comprehensive line of products used for treating diabetic foot ulcers of any US company. The legacy business that was the original basis of the Company was based on commodity bandages sold through distributors. However, about seven years ago, the Company switched strategies and began to develop more innovative and proprietary bandages and also decided to set up a direct sales force (this was a critical decision) which made the Company an attractive partner for smaller companies looking for a marketing partner. This has led to the addition of three highly innovative products in the last six years: Medihoney wound dressings, TCC-EZ total contact casting and AmnioMatrix skin substitutes. I will discuss each of these in more detail later.
DSC-127 is a High Potential Product in Phase III
So one part of the investment story is advanced wound care business and the strategically important direct sales and marketing effort. The other is DSC-127, a novel biological drug for the treatment of wounds. DSC-127 is an analog of the naturally occurring protein, angiotensin. The role of angiotensin in controlling blood pressure is well known and has been the basis for the development of major drug classes involved in treating hypertension and congestive heart failure. More recently, it has been found somewhat unexpectedly that angiotensin is also involved in wound healing. A key aspect of DSC-127 is that it can enhance the wound healing effects of angiotensin without affecting blood pressure. Derma Sciences in-licensed DSC-127 and technology on which it is based from the University of Southern California.
Clinical studies have suggested that DSC-127 upregulates mesenchymal stem cells at the site of injury, which plays a significant role in wound healing. DSC-127 increases keratinocyte production, the predominant cell type in the epidermis or outer layer of the skin. It also increases the extracellular matrix in the underlying dermis which provides structural support for cells and is important in communications between cells. It also increases the deposition of collagen the main protein (the glue) in the extracellular matrix by six-fold. It affects multiple biological functions.
The aim of DSC-127 treatment is to start the process of healing; it is used acutely rather than chronically. In clinical trials, it is given topically for four weeks and is then followed by standard of care. DSC-127 is being developed initially to treat diabetic foot ulcers. It is also being studied for scar prevention, radiation dermatitis, and radiation exposure due to nuclear attacks (under a BARDA grant).
DSC-127 is a very novel approach in an area with great unmet medical need; the phase III clinical results for DSC-127 should be available in mid- 2015 or early 2016 and, if successful, the product could be launched in early 2017. As with most biologicals, this is a binary event that provides huge upside if it is successfully developed, but is a high risk development project. The differentiating aspect of DSCI as an investment is that the wound care products business, in my opinion, makes DSCI an attractive long term investment even if DSC-127 fails.
Recent Sales History
In 2007, DSCI was primarily a producer of Traditional Wound Care products that are commodities sold through distributors; these products have 0% to 2% annual growth potential. It has gone through a very important change in strategy that has diversified the Company into Advanced Wound Care products having much higher growth potential. As part of this strategy, it has put together a strong sales organization in which the number of reps has increased from just 2 in 2007 to 50 planned for 2014. The presence of this sales force makes it possible for the Company to attract new products through licensing or acquisition from developers who lack sales presence. The sales force is a very valuable asset of the Company
The two currently marketed Advanced Wound Care products are Medihoney wound products, a family of wound dressings that incorporate manuka honey, and the TCC-EZ system that is a superior total contact cast to treat diabetic foot ulcers. Medihoney was obtained through a licensing deal in 2006 from the New Zealand Company Comvita, and TCC-EZ was obtained through the acquisition of the small company Medefficiency in 2012. Just recently, Derma in-licensed the two skin substitutes from another small company BioD which it will market under the AmnioMatrix brand. These will be introduced in 3Q, 2014.
In 2013, Traditional Wound Products are projected to reach sales of about $47 million. This is a decrease of 2% and represents about 58% of corporate sales. The Advanced Wound Care business is projected to increase 39% to $35 million and would account for 42% of sales. In 2008, advanced wound care products were $3 million and 9% of sales. As the advanced wound care products continue to grow, they will become more dominant and sales growth will accelerate.
The Company has issued guidance for 2014 that it expects 2014 total revenue to increase approximately 16% to $92 million. This will be driven primarily by the continued organic advanced wound care revenue growth for the year of 30% to 40%. This guidance is only for Medihoney, TCC-EZ and other currently marketed products. It does not factor in any contribution from the launch of the AmnioMatrix products. The Company expects 2% to 5% growth in traditional wound care products in 2014 which is above the long term expectation of 0% to 2% growth.
Projections for Sales Through 2018
Medihoney is the largest product in advanced wound care with estimated sales of $15.9 million in 2013, an increase of 54% from 2012. This extremely high level of growth has been seen since 2008 when its sales were about $1 million. TCC-EZ was acquired with the acquisition of MedEfficiency in 2012. Its sales are projected at $8.4 million in 2013, which would be a 47% increase from 2012. The AmnioMatrix products will be introduced in 3Q, 2014.
I expect sales of Medihoney to increase through 2018 at a rate of 24% per year which would result in sales of more than $55 million in 2018.  The growth of Medihoney is dependent on the increase in sales reps. I think that TCC-EZ should continue its rapid growth of 31% which would place sales at $34 million in 2018. By 2018, I see AmnioMatrix sales at $34 million.
TCC-EZ has the potential for much more dynamic growth that could make my 2018 sales estimate much too low. It has shown in clinical studies that it offers an extremely cost effective way to treat certain stages of diabetic foot ulcers. The potential savings are so significant that managed care might encourage or even mandate its use as standard of care in certain diabetic foot ulcers (yes, you read this sentence correctly). This could lead to explosive growth in its sales. Clinical studies indicate representative costs for TCC-EZ plus standard of care for a course of treatment is around $12,000 versus $22,000 for standard of care. This savings is due to TCC-EZ's greater wound healing effectiveness that reduces costly treatment of complications. This is explained in detail later in the report.
AmnioMatrix is a new attractive opportunity in part because of a higher price point than existing products. For example, Medihoney might bring in $7 per treatment and perhaps 30 dressings might be used in a course of treatment so that the revenues per patient treatment are about $210. The AmnioMatrix products could bring in $500 to $600 or more per patient. Also CMS reimbursement changes may put AmnioMatrix and comparable products from MiMedx (MDXG) and Osiris in a position to pick up significant share from Apligraf and Dermagraft (these use different technologies) which accounted for perhaps half of skin substitute sales in 2013.
One of the key strategic issues that Derma is dealing with is how aggressive it wants to be in the expansion of its sales organization. It has been in a heavy investment spending mode that has resulted in strong sales growth, but at the cost of running significant operating losses. The Company is faced with the situation that if it pulls back on its investment spending on the sales force, it could turn the wound care business profitable in a few quarters, which some investors might encourage. However, by continuing to spend aggressively, it can maximize long term returns and build a much stronger company for the long run. The recent capital raise that brought in $88 million gives Derma the financial strength to continue to invest in expanding the sales force and it is doing so. I regard this as a major, major positive.
The Company is making a different and huge bet ($55 million of clinical costs) on the development of DSC-127. This product is, of course, very different from its current wound care products although it could be sold through the same sales force. This makes Derma a hybrid medical device/ biotechnology company. DSC-127 has completed a promising phase II trial that has encouraged Derma to fund two phase III trials involving approximately 1055 patients; topline results are expected in mid- 2015 to early 2016.
Sales and Earnings Models
To reiterate, Derma is essentially two investment opportunities. Based only on opportunities in the wound care business, I see the stock as an attractive longer term investment even if DSC-127 fails. My sales and earnings model in this event is show below: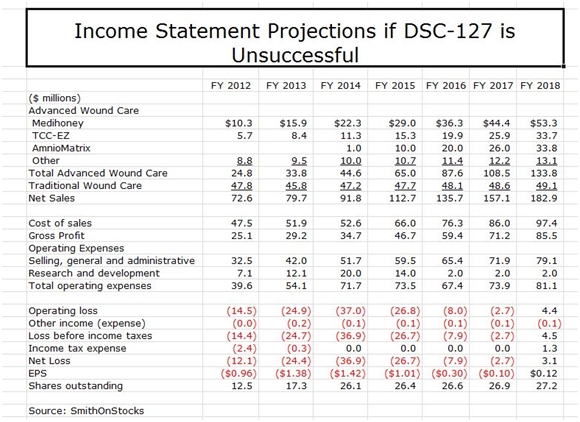 My model shows sales growing at 18% per year and reaching $183 million in 2018, led by Medihoney, TCC-EZ and AmnioMatrix. The total sales estimate may be conservative in that it does not assume any sales from new products that are developed internally or acquired from other companies; I would be surprised and disappointed if this is the case. It also doesn't take into account the potential for TCC-EZ to be embraced by managed care that could potentially result in 2018 sales being multiples of the $34 million I am projecting.
There is potentially significant upside to my sales projections. However, until I gain better insight into new product opportunities and managed care's view toward TCC-EZ, these are not included in my model. I show the Company achieving positive EPS of $0.12 in 2018 and would expect EPS to increase dramatically beyond that time frame. I would advise the reader to look at these number as indicative of magnitude and trend. They give the appearance of much more precision than is actually the case.
I think that DSCI is an interesting company based just on the wound care business. However, if DSC-127 is successful, it adds a truly dynamic aspect to the Company as is shown in the following sales and earnings model for the case that DSC-127 is successfully developed.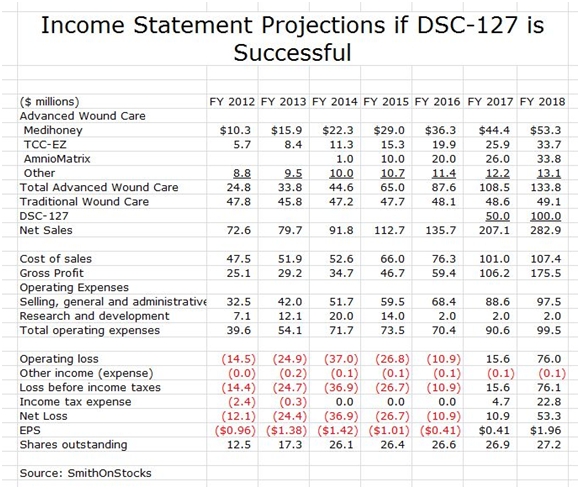 The above model assumes that DSC-127 is introduced in 2017. Given the unmet medical need in this area and the prior experience with another wound healing product, Regranex, my 2017 sales estimate of $50 million and my 2018 estimate of $100 million seem achievable or conservative. Regranex reached sales of $100 million in its first year of marketing; however, it did not perform well in the clinic and also received a black box warning that caused a sharp erosion of sales. Its initial success did demonstrate the potential demand for a new drug like DSC-127 for wound healing.
I have overlaid the DSC-127 sales assumptions with the previous model for wound healing. This results in the projection of explosive growth of EPS to $0.41 in 2017 and $1.96 in 2018. Again, pay attention to trend and magnitude.
Key Financial Issues: Derma Sciences Has a Very Strong Cash Position
I estimate that DSCI ended 2013 with $25 million of cash. Under the assumption that DSC-127 fails and that the Company elects to continue to spend aggressively to expand its sales force and gain as much market share as possible (this is the Amazon strategy), I project that the Company will burn through $89 million of cash until it become cash flow positive during 2018. This is purposely a worse case analysis for cash needs.
The Company has just completed a highly successful equity offering in which it sold about 8.47 million shares at a price of $11.50; this brought in $80.7 million of cash. This was a brilliant move in my opinion that gives the company a strong cash position to fund its cash needs. I am also expecting an upfront payment of $20 million or more for foreign rights to DSC-127 to be received in 2014. If my assumptions are correct, DSCI will end 2018 with $32 million in cash and thereafter I would expect a rapid acceleration in earnings and positive cash flow. These projections are shown below:
Price Target Thinking and Investment Thesis
I think that investors should think about the price target for DSCI in two ways: first if DSC-127 fails and second if it succeeds. Let's take the case of DSC-127 failing. Looking at 2018, DSCI might have sales of $182 million. Because of the heavy investment spending, the EPS that I estimate of $0.12 are not reflective of the earnings power and I think that the Company would be valued on the basis of its sales and the potential for future sales growth of perhaps 15%. Based on comparisons as to how the market values peer companies, I estimate that investors might value the Company at 3 to 4 times sales or more which would result in a market capitalization of $546 to $728 million or a stock price of $20 to $27.
This exercise suggests that DSCI without DSC-127 could be valued in at $20 to $27 per share with a mid-point of $23 per share in 2018. In the event of success with DSC-127, I think that there is an asymmetric upside opportunity. I think that DSC-127 could result in incremental valuation of $300 to $500 million or more. This adds about $11 to $18 to the potential stock price in 2018 bringing the price target to a broad range of $31 to $45 per share with a mid-point of $37. The question is what are the probabilities for success with DSC-127?
As with all biologics, there is a significant development risk when a company is developing a drug with a novel mechanism of action as is the case with DSC-127. There is also the issue of the risk that the trial is improperly designed and/or executed. The phase III trial mirrors the design of the phase II trial and the results of phase II were encouraging. However, there were only 20 patients treated with DSC-127 at its hypothesized effective dose and results were not statistically significant with such small numbers. I would feel more comfortable on assessing its potential if there were a larger number of patients in the phase II. Still, there was a reasonable basis for going forward with the phase III and a reasonable chance for success. I can't assign a precise probability for success.
The above scenarios are, of course, long term. What about the near term? The factors that are positive in the short term period of 2014 are the rapid growth of Medihoney and TCC-EZ and investors will be closely watching the introduction of AmnioMatrix. Investors will be encouraged if Medihoney and TCC-EZ maintain their strong growth trends. There is not likely to be meaningful news on DSC-127 until topline results are available in mid-2015 or early 2016 so this should not be much of a factor in 2014.
I think the two major catalysts for 2014 are the potential for a licensing deal for DSC-127 and the potential that managed care embraces TCC-EZ. I also think that Derma Sciences is not a widely followed or understood company. It has institutional ownership that is concentrated in a few strong hands and it has negligible retail ownership or awareness. As investors come to understand the story, I think that interest will be aroused and this could also be an upside catalyst for the stock. I think that it could do better than the market in 2014.
I don't believe in one year price targets. They artificially lock an analyst into an extremely imprecise target price. I have a Warren Buffet approach to investing in that I want to buy companies with good or great prospects at reasonable prices and hold the stocks until my investment thesis is proven or disproven. This is how most of my recommendations are made. In my experience, there are just too many uncontrolled variables that can affect the price in the short term that are unpredictable such as the innumerable variables that can cause the overall market to ebb and flow unpredictably and take along the DSCI stock in a rising or ebbing tide. I am an investor in companies, not a trader in stocks.
The huge catalyst for Derma will be the release of topline phase III data in mid-2015 or early 2016. This binary event will have a dramatic effect on the stock. In the event of failure, I would expect a very significant fall in price. This likely would be a buying opportunity; keep in mind that I have a price target of $20 to $27 in 2018 if DSC-127 fails. Of course, my great hope is that DSC-127 is successful, in which case I would expect a dramatic increase in the stock price; my price target for 2018 in the event that DSC-127 is successfully introduced is $31 to $45. It is this asymmetric upside that attracts me to the stock. However, the major difference from many of the other asymmetric biotechnology investments that I pursue is that the Company is attractive even if DSC-127 fails.
I intend to buy the stock after this report is published and widely disseminated. As is my policy, I don't buy stocks prior to initiating coverage.
Detailed Company Overview
History
Derma Sciences was founded nearly 30 years ago as a medical technology company focused on healing wounds and burns. The Company divides its operations into three business segments: advanced wound care, traditional wound care and pharmaceutical wound care products. These are managed separately as each requires different technology, marketing and sales strategies. Traditional wound care products are primarily commodity related dressings, ointments, gauze bandages, adhesive bandages, wound closer strips, catheter fasteners and skin care products. Advanced wound care products principally consist of novel and differentiated dressings, bandages and ointments designed to promote wound healing and/or prevent infection. The Company has one biological product in phase III development, DSC127, which is based on a unique approach of wound healing based on activation of stem cells.
Traditional Wound Care
Traditional wound care is a commodity business in which the Company is pitted against much larger companies such as Johnson & Johnson. Derma is the seventh largest company in its industry. This is a very challenging business and the goal is to hold sales and profits relatively constant and generate positive cash flow that can be invested in advanced wound care and DSC127. Sales of traditional wound care in 2012 were $48 million and the Company is guiding to $48 to $49 million of sales in 2013, a 0% to 2% increase.
Sales are about 50% branded and 50% private label. The private label business is attractive because there are no marketing expenses and it absorbs overhead. The gross margin is about 20% to 30% on private label products.
Advanced Wound Care
The advanced wound care business is the current engine of growth for the Company. It was begun in 2007 with some legacy products that had sales of about $3 million. The Company has used product licensing and acquisitions to broaden the product line. Sales increased at 53% per annum through 2012 reaching $25 million and the Company is guiding to a 40% increase in 2013 to $35 million, roughly 43% of total corporate sales. The primary products of Advanced Wound Care are as follows:
Medihoney is the Company's key dressing for treating wounds and burns. It is derived from a special kind of honey from New Zealand called Active Leptospermum or manuka honey. It is projected to achieve $16 million of sales in 2013 making it the largest selling product of Advanced Wound Care. It was licensed from the New Zealand Company Covita in 2007 and in 2012, Derma was granted worldwide rights in perpetuity for all markets except over the counter.
TCC-EZ is the second leading product of the Company. It is a novel system for total contact casting, the gold standard treatment for off-loading diabetic ulcers. Derma began marketing the product in 2008 and in 2012 acquired the developer of the product, MedEfficiency. Sales in 2012 were about $8 million and are expected to increase 30% to 40% to $10 million in 2013.
Xtrasorb dressings have a super absorbent polymer embedded that acts differently from normal bandages. It locks the moisture in place which is beneficial for wounds; it doesn't allow it back into the wound. Most absorbent dressings act like a sponge which allows the moisture to leak out. It is a sister dressing to Medihoney which osmotically pulls fluid out of wounds.
BioGuard is a line of dressings that are used prophylactically on surgical wounds and burns with the goal of preventing infection
Diseases Addressed By Advanced Wound Care Are Critical Conditions
The major disease conditions addressed by Advanced Wound Care products are chronic wounds, most importantly diabetic foot ulcers. This is the primary opportunity for the Company, but its products also address venous leg ulcers, arterial ulcers and pressure ulcers. These wounds occur in patients with poor circulation such as diabetics, who are not able to heal wounds in a normal fashion and the wounds become chronic. Derma is also expanding the product line into burns and surgical wounds.
Diabetic foot ulcers are the major focus for the product line. In the US, over 20 million people have diabetes and the annual incidence of diabetic foot ulcers is about 1.3 million. Derma estimates that its products are applicable to 300,000 to 500,000 cases which develop into serious conditions for which the cost over the course of one to two years of treatment can be $20,000 to $40,000.
Diabetic foot ulcers, burns and post-operative surgical wounds are potentially life threatening conditions. Diabetic foot ulcers can become infected and result in an estimated 100,000 amputations per year. Post-operative surgical wounds if they become infected can lead to very serious infections and death as can severe burns.
Generally over half of diabetic foot ulcers, pressure ulcers and venous leg ulcers will heal on their own with supporting care, but the other half don't respond to treatment and are very challenging to heal. This is the market in which Derma's advanced wound care products compete. Derma estimates that the world market for advanced wound care is about $6 billion. Of this, negative pressure accounts for about $2 billion and skin substitutes and biologics an additional $1 billion. Much of the remaining $3 billion is in dressings, the current area of focus for Derma.
Sales and Marketing
Advanced and traditional wound care products are marketed globally to acute care, extended care, home health care, wound and burn care clinics and physician offices. The Company utilizes a broad network of well-established distributors to deploy the majority of its products to end users. The Medihoney product line and the TCC-EZ Cast product line are the two anchors in the Advanced Wound Care business.
The majority of marketing expenses are deployed in support of advanced wound care products with traditional wound care products requiring limited support. The Company utilizes direct sales representatives, distributor relationships and contractual relationships with buying groups and wound care service providers to sell its products. Direct sales representatives are used solely in support of advanced wound care sales in the U.S. and the U.K. and for both advanced and traditional wound care products in Canada.
Advanced wound care has been a major area for investment spending primarily through the expansion of the sales force and supporting infrastructure. Prior to the introduction of Medihoney in 2007, DSCI depended almost exclusively on distributors. At the beginning of 2007, the Company had 2 sales reps in the US. By 2013, this had expanded to 42 reps, four clinicians and four district territory managers. In addition, as they began to expand the commercial effort, they had to hire support personnel. These costs build as the number of reps is scaled up. This aggressive move into direct sales was done with an emphasis on professionalism and competence of their sales force. They spent aggressively on promotion.
Sales of advanced wound care products are directly proportional to the number of reps that they have in the field. Unlike drugs, their products usually do not have clinical trial data to help drive sales. Sales are made on the basis of person to person contact. It is often the case that the key contact in an account is the nurse rather than the doctor. The rep tries to persuade the nurse to try the product on the next four or five patients in order to build understanding and awareness of the product attributes. This then precipitates physician awareness and interest. Adoption takes place one clinician at a time and many sales occur through word of mouth.
A rep costs about $200,000 to maintain on the field. Based on the typical 50% gross margin of the Company's products, a rep has to sell about $400,000 per year or $33,000 per month to cover his costs. Experience suggests that it takes 18 months for rep to break even on a monthly basis. Recent reps have gotten to breakeven in 16 months.
Product Development and Reimbursement
Derma's products go through a 510 (k) regulatory approval process that does not require large scale clinical trials that create widespread pre-approval awareness. Essentially, product approval only depends on showing equivalence to an existing product. It only costs $50,000 to $100,000 to get through the FDA. However, the lack of clinical trials makes it very difficult to achieve broad and rapid uptake following launch.
The 510 (k) products of Derma which include Medihoney and TCC-EZ are reimbursed by CMS through HPCS codes. These codes are pretty much set in stone and are almost never changed and rarely are new codes approved. Prices cannot be greater than a maximum prescribed level for each code.
Product developers can either develop completely new products or make their products look similar to existing products; the latter is usually the best strategy. The pricing of wound care products is generally set by a broad matrix of CMS codes. Seeking a new code for a unique new product can take a year or more. Products in wound care are often priced on the basis of size.
Once approved, there is almost no pricing flexibility for a particular product as prices are capped. In order to get on formulary, they have to persuade physicians and nurses of the product characteristics and get them to champion inclusion on the formulary. They sometimes have to replace a product already on formulary.
Derma receives the code price less a discount paid to its distributors. Medihoney on the scale of wound healing products is priced midway between dressings used for less severe wounds and silver dressings that are used to treat severe wounds. Medihoney addresses challenging wounds but not necessarily the most severe wounds.
Group Purchasing Organizations (GPOs) and Institutional Delivery Networks (IDNs)
Derma sells its advanced wound care products into hospitals and clinics in which it must deal with GPOs and IDNs in order to sell its products. GPOs have been formed to represent hundreds of hospitals which join together to achieve purchasing economies of scale. They buy in large quantities and thus realize volume related discounts that individual hospitals can't.
In addition to GPOs, there are also IDNs in which a group of hospitals, perhaps 5 to 20, band together to realize the benefits of group purchasing. Without the inclusion in group purchasing organizations or IDNs, a product can't be used by a hospital or clinic even if a physician asks for it. These purchasing organizations do not take physical delivery of the product. Distributors actually deliver the product to the customer.
There are five major GPOs: Novation, Premier, Amerinet, HPG and MedAssets. Derma has one or more products sold in four of these GPOs as of now.  In order for a doctor to order or a hospital to prescribe a product, it first has to be on contract with a GPO. Having presence with a GPO is critical to generating sales.
Medihoney Wound Dressings
History of Use of Honey for Treating Wounds
In the 1990s resistance to antibiotics began to emerge as a major problem and physicians began to consider natural products that might be used to treat infections caused by resistant bacteria. This led scientists to take a more in-depth look at honey which has been used for literally thousands of years to treat infections.
The use of honey for the treatment of wounds can be traced to ancient Greece. An archaeological site at Knossos on the island of Crete dating from 5,000 B.C., recorded the use of honey to treat wounds. Historical documents also show the use of medicinal honey by the ancient Egyptians and later in medieval Europe.
All of the raw honey used in Medihoney comes from the New Zealand Company Comvita. It was already in the business of exporting honey for food consumption when the growing interest for use of honey in medical applications began. Comvita had built strong relationships with local apiaries who gather honey from the manuka plants in New Zealand, which grow robustly all over the islands.
Comvita was established in 1974 in New Zealand. Its raw materials are mainly honey products and other bee-related produce such as pollen and the anti-bacterial resin propolis. Products are processed in local plants and distributed globally. Comvita controls a significant amount, possibly 50%, of worldwide Manuka honey production and owns key intellectual property and patents concerning the use of Manuka honey in medical dressings.
Medihoney is a branded, medical grade honey that is derived from one specific source, the pollen and nectar of the manuka plant. It is only one of many species of tea trees growing in New Zealand, and of course there are countless types of honey from various regions around the world. At least 79 species of Leptospermum have been described in Australia and New Zealand which are known by a number of common names such as Manuka, Goo Bush and Jelly Bush.
Different Formulations of Medihoney
Medihoney was introduced by Derma in the US in 2007 as a paste containing 100% manuka honey that was squeezed directly from a tube onto a wound. This was followed by a product line extension in which gels were added to make the honey more viscous; this product that contained 80% manuka honey and 20% gels allowed the honey to better maintain its physical integrity at the site of the wound, even in the presence of wound fluid and body heat.
Derma then developed products in which the honey was impregnated into gauze and alginate dressings. An important combination with Derma's proprietary wound dressing Xtrasorb was introduced in 2012. This is comprised of 63% manuka honey embedded in the super absorbent polymers used in Xtrasorb. The dressing does not adhere to the wound bed and does not disturb the wound bed during dressing changes. It absorbs 2.5x the amount of fluid of leading competitive products. Xtrasorb comes in adhesive and non-adhesive versions.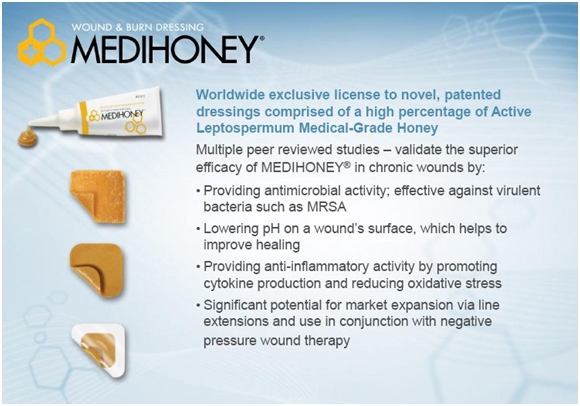 Representative Price and Market Share of Medihoney
Because of the differences in wounds, it is hard to address the price of Medihoney over a course of treatment but let's give it a try. On average, Derma may receive about $7 per dressing. The average patient gets three dressings per week and the dressings are usually used for 10 weeks. Hence there are 30 dressings at $7 per patient or $210 per course of therapy. Derma estimates that the patient market addressed by Medihoney is about 3 million patients which in dollar terms are about $600 million. Medihoney has a 1 1/2% share of this market.
Current Sales of Medihoney
Derma Sciences began collaboration with Comvita in 2006 to develop wound healing products using the manuka honey produced by Comvita.  The Medihoney brands have grown from negligible sales in 2008 to a projected $15.9 million of worldwide sales in 2013 of which $12 to $13 million comes from the US. Sales are expected to increase 60% this year and future prospects look bright as it has only 1 ½% of its addressable market in the US.
This level of sales in the US puts it in an elite class of a handful of wound dressings that have been developed through the 510 (k) process and have exceeded $10 million of sales. In term of potential peak sales of Medihoney, Derma points to similar products that have peaked out at $40 to $50 million in US sales as the potential for Medihoney. This seems conservative to me based on the explosive growth seen in the first five years of marketing.
Derma's Strategy for Building the Market for Medihoney
Medihoney was approved through the 510 (k) regulatory process that requires that products are substantially the same as approved products and does not require large studies for approval. At the time of approval, there is very limited awareness of the product by physicians because there have been no clinical trials that signal a new product is coming. Derma had to build the market for Medihoney one wound center at a time and this led to the creation of a sales force.
Derma has had to create the market with its sales force. While this is a gradual process, it does result in enormous brand loyalty. Sales reps are very important to product growth and Derma added a lot last year. They focus on opening new accounts and also on getting wound centers to consider new indications from the ones they are currently using and other tactics to gain wider use within an institution. There are about 300 distributors of wound dressings in the US. However, they are primarily order takers and don't directly stimulate product sales.
It is difficult to get on the list of GPO and IND approved products.
Derma initially had to focus on selling to individual wound centers one center at a time, for which they don't need contracts. They had to first build up traction with individual wound centers and then go to the GPOs and IDNs. Generally, sales are driven by the number of reps in the field. Growth is very much tied to expansion of the sales force.
Competition and Differentiation of Medihoney
In terms of competition, a major barrier for competitors is access to manuka honey as Comvita is locked up with Derma (Derma recently bought 7% of Comvita) and Comvita controls a significant amount, possibly 50%, of the exports of manuka honey from New Zealand. Potential competitors have limited access to supply and it would take considerable time and effort for them to build a collection process comparable to that of Comvita.
In addition to the supply issue, Derma also has some patents that cover the gels and dressings which are important in how the honey is delivered to the wound site. They do sell straight honey but most of sales are in proprietary versions of products that have been developed by Derma that makes the final product more effective and differentiated.
There are other companies that offer manuka honey in a tube and also honey impregnated gauze dressings. There is one large company, Medline that may have $1 or $2 million of sales. There are also some smaller companies with $100,000 to $200,000 of sales. However, Derma has first mover advantage in this space and there are barriers to entry as previously discussed. I also think that there is room for more than one company in this market segment and as often happens in medical device and pharmaceutical marketing; two competitors spreading the sales message can expand the market to the benefit of all. Medline is currently focusing on nursing homes and its presence in the market has obviously not hindered Medihoney's sales.
Intellectual Property
Honey tends to become less viscous (more runny) when it comes into contact with abraded skin, open wounds, and wound fluid. This makes it very difficult to use honey as a wound dressing, without changing the dressing several times per day. Most of the patents covering Medihoney dressings are based on this challenge. They relate to keeping the honey within certain dressings and formulations so it can remain at the wound site for extended periods of time even in the presence of wound fluid. By using certain gelling agents and highly absorbent polymers, high honey content dressings can be manufactured that result in high levels of active medical-grade honey remaining in contact with the wound for extended periods of up to 7 days.
Litigation
Derma sued Medline, Manuka Med, Manuka Medical and Lynx Medical honey based products for patent infringement for Medihoney. All of these firms have settled with Derma. The terms of the settlement were not disclosed and all that Derma will say is that it is satisfied with the terms of the settlement.
The Agricultural Risk
In the US, there are widespread reports of bee hives dying, but this has not been a problem in New Zealand. Manuka honey is one of the major exports of New Zealand and the country is very careful to protect the bees and the plant. As an economy dependent on agricultural exports, they are very careful about sterilizing visitors and imports to the country. It is also an island in the middle of the Pacific Ocean and they want to keep troublesome microbes out.
In the US, it has been very common to use antibiotics in an attempt to keep hives microbe free. This may have made the beekeepers somewhat lazy on other aspects of hygiene and they were less diligent about maintaining the health of their hives. Antibiotics cannot be used in New Zealand and this means that hive keepers have to be more vigilant in keeping their hives clean.
Comvita does not discuss its inventory of medical grade manuka honey in the event of an agricultural crisis that affects production. However, honey can be stored for a very long time and the higher the manuka factor the longer the storage. There are actually reports of honey being found in Egyptian pyramids that was edible after thousands of years of storage. There is an agricultural risk in the event of massive collapses of hives as might occur with some natural disaster that would results in widespread destruction of manuka trees and bee colonies.
There have been attempts to grow manuka trees in countries with similar climates to New Zealand such as parts of Canada and Chile. However, they were not able to produce high UNF manuka honey. The reasons for this are not well understood.
International Potential for Medihoney
If Derma Sciences were a large global company, sales would be expected to be one-third in the US, Europe and rest of the world. However, Derma remains a small company and doesn't have the global reach that would allow these sales distributions to occur. They sell through distributors abroad who not only distribute the product but are also responsible for sales promotion so that Derma's share of profits is less even though it doesn't have the expense of sales reps. Right now about 71% of total corporate sales are in the US, 20% in Canada and 9% in the rest of the world. Perhaps, they can increase foreign sales to 25% of total sales by 2016.
After the agreement signed in 2010, Derma announced plans to build global distribution for the Medihoney brand. In 2012, approximately 20% of international sales of all product groups were from Europe and the Company looks forward to further penetration of that market and others with advanced wound care products.
OTC Gambit
In September of 2012 Derma announced that it was now providing Medihoney HCS to a large domestic retail drug chain. The initial order was just under $1 million and Derma is waiting to see how the sell through goes. The reorder pattern will be clearer in 2Q, 2014. Derma is excited about this opportunity, but it is taking a wait and sees approach before expressing any guidance as to the ultimate potential.
Mechanisms of Wound Healing Found in Manuka Honey
Honey has several anti-anti-microbial properties, not all of which are well understood. One anti-microbial mechanism is due to an enzyme called glucose oxidase, which worker bees excrete into the nectar. This enzyme catalyzes the release of low levels of hydrogen peroxide which is cleaved into hydrogen and oxygen when the honey makes contact with a wound. Because of its oxidizing properties, hydrogen peroxide can clean (debride) the wound and kill microbes.
Manuka and certain other types of honey also have a second mechanism of action based on their high osmolarity, i.e. their ability to draw fluid away from a wound. This is because they have saturated or supersaturated solutions of sugars that attract water molecules and draws water into the honey. Reducing the amount of water in the wound inhibits the growth of microorganisms.
Still another anti-microbial mechanism is related to the low pH level of honey which ranges from 3.4 to 5.5, neutral pH is 7.3. This low pH suppresses protease activity in wounds. Excessive protease production by microbes in a wound can slow or prevent healing by destroying protein growth factors and the protein fibers and fibronectin that form new wound healing tissue.
In vitro studies of Manuka honey have found that it can effectively eradicate more than 250 clinical strains of bacteria, including highly resistant varieties such as:
•       MRSA (methicillin resistant Staphylococcus aureus)
•       MSSA (methicillin sensitive Staphylococcus aureus)
•       VRE (vancomycin-resistant enterococci)
Manuka honey has been found to have wound healing effects beyond those that can be attributed to hydrogen peroxide, osmolarity and pH. It also down regulates local inflammation which reduces the amount of wound exudate. Through stimulating an anti-inflammatory response in leukocytes, it can increase production of growth factors which control angiogenesis (growing new blood vessels) and cause the proliferation of fibroblasts and epithelial cells which create new tissue to fill the wound.
Due to its high sugar content, honey also reduces pain on dressing changes by keeping the wound surface moist by mobilizing the edema from the surrounding tissues. A chemical reaction between the honey and wound tissue also reduces or eliminates wound odor resulting in less discomfort and social isolation of patients.
Medical Indications for Medihoney
Dressings containing a high percentage of Manuka honey can be used to treat a broad range of difficult to treat wounds such as diabetic foot ulcers, leg ulcers and pressure ulcers. It can also be used as treatment for burns because of its potent anti-inflammatory activity. Its unique characteristics also make it useful for treating skin irritations and diseases caused by inflammation.
Dressings containing honey provide a moist wound environment to assist in the healing of wounds and provide an antibacterial barrier against external pathogens. It was initially combined with an alginate dressing which is derived from algae and seaweeds. These are effective on wounds that have large amounts of exudate. More recently, it has been used with the Xtrasorb bandage (more on this later).
The amount of honey used depends on the amount of fluid exuding from the wound. Large amounts of exudate require substantial amounts of honey to be applied and abscesses or deep wounds require more honey to penetrate deep into the wound tissues. Occlusive dressings help to prevent honey oozing out from the wound. The frequency of dressing changes depends on how rapidly the honey is being diluted by the exudate and becomes less frequent as the wound begins to heal.
Medihoney dressings can also be applied on dry wounds after normal saline is first applied. These dressings can be safely used in combination with incision and drainage, topical steroids, and oral antibiotics for local conditions. FDA cleared the original dressing for mild to heavy exudative wounds. However, there are extremely broad indications in the field of dermatology and wound care.
Not All Honeys Are the Same
Different types of honey exhibit differences in antibacterial activity. All types release hydrogen peroxide through an enzymatic process, which explains their general anti-microbial effects. However, Manuka honey contains elements that make it far superior to other types of honey when it comes to killing microbes. No one has yet been able to fully elucidate the characteristics that give it extraordinary anti- microbial activity, which is called the Unique Manuka Factor (UMF); the higher the UMF rating, the greater the level of antimicrobial activity. Medical activity is ascribed to a UMF of 12.
The level of UMF can vary between batches, so each batch is ranked and priced accordingly. Growers are paid so much per kilogram of honey based on its UMF content. The Manuka honeys from different apiaries are then combined according to their UMF rating. There is no clear understanding of the factors that are involved in the UMF factor, whether it is dependent on temperature, ground conditions, and other factors.
To determine its rating, a sample of the honey batch is placed on a plate with a bacterial culture. The area where the bacterial growth stops is then measured. This area is compared to a similar area produced by a solution of phenol and water. The UMF number refers to the equivalent percentage of phenol in water, so, for example, honey with a UMF rating of 10 has the same antibacterial strength as 10 percent phenol. A rating of UMF 10 or higher is recommended for medicinal use.
There is a major difference between raw honey and medicinal honey with Manuka honey being in a class of its own. The highly processed honey found in grocery stores is more akin to high fructose corn syrup. It is more likely to increase infection, and should not be used to treat topical wounds. Part of what gives raw honey its anti-microbial properties is the enzyme glucose oxidase. Grocery store honeys are heated to sterilize them and this heating destroys glucose oxidase. UMF graded honey is sterilized by gamma irradiation to prevent destruction of glucose oxidase.
Batches of honey look pretty much the same to consumers. There is no regulation of the industry and this has led to sales of brands claiming to be Active Leptospermum Honey. These can be readily found for sale on the internet. There are also ways to alter or "spike" Leptospermum honey such that it is processed to make it appear to be "active". However, this spiking can lead to degrading of many of the significant florally-derived components, thus compromising wound healing benefits.
The Relationship with Comvita
Under the terms of an agreement signed in 2006 with Comvita, Derma was granted manufacturing and distribution rights for Medihoney to the medical and professional markets for a period of 5 years. This was replaced by new agreement signed in February of 2010 that gave Derma perpetual and exclusive worldwide licensing rights for Medihoney for professional wound care and skin products covering distribution and sales to all markets other than the over the counter (OTC) market. Derma will sell to the professional and medical market worldwide.
In 2010, the two companies also entered into several other agreements including a collaborative research and development agreement, a medical honey supply agreement, and a manufacturing agreement. Derma will manufacture Medihoney dressings for over the counter products for Comvita. Derma will also have all intellectual property rights to Medihoney, including those patents related to dressings composed of more than 50% Manuka honey.
On September 4, 2013, Derma announced that it was investing $7.0 million into Comvita which affords 7.3% ownership. Edward J. Quilty, Derma Sciences' chairman and chief executive officer, has been named to Comvita's board of directors. The use of proceeds will support Comvita's apiary acquisition and harvest modernization strategy to ensure sufficient supply of medical grade Manuka honey.
Novation Mention
Novation is one of the five leading GPOs. At the Novation Supplier Summit Conference, the Medihoney product line was recognized as a finalist for the Novation 2011 Innovative Technology Award. This was determined by Novation members' assessment of the impact on patient care and improving patient outcomes.
TCC-EZ Total Contact Casting
Diabetes Foot Ulcers and Total Contact Casting; the Key Market for TCC-EZ
To analyze the potential for TCC-EZ it is important to understand the role of total contact casting (TCC) in the treatment of diabetic foot ulcers and the advantages of the TCC-EZ system over other total contact casting systems. Total contact casting is highly effective from both a cost and clinical outcomes perspective, but is dramatically underutilized because of the time and difficulty required to apply the cast. The efficient design of TCC-EZ effectively addresses these issues.
Diabetic foot ulcers are frequent complications of diabetes that are caused by neuropathy, a gradual loss of nerve function in the feet. The most common and significant effect is a loss of feeling that comes on slowly and initially may not be noticed; it is hard to be aware of something that can't be felt. The following gruesome picture shows a diabetic foot ulcer on the right foot and a left foot from which the toes have been amputated.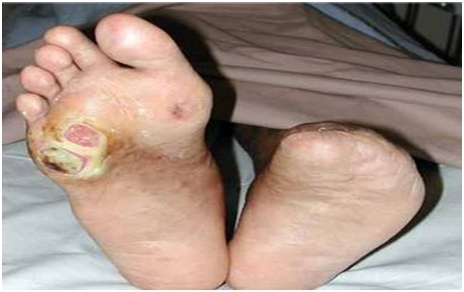 The likelihood of a diabetic getting neuropathy increases with age.  The severity does not necessarily correspond to the severity of the diabetes as some people with mild diabetes can have severe neuropathy. Neuropathy mainly affects the feet, but can also involve the ankles, legs and sometimes the hands. While diabetes can contribute to narrowing of the arteries and decreased circulation in the upper and lower parts of the leg, neuropathy not circulation, is the main cause of most diabetic foot problems.
The lack of feeling caused by neuropathy can lead to a patient injuring their feet without knowing it. A person with neuropathy may let a blister, cut or sore on the foot develop into a more severe condition because they do not feel the pain and are unaware of the developing ulcer. A pair of poorly fitting shoes can lead to blisters that can rapidly progress to more serious ulcers.
Neuropathy can also lead to a partial paralysis of small muscles in the foot that can cause a clawing of the toes, resulting in increased prominence of the heads of the metatarsal bones. These are the long bones which stretch from the toes to the heel. As these prominent metatarsal heads on the sole of the foot are subjected to increased pressure, the skin will become subjected to shear forces. These forces cause a separation between the layers of the skin, which fill with fluid and can become contaminated and infected. Once the initial breakdown and contamination occurs, problems are often magnified by infection.
Incidence of Diabetic Foot Ulcers
According to the 2011 National Diabetes Fact Sheet, an estimated 25.8 million Americans (about 10% of the population) have diabetes. There are approximately 1.6 million new cases of diabetes diagnosed in people 20 years and older each year. One in 10 U.S. adults has diabetes now, but that figure could increase to one in three in the next 40 years. Forty percent of those afflicted with diabetes suffer from neuropathy. This suggests that there are 10 million Americans at risk of having diabetic foot ulcers.
Twenty five percent of diabetics will develop a diabetic foot ulcer at one point in their life that requires treatment and 50% of all amputations in the US are due to diabetes, primarily as a result of diabetic foot ulcers. The longer the time that an ulcer goes unhealed the greater the risk of osteomyelitis (bone infection) that can lead to amputation. Surprisingly and alarmingly, the five year mortality rate following amputation can be 45% to 55%. This compares to a five year mortality rate of 35% for metastatic colon cancer.
Treatment of Diabetic Foot Ulcers: The Role of Total Contact Casting
The therapeutic goal for treatment of diabetic foot ulcers is healing of the wound and treatment of infections which often occur in the wound. This involves the use of wound healing drugs, antibiotics and dressings. In addition, off-loading (taking pressure off) the wound is very important. There are several off-loading devices such as walkers, half shoes, orthoses, felted foam, and the total contact cast. Other forms of protection are casts, crutches, wheelchairs and bed rest.
The total contact cast was designed to distribute weight more evenly along the entire sole of the foot. The cast is molded to the contours of the foot from the back of the heel through the arch region, to the region of the metatarsals and around them and then to the toes. The weight bearing area is enlarged and the pressure which had been concentrated on bony prominences of the metatarsals is distributed more evenly over the entire sole of the foot. TCC also allows the patient to remain ambulatory during treatment.
Total contact casts allow patients to continue walking while they heal.  The cast may be inconvenient, but it can be very effective and much less expensive and risky than surgery. The casts are changed weekly or every other week depending on the nature of the wound. Casting is continued until the ulcer is healed, and the foot is ready for appropriate shoe wear and orthotics. Application of the total contact cast requires that the foot must have an adequate supply of blood and requires careful monitoring. The application of the cast requires some experience and there is the risk that improperly applied, it could cause other sores to occur.
There are several disadvantages with total contact casting. New ulcers may occur, daily wound care is not possible, mobility is impaired, costs may be relatively high, and a specialized staff is necessary. In the case of prolonged casting, joint rigidity and muscular atrophy can occur. Peripheral arterial disease and/or infection can be a contraindication for casting. Total contact casting is usually not applicable to ulcers on the heel of the foot.
Medical and Cost Effectiveness of Total Contact Casting
Several randomized controlled studies have shown that use of total contact casts leads to significantly improved rates of healing versus all other modalities. Healing at 12 weeks has been demonstrated in clinical trials to be 89.5 % which compares to 50% to 60% with standard of care. The total contact cast is considered to be the gold standard of off-loading treatment due to its ability to reduce pressure and facilitate patient adherence to the treatment regimen.
A study of 264 diabetic foot ulcer patients concluded that the average cost of total contact casting was about $12,000 per patient versus $22,000 for non-TCC treatment. Studies have suggested that total contact casting is most effective in neuropathic, non-infected ulcers. Total contact casting, in conjunction with comprehensive wound care protocols allows tissue to heal without being traumatized by repetitive injury or shear forces. Proper off-loading is essential for the complete healing of diabetic foot ulcers.
Studies by the Cochrane Collaboration provided clinical evidence of the effectiveness of total contact casting. This is a group comprised of more than 28,000 healthcare specialists which reviews randomized, well conducted trials. Cochrane performed a retrospective study to determine the effects of off- loading devices including total contact casting on the healing of foot ulcers in people with diabetes. The review compared several ways of reducing pressure on wounds; it compared dressings alone, temporary therapeutic shoes, removable pressure-relieving devices and surgical intervention.
Cochrane selected 14 randomized, controlled trials involving 709 patients that evaluated the effects of pressure-relieving interventions on the healing of diabetic foot ulcers. Seven studies (366 participants) compared total contact casting with removable pressure-relieving devices. In looking at the pooled results from five studies, total contact casting resulted in a statistically significant increase in the number of wounds healed. The rate of healing was increased by 17% with a p value of 0.04. The Cochrane Collaboration concluded that total contact casts are more effective in healing diabetes-related plantar foot ulcers than removable casts or dressings alone.
Total Contact Casting Is Seriously Underutilized
I have relied on presentations of two physicians familiar with TCC-EZ to substantiate the point that total contact casting is drastically under-utilized. They are Dr. Jeffrey Jensen, Dean and Professor, Podiatric Medicine and Podiatric Surgery, Barry University; Inventor TCC-EZ and Dr. Greg Bohn, Director, Trinity Center for Wound Care & Hyperbaric Medicine at Trinity Bettendorf and Moline Clinics at Trinity Regional Medical Center, Iowa. Both spoke at the Derma Sciences Analyst Day on June 13, 2013.
Dr. Bohn emphasized in his presentation that there have been ongoing advancements in antibiotics for diabetic foot ulcers as well as product advances that increase perfusion and get more blood to the foot and wound. In sharp contrast, there has been little change in the approach to off-loading and especially the use of the gold standard, total contact casting. He said that the term total contact casting is almost always preceded by the term under-utilized.
Dr. Jensen referred to a survey of wound care professionals in 2008 in which there were 900 responses. Only 1.7% of patients were receiving the total contact cast although 50% of patients met the eligibility criteria. Dr. Bohn anecdotally cited that one of his physician colleagues looked at a database of 300,000 patients and only about 6% of the time did they use off-loading contact casting. The failure to use total contact casting can be attributed to four factors: (1): the time required to apply the cast is about 20 to 25 minutes, (2) the complexity of the treatment, (3) the amount of planning, and thinking in the multi-step process and (4) the perception that reimbursement is difficult.
Dr. Bohn believes that there are about 900,000 diabetic foot ulcers and thinks that 75% are applicable for total contact casting. Data from the U.S. Wound Registry (USWR), a national repository of data on patients with chronic wounds and their outcomes, indicates that total contact casting is used in less than 2% of applicable patients. This is true despite the fact that the cost of healing an ulcer is twice as much without TCC. Total contact casting can cost about $12,000 to heal an ulcer while standard of care costs about $22,000.
TCC-EZ Total Contact Cast System; A Major Improvement
Traditional contact casting involves 10 to 14 steps. The goal in developing TCC-EZ was to develop a cast equal in terms of efficacy and off-loading and sheer reduction, but that was easier to apply and  more patient friendly. At its core, the system utilizes the combination of a single patented casting element that easily rolls onto a patient's leg, along with a proprietary boot providing additional support. The time it takes to apply this version of a total contact cast is significantly less than that required by a traditional system.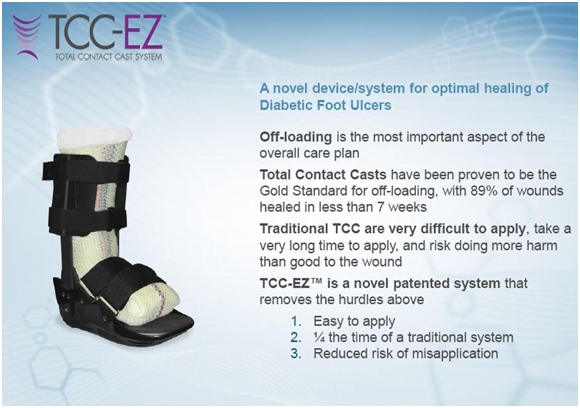 The traditional version of total contact casting works very well, but it is underutilized. Probably the major reason is that the traditional total contact cast takes 30 to 45 minutes to apply. Also physicians with limited experience are concerned that if the cast is improperly applied and creates an unintended pressure point, it can cause a new ulcer to develop. The application of TCC-EZ offers major improvements over other TCC systems as is shown in the following You Tube video. The link is http://www.youtube.com/watch?v=QxEbK72C9QI.
In his clinic, Dr. Bohn said that after four or five applications of TCC-EZ doctors and other medical professional became proficient. He tracked 120 applications of TCC-EZ performed by ten different physicians and found that the average time to apply the cast was five and one half minutes. He felt that this could drop to two minutes or so with progress up the learning curve.
Total contact casting and TCC-EZ are covered by the same reimbursement codes. Physicians get about $96 per application of either. The shorter application time for TCC-EZ makes it more time efficient and hence more profitable to the physician.
Acquisition of MedEfficiency April 17, 2012
Derma Sciences became a distributor of TCC-EZ Total Contact System in 2008 and then gained complete control through the acquisition of the product's manufacturer, Medefficiency, in April 2012. It gave Derma global rights to the Medefficiency's products.
In 2011, MedEfficiency had annual revenues of $5.3 million and gross margins of approximately 60%. Revenues in 2011 were up approximately 45% from 2010. The acquisition was consistent with Derma's strategy to acquire higher margined proprietary advanced wound care products with growth potential that could be leveraged with its global advanced wound care sales and marketing infrastructure.
Sales of TCC-EZ
TCC-EZ is projected to achieve sales of about $8 million in 2013 and I estimate that it is growing at 30% to 40% per year. There are almost no sales abroad as it was just launched internationally. The company projects sales growth of 30% to 40% per year. Derma believes that only somewhere between 2% and 6% of the US market for TCC is penetrated. The market is now growing rapidly with TCC-EZ accounting for most of the incremental growth.
Derma has penetrated about 30% of the wound clinics in the US and believes there is tremendous upside. Sales have increased dramatically since the acquisition of Medefficiency. Prior to then only 30% of the Derma sales force was selling the product. Now with the entire sales force is actively behind it, sales have significantly accelerated. An integral part of the sales process involves doing workshops to train physicians. Salesmen use leg models and casts that allow the physician to do hands on training.
Pricing and Reimbursement
The pricing situation for TCC-EZ is similar to that for Medihoney with the price established by CMS codes; reimbursement is straightforward. Physician reimbursement is based on the application of the product plus a markup of the cost of the product. The advantage of TCC-EZ lies in how much more quickly it can be applied. Other total contact casts can take much longer to the extent that it is may not be worth it for the physician.
TCC-EZ costs $100 for a casting kit. Generally the moderately severe wounds that it addresses heal in 6 to 7 weeks and require 7 to 8 casts. Hence the cost of an entire treatment is on the order of $700 to $800. There are some additional costs for reimbursing a physician for their time and this might be $100 per casting bringing the total cost (physician and product) to $1400 to $1600. TCC-EZ is in a class of its own when it comes to cost effectiveness.
Building the Market for TCC-EZ
All of Derma's other products of Derma are essentially door to door sales where one physician in one wound healing center orders the product. TCC-EZ could be different. It has such enormous cost savings potential while improving efficacy that it is possible that managed care could actually encourage use by physicians instead of the often used roadblocks that it customarily puts up for new products.
There are five randomized studies that demonstrate that TCC is more effective than currently used treatments. This gives Derma the ability to go to a payor and show them there is better efficacy at a much lower price. Managed care could hypothetically mandate that it be used for a certain type of wound say a wound that did no heal at four weeks. The $1,400 to $1,600 cost compares to perhaps $12,000 for other total contact casting systems and $20,000 for standard of care not using total contact casting.
Like Medihoney, TCC-EZ would potentially be used in all wound centers. The training of physicians is essential to success. Derma is very protective of the strategy it is using and won't discuss details.
Competition
The biggest total contact cast competitor is BSN which was originally a joint venture of Beirsdorf and Smith and Nephew. In terms of competition, there are a number of other manufacturers of total contact casting. However, the casting component of TCC-EZ is quite different. It is tubular and rolled up over the leg like a sock. Total contact casting has been around forever. However, it has been hard to do, takes considerable time that makes reimbursement for that time an issue and can do harm to patients if used incorrectly.
Intellectual Property
Patents in medical technology are generally not blocking patents. If someone wants to enter a market, they can usually find a way. However, it is difficult to come in with a one piece design like TCC-EZ.
AmnioMatrix Skin Substitutes
Derma Decides to Enter Skin Substitutes
Derma Sciences has significantly expanded its presence in wound healing with the recent licensing of exclusive rights to novel skin substitute products developed by BioD LLC, a private company based in Memphis, Tennessee. These products will be branded as AmnioMatrix and launched during the third quarter of 2014.
Derma has one of the broadest product lines of any US company for the treatment of wounds with a special focus on diabetic foot ulcers. Its product line includes numerous different types of wound dressings, Medihoney, TCC-EZ total contact casting, a sophisticated biotechnology product DSC-127 that is in phase III clinical trials and now AmnioMatrix.
Management has shown skill in expanding its advanced wound healing portfolio through licensing and acquisition. These products can then be leveraged through the strong direct sales force that Derma has been developing and which was just expanded coincident with this deal. There are now 50 sales reps and 36 additional support personnel. The ability to cross sale products and leverage the sales productivity of reps with new products is an important investment aspect of Derma Sciences.
DSCI was particularly interested in skin substitute products derived from human placental tissue. Section 361 of the Public Health Service Act (361 HCT/Ps) allows products derived from human tissue under certain conditions to be marketed without clinical trials; I will delve into this later. Two companies have previously introduced skin substitutes through this 361 regulatory pathway with good success: MiMedx' (MDXG) EpiFix and Osiris' (OSIR) Grafix. Adding to the appeal of the AmnioMatrix products is that CMS reimbursement changes have undercut the market position of two synthetic skin substitute products, Apligraf and Dermagraft.
BioD is one of the leading companies in the development of 361 products that use amnion as the basic donor tissue; this is comprised of the amniotic fluid and the tissue that forms the lining of the inner membrane of the placenta.  However, it has not developed a direct sales force. Initial efforts to market their AmnioMatrix products with independent sales representatives were disappointing and they were looking for a company with a strong marketing presence in advanced wound care. They also wanted to find a company that could give top priority to their products. This led to what appears to be a very promising marriage between the two companies.
Potential for AmnioMatrix in Skin Substitute Market
Skin substitutes are used primarily to treat diabetic foot ulcers and venous leg ulcers; these are huge markets. As I have previously discussed, diabetic foot ulcers are a strategic focus for Derma and these new products fill a void in the current product offering. DSCI estimates that the AmnioMatrix products could address 300,000 to 500,000 diabetic foot ulcer patients. There are estimated to be over 600,000 to 1,000,000 venous leg ulcer cases in the US of which over half might be addressed with AmnioMatrix. The burn market in the US is about 70,000 patients per year, but most of these cover too large of an amount of body surface for AmnioMatrix to be viable.
The direct cost for dressings alone used in these indications is over $5 billion per year. Derma Sciences believes the market for skin substitutes in 2013 was about $500 million per year with Apligraf and Dermagraft accounting for half of this. However, new CMS reimbursement guidelines are expected to lead to a sharp drop in sales of these two products and also their unit usage. This could open up a significant opportunity for the 361 products-AmnioMatrix, EpiFix and Grafix.
In the market place for 361 amnion based products, the physician has two broad options; cryopreserved and room temperature products that are packaged in different ways. Cryopreserved products maintain base architecture of the tissue and also the majority of the growth factors, anti-inflammatory cytokines, and other proteins naturally present in the tissue that may have added benefit to the wound healing process.  However, the downside of cryopreserved products is that they require expensive and difficult shipping, storing, and handling conditions.
The other way that these products are available uses processes that dehydrate the tissue, making them room temperature stable and thus having no special shipping, storing or handling requirements.  The result is a significant ease-of-use advantage over cryopreserved.  However, while the dehydrated products maintain the base architecture of the tissue, they generally lose all or most of the growth factors, cytokines, and proteins.
Derma Sciences will have two products upon their launch of the AmnioMatrix line. One is a cryopreserved liquid (with small pieces of placental tissue suspended in amniotic fluid) and the other is dehydrated through BioD's proprietary and patent pending Dryflex™ processing technology.
The cryopreserved compares to Osiris' Grafix, although being a liquid allows this AmnioMatrix product to be placed into tunneled and otherwise difficult to reach areas of the wound.  It can and has also been injected into the tissue surrounding the wound as a method of application.  The dehydrated version of AmnioMatrix is in the form of a sheet and compares to MiMedx's EpiFix.  MiMedx also claims a proprietary processing technology that preserves a certain amount of growth factors, cytokines, and proteins.
Derma Sciences believes that BioD's processing technology is slightly better, preserving a greater amount of these natural components, giving them an advantage.  Additionally, EpiFix uses both the chorion and amnion layers, making the product a bit more sturdy – which is key for certain delicate surgical applications.  This is not a requirement for placement onto wounds.  Given that EpiFix must be placed amnion side down, allowing for potential misplacement by the user, the fact that Derma's AmnioMatrix does not have this limitation (either side can face the wound) should prove to be another slight ease-of-use advantage.
This is a significant opportunity for Derma Sciences even though it is the third major entrant in the market. EpiFix has been in the market for three years and has achieved current sales of about $30 million in wound healing. Grafix has been in the market for two years and has reached sales of about $15 million. Even though, DSCI is later to the market it has a large and experienced sales force although not as large as that of MiMedx. Also, the cross selling of advanced care wound dressings, Medihoney and TCC-EZ with AmnioMatrix could work to the benefit of all products. Finally, the reimbursement woes of Dermagraft and Apligraf could greatly increase the market opportunity for all 361 products.
This is a very difficult market to model in a detailed way and to predict AmnioMatrix and other 361 product sales. I am initially guesstimating that sales in 2014 will approximate $1 million following the 3Q, 2014 launch and grow to $10 million in 2015 and $20 million in 2016. These are sales trajectories that are similar to those of EpiFix and Grafix. Intuitively, I think that the sales ramp up could be substantially greater.
Some Background on Skin Substitutes
In the field of wound healing, the use of amnion can be traced to 1910. In 1998, Dermagraft was approved by the FDA as the first synthetic skin substitute product (a different technology). It uses living cells seeded in a biodegradable matrix. There are currently around 60 products marketed in the US either as 361 products or synthetic skin substitutes, although most are low technology products.
Let me start with some basic background on the biology underlying the BioD products. Its products are based on the use of amnion; the tissue that forms the lining of the inner membrane of the placenta. Amnion contains epithelial cells (importantly keratinocytes and fibroblasts), mesenchymal stem cells, growth factors and cytokines which have been shown to promote tissue regrowth and aid wound healing.
We are all familiar with the use of stem cell transplants to treat cancer in which the goal is to separate out all extraneous cells and tissue and re-inject pure stem cells. Wound healing is different because physicians want to supply not only the stem cells to the wound but also the basic architecture of the placental tissue; the epidermis, dermis and all of the cells and cellular products and growth factor that cause skin to regrow after injury.
The collagens in the amniotic tissue provide a structural tissue matrix for cellular attachment. While providing structural support to cells, the extracellular matrix assists in the migration and proliferation of the patient's own cells to the site of injury or defect. Allografts derived from placental tissue are a natural alternative to synthetic, cadaver derived or animal-derived regenerative products.
Amniotic tissue is unique in that it is immune-privileged and rarely evokes an immune response in the human body. Research has shown that amniotic tissue does not express the Class II antigens that typically evoke an immune response so that no immune response is triggered they are transplanted into patients. This is beleived to be because they have low antigen expression levels that inhibit compatibility from donor to a recipient which makes rejection less likely. Recipients do not have to have the same blood type.
While tissues obtained from amniotic cell lines have shown promise in promoting wound healing, the pluripotency of these cells may also allow them to be engineered into other tissues of the human body. They have been studied in the production of artificial heart valves and tracheas and other cells such as muscle, fat, bone, heart, neural and liver cells have all been engineered using amniotic stem cells. But I digress; the target of the BioD products is wound healing.
There are many possible approaches to taking advantage of the wound healing potential of this amniotic tissue. The goal of product development is to harvest the tissue and to induce only minimal changes in its properties through processing. BioD's approach and competing companies is to use the tissue from the placenta of women who have given birth by Caesarian section. They attempt to keep the product as close to that created by Mother Nature when it is delivered to the wound.
There are other skin substitute approaches that use bio-degradable synthetic material as a scaffold that contains living cells. They require clinical trials to gain FDA approval as they are significantly different from normal human tissue. In terms of sales, two such product-Dermagraft and Apligraf- have dominated the market for skin substitutes. They are produced in Petrie dishes in a laboratory and result in products with the appearance of natural skin, but lacking the basic architecture of naturally occurring tissue.
There is no data to judge which of the various products now in use and many others in development will ultimately prove to be the best or whether they will be used in combination. My intuitive guess is that since the goal of all skin substitute products is to duplicate natural tissue to the greatest extent possible, the natural tissue products of Derma Sciences, MiMedx and Osiris which are s discussed in this report could prove to be the best approach. However, there is no clinical data that I am aware of that can support this claim.
A Brief Review on the Function of Skin
The skin is made up of three layers. The outer layer that stands as a barrier to the environment is called the epidermis, the thicker middle layer is the dermis and the innermost is a subcutaneous fat layer.
The predominant cells in the epidermis are keratinocytes, which constitute 90% of the cells found in that layer. The primary function of keratinocytes is to provide a barrier against environmental damage, pathogens (bacteria, fungi, parasites, and viruses), heat, UV radiation and water loss. If pathogens invade the upper layers of the epidermis, keratinocytes can produce cytokines that activate the immune response. The outer layers of the epidermis are composed of dead keratinocytes that form a barrier to water loss and microbe entry. These are derived from the layer of constantly dividing keratinocytes that lie above the dermis.
Fibroblasts are the most common cells found in the dermis. They make collagen and elastic fibers which along with water and proteoglycan molecules make up the extracellular matrix or scaffold for cells in the dermis. The main function of fibroblasts and their protein products is to maintain the structural integrity of connective tissues. They provide the mechanical strength of the skin and also allow for the diffusion of water and nutrients throughout the skin. The dermis also contains blood vessels, nerves, and cells involved in immune function, growth, and repair.
Beneath the dermis is a subcutaneous layer that is made up of adipocytes (fat cells) that form a thick layer of adipose tissue or body fat. Its main role is to store energy in the form of lipids, although it also cushions and insulates the body.
Synthetic Skin Substitutes
The therapeutic goal of skin substitutes is to function like the patient's own skin by adhering to the wound bed and performing the physiological and mechanical functions of normal skin. Synthetic skin substitutes can be broadly classified as either biological products derived from humans and animals or synthetic materials. There are over 60 skin substitute products available in the United States that are used to manage or treat chronic wounds and are regulated by FDA.
The mechanisms by which skin substitutes aid wound repair is not completely understood, but involve the maintenance of a biochemically balanced moist wound environment, structural support for tissue regeneration and the provision of beneficial cytokines and growth factors to the wound bed.
Biologic products are based on tisues derived from the patient's own body or from a human donor. Many others are based on processing human cadaver skin, porcine tissues and ovine tissues into sheets. Synthetic products usually include degradable polymers such as polylactide and polyglycolide that act as scaffolds. Whether natural or synthetic, the intent is to provide an extracellular matrix that allows the infiltration of keratinocytes and fibroblasts from surrounding tissues. The two approaches can also be mixed as synthetic materials may be seeded with keratinocytes and fibroblasts obtained from human tissue; this is the approach used by Dermagraft and Apligraf.
This report focuses on biological products that are based on amnion. This is a thin semi-transparent tissue forming the innermost layer of the fetal membrane that was first used to treat burns in 1910. A key concern with amnion is that it may transmit disease from the donor or become contaminated after collection. Donors must be carefully selected and screened. The tissue is then preserved with methods such as cryopreservation in liquid nitrogen, preservation in silver nitrate, storage in antibiotics solution, glycerol-preserved sheets, dried sheets and gamma-irradiated sheets.
Synthetic skin substitutes use non-biological molecules and polymers that are not present in normal skin to provide a scaffold. These are selected to be stable, biodegradable and provide an adequate environment for the regeneration of tissue. These scaffolds may also be seeded with cells, proteins and growth factors that further accelerate the formation of skin. The goal is to maintain a three dimensional structure for at least three weeks after application to allow ingrowth of blood vessels, fibroblast and coverage by epithelial cells. Biodegradation of the scaffold should take place after this period.
An ideal skin substitute would provide effective and scar free wound healing. The biological skin substitutes may result in the construction of a more natural new dermis and allow for better epidermal characteristics due to the presence of the natural dermal scaffold. Synthetic skin substitutes may provide the advantages of increased control over scaffold composition. However, these synthetic skin substitutes generally lack basement membrane and their architecture does not resemble native skin. These products could also avoid complications due to potential disease transmission.
Currently Marketed Skin Substitute Products
I have included a brief description of four important, competitive skin substitute market with which AmnioMatrix will compete.
Dermagraft
Dermagraft is comprised of fibroblasts that are seeded and grown in a bioabsorbable scaffold. The human fibroblast cells are obtained from newborn foreskin tissue. In the manufacturing process, the human fibroblasts are seeded onto a polyglactin scaffold. The fibroblasts proliferate to fill the interstices of this scaffold and secrete human dermal collagen, matrix proteins, growth factors and cytokines to create three dimensional human dermal substitute containing metabolically active human cells.
Dermagraft is grown on Petrie dishes in a laboratory and is then cryopreserved in a clear bag that contains one piece of approximately 2 inches by 3 inches (5 centimeters by 7.5 centimeters) for a single use application. At the time of use, Dermagraft is thawed and placed on the wound. The mesh scaffold is gradually absorbed and the human cells grow into place and replace the damaged skin. The living cells in Dermagraft produce many of the same proteins and growth factors found in healthy skin, which help replace and rebuild the damaged tissue.
Dermagraft is indicated for use in fill thickness diabetic foot ulcers of greater than six weeks duration, which extend through the dermis. It is used in conjunction with standard wound care regimens and in patents that have adequate blood supply. Dermagraft is placed directly on the wound and the wound is then covered with a non-adhesive dressing to keep it in place. The area is then wrapped with other dressings that are changed weekly by the doctor or nurse.
Dermagraft was developed by Advanced Bio Healing in LaJolla, California. The company was initially sold to Smith and Nephew and then to Shire. Quite recently, a change in the reimbursement for skin product substitutes resulted in Shire selling the product to Organogenesis. It had sales of about $150 million in 2013.
Apligraf
Apligraf is bilayered skin substitute intended to mimic both the epidermis and dermis in contrast to the single layer construct of dermis that is Dermagraft. It contains of bovine collagen and allogeneic keratinocytes and fibroblasts harvested from the foreskins of neonates. Like Dermagraft, these cells are seeded in a biodegradable scaffolds and the cells are allowed to proliferate in a Petrie dish.
Apligraf is maintained at room temperature instead of being cryopreserved like Dermagraft. It has to be applied fresh and has a shelf-life of five days at room temperature. Like Dermagraft, Apligraf is placed directly on the wound and the wound is then covered with a non-adhesive dressing to keep it in place. The area is then wrapped with other dressings that are changed weekly by the doctor or nurse. Apligraf is supplied sealed in a heavy gauge polyethylene bag as a circular disk approximately 75 mm in diameter and 0.75 mm thick
Apligraf is approved for the treatment of diabetic foot ulcers that have not responded to conventional therapy after three weeks of treatment and in which the wound extends through the dermis, but not beyond. It was also approved for the treatment of non-infected partial and full-thickness skin ulcers due to venous stasis ulcers of greater than one month duration which have not responded to conventional ulcer therapy. Dermagraft is only approved for diabetic foot ulcers.
Epifix
Epifix is a close competitor to AmnioMatrix as it is also processed from amnion. The differentiation between the products is due to the way that the amnion is collected and processed. The primary objective of each product is to maintain the delicate multi-layered structure and collagen matrix of the tissue. The Purion process of MiMedx, according to the Company, does not subject harvested tissue to ultra-low temperature conditions during processing or storage. The Company claims that this helps maintain graft structure, provides optimal performance, allow the allograft to be stored at room temperature and to have a five year shelf life.
EpiFix is intended only for external wound healing use including diabetic foot ulcers, venous stasis ulcers, arterial ulcers and pressure ulcers, burns and surgical wounds. It is available in both sheet form as well as a micronized powder form. The powder can be packed into wounds and is particularly useful for tunneling wounds. Some physicians also choose to mix the powder with saline and inject it into the wound bed and wound margins.
I estimate that Epifix sales should come in at about $30 million for 2013 with the micronized form accounting for about 15% or $5 million. The gross margin is probably on the order of 85% for the product. Until the first half of 2012, the Company sold through existing distributors. It then made the strategic decision to hire a direct sales force beginning early in the third quarter of 2012 that initially focused on government accounts. The Company then expanded its direct sales coverage into the commercial market. In January 2013, the Medicare Q code for Epifix® became effective.
Grafix
Grafix is derived from amnion so that it is comprised of extracellular matrix, mesenchymal stem cells and growth factors. Osiris emphasizes that its process is akin to organ donation because it is essential that the stem cells, other cells and cellular proteins and growth factors contained within these products are kept in a living, healthy state. Osiris says that it has a proprietary process that is designed to maintain the integrity of the material, particularly the stem cells. The final product is cryopreserved and stored in low temperature freezers at -80 degrees Celsius. This differs from the EpiFix products that are stored at room temperature.
Grafix was launched in 3Q, 2010. It was initially marketed through a network of agents and distributors; Osiris sold directly into some hospitals and clinics. The Company intends to commercialize Grafix for its own account and will continue to build a sales force to promote the product to most accounts.
The FDA initially challenged but has now affirmed that Grafix can be marketed as a tissue product for the treatment of acute and chronic wounds under section 361 of the Public Health Service act. However, the Company is conducting phase III trials and plans to file a BLA in order to differentiate the product with a unique therapeutic claims structure, enhance reimbursement and to create intellectual property protection. Products developed under the 361 pathway cannot make direct therapeutic claims because they have no supporting clinical trial data.
The phase III trial was a multicenter, randomized study to evaluate the efficacy and safety of Grafix against standard of care for the treatment of chronic diabetic foot ulcers; it was begun in 2012. Osiris reported on August 13, 2013, that this study had met the pre-specified stopping rules for overwhelming efficacy as determined by the data monitoring committee during a planned interim analysis, as well as on all top-line secondary endpoints, demonstrating faster wound closure and a reduction in the number of treatments needed to achieve wound closure. As a result, the blinded phase of the trial was discontinued immediately and all patients randomized to the control arm were offered treatment with Grafix.
Reimbursement of Skin Substitute Products
Up until 2013, CMS reimbursed skin substitute products on the basis of the average selling price of the product over a proscribed period of time plus 6%. The procedure used by the hospital to apply the product was reimbursed separately. On November 27, 2013, CMS announced a new methodology for the reimbursement of skin substitutes in the hospital outpatient setting that will be applicable in 2014 that will bundle the medical procedure and the product.
Under the new Hospital Outpatient Prospective Payment System (OPPS), CMS announced a two-tier payment system which is divided into high cost skin and low cost skin substitutes. Products like Apligraf, Dermagraft, Epifix, Grafix and AmnioMatrix are examples of high cost products that have an average sales price above $32 per mm2. Bovine collagen layered or sheep intestine products would be examples of low cost products carrying a lesser price.
The bundled price for procedures using high cost products is now set at $1,372 for adult wounds smaller than 100 cm2. Last year, when the medical procedure was priced separately its cost was about $250. This means that if the medical facility pays more than $1,112 for the skin substitutes in 2014, it would be losing money. Last year, Apligraf and Dermagraft were priced at about $1,600 per application.
There is now one other dynamic to consider, however. The hospital is now responsible for paying for both the medical procedure and the product. Previously, the product was reimbursed separately so there was no incentive to try to negotiate down the price. Actually, since the hospital receives a 6% markup on the price, there was a slight incentive to use a higher priced product. Now, every dollar of reduced product price becomes profit for the hospital.
The distribution of wound sizes is such that perhaps the average is about 2 cm2 and may range up to 3cm2 or 4 cm2. The Apligraf and Dermagraft products are 44 cm2. Because they are only available in one size, the cost of Apligraf and Dermagraft is unchanged regardless of the size of the wound. In contrast, AmnioMatrix comes in flexible sizes of 2.5 cm2, 6 cm2, 16 cm2 and 32 cm2. The hospital can buy only the amount of product that it will use.
Management believes this new methodology will provide with opportunities to increase market share in the hospital setting. The new CMS reimbursement policy does not apply to products applied in physician offices, which will continue to be reimbursed using the ASP + 6% payment methodology.
Section 361 Approvals for Skin Substitutes Based on Human Tissue
The FDA has specific regulations for products that contain human cells or tissue intended for transplantation into a human patient. Products meeting the criteria laid out in Section 361 of the Public Health Service Act (361 HCT/Ps) do not have to perform clinical studies for approval. A sponsoring company must generally meet four of the following criteria:
The tissue must be minimally manipulated as determined by the FDA;
It must be intended for homologous use or in other words the products can only be applied to the same type of tissue. In the case amnion products they are deemed homologous throughout the body. They can be used in orthopedic procedures like knee and hip replacements, in ophthalmic applications and of course in wound healing.
Its manufacture must not involve combination with another article, except for water, crystalloids or a sterilizing, preserving or storage agent;
It must not have a systemic effect and must not be dependent upon the metabolic activity of living cells for its primary function (unless the product is intended for reproductive use, autologous use, or use in a first or second degree blood relative)
MiMedx just ran into a 361 compliance issue. Initially, EpiFix was only available in sheet form. Then in 2011, it introduced a micronized form of its sheet allografts. The FDA in 2H, 2013 informed MiMedx that its micronized allografts did not meet the minimal manipulation criteria for regulation solely under Section 361 of the Public Health Service Act due to the micronization process which alters the original tissue.
Hence, the FDA is requiring MiMedx to undertake clinical studies and file a BLA in order to continue to market this product. Osiris ran into the same issue with Grafix, but the FDA ultimately concluded that Grafix did comply with the 361 regulations. MiMedx has asked the FDA to agree to a transition plan that would keep the micronized product on the market until the BLA is approved. The FDA has not yet made clear whether it will agree to this. MiMedx has said that the micronized product makes up about 15% of its current revenues.
AmnioMatrix
I have laid out all of the above issues in order to give the reader perspective on the competitive environment that AmnioMatrix is entering. The key technology base of BioD is not in the development of new products based on unique molecules. Indeed, the goal of its products is not to change naturally occurring tissues such as amnion in any way. Its technology platform is based on its processing technologies for which there are several patents pending. BioD has created a number of novel products that are used not only in wound healing, but in other musculoskeletal markets such as neurosurgical, orthopedic, and ocular markets.
BioD has developed two initial products for wound healing that are now ready for commercialization. The first is a cryopreserved allograft derived from amnion that is used as a wound covering in the treatment of localized tissue defects. The second is a sterile, room-temperature stable, resorbable tissue allograft derived from human amnion that provides a natural scaffold for tissue repair and regeneration. Both are used for traumatic injuries, burns, surgical wounds, complex chronic and acute wounds, and other soft-tissue defects.
BioD does not have a direct sales force however, and they were drawn to Derma because of the success that it has had in commercializing advanced wound care products, coupled with their commitment to the regenerative medicine segment. BioD will continue to manufacture market and sell proprietary products for other clinical specialties, including, neurosurgical, orthopedic and ophthalmic applications.
BioD has focused on developing and commercializing products derived from placental tissues. Its efforts are focused on the regenerative potential of amnion and the other placental tissues. These offer their unique biologic structure as a scaffold for wound healing as other cells can grow into the scaffold when it is applied to the wound. They also are a source of undifferentiated stem cells which within the wound can differentiate into other cells that makeup normal skin. They also contain cells and cell products like growth factors and proteins that have important anti-inflammatory, antimicrobial and anti-adhesive properties. They are also immune privileged.
Product development starts with the recovery of placental tissue from live, healthy donors during childbirth. In dealing with living cells collected from human tissues, expertise is required to collect the tissues, keep them sterile and then processes them without damaging the cells or affecting the cellular products like proteins and growth factors that they produce. Great attention has to be paid in the manufacturing process and absolute sterility must be maintained. Also the product must be processed, but this processing of the tissue can have only a minimal effect on the cells and their products.
One option for obtaining tissue is to buy it from tissue banks. However, BioD was concerned about the quality of the product that might result. The strategy was to obtain permission for women giving birth through Caesarian section and gather the tissue from the hospital at the time of birth and avoid going through tissue banks. Obviously, because the placenta otherwise is destroyed after birth there are no ethical issues involved as can be the case in some stem cell therapies.
Room temperature amnion products in the past have been produced by scraping off the endothelial layer. They have collagen and the basic architecture of the amniotic membrane but not the proteins and growth factor. MiMedx went to market with the idea that a more modern technique can retain more of the growth factors and cytokines. There is greater ease of use with room temperature products with fewer issues about handling. However, they are not as effective as the cryopreserved products. BioD believes that its process is even better for room temperature products, but this is difficult for an outsider to judge.
Expansion of Derma Sales Force
In support of the pending AmnioMatrix launch, Derma Sciences plans to add approximately 12 direct sales representatives, increasing its number to 50. It will also be an additional Regional Managers, Clinical Field Specialists and Total Contact Casting Specialists. The company will also be expanding its marketing department by hiring a Product Director, Reimbursement/ Healthcare Economics Director and Training and Education Director. This brings the total sales and marketing infrastructure in the U.S. to 86. The new personnel are expected to be hired before the company's global sales meeting in mid-February, 2014.
Derma Sciences is poised to become one of the strongest competitors in the emerging regenerative medicine segment of advanced wound care with this transaction, given its proven capabilities in commercializing advanced wound care products and building brands. Its stated goal is to become the leading provider of treatment options for patients with diabetic foot ulcers.
Synergy with Other Products
There is considerable synergy between the AmnioMatrix products and other products of Derma Sciences. DSCI makes all of the wound dressings that are used in conjunction with AmnioMatrix. They can capitalize on this with cross selling and possibly creating specialized kits. In addition, there is enormous synergy with TCC-EZ and some with Medihoney. The commercial success of skin substitute products creates an excellent opportunity for Derma Sciences to capture a meaningful share of those patients not treated with DSC127, should the drug be approved.
Xtrasorb Wound Dressings
Xtrasorb is a line of novel super-absorbent wound dressings. The majority of chronic wounds tend to have moderate to heavy levels of wound fluid, which is best managed with absorbent dressings. For the past 25 years, dressings have been primarily polyurethane foam dressings. Since the advent of these dressings, the basic mechanical aspects of the dressings have remained largely the same.
Xtrasorb's super-absorbent polymer technology is a significant improvement over conventional moist wound dressings. Other absorbent dressings rely on absorbent dressings such as foams, pads and other cellulose based materials in which the wound exudate fills the spaces within the dressing. Xtrasorb uses super absorbent polymers that bind fluid and convert it to a gel. The key advantages of Xtrasorb dressings are:
Ability to hold more fluid
locking fluid inside the dressing, helping to keep the harmful contents within wound fluid away from the wound and surrounding skin
Xtrasorb is an excellent complement to Medihoney, whose osmotic potential pulls fluid out of the wound and requires a super-absorbent dressing. These dressings can be used on a broad range of wounds from dry to moderately exuding wounds. They have the "smart ability" to provide moisture when the wound is dry and absorb moisture when the wound is wet. XTRASORB HCS is able to absorb as much as four times the amount of wound drainage as leading hydrocolloids dressings currently on the market.
The product line offers several versions. Xtrasorb HCS makes use of a patented super absorbent polymer hydrocolloidal suspension within a hydrogel matrix. Owing to this unique combination, the dressings can be used on dry wounds all the way to moderately exuding wounds - acting as a 'smart dressing' by providing moisture when the wound is dry and by absorbing moisture when the wound is exuding. Derma Sciences also offers Xtrasorb foam for treatment of moderate to heavily exuding wounds and Xtrasorb Classic, for heavily and extra heavily exuding wounds.
Xtrasorb dressings can be used on most chronic and acute wounds, including: pressure ulcers, venous leg ulcers, arterial ulcers, diabetic foot ulcers, post-operative wounds, traumatic wounds, and donor sites.
BioGuard Barrier Dressings
BioGuard barrier dressings provide a barrier to bacterial contamination while also providing > 5-log (99.999%) average reductions of common pathogens within the dressings. The active component of the dressings is a non-toxic high molecular weight cationic polymer, p-DADMAC. It is the only non-leaching antimicrobial dressing which an important distinction is allowing it to have high levels of activity in the presence of wound fluid and blood. Competitive products rely on the release of chemicals that can leak into the wound bed and impede the wound healing process. They may also lead to the emergence of resistant strains if they leak onto tissue in the wound bed or on surrounding tissue or get into the blood stream. The technology is exclusively licensed from Quick Med technologies.
BioGuard dressings are intended to be used prophylactically to treat surgical site infections. About 1.5% of surgical wounds become infected, but the surgeon can't predict which patients will become infected so that 98.5% of patients won't benefit and even those who do benefit can't be readily identified because there is no way of predicting that without the use of BioGuard that they would have gotten an infection.
BioGuard is also marketed to burn centers that deal in life or death situations. They treat patients with silver based creams and ointments and wrap then wrap the wounds in gauze. Pseudomonas in particular as well as other bacteria is a particular problem in burns and when they cause infections, they cause the bandages to turn green. This is an immediate proxy as to whether there is an infection. Unlike other surgeons, the burn surgeon can make some assessment as to whether BioGuard is working if the bandage stays white. Because of this, BioGuard has gained more traction in burn centers that in surgical suites.
Currently, the market for antimicrobial dressings is estimated to be greater than $200 million in the United States and is one of the fastest growing segments within the US market for advanced wound care products. BioGuard sales are about $2 to $3 million and growing at 30% to 40% per annum.
DSC-127
Mechanism of Action of DSC-127
DSC-127 is an analog of the naturally occurring protein, angiotensin. The role of angiotensin in controlling blood pressure is well known and has been the basis for the development of major drug classes involved in the control of hypertension. More recently, it has been found that it is also involved in wound healing. A key aspect of DSC-127 is that it can enhance the wound healing effects of angiotensin without affecting blood pressure. Derma Sciences in-licensed DSC-127 and technology on which it is based from the University of Southern California.
Clinical studies have shown that DSC-127 upregulates mesenchymal stem cells at the site of injury, which plays a significant role in wound healing. This increases keratinocyte production, the predominant cell type in the epidermis or outer layer of the skin. It also increases the extracellular matrix which provides structural support for cells and is important in communications between cells. It increases the deposition of collagen the main protein (the glue) in the extracellular matrix by six-fold.
DSC-127 is attempting to duplicate the natural wound healing process. The treatment aims to start the process of healing and is used acutely rather than chronically. In clinical trials, it is given topically for four weeks and is then followed by standard of care. DSC-127 is being developed initially to treat ulcers in diabetic patients, the same target as TCC-EZ and to some extent Medihoney. It is also being studied for accelerated wound healing and scar reduction.
It works through the renin–angiotensin system which investors are very familiar with as this has been the target of blockbuster drug classes for hypertension and congestive heart failure: the ACE inhibitors and ACE II receptor inhibitors. In cardiovascular disease, the therapeutic aim was to block the binding of angiotensin II to its receptor. Such binding causes arteries to constrict, hence blocking such an action allows arteries to dilate and makes it easier for the heart to pump blood and reduce blood pressure.
The mode of action in cardiovascular disease is different from how DSC-127 works in wound healing. There is another role of the renin–angiotensin system that Derma believes is involved in wound healing through stimulating epidermal stem cells to differentiate into cells involved in tissue repair. The renin–angiotensin system is present in all dermal components, but the key MAS receptor is only upregulated when there is an injury. By activating this receptor, it is hypothesized that DSC-127 causes stem cells to differentiate and that these daughter cells migrate to the site of injury where they mature into epithelial cells that comprise normal skin and accelerates tissue repair.
DSC 127 has a quick onset of action, is well tolerated and not systemically absorbed when applied to a diabetic foot ulcer. This is important because of the role played by the renin angiotensin system in controlling blood pressure. Diabetics often have cardiovascular co-morbidities so that this is important. The physician does not have to focus on managing systemic side effect issues
The biology of DSC-127 involves the wide number of growth factors and cell types that are involved in wound healing. Past drug development efforts have generally centered on a single growth factor such as PDGF or VEGF. However, the healing of wounds is not based on just one factor but rather the interworking of a broad array of growth factors and cells. DSC127 affects the entire healing process: the fibroblasts that lay down a matrix that fills the wound and epithelial cells that populate the matrix with blood vessels. It stimulates the stem cells and is essentially triggering healing from within. It is not just putting something on the surface of the wound.
Conventional wisdom has been that skin is healed by inflammation by a variety of inflammatory cells through coagulation, release of growth factors and cause fibrosis. The proposition behind DSC-127 is that through stimulation of stem cells that wound healing can take place without a strong inflammatory response.
Derma sees DSC-127 as a platform for tissue repair that can be used for the healing of diabetic foot ulcers and other difficult to heal wounds. It's mode of action may also make it useful in preventing scarring in less severe wounds, especially those that may affect personal appearance. Another application is use in patients who receive intense X-rays to prevent radiation dermatitis. It is a mitigator of radiation penetrating damage. This mode on action may also be used to prevent radiation damage from potential terrorist attacks.
Market Size
The addressable market for DSC-127 is suggested by the roughly $3 billion that is spent globally each year for biologics, drugs, negative pressure and artificial skin substitutes that are uses to treat serious wounds each year. DSC-127 would likely be used in combination with these products and could potentially expand the size of the market.
DSC 127, if approved can be sold by that same sales force that is marketing advanced wound healing products.
Competition
The only NDA approved product for diabetic foot ulcers in the US is Regranex; the therapeutic objective for which is revascularization of the wound bed. Regranex is only modestly effective but reached peak sales of $100 million shortly after introduction, which was largely due to lack of products in the market. However, poor efficacy caused usage to drop off and then the FDA placed a black box warning that its revascularization effect might be linked to cancer. Current sales are about $20 million.
Other products have been approved by the 510 (k) process. These are enzymatic debriders which bring in $200 million of annual sales. They are not directly competitive to DSC-127, but this is an indication of the size of products in this market. One of these products is marketed by Smith and Nephew recently took a 100% price increase.
Phase II Results for DSC-127
The IND for DSC-127 was approved on July 11, 2006 for the treatment of lower extremity diabetic neuropathic ulcers. A phase II trial that was the basis for the currently ongoing phase III trial was double blinded and placebo controlled. The subjects were insulin dependent type I or II diabetics. They had to have at least one non-healing diabetic ulcer that had been present for 30 to 180 days. The size of the ulcers ranged from 1.0 to 1.6 cm2 and was on the midfoot or forefoot but not the heel.
Study participants had to have chronic wounds which were defined as those in which there was less than 30% reduction in wound area after two weeks of treatment with best quality of care that included off-loading and local wound care. The patients were randomized 1:1:1 to four weeks of daily treatment. There were three arms of the trial: 0.01% DSC-127 in a vehicle gel, 0.03% DSC-127 in a vehicle gel and the vehicle gel. There were weekly clinic visits for the first 12 weeks and follow-ups at weeks 16 and 24.
The primary endpoint was the percentage of wounds that were completely healed at 12 weeks with the target of a 15% improvement over standard of care. Other key endpoints focused on possible adverse events related to DSC-127, the vehicle or the off-loading device. Secondary endpoints looked at the nature and amount of healing and the time to complete wound healing.
The number patients enrolled for each arm of the trial on intent to treat and per protocol basis were as follows:
Patients Enrolled in phase II

0.03% gel

0.01% gel

placebo

Intent to treat

26

27

24

Per protocol

20

19

21
The primary end point of complete wound healing for the three arms is shown in the following table.
Phase II Results

0.03% gel

0.01% gel

Placebo

Difference of 0.03% gel from placebo
Odds Ratio*
Intent to treat
  12 weeks

54%

30%

33%

21 points

2.3x

  24 weeks

73%

48%

46%

27 points

3.2x

Per protocol
  12 weeks

65%

28%

38%

27 points

3.2x

  24 weeks

85%

50%

52%

33 points

5.2x
*The odds ratio analysis represents the likelihood that the high dose of DSC-127 is likely to heal relative to the low dose.
The time to healing for the 0.03% gel in the intent to treat group was 10 weeks versus 23 weeks on standard of care (SOC). In the per protocol group the time to healing was 8.5 weeks versus 22 weeks for SOC.
The mean reduction in size of the wound for the 0.03% gel in the intent to treat group was 95% versus 23% on SOC. In the per protocol group the mean reduction in size was 95% and in the SOC group it was 23%.
The mean reduction in depth of the wound for the 0.03% gel in the intent to treat group was 83% versus 37% on SOC. In the per protocol group the mean reduction in depth of the wound was 89% and in the SOC group it was 40%.
The phase II compared DSC127 to the best standard of care known to heal diabetic foot ulcers. It showed that DSC 127, with the high dose of 0.03%, at 24 weeks was statistically significantly better in healing foot ulcers than placebo or a lower dose that was also tested. The study also showed durability of response as the same percentage of diabetic foot ulcers were healed at both 24 and 12 weeks.
The phase II results showed a 15% differential in number of wounds healed as compared to the vehicle used to deliver DSC-127. The endpoint was complete closure. This is a wound that appears closed, has no drainage and in which the skin is hard. In phase II, they treated for four weeks and then graded the wound. The wound closure could then be judged to have been closed at any time up to 12 weeks. There were 77 patients in the trial and the p value was not significant as the trial was not sufficiently powered.
Phase III
Derma is conducting two phase III trials that are similar in design to the phase II trial. They will enroll type I and II diabetics who first undergo a two week screening period to assess the healing of a diabetic ulcer. If the ulcer is less than 30% healed with standard of care, the patients will be randomized into the trial. Randomized patients will be given four weeks of blinded treatment as in the phase II trial. This treatment phase will then be an observation period of up to six weeks. Patients are assessed to determine if the ulcer closes at any time during the treatment period of observation period.
The primary outcome measure will be the percentage of patients who achieve confirmed wound closure which is defined as skin re-epithelialization without drainage or dressing requirements. This outcome is assessed by the principal investigator at each site and confirmed by a central review. A patient visit two weeks after determination of wound closure is required to confirm the closure and at that time the patient enters a durability assessment period of up to 12 weeks.
The phase III program began in 1Q, 2013 and is based on two clinical studies that will enroll about 1,055 patients. Derma hopes to complete the two phase III studies and file an NDA submission in 3Q, 2015. The chemistry, manufacturing and controls portion of the NDA is on the same timeline as the phase III trials as are toxicology studies.
The two pivotal trials are called Stride 1 and Stride 2 and are comparable to the successful phase II program. The formulation is virtually identical and dose regiment and duration of treatment are the same. The primary endpoint has only a minor change. In phase II it was the proportion of subjects who healed within a 12-week period of time, whereas in phase III it is subjects with confirmed wound closure at 12 weeks. This requires that there is confirmation that the wound remains closed for two additional weeks.
Stride 1 was started in February 2013 and will enroll 422 patients. It is a two arm study that compares 0.03% DSC 127 topical to vehicle (a gel). Stride 2 began in April 2013 and will enroll 633 patients. It is a three arm study that compares the same 0.03% gel to the vehicle gel and also a commercially available gel that is representative of standard of care.
There is also an ongoing additional trial to assess safety relating to prolonged use of the product. This chronic program will look at patients with multiple ulcers on one or both feet. This is more of a real life study and patients will use DSC-127 repeated for a longer period of time.
Partnering
Partnering efforts for international sales started in 2Q, 2013. This effort could take 9 months or so and could conclude by 2Q, 2014. The upfront payment could be on the order of $20 to $50 million.
Intellectual Property
DSC127 is protected by good intellectual property protection. Two patents issued in 2012 extend the protection through 2032. These are use and composition of matter patents.
Tagged as AminoMatrix, Derma Sciences, DSC-127, DSCI, Medihoney, Skin Substitutes, TCC-EZ, Total Contact Casting, wound dressing + Categorized as Company Reports