Chimerix is A Company Focused on Infectious Viral Diseases that Has Investment Characteristics Similar to Trius (CMRX, Neutral, $25.48) (Subscribers Only)
Report In Brief
This report is an in-depth analysis of Chimerix (CMRX). I like the fundamental outlook of this company very much, but I am starting coverage with a Neutral rating. The company came public in April 2013 at a price of $14.00 and was trading at about $20.00 when I began my research. At that price I would have initiated coverage with a Buy. In the last couple of days, the stock has moved up over 25% to $25.48 as a result of some favorable news on compassionate use for its lead drug brincidofovir.  This brought the market capitalization to $667 million which is above my comfort zone.
I am not comfortable with my neutral position on the stock. My past experience has taught me that the key to a great recommendation is the fundamentals. The price on good companies always looks too high. In deviating from this principal, I may wind up recommending it at a higher price, but I am not willing to buy it for my own account at these levels.
The basis for my enthusiasm for the company's fundamentals is prospects for its lead drug brincidofovir in its initial indication for the prevention of cytomegalovirus infections in patients who have just undergone hematopoietic cell transplants (HCT). Topline phase 3 data from the SUPPRESS trial should be available in mid-2015 and I believe that the probability for success is high. I believe that this single trial could be sufficient for approval and if so, brincidofovir could be introduced in the US in 2016.
I project that brincidofovir can reach sales of $800 million by 2021 and based on this, the stock price target for that time frame is $62 to $82. There is not enough clinical data supporting other indications to warrant making sales estimates at this time. I think that there is an additional opportunity for brincidofovir in solid organ transplants which could have the same or greater sales potential as the HCT indication. It will also be studied in other disease states. I am also not including any value for any pipeline products.
The financial condition of the Company is solid as it ended the year with $110 million. There should be no need to raise capital until after the topline data report in 2015 although opportunistically the Company might choose to do so.
Comparing Chimerix to Trius
We all like to revisit previous investment successes and analyze the factors involved. Trius was a great success for me as I recommended it at a price of $5.05 on May 3, 2012 and Cubist acquired the Company on September 11, 2013 for a price of $13.50 and a contingent value right that could be worth as much as $2.00 by my calculations. As I came across Chimerix, I found a lot of similarities:
Infectious Disease Target
Both companies are involved in infectious disease. Trius was developing tedizolid for gram positive bacterial infections and MRSA in particular, while Chimerix (CMRX) is developing brincidofovir for viral infections caused by double stranded DNA viruses. In infectious disease, you can get an early read on the efficacy of a product even at the pre-clinical level; if you can kill bugs in a Petrie dish you can kill them in the human body providing you can get the drug to the site of the infection. Phase 2 data then can determine if the drug is being delivered effectively; Chimerix like Trius has positive phase 2 data indicating that it is getting to the site of infection. As with Trius, I have a high level of confidence that the phase 3 SUPPRESS trial will be a success when it reports out in mid-2015.
Not Widely Covered by Analysis
Trius when I started coverage was not widely followed. The primary coverage was provided by analysts who worked for the investment banks that brought the Company public. Chimerix came public in April of 2013 and is in much the same situation. I publish some articles on Seeking Alpha and use it as a gage for how well known a company may be. The less the coverage, the better the chance that investors are not aware of the Company or are not well informed, and this is a positive in my opinion. There were two articles on Seeking Alpha on Chimerix in 2013 and none in 2014.
Good Management
A litmus test for me in following a company is my evaluation of management. Running a biotechnology company is not like motoring a train down the railroad tracks. There are critical decisions that have to be made. In addition, any good analyst has to draw on the experience and knowledge of management. They know the product and company many fold better than any outsider ever could, but of course this deep involvement creates positive biases. For me it is critical that I believe management will give me a balanced view of positives and negatives as issues arise (as they always do) about the stock. I found that I could trust Jeff Stein, CEO of Trius, to be straight with me. Ken Moch, the CEO of Chimerix, is someone that I have known for 20 years and I believe that I can have the same confidence in him.
Strong Financial Situation
One of the key aspects of running a biotechnology company is making sure that the Company is adequately financed. Trius was always aggressive in making sure that it kept its cash balances at a level that allowed perhaps 6 to 8 quarters of run rate and this served them well. You never know when the financing window will close for emerging biotechnology companies. Chimerix came public in a much more exuberant time than Trius and was able to raise $102 million in its IPO debut in April 2013. It ended 2013 with $110 million of cash is funded to last through and beyond the phase 3 release of critical topline data in mid-2015. In 2013, its operational burn rate was $26 million.
Not a Lot of Competition for Brincidofovir
Some areas of biotechnology have a bewildering number of companies competing to develop new drugs. In oncology, all the large companies and perhaps hundreds of smaller companies have cancer drug development programs. I am often confused on the outlook for a new cancer drugs as there are usually several drugs going after the same cancer target and it is difficult to pick winners. The situation for Trius in antibiotics was more favorable. Large companies had largely abandoned the field as there developed a consensus in the 1990s that we really had already developed all of the antibiotics that were needed. However, resistant bacteria such as MRSA began to emerge and this created the opportunity for a small company like Trius to emerge as an industry leader.
Viral infections addressed by Chimerix are harder to attack than bacterial. Many antibiotics were developed by copying mechanisms of action used by one cell organisms to protect themselves from other bacteria. This was not so much the case with anti-viral drugs. Until dramatic advancements in molecular biology showed pathways to attack viruses, there was not much interest in the area as compared to other drug development venues. This has been changing rapidly as science has allowed new approaches and there has been fervent and productive research in treating HIV and hepatitis C, led primarily by small companies. For dsDNA viruses, there has been little productive research for over 20 years and Chimerix finds itself in a leadership position in this area.
The disease target for Trius's tedizolid was gram positive infections such as MRSA and its value lay in being able to treat infections caused by bacteria resistant to available drugs. There was controversy as to how much of a medical need this satisfied as frontline agents such as vancomycin, Zyvox and Cubicin were all pretty effective antibiotics. I see the medical need for brincidofovir as being much clearer cut. In its first indication for preventing the re-emergence of cytomegalovirus infections in hematopoietic cell transplants (HCT), there is an urgent unmet need and no approved drugs
Trius faced an uncertain competitive environment in which there were three well established drugs-the generic drug vancomycin, Cubicin and Zyvox. The different ion of tedizolid in the marketplace was small.  There are no approved drugs in the initial indication of brincidofovir for prevention of cytomegalovirus infections in organ transplant patients. There are three products in development for treating cytomegalovirus infections, but I don't see them posing much of a threat to brincidofovir as it seems to have clear advantages over other new drugs in development.
ViroPharma's (VPHM) maribavir failed in a phase 3 trial for prevention of cytomegalovirus. It is pursuing approval for treating infections after they have occurred. I think that most physicians and patients would prefer to prevent an infection rather than treating it after it has occurred. I don't see much potential for this drug.
Vical (VICL) in partnership with Astellas (ALPMY) is conducting a phase 3 trial with a vaccine to prevent cytomegalovirus, this vaccine is ASPO113 (formerly TransVax). Vaccines usually need a strong immune response to be effective. The Vical product is being administered before an organ transplant when the patient has a normal immune system and also in post-transplant when the patient is immuno-compromised. This creates uncertainty about the efficacy of the product. The biggest problem that ASPO113 faces is that the FDA is requiring that the endpoint should be overall survival. This is a very hard endpoint to achieve as cytomegalovirus infections may account for about 8% of deaths in HCT and it may be difficult to sort out the mortality benefit. In the words of one key opinion leader, "with an endpoint of overall survival they are screwed."
In October of 2012, Merck acquired marketing rights to letermovir with terms that included an upfront payment of 110 million Euros; this was a drug developed by AiCuris which is a spin-off from Bayer. This drug has a different mechanism of action in that prevents viral budding as opposed to the nucleotide mechanism of brincidofovir. It is only effective against cytomegalovirus infections and this presents an issue as many patients are infected with other double stranded DNA viruses such as adenovirus. I looked at ClinTrials.gov and found no mention of a phase 3 trial program suggesting that this drug could be a couple of years or more behind brincidofovir. It is possible that the two drugs could be used in combination but at this point, there is not enough clinical data to draw conclusions.
Straightforward Pathway to Approval
The pathway to approval appears to be easier for Chimerix than Trius. The latter had to conduct two phase 3 trials in a period when the FDA was uncertain on what kind of end points it would accept. Chimerix faces a much easier road. The company is seeking accelerated approval under subpart H which means that they may have to do only one trial (SUPPRESS) to gain approval (assuming strong results). Subpart H is a development path for drugs which FDA believes may offer meaningful therapeutic benefit in life threatening diseases. It may deem one well controlled trial to be sufficient for approval with the commitment that the sponsor will perform additional trials after approval.
The endpoint of the SUPPRESS trial is clear cut; the FDA unquestionably has accepted reduction in viral load as an endpoint for drugs used to treat antiviral infections such hepatitis C and HIV. The phase 3 SUPPRESS trial mirrors the design of a phase 2 trial that produced strong positive results in which the prevention of cytomegalovirus infections was determined through the measurement of viral load. This leads me to believe that SUPPRESS will be successful and lead to approval in early 2016.
Partnering
A positive investment aspect of Trius was that it did not partner tedizolid early. It waited until it had phase 3 data and this increased the value of the Company. Chimerix is in the same position. It has not partnered brincidofovir and does not plan to do so until after phase 3. If Chimerix elects to go the route of Trius and sell the company after phase 3, the lack of partnering entanglements will greatly enhance the value of the Company.
Commercialization Option
Trius left open the option of marketing tedizolid in the US. If a biotechnology company is able to achieve such vertical integration, the value to shareholders is greatly enhanced. Chimerix has the opportunity to market brincidofovir in the US for its initial indication. The medical centers involved in organ transplant are small and can be reached with a sales infrastructure (reps, medical liaisons, etc.) of less than 50 people.
Market Capitalization
There is one major difference in the Trius and Chimerix situations and that is market capitalization. When I first started following Trius, its market capitalization was $250 million and it was acquired at a price of $650 to $750 million depending on how you value the contingent value right.
At the end of 2013, Chimerix had 19.3 million shares outstanding, 1.3 million warrants exercisable at $7.26 and 5.6 million options. Assuming that all of these are going to be converted (this is not GAAP accounting), there are 26.2 million shares that will be outstanding. At the recent price of $25.48, the company is selling at a market capitalization of about $667 million. This higher valuation is probably due to a strong resurgence in interest in biotechnology and perhaps the awareness of Trius's success. Emerging antibody companies are also selling at much higher valuations than Trius when I initiated: Durata (DRTA) has a $400+ million market capitalization, Cempra (CEMP) $400+ million and Tetraphase (TTPH) $350+ million.
Recent Issues That Have Arisen
Obamacare Issue
Obamacare has proposed to cut or eliminate reimbursement for drugs used in the transplant setting. I am scratching my head a bit on this. The reasoning was not explained but perhaps it comes from some pharmacoeconomic analysis. Even if this goes through, I don't think that it will affect reimbursement for brincidofovir. It should be the first drug approved for preventing cytomegalovirus infections in HCT so there is no alternative therapy available. I expect it to have strong mortality and morbidity benefits and a modest side effect profile that supports reimbursement commensurate with this profile. I am estimating $40,000 for a 14 week course of therapy. While I do not see this issue posing a great risk, I wanted readers to be aware of it.
Compassionate Use
The stock just experienced a 25% move in the last two days as a result of a compassionate use request for brincidofovir. The parents of a gravely ill child, Joseph Hardy who was suffering from an adenoviral infection, pleaded for the boy to be given brincidofovir on a compassionate basis. Initially, the company was reluctant to supply the drug as responding to this request could trigger hundreds of other requests. While this is good for patients in the short term, widespread usage of the drug in compassionate use might interfere with or prevent later clinical trials in adenovirus so that we could never determine in a well-controlled trial if the drug is effective and how effective it is.
The CEO of Chimerix, Ken Moch, was taking a battering in the lay press for being cruel, heartless and indifferent for not immediately making the product available. The situation was resolved when the FDA allowed Chimerix to immediately launch a pilot trial of open-label brincidofovir for adenovirus infections in immunocompromised patients. The Hardy boy was the first patient provided the therapy with dosing starting on March 12.
This resolution caused the stock price to surge by 25%. However, this issue has certain disadvantages. Chimerix now may be asked to include hundreds of patients in this essentially compassionate use environment. This is costly and the information gained may have limited use for registrational purposes since it is unblinded and as previously mentioned, it could interfere or prevent development in a randomized, well-controlled clinical trial. Also, using the drug to treat desperately ill patients may result in some disappointing outcomes.
 Chimerix Investment Fundamentals
Brincidofovir is the Lead Drug in Development
Chimerix's lead drug is brincidofovir. It was derived from the Company's proprietary lipid technology that improves the efficacy and safety of approved and marketed anti-viral agents. This is achieved by delivering more of the drug to cells and leaving less in the blood stream where it can lead to side effect issues. While this sounds like a drug delivery mechanism, the technology results in a new molecular entity that has composition of matter patent protection which in the case of brincidofovir lasts until 2025 and potentially through 2034. Brincidofovir is an improvement on Gilead's (GILD) Vistide (cidofovir).
Cytomegalovirus Infections in Hematopoietic Cell Transplants (HCT) is the First Indication
Cytomegalovirus (CMV) is a dsDNA virus that is prevalent in over 65% of Americans. Most people are not aware that they have ever been infected because the effects are so mild. However, once infected the virus is not cleared by the body and remains latent; this is true of all dsDNA viruses. In people with normal immune systems this is of little import, but in those with compromised immune systems resulting from disease or drugs that cause immune suppression (such as those used in HCT or solid organ transplants to prevent graft rejection), CMV can re-emerge with devastating, life threatening consequences.
The first indication being pursued with brincidofovir is for the prevention of cytomegalovirus infections in HCT. In bone marrow transplantation, patients are given very high doses of chemotherapy or radiation therapy, which destroys cancer cells in the bone marrow. Unfortunately, it also destroys all the normal cells developing in the bone marrow, including the critical stem cells. After the treatment, healthy stem cells are reintroduced, or transplanted, which reestablish the blood cell production process in the bone marrow.
About HCT
There are about 15,000 such transplants each year in the US in adults each year and about 5,000 in children.  These patients receive stem cells usually obtained from bone marrow, peripheral blood, or umbilical cord blood. They may be given cells from donors (allogeneic) or their own cells (autologous). In the latter case, the cells are collected and frozen prior to the pre-transplant destruction of the bone marrow by radiation and chemotherapy.
Both allogeneic and autologous patients are at high risk for infection. When they are transplanted they have no immune response and it can take up to 100 days for the transplants to fully engraft and begin producing red and white blood cells. Because of their immuno-compromised state, these patients are at severe risk for the re-activation of CMV. Allogeneic patients are at more risk because they may receive immuno-suppressant drugs that try to prevent the newly transplanted cells from recognizing other cells in the body as foreign and launching an immune response.
Drugs Currently Used in the HCT Setting
There are a number of anti-viral drugs that are used to treat CMV infections in this setting. However, they all have toxicity issues that prevent their use until the infection is actually under way as is determined by detectable copies of the virus in the blood stream. This type of treatment is called pre-emption and is used in 30% to 40% of HCT patients. Valcyte (valganciclovir) is a 20 year old drug that is the current standard of care for pre-emptive therapy. Other drugs used are ganciclovir, foscarnet and cidofovir.
With currently available medicines, there is a mortality rate of approximately 20% for HSCT recipients during the first year that is over and above mortality resulting from the underlying disease (e.g. cancer) that necessitated the transplant. This high death rate is caused by post-transplant complications, from viral infections (in particular CMV) as well as bacterial and fungal infections and graft failure. There is a great unmet need for a safe and effective agent that can be used as a preventative that can block the CMV virus from replicating at a much earlier stage post-transplant and this is the therapeutic goal for brincidofovir. The existing anti-virals used in this indication are given perhaps 9 to 11 weeks after the transplant and when copies of the virus are found in the blood. Brincidofovir probably will be given shortly after the transplant and oftentimes before CMV is detected.
Phase 2 Results Were Quite Encouraging
A phase 2 trial established that at the dose chosen for phase 3 (an oral dose of 100mg given twice a week) that brincidofovir reduced the reactivation of CMV by 72%; 37% of placebo patients experienced reactivation versus 10% for brincidofovir; the p value was 0.002. The study also predefined a sub-set of particular interest. This was a group of 133 patients who were CMV negative at baseline. The 41 patients who received the dose that will be given in phase 3 showed striking results. None of the 41 patients developed >1,000 copies of virus /mL during the dosing period, compared to 15 of the 47 (32%) of patients in the placebo cohort, p<0.001. This sub-group of asymptomatic patients that aren't currently treated with existing drugs will be a principal target group for brincidofovir.
As I mentioned earlier, for infectious disease drugs, there is a very high probability for a phase 3 trial to replicate the results of phase 2. This gives me a high level of confidence that the chances for success are good. Bolstering my confidence even further is that in the phase 2 trial the drug was not given until about 24 days after the transplant. This was because the FDA was concerned about myelosuppression. Other anti-viral drugs can actually harm the transplanted stem cells before they engraft and begin to produce red and white blood cells. The FDA wanted to make sure that engraftment had taken place. This concern that brincidofovir would also be myelosuppressive was assuaged in the phase 2 trial so that in phase 3 it will be given much earlier, shortly after the transplant. It seems logical to assume that if brincidofovir is on board earlier and before CMV has gained a foothold that it should be even more effective in phase 3.
In the phase 2 trial, the dose limiting side effect of the drug was diarrhea and this caused some patient drop outs. A system for better managing this side effect has been developed and this also augurs for better outcomes in the phase 3.
Phase 3 SUPPRESS Trial is Under Way
The Phase 3 clinical trial for brincidofovir is called the SUPPRESS trial. The primary endpoint is the prevention of reactivation of cytomegalovirus in adult patients who have just received an allogeneic HCT. There are no other drugs approved for the prevention of CMV infections in this patient group so the comparator group will be placebo. It will enroll 450 patients with 300 being given 100 mg of brincidofovir and 150 placebo, both on a twice a week dosing. These patients will be dosed for 14 weeks and then followed for an additional 10 weeks. This trial is scheduled to complete enrollment during 2014 and to report data in mid- 2015. There will be interim looks for safety, but not efficacy.
The focus of brincidofovir in the phase 3 SUPPRESS trial is in treating CMV. However, most patients have not only CMV, but also other dsDNA strains like adenovirus, BK virus and other dsDNA viruses. A phase 2 trial against adenovirus suggested that brincidofovir may have an important role to play in treating adenovirus infections. While these viral infections may not be as prevalent as CMV, they can cause serious problems. This makes the broad spectrum activity against all dsDNA viruses an attractive asset of brincidofovir.
There is A Broader Role for Brincidofovir
Brincidofovir has a potentially a much greater role to play in the treatment of dsDNA viral infections. One of the intriguing outcomes observed in the phase 2 trials was that there was less kidney damage with it than with placebo. This is noteworthy because most anti-viral drugs aimed at dsDNA viruses are toxic to the kidney. The hypothesis is that brincidofovir is effective against the BK virus, a dsDNA virus that is known to infect kidneys and is a major issue in kidney transplant rejections. This suggests that brincidofovir has a major role to play in kidney and other solid organ transplants.
Brincidofovir is being studied under collaboration with the Biomedical Advanced Research and Development Authority (BARDA) that sponsors drug development for counter-terrorism measures. Chimerix received a contract in February of 2011 and another more recently in which BARDA gave grants to study brincidofovir as a medical countermeasure against the dsDNA virus, smallpox. In vitro studies have shown that brincidofovir can inhibit the variola virus, the dsDNA virus that causes smallpox. Efficacy has been demonstrated against variola in cultured cells, and brincidofovir has shown activity against related viruses in animal models of smallpox including ectromelia in mice, rabbit pox, and monkeypox.
Summary of Sales Projections and Price Target Thinking
I have put together a sales model based on the use of brincidofovir only on the prevention of CMV infections in HCT. I think that it also has a meaningful role to play in solid organ transplants and other indications, but until there is limited data to support other uses, potential sales are not included in my projections. Later in this report, I give the estimates underlying my projections, but here is the summary.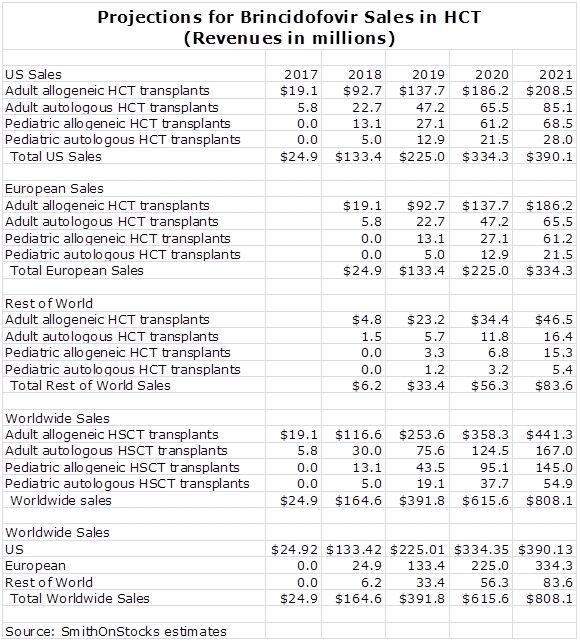 I think that the best way of putting a value on these projections is to use a multiple of sales. For emerging biotechnology companies with promising new products, based on the current multiple on somewhat comparable companies, I think the appropriate number is 3 to 4 times sales.
It is probably not productive to try to put together a complete P&L. This would entail making estimates for future research spending on new indications for brincidofovir and potential new products for which we have almost no information. Similarly, projections for spending on S, G & A would have to involve assumptions on commercial plans, which are dependent on a broad number of variables that are almost impossible to project.
For these reasons and others, I have decided to estimate the potential based only on sales and using the 3 to 4 times multiplier, I estimate that the market capitalization could be $2.4 to $3.2 billion in 2021, which is four or five years after introduction and seven years from now. This is based on multiplying projected sales of $800 million for brincidofovir by 3 to 4. This compares to a current valuation of $667 million. But what about the stock price; to estimate that we have to know the number of shares outstanding in 2021. Here, I will arbitrarily estimate that the shares will increase by 50% from the current 26 million to 39 million. This results in a price per share in 2021 of $62 to $82 per share.
These estimates are not as precise as they appear and they are intended to give a rough idea of the potential sales and stock price potential in 2021 based on my assumptions. The sales estimates are also based only on sales of brincidofovir in the initial indication for preventing cytomegalovirus infections in patients receiving HCT. There is potential for brincidofovir use in solid organ transplant patients but there is not yet any data; hence I have not included any sales projections. I have also not included any projections for potential pipeline products or products that might be acquired through acquisition.
General Information
A Brief Overview of Viruses
A virus (from the Latin virus meaning toxin or poison) is a microscopic organism consisting of genetic material (RNA or DNA) surrounded by a protein forming a capsid. This capsid in turn may be surrounded by a lipid membrane. Virus particles are 100 times smaller than a single bacterial cell and a bacterial cell is more than 10 times smaller than a human cell. Viruses cannot reproduce without infecting a host cell and then using host cell mechanisms to replicate themselves. This raises the question as to whether they are actually living microorganisms.
A viral infection starts with the virus attaching to a receptor on the surface of a host cell. The virus then enters the cell and travels to the nucleus. There it may use the same enzymes (polymerases) that the host cell uses in DNA replication to transcribe the viral DNA and make new viral particles. Other cellular mechanisms of the host cell are then used to assemble the particles to make new viruses. The newly formed viruses may then spread through shedding from the host cell or killing the host cell and releasing its viral contents.
Viruses can lead to mild to severe illnesses in humans, animals and plants. In humans, these range from flu or a cold to something more life threatening like HIV/AIDS. The characteristics of cell surface receptors determine which cells the virus will infect. For example, the cold and flu virus prefers the mucus lining cells of the lungs and the airways. The HIV virus attacks T-cells which are integral to fighting infections.
There are seven classifications of virus families and a discussion of these goes far beyond the scope of this report. Chimerix's lead compound brincidofovir targets a group of viruses that have two complimentary strands of deoxyribonucleic acid which gives rise to their classification as double stranded DNA (dsDNA) viruses. Brincidofovir's intial clinical program is focused on preventing cytomegalovirus infections in patients who have received stem cell transplants and this report focuses primarily on that indication. However, brincidofovir has a potentially larger role to play as a broad spectrum anti-viral agent to treat dsDNA viruses. The complete range of dsDNA viruses and the diseases they are associated with are shown in the following table.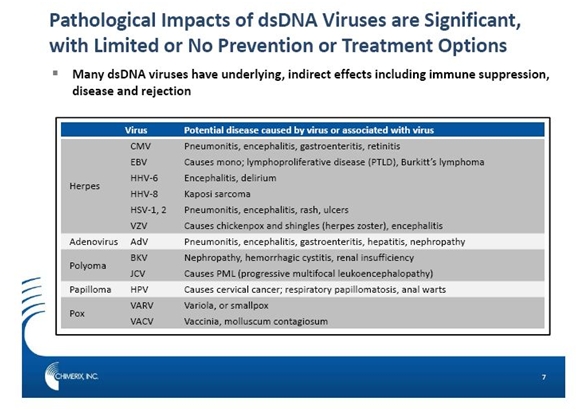 Cytomegalovirus
Cytomegalovirus is a member of the Herpes family. It can and does infect almost anyone and most don't know they have CMV because it rarely causes symptoms. However, once infected it remains in the body for life. At least 65% of the US population has been exposed to CMV and the incidence of CMV seropositivity (antibodies against it can be found in the blood) rises with age from about 36% in children aged 6 to 11 years to 91% in individuals older than 80 years.
CMV usually remains latent throughout life in healthy people. However, it may reactivate in patients whose immune systems are compromised. This encompasses a wide range of conditions such as HIV infection, solid-organ transplantation, or bone marrow transplantation. It is also an issue in those receiving high-dose steroids, TNFα drugs for rheumatoid arthritis or other immunosuppressing medications. A reactivated CMV infection can affect almost every organ of the body, resulting in fever, pneumonia, hepatitis, encephalitis, myelitis, colitis, uveitis, retinitis, and neuropathy.
CMV is seldom associated with mortality in non-immunocompromised hosts. However, in both solid organ and marrow transplant recipients, CMV causes substantial morbidity and mortality. For example, even with antiviral therapy, the mortality rate in allogeneic marrow transplant recipients who come down with interstitial pneumonia has been estimated to range up to 75%.
The Threat of Cytomegalovirus against Bone Marrow Transplants
Bone marrow stem cells produce the red and white cells in the blood. Patients who are bone marrow compromised may suffer from anemia due to lack of red blood cell production, risk of infections due to lack of white blood cell production, or increased bleeding due to lack of platelet production. Hematopoietic stem cell transplants are used to replace damaged or defective bone marrow stem cells through the transplantation of healthy stem cells.
Hematopoietic stem cell transplants (HCT) are the only way to treat certain stages of leukemias, lymphomas, and other cancers of the immune system. Other causes are severe aplastic anemia and genetic and immune system disorders such as lupus erythematosus or thalassemia. In the U.S. there are around 200 centers that perform transplants. There are approximately 30,000 autologous transplants and 15,000 allogeneic transplants performed each year. The growth rate is approximately 4% per year.
The first step in transplantation is myeloablation which involves the use of drugs and/or radiation to destroy diseased bone marrow prior to transplantation. Its use suppresses or wipes out the immune system and allows the reactivation of dormant viruses such as CMC. Allogeneic transplants increase the risk of an HLA mismatch which can result in the use of drugs that also suppress the immune response of the donor cells to the recipient's tissues. These increase the risk of infections such as CMV even further.
Cytomegalovirus infections are a serious and life threatening complication in patients who have received allogeneic hematopoietic stem cell transplantation. Engraftment of these transplanted cells occurs during the first month. The first 100 days post-transplantation are considered a high risk period for infection with the most common pathogen being CMV. This virus is present in 50% to 80% of the general population and in immune compromised HSCT patients the latent CMV can be re-activated.
About 65% of HSCT recipients are seropositive (antibodies to CMV are present in the blood) for CMV. About 80% of these CMV seropositive patients then develop detectable copies of CMV virus in the blood; increases in these levels correlate with disease progression that usually occurs when the infections are left untreated. The risk for CMV infection is about 30% for patients who are seronegative (no CMV antibodies in the blood) but have seropositive (CMV antibodies in the blood) donors. There is less than 5% risk for patients who are seronegative with seronegative donors.
Uncontrolled CMV replication can result in pneumonitis, gastroenteritis, retinitis, hepatitis, encephalitis, and sometimes death. The ideal way to prevent CMV infections from occurring is through prevention or prophylaxis with a drug, but there are no anti-viral drugs approved for this use because risk outweighs benefit. There are anti-virals that are used as pre-emptive therapy in which they are administered only after copies of virus are detected in the blood above a certain warning threshold. These patients are then given drugs in an effort to prevent progression to symptomatic disease that can involve numerous organ of the body.
Pre-emption is used in about 30% to 40% of HSCT recipients. Valcyte (valganciclovir) is a 20 year old drug that is the current standard of care for pre-emptive therapy. Other drugs used are ganciclovir, foscarnet and cidofovir. None of these drugs are approved for prevention because of serious toxicities which include neutropenia, nephrotoxicity, and myelosuppression. Complications arising from the side effects of these drugs can lead to secondary infections and emergence of CMV resistance that lead to hospitalizations.
With currently available medicines, there is non-relapse mortality rate of approximately 20% for HCT recipients during the first year. This is over and above mortality resulting from the underlying disease that necessitated the transplant. This high death rate is caused by post-transplant complications, from viral infections (in particular, CMV) as well as bacterial and fungal infections and graft failure. There is a great unmet need for a safe and effective agent that can be used as a preventative that can block the CMV virus from replicating at a much earlier stage and therefore reduce morbidity and mortality. The therapeutic goal for brincidofovir is to be used for prevention (prophylaxis) of CMV.
Antiviral Drugs Overview
Antiviral drugs are a class of medication used specifically for treating viral infections. Like antibiotics for bacteria, specific antivirals are used for specific viruses. They do not destroy their target virus; instead they inhibit their replication. Designing safe and effective antiviral drugs is difficult, because viruses use the host's cells to replicate. This makes it difficult to find targets for the drug that would interfere with the virus without also harming the host organism's cells.
The first experimental antivirals were developed in the 1960s, mostly to deal with herpes viruses, and were found using traditional trial-and-error drug discovery methods. Researchers grew cultures of cells and infected them with the target virus. They then introduced into the cultures chemicals which they thought might inhibit viral activity, and observed whether the level of virus in the cultures rose or fell. Chemicals that seemed to have an effect were selected for closer study.
Only in the 1980s, when the full genetic sequences of viruses began to be unraveled did researchers began to learn how viruses worked in detail, and exactly what mechanism were needed to thwart their reproductive cycle. The general idea behind modern antiviral drug design is to identify viral proteins, or parts of proteins, that can be disabled. These "targets" should generally be as unlike any proteins or parts of proteins in humans as possible, to reduce the likelihood of side effects.
The targets should also be common across many strains of a virus, or even among different species of virus in the same family, so a single drug will have broad effectiveness. For example, a researcher might target a critical enzyme synthesized by the virus, but not the patient, that is common across strains, and see what can be done to interfere with its operation.
The Development of Brincidofovir
Chimerix was founded on a lipid technology that allowed the company to create new molecular entities from existing drugs that are FDA approved. By adding a lipid tail to existing, previously approved drugs, efficacy can be enhanced and side effects reduced. The resultant drugs are absorbed in the small intestine and transported throughout the body as a phospholipid. They cross target cell membranes by means of facilitated and passive diffusion and have a long intracellular half-life. Within the cell, they are cleaved into the parent compound.  This technology increases potency by getting more drug into the cell where it exerts its therapeutic effect with less remaining in the blood stream where it can cause unintended side effects.
The first drug that was synthesized was brincidofovir which was based on the approved anti-viral drug cidofovir that is marketed by Gilead (GILD) as Vistide. Cidofovir is given as an IV infusion while brincidofovir can be given as a pill or liquid on a twice a week basis. Within the cell it is converted to cidofovir. This results in a 50 to 100 fold improvement in efficacy as compared to the same amount of cidofovir given by IV infusion. It also improves the side effect profile. Cidofovir is so nephrotoxic that the black box warning says as few as one or two doses can lead to nephrotoxicity and/or death. In Phase 2 trials brincidofovir produced evidence that it may be protective of the kidney possibly because it inhibits another dsDNA virus that causes kidney complications.
Brincidofovir was originally synthesized and evaluated as an oral treatment for smallpox for biodefense initiatives, but it also showed potency in animal models and in vitro models against all strains of the five families of double-stranded DNA herpes viruses. For many drugs, in vitro and animal models are not necessarily predictive of outcomes in humans. However, they are much more predictive for anti-bacterial and anti-viral drugs. If they can kill pathogens in a Petrie dish they can also kill them in humans providing that an effective concentration of drug can be delivered to the site of infections.
Many people are infected with not just one but multiple dsDNA viruses. This broad spectrum of activity of brincidofovir allows for positioning for multiple viruses and multiple conditions. Pre-clinically, it has demonstrated broad activity against all families of dsDNA viruses including herpes viruses (e.g., CMV, herpes simplex virus, varicella zoster, and Epstein-Barr virus), adenoviruses (over 50 subspecies), polyomaviruses (e.g., BKV and JCV), papillomaviruses, and poxviruses (vaccinia, monkeypox, and smallpox). CMV, AdV, and BKV are the three dsDNA viruses responsible for the majority of viral infections that are of concern for human illnesses.
The following table illustrates the relative potency of brincidofovir in relation to other drugs approved to treat dsDNA viruses. The key number used in this comparison is EC50 which is the concentration of drug required to reduce viral replication by 50% in vitro (in a Petrie dish). By this measure, brincidofovir is remarkably more potent and has a much broader spectrum of activity than both marketed drugs two new drugs under development.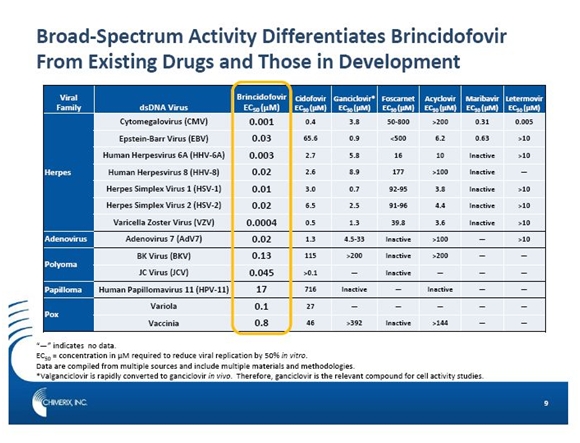 Phase 2 Trial Results for Brincidofovir Suggest Advantages in HSCT
A phase 2 trial started in December of 2009 and completed in June of 2011. It enrolled 230 adult patients who were CMV seropositive (showed evidence of antibodies to CMV). Study 201 was a phase 2 proof of concept trial to determine if brincidofovir was effective in a wide range of adult patients who had received allogeneic HCT. The trial enrolled 230 patients who were randomly assigned to placebo or one of five brincidofovir doses: 40 mg, once a week; 100 mg, once a week: 200 mg, once a week: 100 mg twice a week; and 200 mg, twice a week.
Before being enrolled, all patients had to show evidence that the stem cells had engrafted, which was defined as the graft producing blood cells. Engraftment usually occurred in the first month and the drug was administered for 9 to 11 weeks. Polymerase-chain-reaction analysis of CMV DNA in plasma was performed weekly to determine the presence of copies of the virus. Patients in whom CMV DNA was detected at a level that required treatment discontinued the study drug and received preemptive treatment against CMV infection.
The primary endpoint was a composite of the incidence of CMV disease at any time during therapy and/or a CMV polymerase chain reaction (PCR) of > 200 copies/mL of CMV virus at the time of the last dose of study drug. The 100 mg, twice a week dosage was the only dose to reach achieve statistical significance on the end point. The incidence of CMV events was 10% versus 37% for placebo. The difference was 27% within a 95% confidence interval of 12% to 42% which produced a very strong p value of 0.002. All doses except the lowest showed at least a trend in reducing CMV events compared to placebo. The failure of the 200 mg, twice a week to achieve statistical significance was attributed to a high dropout rate due to brincidofovir's dose limiting toxicity of diarrhea.
The study had predefined a sub-set of particular interest. This was a group of 133 patients who were CMV negative at baseline. This is the population of most interest for brincidofovir for preventive therapy. Of the 41 patients who received the most effective dose of 100 mg, twice a week the results were more striking. CMV DNAemia of >1,000 c/mL while on therapy was the criteria for the initiation of pre-emptive CMV therapy in the trial. None of the 41 patients on 100mg twice a week developed CMV PCR of >1,000 copies/mL during the dosing period, compared to 15 of the 47 (32%) of patients in the placebo cohort, p<0.001.
The following table shows that none of the 41 patients on brincidofovir reached 1000 copies of CMV virus per ml of blood while 15 of 47 on placebo reached that level. This was achieved with a powerful p value of p<0.001.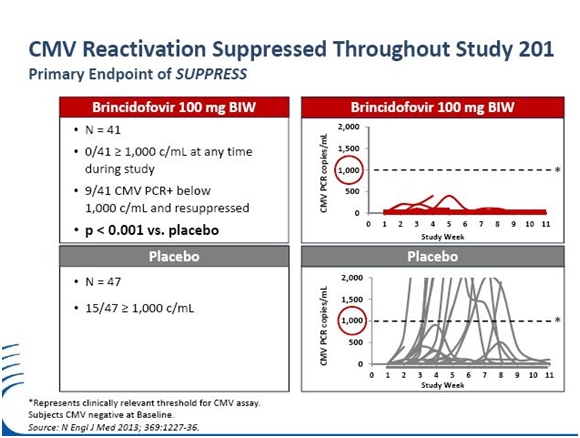 Additionally, none of the patients on 200 mg of brincidofovir given twice a week had CMV DNAemia >1,000 c/mL during treatment. This further corroborates that the miss of statistical significance for this arm on the primary outcome measure was likely due to CMV viremia following discontinuation of therapy.
Adverse Events in Phase 2
The 100 mg, twice a week dosage was safe and well tolerated in the trial with the frequency of side effects other than diarrhea being comparable to placebo. There was no myelosuppression, which is a troublesome side effect, produced of currently available CMV antivirals used in this setting; this is a particular problem for HSCT patients.
The most common adverse events were gastrointestinal-associated events, and elevated ALT levels. There was a dose-related, transient increase in ALT at the 100mg, twice a week dose in which approximately 30% of subjects experienced ALT increases greater than three times the upper limit of normal, compared to 16% of placebo patients. However, the proportion of patients experiencing >5x, >10x, or >20x ULN was not significantly different between 100mg BIW and placebo. Brincidofovir was not associated with increases in aspartate aminotransferase or bilirubin, and there were no signs of liver injury or hepatic necrosis in any patient. These were not considered to be a problem by the investigators.
Brincidofovir's dose-limiting toxicity is gastrointestinal, and diarrhea in particular. The incidence and severity of GI adverse events was reasonable for the 100 mg, twice a week dose as 10% of patients discontinued therapy for this reason versus 3% of placebo patients. The incidence and severity of diarrhea was unacceptably high at the 200mg twice a week dose.
For subsequent clinical trials, Chimerix has implemented a safety monitoring and management plan (SMMP) that instructs physicians on how to deal with this side effect. The SMMP indicates that patients who experience a Grade 3 or higher GI adverse event that a decrease in serum albumin from baseline is a market of drug-related diarrhea (as opposed to diarrhea caused by other reasons such as infections or complications of the transplant).
Study 202: A Phase 2 Trial of Brincidofovir for Adenovirus Prevention
Adenovirus is a double-stranded DNA virus that causes upper and lower respiratory infections, including the common cold, in individuals with intact immune systems. In patients with immunosuppression, adenovirus can lead to significant respiratory or GI disease, including hepatitis. It is estimated that 5-7% of patients have adenovirus viremia during the first 100 days post-transplant based on its screening data. While adenovirus infection is much less frequent than CMV in stem cell transplant recipients it has a high mortality rate of up to 80% in the first 30 days after diagnosis. The frequency of adenovirus infection in even the most susceptible patients is unknown, as are the factors that influence progression to advanced disease.
Study 202 was a randomized, blinded, placebo-controlled proof of concept trial evaluating the use of brincidofovir as a preemptive therapy for adenoviral infection following HCT. There were 735 pediatric and adult patients screened weekly for AdV at 29 centers.
There were 48 pediatric and adult patients who were found to have AdV viremia with no symptoms of disease. They were randomized into one of three dosing groups: (1) 100 mg brincidofovir BW, (2) 100 mg brincidofovir QW and (3) placebo. They received 12 weeks of preemptive therapy followed by a four-week post-therapy follow-up period. The primary endpoint of was a composite endpoint of progression to presumed or definitive adenovirus disease or at least a tenfold increase in the level of adenovirus viremia.
There is no approved treatment for adenoviral infection in HSCT recipients and as a result there was not much data available to help in the design of the trial. For example, the frequency of occurrence of copies of adenovirus in the blood and progression to infections was not known. Brincidofovir and placebo were initiated prior to symptomatic disease with the goals of decreasing viral load and preventing progression to symptomatic disease. Statistical significance was not achieved and this might have been the result of incorrect powering assumptions for the trial.
Although statistical significance was not achieved, there were encouraging trends in favor of the brincidofovir twice a week group versus brincidofovir once a week and placebo. In subjects who entered the trial with higher levels of adenovirus copies greater than 3.0 x log 10 per milliliter, a decline in viral load to undetectable levels of less than 100 copies per ml was seen in 7 of 8 (88%) patients given brincidofovir twice a week in the first week of dosing. This compared to only 1 of 8 patients (13%) with the same initial viral load in the placebo group. This is shown in the next table.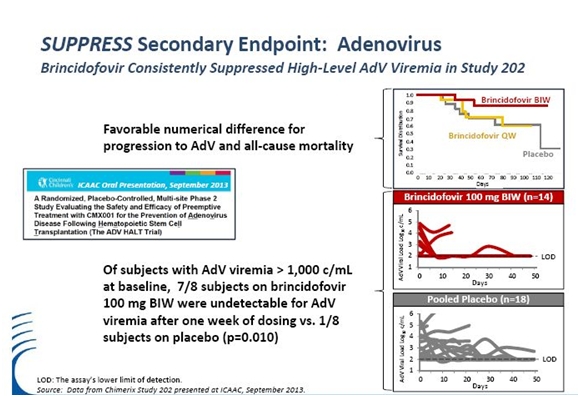 Three of 14 subjects (21%) in the brincidofovir twice a week group were considered treatment failures with increasing adenovirus viremia or progression to adenoviral disease. This compared to six of 16 (38%) in the brincidofovir once a week and six of 18 (33%) in the placebo group. The overall mortality in the brincidofovir twice a week group was 2 of 14 (14%) versus 5 of 16 (31%) in the brincidofovir once a week group and 7 of 18 (39%) in the placebo group.
The data was consistent with decreased progression of adenoviral disease and a decrease in overall mortality for subjects given brincidofovir twice a week. It is also consistent with the statistically significant data seen in the phase 2 CMV trial that showed that earlier intervention is the preferred strategy to decrease morbidity and mortality from CMV. This supports the goal of establishing brincidofovir as a broad spectrum prophylactic for prevention of dsDNA infections in HSCT recipients.
The safety and tolerability data was also encouraging as there was no hematologic and renal toxicity for brincidofovir twice a week or brincidofovir once a week. Encouraging results were also seen in the implementation of the Safety Monitoring and Management Plan (SMMP) to address gastrointestinal side effects. Temporary dose interruptions for grade 3 diarrhea were successfully utilized in the trial, with the result that there was only one permanent discontinuation for diarrhea in the brincidofovir once a week group and none in the brincidofovir twice a week. There was one discontinuation for abdominal pain and one for lower gastrointestinal hemorrhage in the brincidofovir BW group and one for severe rash in the placebo group.
Adenovirus in the blood was chosen as a potential early indicator of AdV disease based on increased copies of virus in the blood was selected based on the results achieved in the CMV phase 2 study. Results from this study bring into question whether AdV copies in the blood is an indicator of early AdV disease.  For low-level AdV viremia (< 3.0 log10 copies/mL), a significant percentage of patients spontaneously overcame low level adenoviral infections prior to initiation of brincidofovir or during placebo therapy.  These data indicate that low level adenoviral infections may be a transient phenomenon in some subjects.  In contrast, high level adenoviral infections (> 3.0 log10 copies/mL) at screening were associated with rapid development of symptoms and end-organ disease even before therapy could be started.
The Phase 3 SUPPRESS Trial of Brincidofovir
The Phase 3 clinical trial for brincidofovir is called the SUPPRESS trial. The primary endpoint is the prevention of reactivation of cytomegalovirus in adult patients who have just received an allogeneic HCT. There are no other drugs approved for the prevention of CMV infections in this patient group so the comparator group will be placebo. It will enroll 450 patients with 300 being given 100 mg of brincidofovir and 150 placebo, both on a twice a week dosing. These patients will be dosed for 14 weeks and then followed for an additional 10 weeks. This trial is scheduled to complete enrollment during 2014 and to report data in mid- 2015. There will be interim looks for safety, but not efficacy.
The primary and secondary endpoints of SUPPRESS are as follows: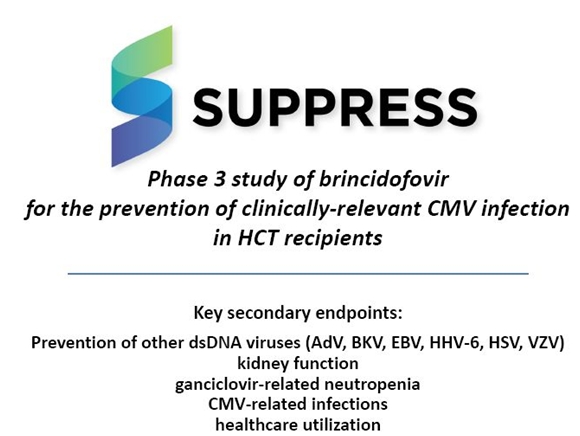 The trial design closely mirrors the successful phase 2 trial. This trial was selected for publication in the September26, 2013 edition of The New England Journal of Medicine. It is one of about two dozen Phase 2 trials that have been published in The New England Journal over the last decade. The decision of the editors to highlight the Phase 2 trial emphasizes the need for a new drug in this setting and the promise of brincidofovir as demonstrated by p value achieved in Phase 2 of 0.002.
The primary endpoint of SUPPRESS is failure to prevent CMV reactivation through week 24. Dosing with will begin shortly after patients receive the transplants without the requirement of showing stem cell engraftment as was required in Phase 2. Patients will receive brincidofovir or placebo through week 14, and will continue to be monitored through week 24 for evidence of CMV disease as determined by copies of CMV virus in the blood at levels high enough to require pre-emptive therapy. This will be determined by a PCR assay that has been approved by the FDA.
The primary endpoint proscribes that at any time during the trial that the virus reactivates and reaches a level of 1000 copies of cytomegalovirus per ml of blood, the patient is judged to have failed the drug. They are then switched to Valcyte or some other preemptive therapy.  This was the same criteria as was used in the Phase 2 trial. However, subjects considered at risk for rapid progression to CMV disease (recipients of umbilical cord blood stem cells is an example) will have a lower threshold of 150 copies/ml above which they will be switched to pre-emptive therapy. This is different from Phase 2.
The trial is powered to detect a 50% decrease in CMV reactivation for brincidofovir relative to placebo. The assumptions are that there will be a 30% failure rate in the placebo arm and a 15% failure rate in the brincidofovir arm. For comparison, there was a 74% decrease in CMV reactivation in the Phase 2 trial: 37% of placebo patients versus 10% on brincidofovir. The dropout rate in both arms is assumed to be 16%.
The pre-engraftment dosing incorporated in SUPPRESS may further differentiate brincidofovir's antiviral benefit by including data from the first four weeks after transplant, but the potential for these additional CMV events was not included in the assumptions for powering calculations. Remember that based on the 1,000 copy threshold, the 15 of 47 of those patients who did not have reactivated CMV at base line crossed over the 1,000 copies per mL threshold, none of the patients who received brincidofovir did a p value of 0.001.
Chimerix has also created and incorporated a safety monitoring and management plan (SMMP). This enables physicians to identify and manage potentially drug related diarrhea and to reduce the risk of early discontinuation. This could lower the dropout rate for brincidofovir in Phase 3 relative to Phase 2. This appeared to be the case in the Phase 2 adenovirus trial that incorporated SMMP.
Secondary Endpoints of SUPPRESS are also Important
CMV reactivation is the primary endpoint, but the trial will also be looking at a number of potentially very important secondary endpoints. These include prospective assessments of renal, gastrointestinal and pulmonary function, mental status and memory. Additionally, blood and other body fluids and biopsies will be collected for viral analysis as many of the double-stranded DNA viral diseases have little available epidemiologic data. This could give an insight on how broad spectrum of an effect that brincidofovir has beyond CMV.
During the Phase 2 trial, a statistically significant improvement in kidney function was seen as determined glomerular filtration rate (GFR). This correlated with whether or not the patients had BK virus. This is a double-stranded DNA virus that is associated with graft rejections in kidney transplant patients. If brincidofovir can protect the kidney from damage, this could point the way forward to a major development effort in kidney transplants and perhaps in other solid organ transplants. The trial will closely look at measure of kidney function such as GFR, serum creatinine levels and microhematuria.
Brincidofovir is expected to have a direct impact on decreased reactivation of CMV and other latent herpes viruses. Suppression of these viruses could have an indirect effect on secondary infections caused by bacteria, fungae and protazoa. There is the expectation that this could reduce overall mortality and this is another key secondary endpoint. This data is important not only in terms of clinical benefit but also in terms of cost benefit.
Collaboration with BARDA on Development in Smallpox
Brincidofovir is being studied under collaboration with the Biomedical Advanced Research and Development Authority (BARDA) that sponsors drug development for counter-terrorism measures. Chimerix received a contract in February of 2011in which BARDA gave grants to study brincidofovir as a medical countermeasure against the dsDNA virus, smallpox. In vitro studies have shown that brincidofovir can inhibit the variola virus, the dsDNA virus that causes smallpox. Efficacy has been demonstrated against variola in cultured cells, and brincidofovir has shown activity against related viruses in animal models of smallpox including ectromelia in mice, rabbit pox, and monkeypox.
In February 2011 and again more recently Chimerix received a contract from BARDA to fund development of brincidofovir for the treatment of smallpox in the event of a smallpox outbreak. Chimerix is working with FDA to define a program to develop brincidofovir under the animal efficacy rule. Under the two animal rule, two animal models must demonstrate the potential to treat to treat the smallpox virus in mice and rats. BARDA has taken responsibility for developing and refining the models and Chimerix is supplying the drug.
Brincidofovir has shown statistical significance in a rabbit pox model at a dose which is at the same potential as that being used in SUPPRESS. The smallpox virus does not exist in the human population, so the human data being generated from our clinical trial efforts has relevance. In fact, as a note of history, BARDA paid for the compassionate use program as a way of generating safety data. To date, over 900 individuals have been exposed to brincidofovir and the SUPPRESS trial will add an additional 300 patients at the dosing and duration for the small pox indication.
They will have a large safety database to support that NDA for potential approval for smallpox. The anticipated dosing period for smallpox is a matter of weeks, and obviously the safety database that's been generated through the clinical trial work is months. This gives Chimerix relevant data being generated in our human clinical trials regarding the safety side of the equation in particular. The existing safety database of over 900 patients is certainly more than would have been expected for a compound moving forward under the two animal rule.
Taken together, this may be the basis for a future development effort and an eventual NDA filing. The data being created in the animal studies is being done by BARDA so that Chimerix doesn't control all aspects of the development program that would allow the development of clinical timelines. There is more work to be done on rabbit data and more work to be done on mice and rats. They are not projecting timelines on the BARDA/smallpox NDA process simply because they don't control all aspects of that timeline. There is work being done by other parties that integrates with the work we need to do, and there is no way to predict that since part of that is in the hands of BARDA in terms of their developmental efforts and their funding priorities.
Pharmacokinetic studies in healthy and infected animals were begun in 4Q, 2013 to support the design of pivotal efficacy studies planned for 2014.
Market Potential for Brincidofovir
If brincidofovir succeeds in its Phase III, it should be broadly adopted as a prophylactic agent to prevent CMV reactivation in HSCT patients. Physicians currently have no approved therapy for prevention of CMV. Key opinion leaders indicate that an oral, non-toxic drug like brincidofovir would be widely used. Perhaps 70% of patients at high risk for CMV reactivation could benefit from a prophylactic therapy, as one-third to one-half will need preemptive therapy against CMV if not prophylaxed. Prophylaxis is or prevention is the best way to manage high risk patients, as it would prevent the patients from having to deal with the risks and burdens associated with CMV reactivation, such as a higher incidence of graft failure.
Valcyte (valganciclovir) is the only approved drug for CMV preemptive therapy. However, it has troublesome toxicities such as a high rate of myelotoxicity and nephrotoxicity. KOL's think that a 50% reduction in the risk of CMV reactivation, with no neutropenia, will be sufficiently persuasive to cause the field to switch to brincidofovir prophylaxis.
Second Confirmatory Trial and Regulatory Strategy
In order to achieve traditional approval for CMV prevention, a second confirmatory trial of brincidofovir should be underway as the time of the NDA filing SUPPRESS. A confirmatory trial should establish the correlation of CMV viremia with CMV disease.
Intellectual Property
The composition matter patent that covers brincidofovir expires in 2020. However, under provisions of the Hatch-Waxman bill, this coverage is extended to 2025. The Company also states that it has patents pending that issued will extend coverage until 2034. However, it provides no information on the claims being sought in these patents.
CMX157, A Second Product That is Licensed to Merck
On July 24, 2012, Chimerix announced that it had licensed exclusive worldwide rights to CMX157 to Merck. This is novel lipid acyclic nucleoside phosphonate that is currently being evaluated to treat HIV infection. Merck received an exclusive worldwide license and will be responsible for development and commercialization of CMX157, an investigational oral nucleoside reverse transcriptase inhibitor (NRTI). Chimerix will receive a $17.5 million upfront payment and will be eligible to receive up to $151 million in milestones, as well as royalties on future sales.
CMX157 delivers high intracellular concentrations of the active antiviral agent tenofovir diphosphate. This drug is marketed as Viread by Gilead for the treatment of HIV and HBV infections. In 2013, its sales were just under $1 billion.
CMX157 is more than 200-fold more potent in vitro versus tenofovir against all major HIV subtypes resistant to current therapies, which may allow activity against tenofovir-resistant viruses (e.g., K65R), and against HBV. Like brincidofovir, CMX157's novel structure results in decreased circulating levels of tenofovir, lowering systemic exposure and thereby reducing the potential for renal side effects. CMX157 has completed a Phase 1 clinical trial in healthy volunteers, demonstrating a favorable safety, tolerability and drug distribution profile.
Sales Model for Brincidofovir in HCT
I have chosen to value Chimerix on the basis of sales of brincidofovir. Trying to construct a profit and loss model requires so many estimates that it is relatively meaningless. Constructing a sales model also requires a lot of estimates and there is considerable imprecision in any such model. However, I think that we can get a sense of magnitude and trend. Please don't look at my projected numbers as being precise estimates.
The sales model below incorporates the assumptions that I am making for penetration of the US market. I have divided the market into four segments: adult and pediatric, allogeneic and autologous HCT patients. I am estimating that the phase 3 trial successfully completes in mid-2015 and that the NDA is filed in late 2015, approval is gained in 2016 and marketing begins on January 1, 2017. This is a bit arbitrary, but it makes the model easier to understand. I think that the Company believes that approval and marketing could be earlier. I always try to be conservative in my estimates.
I am looking for more rapid penetration in allogeneic patients, both adult and pediatric, than in autologous patients. I am projecting a relatively high market penetration rates given the product characteristics described in this report and the strong pharmacoeconomic profile that they suggest.
Chimerix has to develop a liquid formulation of brincidofovir for pediatric use. This involves a pharmacokinetic study that the Company believes should complete in time to be approved at the same time as the adult indication. I am taking a more conservative approach and assuming a one year lag in approval for the oral.
I am assuming that the treatment period will be about 14 weeks and that the price of treatment will be about $40,000. This assumes a price of $2,850 per week which compares to estimates of $2,400 to $4,000 from other analysts covering the stock. The only comparator drug in the market is Valcyte which is approved for treating, not preventing, cytomegalovirus infections. It costs $700 per week but this only takes into account the cost of the drug. Valcyte is a toxic drug that causes myelosuppression that can lead to hospitalizations and refection of the graft. Treating these sequellae can significantly increase the all in cost of the drug. Brincidofovir has a much less troublesome side effect profile.
This is a drug that will meaningfully reduce morbidity and mortality in the HCT patient population. New oncology drugs with less compelling characteristics are priced routinely at $50,000 to $100,000 for a course of therapy. The benefit of brincidofovir in terms of reducing mortality and morbidity should be much greater. If so my projected price of $40,000 for a 14 week course of therapy seems reasonable.
I am assuming that the European market is the same size as the US and that the sale ramp will be the same as in the US, but with a one year lag. I am assuming that ramp up in the rest of the world has a slope of ramp up as in the US, that it achieves about 25% of US sales and like Europe lags the US by one year.
I have included no estimates of sale potential in other indications, but the broad spectrum of activity suggests that it will find usage elsewhere. As noted in this report, I think that there could be a very significant opportunity in solid organ transplants.
I expect that Chimerix will market the drug directly in the US given that the small number of transplant centers could allow a small company like Chimerix to build its own sales force. In Europe, there is the option of going it alone or licensing the product to another company. It will almost certainly be licensed in markets outside of the US and Europe.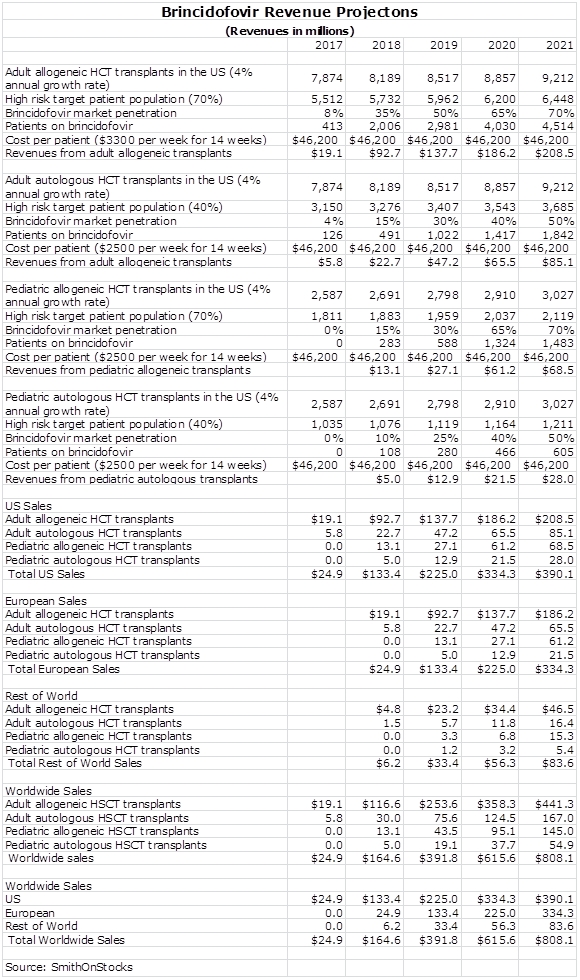 Tagged as brincidofovir, Chimerix, CMRX, cytomegalovirus infections, hematopoiectic cell transplants, HTC, Inc. + Categorized as Company Reports