Cadence Pharmaceuticals: Ofirmev Launch Has Gained Traction; Reiterate Buy
Investment Overview and Opinion
I reiterate my Buy recommendation on Cadence. The Ofirmev launch has now gained traction as just reported 2Q, 2012 revenues of $11.1 million exceededguidance of $10.0 to $10.4 million. Management guidance for 3Q, 2012 of $13.7 to $14.2 million is better than the existing Street consensus of $13.6million. The metrics for gauging the launch showed impressive sequential increases for the second quarter over the first quarter.
The reported second quarter sales and EPS along with comments on the impressive increases in metrics used to judge the success of the launch goes a longway toward dispelling the bearish view that the Ofirmev launch is disappointing and that the company will have to raise more capital. My model showsCadence reaching profitability in 4Q, 2013 and at that time I project it will have $68 million of cash on its balance sheet.
My Ofirmev sales projections for 2012, 2013 and 2014 are $51.6 million, $123.4 million and $227.0 million respectively. I am projecting fully taxed EPS of$0.50 in 2014 (the first year of meaningful profitability). The actual EPS that Cadence could report in 2014 could come in at $0.73 as Cadence will haveoperating loss carry-forwards to offset taxes. In late 2013, I think that the P/E ratio place on fully taxed EPS projected for 2014 could range from 15 to20 resulting in a one year price target of $7.50 to $10.00.
The second part of the bear argument is uncertainty on the patent covering Ofirmev. How the Street comes to view the patent outlook will greatly impact theP/E ratio accorded the stock. Bears argue that even if the launch starts to gain traction, the stock has pending problems with generic competition. An ANDAwas filed against Ofirmev in June of 2011 just five months after its launch and bears maintain that a generic launch could come as early as 2013. Cadencehas sued the generic challenger and the trial date for this case is May 2013. I would point out that the early filing does not necessarily signal that thepotential generic competitor has a strong case. It has become a routine practice of the generics industry to file an ANDA shortly after almost everyproduct launch.
There is a reason why it took 40 years to develop an intravenous form of acetaminophen that is the basis of Ofirmev; it is very hard to do as acetaminophenis relatively insoluble in water. The innovations that enabled an intravenous product to be manufactured were not trivial and are the basis of themanufacturing and formulation patents that cover Ofirmev until 2017 or 2018. There are good reasons to think that they are novel, non-obvious anddefendable. I also think that bears are wrong in predicting a rapid meltdown in sales as is commonly seen with oral drugs when generic competition doeseventually arise (probably in 2017 or 2018). I expect a flattening or slowing of sales at that time for reasons that I explain in more detail in my reportof June 22, 2012.
Background
The company issued guidance for the 3Q, 2012 of $13.7 million to $14.2 million in 3Q, 2012. My estimate in my last report was $14.2 million, but I wasbeginning to rethink this with a view toward a slight lowering of my estimate because July is a disruptive month in the hospital as a new group ofresidents charge onto the floors. Also, August is a vacation month. However, with the strength in the 2Q, 2012 and the guidance for 3Q, 2012 I have decidedto stay with my $14.2 million estimate which is at the high end of management guidance.
For me, Ofirmev was love at first site. It is an effective analgesic that doesn't carry the side effect baggage of the opioids and the NSAIDS that dominatethe hospital pain market. Every hospital is looking to reduce opioid usage which among other things causes constipation. The key for any surgical patientto be discharged is to have a natural bowel movement and Ofirmev through reducing opioid usage has the promise of reducing the time to reach the firstbowel movement. It also had the potential of reducing the mental confusion and grogginess associated with opioids that makes patient care more difficult.It is also cheap. The product is priced at $11 per vial and figuring anywhere from 2 to 6 vials per patient; the cost is $21 to $62 for a patient, barelymaking a dent in the DRG of $20,000 to $30,000 for a typical surgical patient. I don't claim that I have made an exhaustive survey of physicians and nurseswho have used the product, but those that I did survey just didn't like it, they loved it.
I saw very little chance of anything going wrong with the launch, but I didn't take into account Murphy's Law. Pharmacists were concerned that physicianswould use Ofirmev instead of oral acetaminophen. After all, many patients in the hospital have an IV line and it would be easy to add Ofirmev even if thosepatients were capable of swallowing a cheap acetaminophen tablet. Pharmacists feared that if this occurred it would bust their budget. They raised barriersthat dramatically slowed the progress of the launch and caused widespread disappointment on Wall Street and the belief by many that the Ofirmev launch wasdisappointing or had failed.
Second Quarter Metrics Point to Strong Future Growth
Cadence has worked diligently with the pharmacists and along with good results and word of mouth from doctors and nurses who are using the drug, the rubberhas finally hit the road. All of the metrics in the 2Q, 2012 report were positive as sequential gains over the first quarter were as follows:
Sales increased 38%.
Vials sold increase 31%.
Market share in the overall hospital pain market increased from 1.91% to 1.93%.
The number of unique accounts that have ordered the product increased 17% to 3,200.
The number of accounts that have placed repeat orders increased 18% to 2,500.
The number of customers placing multiple orders in the quarter increased 23%
The average order size increased 5%.
All of these metrics point to strong sequential growth in coming quarters. Management sounded confident that it has made great progress in overcoming theresistance of pharmacy by persuading them that Ofirmev is not being detailed for nor being used in place of oral acetaminophen. They spoke of increasingpartnerships with pharmacists that would assure that Ofirmev is used appropriately in the hospital. Finally, the company has implemented a 6% priceincrease, the first since the January 2011 launch. Here is a summary of my model for quarters through 4Q, 2014.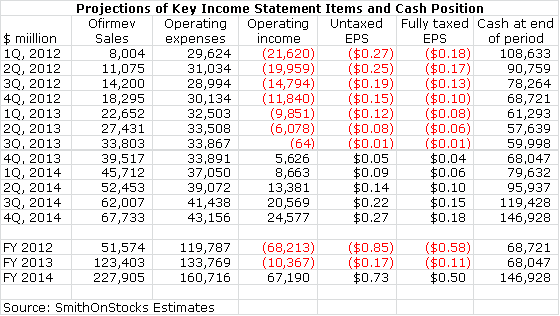 Tagged as Cadence Pharmaceuticals + Categorized as Company Reports