Cadence: Best Case Outcome on Ofirmev Patent Litigation (CADX, $7.88)
Patent Litigation on Ofirmev
Cadence just received the best possible news on a trial judge's decision on a patent challenge against Ofirmev. The U.S. District Court for the District of Delaware has ruled in favor of Cadence in the company's patent infringement lawsuit against Exela Pharma Sciences. The court ruled that the two key patents protecting Ofirmev were infringed by Exela's generic version. These were 6,028,222, which expires on August 5, 2017 (or February 5, 2018, if pediatric exclusivity is granted), and U.S. 6,992,218, which expires on June 6, 2021 (or December 6, 2021, if pediatric exclusivity is granted).
This ruling should give Ofirmev patent exclusivity through 2021. As I have consistently commented, the launch of Ofirmev has been one of the top success stories in biotechnology over the past three years, but investors have been frightened away by the potential that one or both patents might be ruled invalid. In the bear camp, some were expecting generic competition in 2014 or 2015. Even among the bulls, the most widely held expectation seems to have been that the 6,028,222 patent was valid but the 6,992,218 was weaker and perhaps vulnerable so that generic competition could arise in 2018. The bearish argument is, of course, crushed and even the bulls were surprised on the upside.
There are two possible negative arguments that desperate bears may throw out. There are still two ANDA challengers, Fresenius and Sandoz, that have not settled and some bears may maintain that they will go to court to challenge Ofirmev. It seems unlikely that this would happen given the court's ruling, but it is not impossible. There is also a patent reexamination started by Exela going on Ofirmev that in the worst could potentially narrow the claims, but not invalidate the patents.
I believe that Wall Street will view the exclusivity of Ofirmev as lasting through December 6, 2021. This is a giant win for Cadence. Cadence had earlier reached a settlement with Perrigo in regard to the company's patent challenge to Ofirmev that allowed that company to launch a generic in late 2020. I expect that Fresenius and Sandoz will settle on similar lines. Hence, my working assumption is that there will not be a generic on the market until late 2020.
Sales Projections for Ofirmev
I have put together a table showing what Cadence's income statement might look like if Cadence were to only focus on Ofirmev over the next several years and does not acquire new products to market through licensing, co-promotion or acquisition. In actuality, Cadence will likely bring in numerous products over this period of time. Its proven sales force and marketing prowess in the hospital will make it a magnet for companies seeking a marketing partner for their products. I would not be surprised to see products not yet identified account for the same or even double the level of sales of Ofirmev by 2020.
This table should be looked at as indication the potential magnitude of sales and the trend. I expect sales to increase nearly five times over the next six years and peak in 2020. I model generic competition coming into the market in late 2020. However, I do not look for a dramatic decrease in sales in 2021 and beyond. Generic entries against oral products often result in an erosion of 90% of sales in a year or so. The sales decline is much less rapid for sterile injectable products which require significant investment in manufacturing and also have to satisfy rigid quality control standards. I would look for 30% to 35% decrease in sales as generics enter the market in 2021.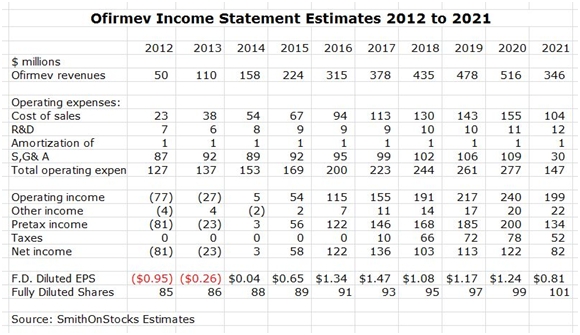 Source: SmithOnStocks
Investment Thesis
I think that Cadence has enormous potential over the next decade to emerge as another great specialty pharmaceutical success story. I consider it as a buy and hold stock. As most of you know who follow my writing, I am not a trader and usually don't make short term calls. I would, however, point out that short covering and irrational exuberance by traders could cause the stock to rise rapidly and then settle back. I will leave readers who want to buy the stock to make their own decision on an entry point. For those who own the stock, sit back and enjoy the ride.
Tagged as Cadence Pharmaceuticals, CADX, Ofirmev + Categorized as Smith On Stocks Blog