Bristol-Myers Squibb: Side Effect Issue with Hepatitis C Drug Creates a Buying Opportunity (BMY, $32.55)
Side Effect Issue Leads to Sharp Price Drop
Bristol-Myers disclosed on August 1, 2012 that it has suspended a phase II trial in hepatitis C in which BMS-986094, its nucleotide polymerase inhibitor, was being studied in combination with daclatasvir, its NS5a inhibitor. BMS-986094 has been broadly viewed as the cornerstone of BMY's effort to develop an all oral combination treatment for hepatitis C and was the reason that BMY paid $2.9 billion to acquire Inhibitex.
In this study, one patient developed congestive heart failure; this must be explored in greater detail, but it does not look good for '094. The onset of congestive heart failure was sudden which probably rules out a natural occurrence unrelated to the drug. Also, it is unlikely that daclatasvir was at fault as it has been studied in over 2200 patients without seeing this side effect. About 250 patients have been treated with '094. It will take some time to come to a firm conclusion, but I think that the odds favor '094 being dropped from further clinical development.
Hepatitis C therapy is rapidly evolving based on the development of a number of oral, direct acting, anti-viral agents. Drawing on the experience gained with HIV drugs, the current consensus point of view is that the future lies with combining perhaps three oral drugs from different classes that have differing therapeutic and resistance profiles. Most analysts believe that these oral combinations can significantly improve outcomes when combined with the long term standard of care which is ribavirin and interferon. There is reason to hope that ribavirin and interferon can be completely eliminated.
The first class of new oral drugs introduced to the market was protease inhibitors: Vertex's (VRTX) Incivek (telaprevir) and Merck's Victrelis (boceprevir). In addition to protease inhibitors, industry research is focusing on nucleoside/nucleotide inhibitors (nucs), NS5a inhibitors and non-nucleoside polymerase inhibitors. Wall Street generally believes that nucleotide polymerase inhibitors will be the next big new drugs to be added to the recently introduced protease inhibitors and that nucs will become the backbone of all future oral combinations.
Until this issue with '094, it was generally considered to be one of the most promising of the nucs and was only slightly behind PSI-7977 of Gilead in clinical development. It was widely believed that Gilead would be first to the market with an effective all oral regimen anchored by PSI-7977 and BMY would be next to the market with an all oral regimen anchored on '094. BMY also has in phase II development daclatasvir (NS5a inhibitor) and asunaprevir (protease inhibitor) as well as other compounds in earlier development. However, the potential loss of '094 is a major setback.
I have considered BMY as having the best pipeline in the industry and even with the loss of '094, I continue to feel that this is the case. The importance of '094 was that when combined with other oral agents, the combination had the potential to develop several billion dollars of sales in the latter part of this decade. I carried no estimates for sales of these new hepatitis C treatments through 2016 and most Wall Street analysts either had no sales contribution or only minimal sales in the 2015 or 2016 period. I think that BMY will still be a player in HCV therapy, but the potential may be more on the order of $500 million to $1 billion instead of several billions. I think that today's 8% drop in the stock price accurately reflects this loss and I consider this a buying opportunity.
Detailed Investment Thesis
Bristol-Myers (BMY), Eli Lilly (LLY), Merck (MRK) and Pfizer (PFE) were out of favor for many years based on concerns about pricing and attempts to reduce drug utilization brought on by world economic pressures, lack of visibility on new products and pending patent cliffs. Each has patent expirations on major products that will essentially result in little EPS growth over the 2011 to 2016 period.
The market, of course, is a discounting mechanism and has largely factored these issues into the stock prices. Since my initial recommendation of BMY on February 24, 2011, the stock is up 29% (after today's 8% drop) and Eli Lilly, Merck and Pfizer have appreciated 27%, 36% and 24% over the same time period. Investors have bid these stocks up on the basis of compelling dividend yields and the promise of renewed growth in the 2015 to 2020 period as the patent cliff fades and new products emerge. I continue to recommend Bristol-Myers Squibb as the best long term investment in this group.
I realize that crystal balls dim when looking out five years, but because of the long product life cycles of drug products, some educated estimates can be made of how these companies will do over the next five years and in the latter part of this decade. I have focused on Bristol-Myers Squibb because it has the most promising line-up of new drugs in the pharmaceutical industry, in my opinion. It is also the smallest company as judged by the level of pharmaceutical sales so that a blockbuster new product provides three times more impact on its sales than would be the case with Pfizer and twice as much as with Merck.
Products subject to near term patent expirations accounted for 58% of BMY's sales in 2011 with Plavix (US patent just expired) alone accounting for 33%. It will take until 2014 for EPS to reach the same level as 2011, by my estimates. I am attracted to the stock by the strength of more recently introduced products and its new product outlook which is the primary focus of this note. In particular, I think that its anti-coagulant Eliquis could eventually reach the magnitude of peak Plavix sales in the latter part of this decade. I also think that BMY's new anti PD-1 drug has enormous potential and could potentially emerge as one of the largest selling oncology drugs. BMY also has a very promising lineup of new drugs for hepatitis C that in the aggregate have blockbuster potential.
A summary of my sales projections for Bristol-Myers for products losing patent protection, new products and other products is shown in the next table. I have also included my EPS projections.
Table 1

I feel that BMY is the best positioned on the major drug companies over the remainder of this decade. This is generally recognized by investors as the multiple on 2016 estimated EPS of 13.0 compares to 10.1 for Pfizer and 11.4 for Merck. However, I think that the growth potential of BMY justifies this premium. I think that the current hefty 4.1% dividend yield is icing on the cake for a compelling long term growth story. For those who are concerned about the ability of BMY to generate enough cash to sustain this dividend during the patent cliff, BMY has recently announced a new $1 billion stock buyback program. It seems confident that it can buy back stock as well as pay $575 million out each quarter for the dividend.
Table 2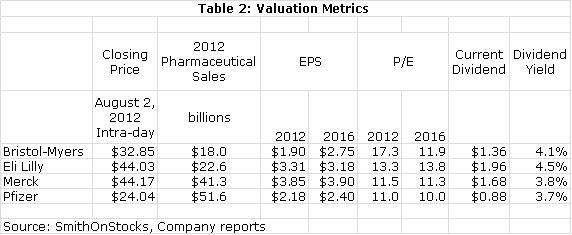 Bristol-Myers Has a Different Strategy than Merck and Pfizer
Bristol-Myers like most of its three big pharma counterparts is going through a patent cliff. The most important loss is Plavix which accounted for $7.1 billion or 33% of total sales in 2011. Its patent expired in the US in 2Q, 2012 and European patents expire in 2013. I estimate a sharp decrease in sales to $2.7 billion in 2012 and $225 million in 2013. The Plavix erosion is massive, but it is not the only product that will lose patent exclusivity. Avapro lost patent protection in the US in 1Q, 2012, Sustiva will lose patent protection in 2014 and Abilify will be lost in 2015. The total effect is shown in the next table.
Table 3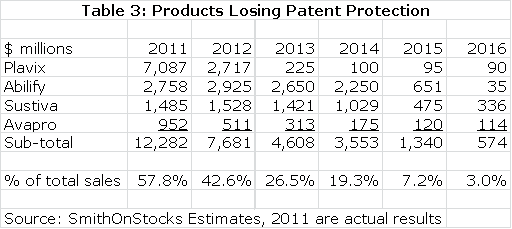 Bristol-Myers has adopted a very different strategy from Merck and Pfizer in dealing with its patent cliff. Pfizer by acquiring Wyeth and Merck through the acquisition of Schering-Plough chose to make large acquisitions. These brought important new products but they seemed equally designed to create earnings through financial engineering. Significant savings through cost cutting were used to partially offset profit losses from patents expiring. However, this comes at the expense of putting in place large lumbering product lines that are less impacted by new products.
BMY has disdained large pharmaceutical acquisitions and has gone a step further in deciding to divest non-prescription pharmaceutical business like nutritionals and medical devices. It is totally focused on developing novel new pharmaceuticals. It has made a number of acquisitions that are small and tactical in nature to acquire new products. The acquisition of Medarex brought the company Yervoy and its anti-PD-1 inhibitor while acquisitions of Inhibitex and Amylin bolstered the company's already good position in hepatitis C and diabetes. Eli Lilly has taken a similar focused approach to BMY, but lacks the pipeline appeal, at least currently.
In 2012, Merck will have pharmaceutical sales of about $41 billion and Pfizer $52 billion as compared to $18 billion for Bristol-Myers. It takes two to three blockbuster drugs to produce the same increase in their sales as one blockbuster for BMY. Importantly, I believe that Bristol-Myers has the best pipeline. This leads me to conclude that BMY will show superior growth in the latter part of this decade and with that better stock performance.
New Products Will Drive Growth
As Plavix, Avapro, Ability and Sustiva fade to negligible levels of sales over the next few years; BMY has a stable of new products that will emerge as the dominant driver of sales. These are described in the following paragraphs and sales projections for each are made in the next table.
Sprycel (dasatinib) treats chronic myelogenous leukemia and was initially approved for treating Gleevec failures; in 4Q, 2011, it received US approval for first line therapy (initial therapy). It now has about 15% of the first line market and 50% of the second line market. It is currently in an important phase III trial comparing the combination of Sprycel and docetaxel to docetaxel alone in hormone resistant prostate cancer patients that may report results in 2014.
Orencia (abatacept) is an alternative to the TNF α blockers for the treatment of rheumatoid arthritis. The TNF α blockers are well entrenched and Orencia has been used primarily when these agents have failed; it is used as a second or third line therapy. It has a modest share of a huge market. The recent approval of a subcutaneous formulation (it was previously only available in an intravenous formulation) in the US and probable approval later this year in Europe will help sales growth.
Onglyza (saxagliptan) is a DPP-4 inhibitor and Komglyza is a combination of Onglyza and metformin. The DPP-4 inhibitor class is the fastest growing category of oral drugs used to treat diabetes. Onglyza is not much differentiated from the market leader, Merck's Januvia, and there is growing competition from new agents. However, the growth and vast size of the market should make this a major product. Onglyza like all of BMY's diabetes agents is marketed through a 50/50 joint venture with Astra-Zeneca (AZN).
Yervoy (ipilimumab) is unique immunotherapy that has been approved to treat metastatic melanoma. Killer T-cells are one of the immune system's most potent weapons for fighting cancer. However, if over-stimulated they can also damage normal cells and the body uses suppressor T-cells to control killer T-cells. Yervoy down regulates CTLA-4 which the body uses to suppress killer T-cells allowing a more potent, but more toxic response to cancer. Results from a phase III trial in prostate cancer should be available in 2013.
Bydureon (extended release exenatide) belongs to the GLP-1 category of injectable drugs that have been a meaningful addition to the treatment of diabetes generally being used after control has been lost with oral therapy and before insulin. Amylin pioneered this category with Byetta and Bydureon is a once a week formulation of Byetta. This was the principal focus of the Amylin acquisition. It enables BMY and AZN to offer a more comprehensive approach to diabetes management.
Eliquis (apixaban), an anti-coagulant, is the key new product in the BMY portfolio. I think that this product may eventually reach the sales levels of Plavix at its peak. In the treatment of atrial fibrillation not caused by valve damage, clinical trials have shown it to be more effective with less bleeding than warfarin. Warfarin is entrenched as the market leading drug and as a generic is cheaply priced. However, it is a very difficult drug to administer and requires constant monitoring. I think that over time, it will lose much of its market share to new drugs.
Three new anti-coagulant drugs are being introduced into the market. Eliquis and Johnson & Johnson's (JNJ) Xarelto are the first of the Factor Xa drugs to be introduced and Pradaxa is the first of the direct thrombin inhibitors. I believe that the Factor Xa drugs are safer and more effective than Pradaxa. However, it was first to the market and has achieved more than $1 billion in sales.
Eliquis has performed better in clinical trials than Xarelto and should be the market leader in the Factor Xa category. I believe that the principal differentiation between Xarelto and Eliquis is that BMY chose to go with a twice a day dose while Xarelto went with a once a day. The pharmacokinetics allowed by twice a day dosing, in my opinion, have allowed Eliquis to strike a better balance between efficacy and bleeding side effects. In my opinion, with a twice a day dose for Xarelto there would be little difference. Eliquis will be marketed in partnership with Pfizer.
Hepatitis C therapy may be dominated by all oral drug regimens (or perhaps not), but there is likely to be a continuing role for interferon for combination with the orals in first line treatment and to treat patients who have failed other therapies. BMY obtained lambda interferon through the acquisition of Zymogenetics; it has the promise of being a safer and better tolerated interferon product than the alpha interferon products marketed as Pegasys by Roche and Peg-Intron by Merck.
BMS 936558 is an anti-PD-1 inhibitor; PD-1 is an antigen expressed on tumor cells that interferes with the recognition of tumor cells by immune cells. Blocking PD-1 achieves the same therapeutic effect as Yervoy does through blocking CTLA-4. However, phase II trials suggest that it is significantly more potent and significantly less toxic than Yervoy. A phase III trial in non-small cell lung cancer has just started enrolling patients, a phase III trial in renal cell carcinoma should start in 2H, 2012 and a phase III in metastatic melanoma could begin in 2013. If phase II results are substantiated this could be one of the largest cancer drugs ever marketed.
Forxiga (dapagliflozin) is a novel, new type of oral anti-diabetes drug, an SGLT-2 inhibitor. The FDA issued a complete response letter in 2011 due to unanswered questions about the effect of long term use on kidney function. It should be approved in Europe in late 2012 or early 2013and I expect US approval in 2014 or 2015. This further strengthens the board product portfolio of BMY in treating diabetes (Onglyza, Bydureon).
The following table summarizes my sales estimates for the key new products that will drive BMY in the future. Note that I have not put in any estimates for BMY's PD-1 inhibitor nor for the combined hepatitis C therapies. This is conservative on my part as I think that the PD-1 inhibitor has the potential to be in the same order of magnitude as Eliquis and that there is a significant opportunity still in hepatitis C. There could also be other new drugs emerging in the middle part of the decade through either internal development or acquisition.
Table 4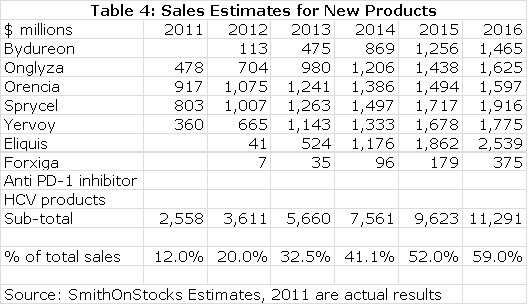 Tagged as Bristol-Myers Squibb + Categorized as Company Reports