Antares: An Update on My Investment Thinking (ATRS, Buy, $1.33)
Investment Thesis
This has been a very disappointing year for Antares investors; the stock closed at $2.57 on December 31, 2014 and as of the close on November 5, 2015 has been nearly cut in half to $1.33. The current market capitalization is $200 million. The three key issues dominating the price in 2014 and 2015 were: (1) the launch trajectory of Otrexup, (2) anticipation of the launch of Teva's Antares' AB rated generic for EpiPen and (3) questions on safety and overuse questions about testosterone replacement as a treatment and the requirement for an additional safety trial of Quick Shot Testosterone.
The launch of Otrexup flattened late last year due to marketing and reimbursement issues and competition from Rasuvo. The second and third quarters of 2015 have seen sequential prescription increase of 21% and 12%. This suggests that Otrexup is back on a growth track, but it will take more time to gain confidence that this is indeed the case. My model at the present time is based on 12% sequential growth in quarterly prescriptions in 4Q, 2015 and each quarter of 2016 and 8% sequential growth in each quarter of 2017. My model is explained in detail later in this report.
Management has indicated that Otrexup can become profitable with sales in the range of $5.0 to $6.0 range. I am projecting sales of $5.1 million in 3Q, 2015 and $5.7 million in 4Q, 2015 so that Otrexup could be reaching profitability in 2H, 2015 or early 2016. My full year 2015 sales estimate is $19.7 million and 2016 is $27.0 million. These projections are very sensitive to sequential prescription growth and price per prescription. To the extent that these trends are close to my estimates or above, I think that investors will gain confidence that Otrexup can be a major product. I believe that subcutaneous injections of methotrexate like Otrexup and Rasuvo have a compelling place in the rheumatoid arthritis market. They can extend the time that patients spend on methotrexate (which is the gold standard treatment) before moving to biologicals. In addition to this therapeutic advantage, the cost advantage is enormous for payors as Otrexup costs $4,700 per year versus $20,000 or more for biologicals.
It looked like a late 2015 or early 2016 launch of the AB rated generic to EpiPen had a very high probability of occurrence. Teva had indicated that it anticipated this and included a launch of EpiPen in its 2015 guidance. EpiPen's marketer Mylan had also included a launch in its guidance. Investors were eagerly awaiting the launch which could lead to yearly injector sales of $31 million (at a gross profit of 50% which no selling costs) and royalties of $21 million (pure profit). Unexpectedly, Teva signaled on its October 29, 2015 conference call that it now thinks that it will get a Complete Response Letter (CRL) by the end of 2016. Teva indicates that there has been no new interaction with the FDA that would signal a problem and seemed to indicate that this delay was due to an overworked FDA being unable to complete the review on time. If so, the launch is likely to occur in 2H, 2016 as opposed to my earlier estimate of 1Q, 2016. Teva should be able to add substantial clarity when and if it receives a CRL.
Quick Shot Testosterone continues to move through the clinical trials and seems on target for an NDA filing in 2017. It appears to be the best in class of the injectable testosterone products based on its pharmacokinetic profile and ease of administration. The testosterone replacement market in the US is about $3 billion and there is a movement toward the use of injectable products. Investors seem to have forgotten about this product which has meaningfully more potential than Otrexup. Management is also suggesting the potential for approval of an AB rated version of sumatriptan in 2016; this could result in a $2 to $5 million full year contribution to profit. Also in the pipeline are an AB rated version of exenatide and the company should also be revealing its third proprietary product after Otrexup and QST in 2016. This is a highly respectable pipeline.
The financial position of the company is just OK. It has $50 million of cash and has been burning about $7 to $9 million per quarter in 2015, but I expect this to slacken in 2016. By 4Q, 2016 I think that it will have cash of about $20 to $25 million. If the AB generic to EpiPen is approved, the Company should reach profitability and will probably not need to raise cash.
As I look at the Antares investment thesis, there have been delays and disappointments, but they have not essentially changed the reasons I have been recommending the stock. I continue to think that if the AB rated generic to EpiPen is launched in 2016 that this stock could double in price or more.
More on Teva's/ Antares' AB Rated Generic of EpiPen
Teva had been giving guidance throughout 2015 that it expected approval of its AB rated generic in 2H, 2015. However, on its quarterly conference call of October 29, management withdrew this guidance. My interpretation of comments made on that call is that they are now expecting a Complete Response Letter (CRL) instead of an approval at the end of the year. This caution on the part of Teva's management apparently does not stem from any new or recent communication with the FDA. It seems to have been based on Teva's long experience in dealing with the generics division of the FDA and "reading the tea leaves".
The most likely explanation is that the FDA has fallen behind on the review process and is buying some time by issuing a CRL. An overworked FDA (especially in the generics division) frequently uses this tactic. Remember that the FDA is judged on the number of drugs that it approves in line with targeted dates for approval. A CRL resets this date. If this is the case, the delay could be as long as 6 months for approval, which would push the approval to mid-2016. Antares is steadily shipping injectors to Teva so that upon approval there would almost certainly be enough on hand to launch the product. However, filling of the syringes won't start until approval.
At this time, we really don't have any information to interpret other than the comments by Teva and it seems that Teva also does not have any new information from the point in time earlier this year when they were guiding to approval in 2015. Teva has said that they can offer a better interpretation of the situation if and when they receive the CRL sometime later this year. My working assumption is based on the arguments just presented is that the launch will now be on the first day of 4Q, 2016. Previously, I modeled the launch for the first day of 1Q, 2016 so this is about a nine month delay.
I know that the key question in your mind is whether there might be something happening at the FDA that could have persuaded them not to grant an AB rating. The AB rating is critical because it allows the Teva/ Antares product to be substituted even if the prescription is written for EpiPen. Without an AB rating the Teva/ Antares product would have to be sold as a differentiated product that couldn't be substituted for EpiPen. In this case, the economic return is de minimis. Investors can't rule this scenario out with the information we have although as I said, my best judgment is that the Teva/ Antares product will be AB rated. Hopefully, when Teva receives and processes the CRL (actually at this time we are only guessing they will get a CRL) we will be better able to understand the situation better.
More on Otrexup Trends
The launch of Otrexup has been gradual and somewhat slower than I had projected last year. This was attributable to: (1) marketing issues that led to a reorganization of the sales force, (2) reimbursement issues and (3) competition from Medac's Rasuvo. These issues are discussed in detail in my report of October 8, 2015- Antares: The Stock Price Does Not Reflect the Fundamentals
Otrexup prescriptions in 1Q, 2015 flattened relative to 4Q, 2014. At the time, management cautioned that actions taken to address these issues might not be evident until 2H, 2015. The results in 2Q, 2015 and 3Q, 2015 showed some signs of improvement as sequential prescriptions increased 21% in 2Q, 2015 and 12% in 3Q, 2016. Based on this limited sample of results in two quarters, it is difficult to project future sequential increases with any confidence. At this point, I am projecting that sequential quarterly increases in prescriptions in 2016 will be 12% and about 8% in 2017. However, there is not much precision in these estimates. Here are the projections for 4Q, 2015 and 2016 and 2017 quarters based in these assumptions: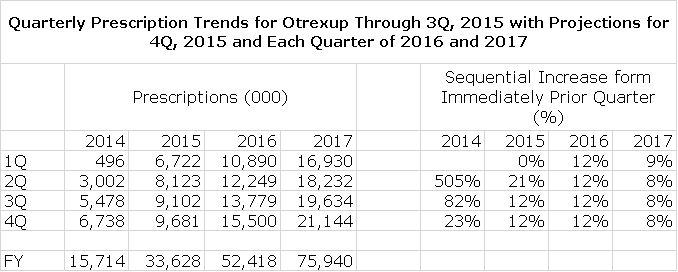 The accounting treatment for Otrexup requires that reported sales in each quarter be based on the number of prescriptions written in the quarter rather than actual shipments to distributors until there is more experience with prescription trends. Hence, the company must estimate the price per prescription and apply this to prescriptions as measured by a third party that is auditing prescriptions. This means that quarterly sales are based on multiplying estimated sales price by estimated prescriptions.
In the following table, I have divided reported Otrexup sales by estimates supplied by Antares of prescriptions. The wholesale acquisition price (WAC) is the list price of Otrexup and is currently $574. You will notice in the following table that estimated prices per prescription have steadily declined throughout 2014 and 2015 so that the estimated net price was $395 in 3Q, 2015. There is likely to be continued pressure on net price and I have tried to reflect that in the following table, but again I would caution that these projections could be subject to substantial error. With these estimates of prescription and price trends I was able project Otrexup sales trends for the next 9 quarters as shown below:

Tagged as AB Rated Generic to EpiPen, Antares Pharma Inc., ATRS, Otrexuo, Quick Shot Testosterone + Categorized as Company Reports